By Dave Seanor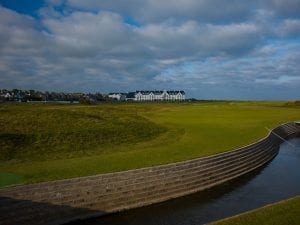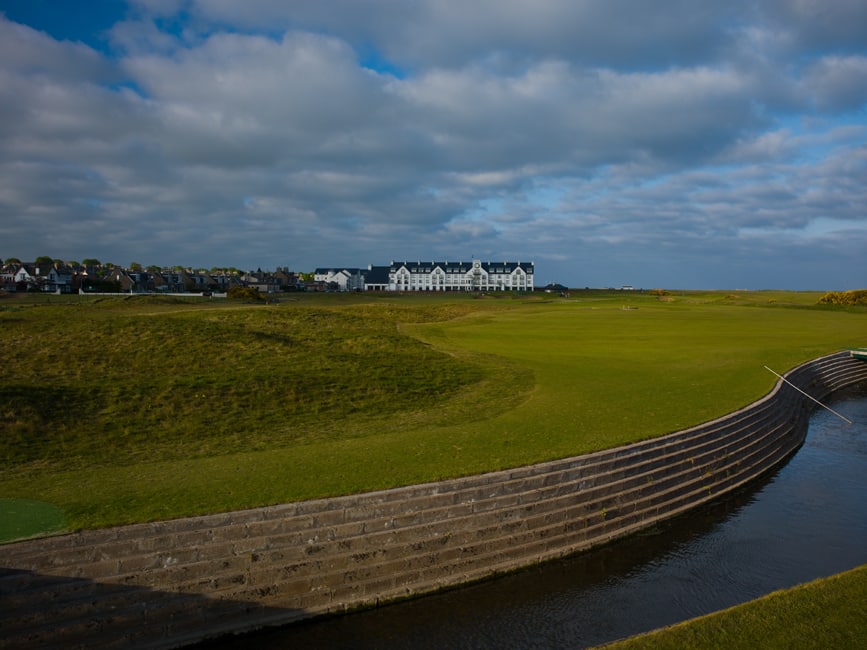 Redemption or ignominy. That's what hung in the balance as Jean Van de Velde stalked a six-foot putt for triple bogey at the 72nd hole of the 128th Open Championship at Carnoustie Golf Links. 
Van de Velde needed to hole the putt to join Justin Leonard and Paul Lawrie in a playoff—a weighty mission considering the farcical events of the previous half hour, which began with Van de Velde holding a three-shot lead.
A few paces off the green, I had a front-row seat. Behind me pressed a scrum of journalists and wily spectators. Just as Van de Velde settled over the putt, someone clamped onto my right arm. Startled, I turned my head. It was Brigitte Van de Velde, Jean's wife, who had wriggled forward for an unobstructed view. She smiled, held up fingers crossed for luck, then tightened the vice on my bicep.
Van de Velde, of course, jarred the putt. The crowd erupted and Brigitte bolted to her husband, gone before I could ask a single question, our brief liaison just another bizarre moment in a week full of them.
It began with intense criticism of the course setup. Carnoustie's head greenkeeper, John Philp, had taken it upon himself to defend the integrity of his links by narrowing fairways and allowing the encroaching rough to grow thigh-high.
The ensuing carnage was predictable. Fifty-seven players failed to break 80 in the opening round. The sight of 19-year-old Sergio Garcia sobbing uncontrollably on his mother's shoulder was a portent of things to come. Two players among the world's
top 10 missed the cut, while the other eight averaged 14 over par for the championship. It was only fitting that a 33-year-old journeyman from France,
ranked 152nd in the world, should take center stage.
Van de Velde led by five after 54 holes, posting 75-68-70 while charming all with wit and self-deprecation. "Even if I shoot 90 tomorrow, I'm going to enjoy it," he said. "Maybe I'm going to blow it. It's the first time I've been there. What do you expect?"
Certainly nothing like what transpired after he stepped to the 18th tee the final day. His drive flared right, stopping short of a drainage ditch known as the Barry Burn. There he was seduced by a perfect lie to hit a 2-iron, confident he could easily carry the burn, which snakes back in front of the final green.
Several yards from Van de Velde when he struck the shot, I lost sight of the ball in flight, but heard the loud "clank" when Titleist collided with metal. "Wow, he caught a break," I thought, figuring he'd get a free drop from the grandstand he'd hit.
Instead, the ball had ricocheted backward off a handrail, hit the top of the stonework that lines the burn, and settled deep into Philp's punishing rough. Hacking from the hay, he failed to clear the burn. Thinking he might have a shot from the water, he famously waded into the ditch and pondered the possibilities, prompting BBC TV commentator Peter Alliss to proclaim "his golfing brain stopped 10 minutes ago…it's pure madness."
Van de Velde wisely decided to accept the penalty and dropped into the high stuff. His fifth shot found a deep greenside bunker, which he deftly escaped, setting up my encounter with his Sigourney Weaver-lookalike spouse.
To call the playoff anticlimactic is generous. The three survivors butchered the first two holes in a combined seven over par. Lawrie birdied the last two, winning by three. It was an impressive performance—Lawrie shot a closing 67—that will never get its due.