By Chris Santella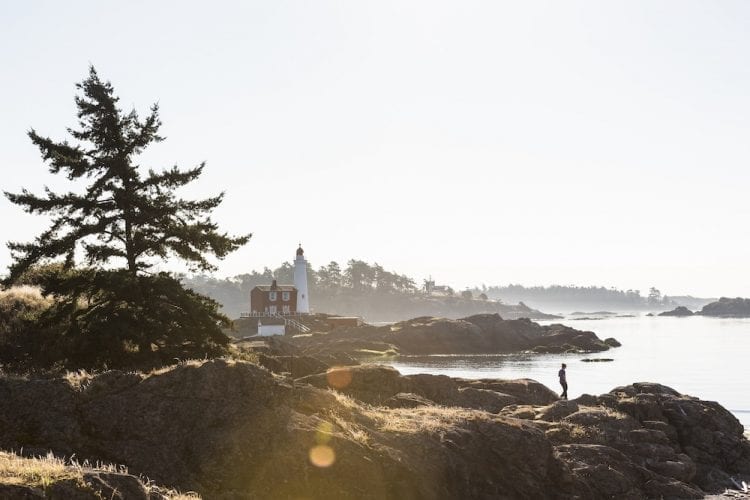 When I first visited Vancouver Island in 1989, its British heritage was palpable. Accents in the provincial capital of Victoria were English proper, and high tea at the Fairmont Empress a must. On a recent trip back, another British export was very much in evidence—golf.
Though the island has fewer than 800,000 residents dotted over an area roughly the size of Massachusetts and Rhode Island, it boasts more than 40 courses, testament to Canada's love of the game. (Canada has more golfers per capita than any other nation—20 percent.)
Thirteen of the courses have banded together to form the Vancouver Island Golf Trail, which stretches 155 miles along the island's east coast where most of the population resides.
Late last October, a friend and I set off to explore a few of the courses along the trail. We started at Bear Mountain Resort and Spa, 30 minutes west of downtown Victoria. It includes a Westin hotel and housing community and boasts Canada's only 36 holes of Nicklaus Design golf—the Mountain and Valley courses.
The Mountain Course, which you may recognize from two recent PGA Tour Champions events, was closed for maintenance during our visit, so we teed off on the par-71 Valley. The first two holes were cloaked in atypical fog; when it lifted on hole 3, we were treated to a pleasing layout that climbed and dipped through the woods, with near-constant views of surrounding mountains.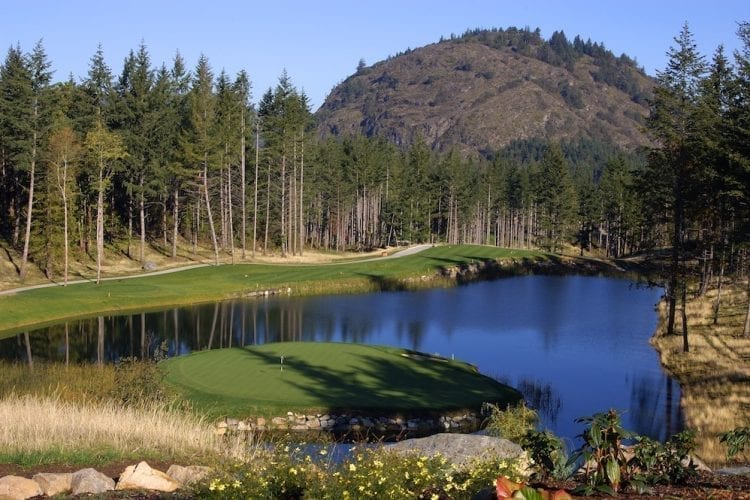 Elevated tees on many holes provide a clear view of what lay ahead, and broad fairways will catch all but the most errant shots. Many fairways are bordered by formidable rock formations, known as glacial erratics: Boulders provide an excellent aiming point on hole 13, a downhill par four that's guarded by a pond on the right.
After lunch at the Masters Lounge, we visited the Mountain Course's signature par-three 14th. On a clear day, the city of Victoria, the Strait of Juan de Fuca, and Washington's Olympic Mountains are visible. Regrettably, the fog had moved back in, though a slice of the strait was still in view.
Our home the next few nights was Crown Isle Resort in Courtenay, 120 miles up the island's eastern coast. Heading north on Highway 19, the province's tagline—Super Natural British Columbia—was borne out. Swaths of Western red cedar, Douglas fir, and Sitka spruce opened occasionally to the east, offering glimpses of the Strait of Georgia; snowcapped mountains popped through the clouds to the west.
Our route passed through the heart of Vancouver Island's wine country—the island's 30 wineries focus primarily on Pinot Noir, Pinot Gris, Siegerrebe, and Ortega. We visited several, including Cherry Point Estate, where charismatic proprietor Xavier Bonilla extolled on the virtues of the local terroir.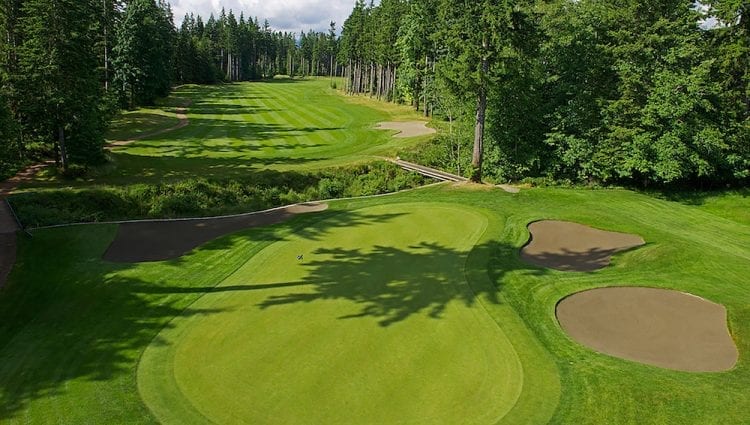 Clouds threatened the next morning as we teed off at Storey Creek Golf Club, but not a drop of rain fell on this round, nor any others. (A word on the weather: Many associate coastal British Columbia with rain, but that's not the case on the island's east side. Victoria averages about as much rain as San Francisco, and summertime is dry with temps between 75 and 80.)
Storey Creek bills itself as "a course in nature," and indeed almost every hole is carved from the woods with no view of other holes. There's even a resident black bear, though he stayed hidden during our round. With peak summer rates under $70/CAD, Storey Creek is consistently ranked among Canada's best golf values.
Though my friend had trepidations about seasickness, we headed to the town of Campbell River for a little whale watching with Dean Parsonage of 50 North Adventures.
The waters of Discovery Passage are world-renowned for their abundance of salmon, with all five species (Chinook, Chum, Coho, Pink, and Sockeye) present. The salmon, in turn, sustain pods of local Orcas (killer whales), the largest member of the dolphin family, readily distinguished by their white "eye patch" and large dorsal fin.
We motored north to Quadra Island, where a pod had been recently spotted and humpback whales are also known to patrol. No whales were in evidence that afternoon, but we did pass whirlpools of Charybdian proportions, generated by the tremendous tidal currents that whip through the passage.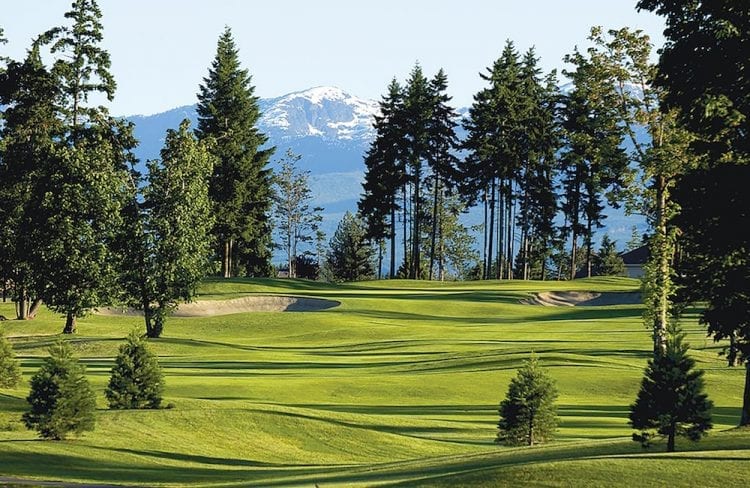 Campbell River boasts a recently renovated track, Campbell River Golf and Country Club. It was too late for a round, though we did experience the club's Velocity Lounge, which features a TopTracer™ range, similar to TopGolf.
Velocity had recently opened, and there seemed to be a few bugs in the system. But the Shipwreck IPA (from Lighthouse Brewing) was pouring well, and the setting was pleasing. We passed on Velocity's three-foot hot dog and returned to Courtenay for a delicious burrito and some brews at Gladstone Brewing.
Our last round was at Crown Isle, a well-manicured resort track that loops around a dozen lakes. Approaching the par-four 9th hole, we anticipated the view of monolithic Comox glacier, which was highlighted in course literature. Alas, clouds occluded the glacier. We assuaged our disappointment with a Fat Tug IPA (from Driftwood Brewery) at the turn and soldiered on.
After lunch in the Timber Room, which is replete with artifacts from Vancouver Island's logging legacy, we returned to Victoria and the elegant Hotel Grand Pacific. Overlooking Victoria's picturesque inner harbor, the hotel is ideally situated for a walking tour of the "Beer Mile," which showcases eight of the island's many brewers.
We didn't make it to all eight that evening, but managed to sample IPAs at Canoe, Swans, and Spinnakers. It's easy to see why Vancouver Island has emerged as one of North America's brewing hotspots. Golf Vancouver Island (888-465-3239; golfvancouverisland.ca) bundles a variety of hotel/golf/fishing packages along the trail.
Beyond the Golf: Vancouver Island Fly Fishing
Vancouver Island entered the world's fly-fishing consciousness thanks to the dispatches of Roderick Haig-Brown, who wrote (and fished) on the banks of the Campbell River. Its good reputation is well deserved. The island's rivers offer fly anglers a rare bounty—rainbow, cutthroat, and brown trout; five species of Pacific salmon; and British Columbia's totemic sport fish, steelhead.
Better yet, there are fishing opportunities throughout the year on the island's east side.
Winter is prime time for steelhead, with strong runs of these ocean-going rainbow trout present on the Cowichan (near Duncan) and Stamp (near Port Alberni) rivers. Most fishing is with two-handed spey rods; fish average 10 to 12 pounds, with some going over 20.
"If you're around Courtenay in March, you can ski powder in the morning, play nine holes at Crown Isle after lunch, and fish for steelhead before dinner," says Ryan White, a local fly-fishing guide and bamboo rod builder.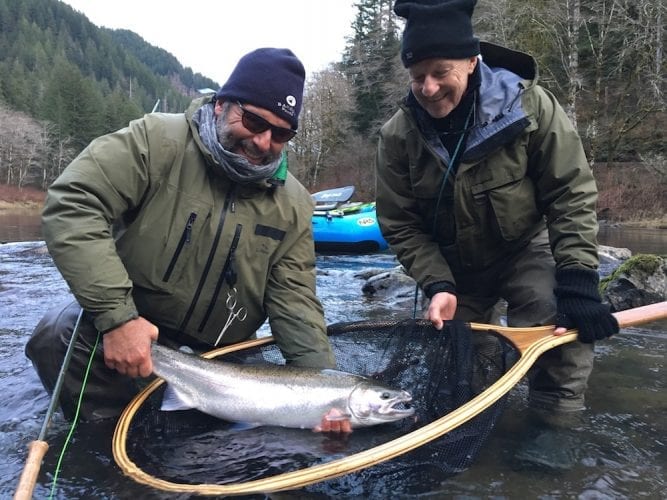 Spring and summer interests shift to trout—the Cowichan, Stamp, and Campbell rivers all hold good populations. May and June see the most consistent dry-fly activity, with 20-inch fish possible on the Cowichan.
Come fall, angling interest focuses on salmon. Coho (silver) and chum swim right off the beach from Campbell River south to Qualicum Beach, presenting a unique fishery. "You'll see them finning in the shallows, just like bonefish on a flat," White adds. Summer-run steelhead are also present on some systems, though good luck getting local anglers to tell you where!
Ryan White (250-650-9267) guides fly anglers along the island's east coast.
Full Scale Fishing Charters (fullscalefishingadventures.com) guides in the Campbell River region.