Myrtle Beach is one of the great misunderstood golf destinations on the east coast. Some think of it as a golf mecca and others think it has quantity over quality. Until recently, I merely thought of it as my childhood family beach destination and a place I hadn't visited in a decade. The truth is, with more than 100 golf courses and thousands of restaurants, Myrtle Beach can be anything you want it to be.
I recently visited Myrtle with my co-worker and co-host of the LINKS Golf Podcast, Ian Critser. We recorded an episode from our hotel room and shared what was, by all accounts, a high-end golf experience on the coast. We had beers at the neon-bars, but also scallops and prime rib.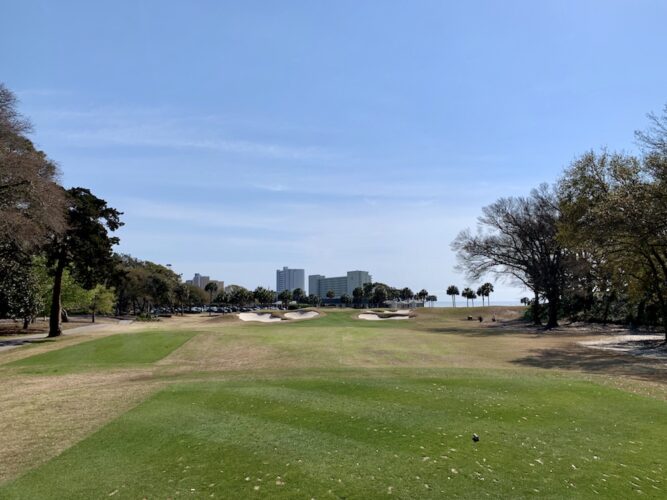 We worked with a local golf expert to help us plan the trip and choose just four courses for our long weekend visit. We had to leave many options on the table, including Mike Strantz's True Blue—one that I'm itching to return and see. Our accommodation was the Marina Inn at Grande Dunes, right on the Intracoastal Waterway. It was perfect home base both for comfort and considering the location of our chosen courses. Here's what we did:
Day 1
Our first round was The Dunes Golf & Beach Club—one of the oldest courses in Myrtle Beach. It opened in 1947 with its Robert Trent Jones-designed course and has been one of the most highly regarded clubs in the area ever since. The clubhouse is directly on the beach and although it's technically private, limited visitor play is allowed if arranged through the pro shop. The experience is charming. The club has a distinct 1950s feel much like Pine Needles or Mid Pines near Pinehurst, N.C.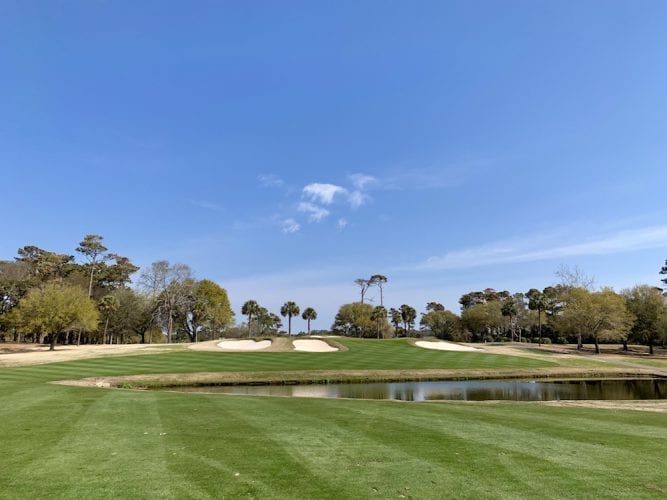 The course couldn't have been a better way to start our trip. There was significantly more elevation change than I expected and dozens of architectural features that stick in my mind months after the round. A prime example is the 13th, which is a dogleg right par 5 that bends drastically around a lake. It initially seems simple, but as you stand on the tee, decide on angles, and plan for your second and third shots, you realize it's an architectural gem. There is no right decision, nor wrong decision—just a choice between tough shots that are part of a very enjoyable round. Dan Jenkins ranked it among his best 18 holes in the U.S.
Day 2 (Morning Round)
My most anticipated round was Mike Strantz's Caledonia Golf & Fish Club. The course opened in 1994 as his first solo design and I'm not surprised that it launched his career. With my Strantz experience limited mainly to Tobacco Road, I arrived at Caledonia expecting much of the same over-the-top drama. Instead, we found a much more subdued design with much more subtle features. There are a handful of do-or-die heroic shots, big undulating green complexes, and more, but mostly it's just a very good golf course.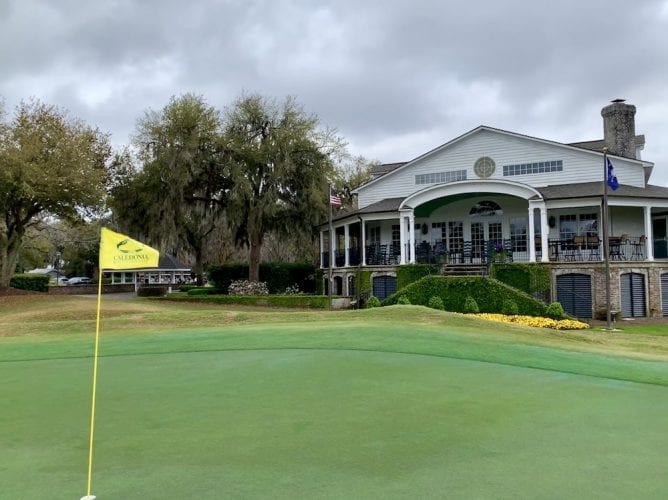 The course was built on an old southern rice plantation and that feel is everywhere. Thousands of flowers were in bloom during our visit and we only wished we could have spent more time on the back porch overlooking the 18th green, drinks in hand. As with all Strantz courses, I know I would enjoy it even more on a second visit (and that's when I'll play neighboring True Blue as well).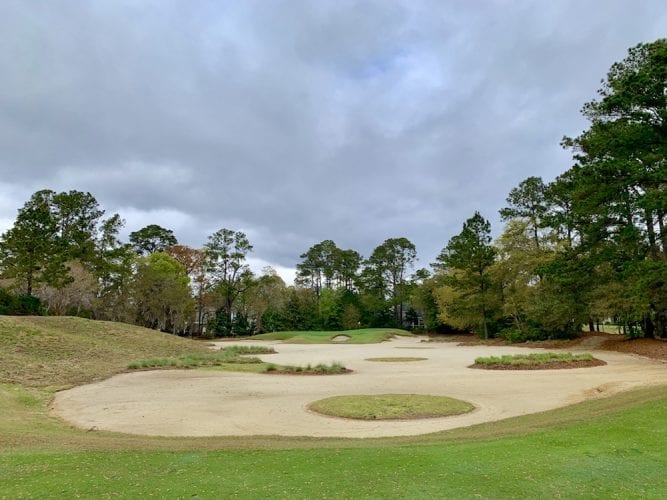 Day 2 (Afternoon Round):
Tom Fazio's TPC Myrtle Beach was a departure from our first two rounds at charming southern clubs with intimate vibes. TPC Myrtle was much bigger and bolder in the "championship course" vein. The course was also very busy, due in part to stellar winter conditions drawing golfers from far and wide. I don't think I've seen lusher, greener, or more perfect conditions following a rough winter.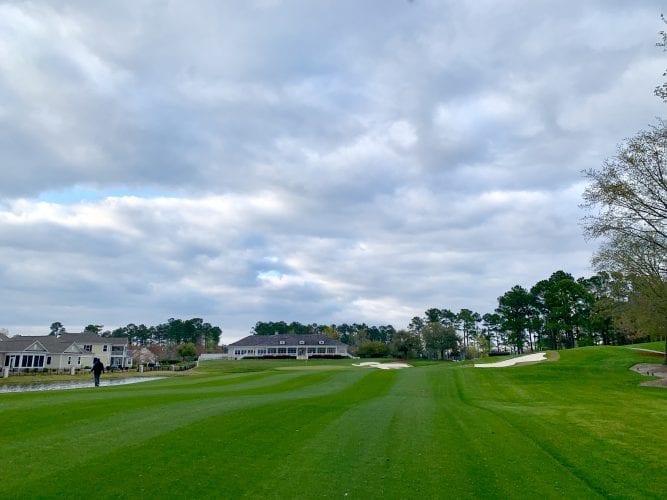 The course feels worthy of large tournaments and also had more elevation change than we expected. It's no wonder that Coastal Carolina University calls it home and Dustin Johnson chose to build his golf school on property. The group we were paired with raved about their Myrtle Beach Golf Passports—a $49 pass for non-residents that secures discounted rates at dozens of area courses, including TPC Myrtle Beach. If you're down for a week or weekend playing golf, it's definitely worth it.
Day 3:
Our final day and fourth round brought us to Tidewater Golf Club, located 15 miles north of the heart of Myrtle Beach. Ken Tomlinson designed the course, which has a clever routing that maximizes four waterfront holes. Rather than designing simple holes on the water where the views take the limelight, Tomlinson created two par 3s and two par 4s that on their own would be standouts anywhere on the course. At first glance each of the holes calls for a heroic shot to make birdie, but as you study the layout, you realize various slopes, bumps, and creative shot-making offer many alternative routes. I could play the par 3 3rd over and over again.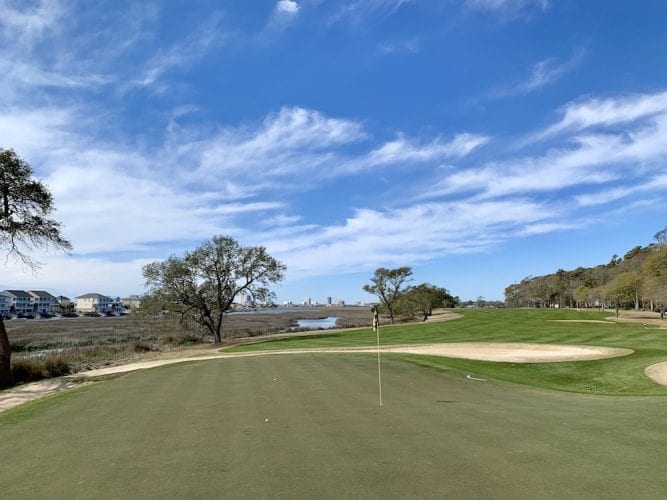 _________________________
Tell us where you would play on a long golf weekend in Myrtle Beach in the comments below!