Unfortunately for visiting golfers, TPC Twin Cities—host venue to the PGA Tour's 3M Open in the suburban Minneapolis city of Blaine—is private, as are two prominent tournament tracks in the area, Interlachen and Hazeltine National. However, the state is blessed with dozens of terrific daily-fee layouts, especially in and around Minneapolis-St. Paul and up in the Brainerd Lakes region, two hours to the north.
Here are the 10 best courses you can play in Minnesota.
From the remains of a rock and sand quarry in an old iron ore mine, architect Jeff Brauer forged a Paul Bunyanesque challenge in the northeastern Minnesota wilderness. Many holes tee off atop gigantic sand piles and play up, down, and around cavernous pits, giant boulders, and vast sand waste areas, all at a price tag that's been chopped to bits by a sharp pickaxe. The drivable par-four 13th ranks among the best of its kind in the country, with three distinct strategic choices available to access the massive green. Its sister course, the Brauer-designed Legend, barely misses our top 10, and is a worthy play in its own right.
View this post on Instagram
Located 90 miles north of Duluth, this undulating 2004 Jeff Brauer creation is aptly named as it's carved from pristine wooded terrain abutting Lake Vermillion. Brimming with rock outcroppings and greenside lakes, this casino-affiliated resort course also serves up multiple option-laden holes, such as the 540-yard par-five 16th, which sports both an upper fairway and a lower fairway, divided by a granite ridge.
View this post on Instagram
In the mid-1990s during an explosion of Brainerd Lakes-area golf, venerable Madden's Resort set its superintendent, Scott Hoffman, on a quest for an architect to build a premier layout. Hoffman solicited and received help from many sources, but in the end, he built The Classic himself in 1996. The rugged, hilly, wooded spread is highlighted by its collection of liquid-filled gambler's holes, such as the 383-yard par-four 3rd with its peninsula green and the 418-yard par-four 5th with its all-carry approach.
View this post on Instagram
Golf's greatest risk-taker was Arnold Palmer, so it's no surprise to see so many outstanding risk/reward holes on this 24-year-old layout that bears his design signature. Named for Palmer's father, Deacon, this is big, bold golf that tumbles through forested terrain replete with lakes, ravines, wetlands, native grasses, and unusually sprawling splashes of sand reminiscent of the Carolinas in the middle of the back nine.
View this post on Instagram
Twenty-three miles east of the Minneapolis-St. Paul Airport near the Wisconsin state line sits this open, nearly treeless Bobby Weed design that opened in 2000. Shaved-down chipping areas and wispy, native prairie grasses are prevalent throughout. To score well requires avoiding the voracious pot and waste bunkers scattered about and taking on the occasional risky proposition, such as at the 511-yard par-five 11th, the "Barn Hole," a rustic ripsnorter that demands a thread-the-needle tee shot between an old white barn and a pair of oaks.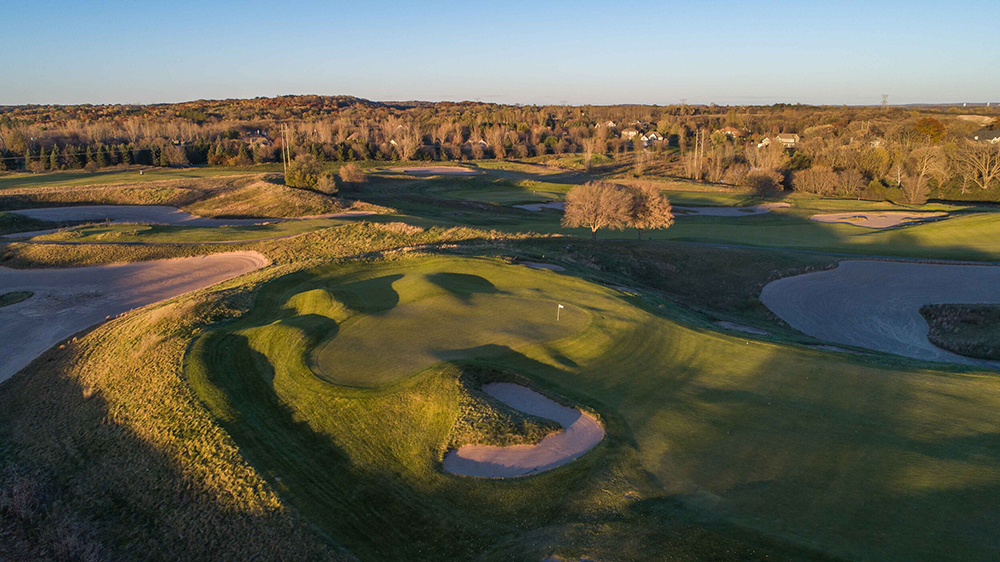 Yet another star from the class of 2000, this Rees Jones design exists in blissful isolation, 106 miles southwest of Minneapolis. For a terrific prairie layout—meaning the breezes can blow—it's worth the two-hour drive. The 7,109-yard course unfolds atop moderately rolling terrain and features native grasses, a smattering of trees (12 holes are treeless), a 14-acre lake, and the Wabasha Creek winding throughout. If more risk/reward is required post-round, the Jackpot Junction Casino Hotel, an enterprise of the Lower Sioux Indian Community, sits four miles away.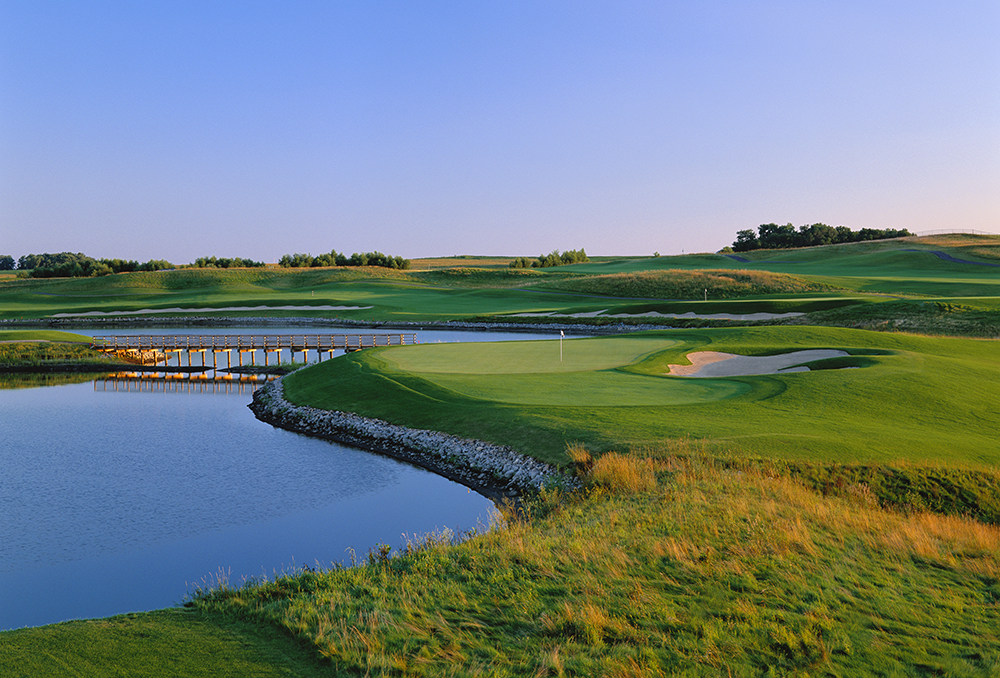 Veteran Midwestern architect Garrett Gill and then-partner Paul Miller weren't renowned as design legends two decades ago, but their work on the Legends Club won "Best New" awards, nonetheless. Today, their 22-year-old creation 25 minutes southwest of MSP holds onto top-10 status by virtue of swift-flowing creeks, wildlife-filled wetlands, multiple ponds, and a 30-acre lake to thwart wayward hitters. Jumbo-size bunkers that guard the wide fairways and large greens on holes as diverse as the 122-yard par-three 6th and the 621-yard par-five 16th lend visual appeal and strategic interest throughout.
If the town of Chaska sounds familiar, it's because it's home to Minnesota's most prominent tournament host, Hazeltine National. The nearby public version, Chaska Town, doesn't provide the same test, but holds its own for quality and value. As evidence, it played co-host with Hazeltine to the 2006 U.S. Amateur. Billy Horschel scorched Chaska with an 11-under-par 60 in the first round of qualifying. He followed up with a 78 at Hazeltine, yet still won medalist honors. Chaska Town is a 1997 Arthur Hills design, with associate Brian Yoder lending plenty of support in creating a mostly open, prairie-style layout sprinkled with oaks, wetlands, and wildflower-dotted tall fescues.
Completely remodeled in 2022–23 by Minnesota native Tom Lehman from two 25-year-old layouts by Robert Trent Jones Jr., the Dutch 27 is comprised of the Red, White, and Blue nines. With the Red currently under renovation and scheduled to reopen in 2024, the Blue/White combo makes up the 7,001-yard par-70 tournament test that will host the PGA Tour Canada's CRMC Championship presented by Gertens over Labor Day weekend in 2023. Set next to the 104-acre Stephens Lake amid a 1,000-acre wooded sanctuary, Dutch 27 now boasts Lehman bunkering that will challenge the low handicapper but not torment the 95-shooter. Cragun's other new golf course, called the Lehman 18, could well vie for top-10 recognition after it matures, following feedback after its July 2023 formal opening.
Shining bright in the Mississippi River valley bluffs of Lake City, 70 miles southeast of Minneapolis, is The Jewel, a 2005 Hale Irwin design that sparkles with variety from start to finish. Each nine on the 7,050-yard par-71 layout begins with open, prairie-style holes then darts into the woods. Among the memorable tests are the drivable, 312-yard par-four 6th and two holes, the 209-yard par-three 11th and the 437-yard par-four 14th that head straight into the face of steep, tree-lined bluffs.
View this post on Instagram
What courses have you played in Minnesota?