Here are our top 10 courses in the state of Pennsylvania: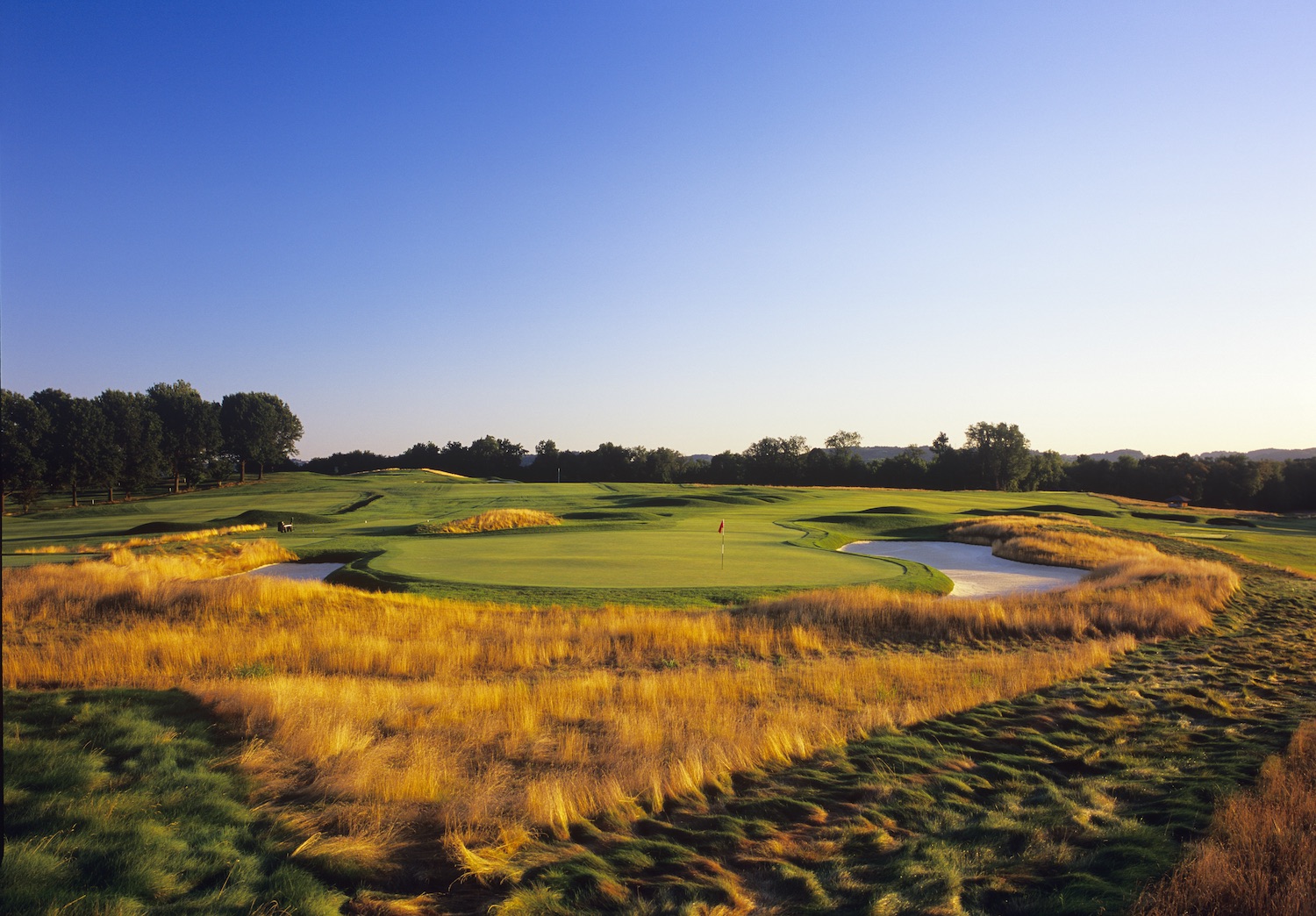 OAKMONT, Oakmont  The host of a record nine U.S. Opens remains what its founder Henry Fownes intended it to be—a thorough examination in golf whether your handicap is 36 or plus-6.
MERION (EAST), Ardmore  Merion was hailed at its debut as "the finest inland links in the country" and in the minds of many it remains so. Hugh Wilson designed it; Bobby Jones and Ben Hogan made it legendary.
ARONIMINK, Newtown Square  Donald Ross proclaimed, "I intended to make this my masterpiece." Half a dozen others have fiddled with it, but Gil Hanse restored it to its original glory as the club hosted the 2018 BMW Championship and prepares for the 2020 KPMG Women's PGA Championship.
FOX CHAPEL, Fox Chapel  Just across the Allegheny River from its more highly heralded neighbor Oakmont, Fox Chapel is a Seth Raynor gem with all the usual template holes, spread across splendid parkland. Host of the 1985 U.S. Women's Amateur, 2002 Curtis Cup, and three Senior Players Championships.
LAUREL VALLEY, Ligonier  Arnold Palmer was one of the founders of this club not far from his home, and briefly considered becoming the host pro rather than pursuing a tour career. Many consider the artfully bunkered, tree-lined course to be Dick Wilson's best. Site of the '65 PGA and '75 Ryder Cup.
PHILADELPHIA CRICKET (WISSAHICKON), Flourtown  Local boy—and the course's designer—A.W. Tillinghast asked that his ashes be spread on this course where  "he loved life the most." For years, the course was allowed to decline but a Keith Foster restoration, including removal of more than 1,000 trees, has it back on top.
LANCASTER (Old), Lancaster  Another classic from the Golden Era, this one from William Flynn, is set on rolling terrain with the Conestoga River as one of the hazards. A major updating saw bunkers rebuilt, trees removed, greens restored—and attracted the 2015 U.S. Women's Open.
SAUCON VALLEY (Old), Bethlehem  No private club in the world boasts a stronger trio of courses than Saucon Valley, and this is the best of them, by British architect Herbert Strong. Six USGA National Championships have been held here.
SAUCON VALLEY (Weyhill), Bethlehem  Less stern but more scenic than its older sister, the Weyhill plays across lime kilns, an old quarry, and Saucon Creek, with dramatic elevation changes that provide sweeping views of the property.
HUNTINGDON VALLEY (Toomey & Flynn Nines), Huntingdon Valley  Firm, fast conditions, a menacing creek, and constantly heaving fairways make this course, nestled in a huge natural bowl, a relentless test of both management and shotmaking.