By George Peper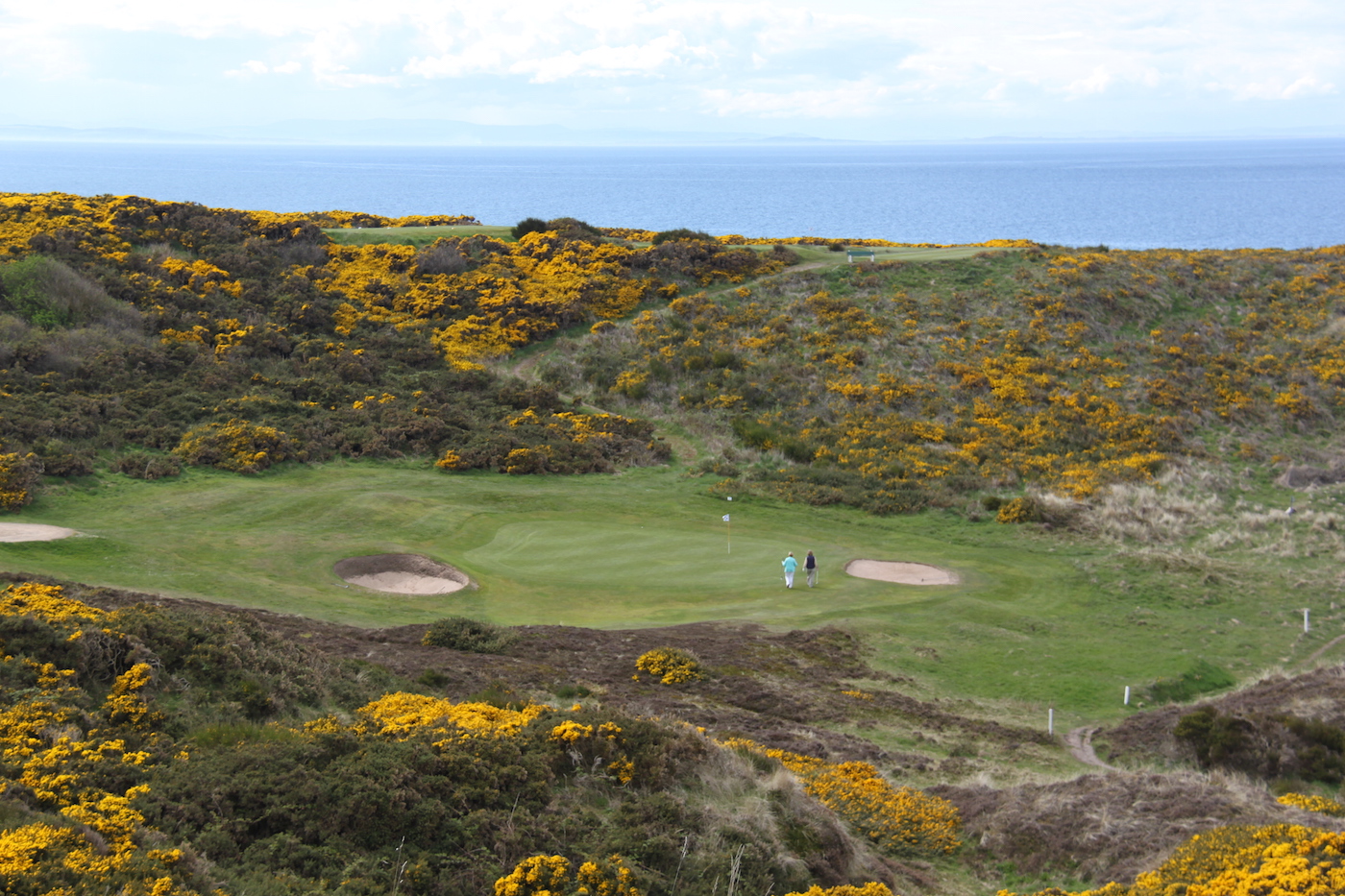 I thought I knew something about golf courses—and Scottish links courses in particular. So imagine my surprise earlier this year, while on a visit to St. Andrews, when a headline in one of the local pennysavers trumpeted the "Best Par-3 in Scotland" on a course that rang only the faintest of bells.
Hotfooting it to my computer, I dredged up the manuscript of a book I wrote seven years ago with British golf writer Malcolm Campbell, True Links, in which we'd identified the 246 bona fide links courses of the world. There it was: Hopeman Golf Club in the town of the same name. Founded 1909, designer unknown, 5,624 yards, par 68.  No more details than that—and yet it was reputed to have the finest one-shotter in Caledonia. This I had to see!
Fortuitously, my wife and I had a couple of free days, and even more fortuitously, Hopeman happened to be just minutes from one of Libby's favorite places, a little hole-in-the-wall called Piccolo Press. Not much larger than a two-bedroom apartment, it is corporate headquarters to perhaps the finest bespoke stationer in the world—printer and purveyor of personalized notepapers; die-stamped, engraved invitations; embossed, gilt-edged business cards and the like, all printed luxuriantly on stock the thickness of shirt cardboard. Among their notable clients (other than Libby) are the British Embassy, the R&A, the Victoria & Albert Museum, the Lord's Cricket Club, and the National Trust, not to mention countless members of the British peerage.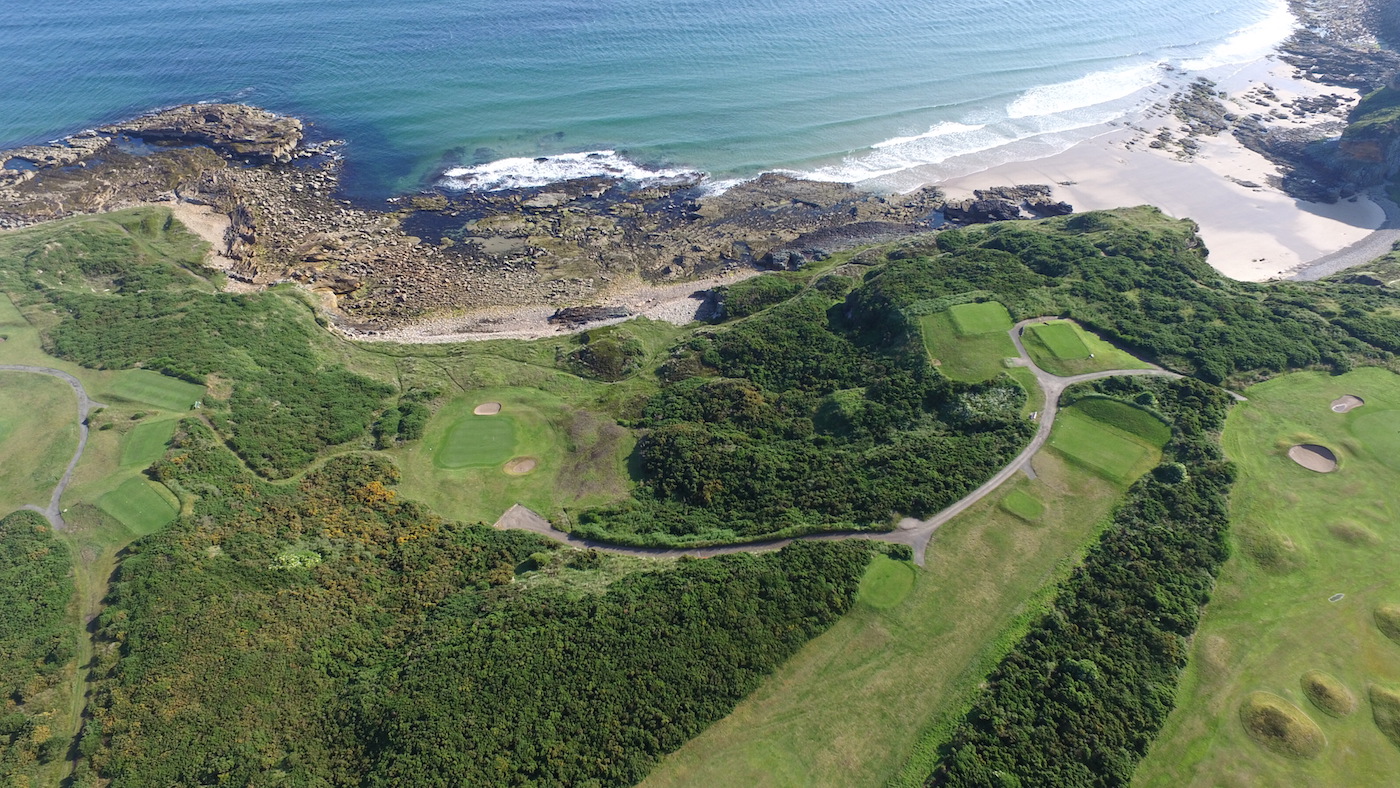 Piccolo isn't a store—just a factory—but its reception area includes a little nook that brims with notecard overruns for sale to the masses, and Libby is partial to the ones engraved with Scottish thistles. Its locale is high in the Highlands, a solid three-hour drive from St. Andrews (or just about anywhere else in Scotland), but I never complain about a visit because the shop is just a mile or two from one of my favorite courses, Nairn, and the most direct route passes by an even bigger favorite, Castle Stuart.
This time, however, our destination was neither of those jewels, it was the undiscovered gem a bit further up the Moray Firth. Hopeman is a fishing village with a population of about 1,800. There's a hotel, a general store, a drug store, a beauty parlor, a fish and chip shop, and not much else. But, as with so many little Scottish towns, there is the eponymous golf course.
The last mile or two of our journey wound through wheat fields with no hint we were seaside, and the tarmac parking was equally unassuming, ascending to a clubhouse the architecture of which brought to mind a 1970s elementary school, its low-slung profile all glass and stucco. I would learn that it was indeed built in 1975, the club's first proper clubhouse; before that (for more than 50 years), Hopeman operated out of an old wooden railway car.
I'd booked our tee times online, £30 each including "golf insurance," one of those British imponderables (presumably protection in case you break the course record). A full week of golf could be had for just £89, and, even better, a six-month Hopeman membership was on offer for only £180—£10 less than one round at Castle Stuart!
Part of the reason for these low rates was a notably lean and mean clubhouse operation. On the day we were there, it seemed one person, a young lady of about 25, did everything—check-in golfers in the pro shop, serve bacon rolls and coffee in the dining room, answer phone calls from members and visitors, all with cheerful efficiency. I have no doubt she also gave putting lessons and mowed the greens.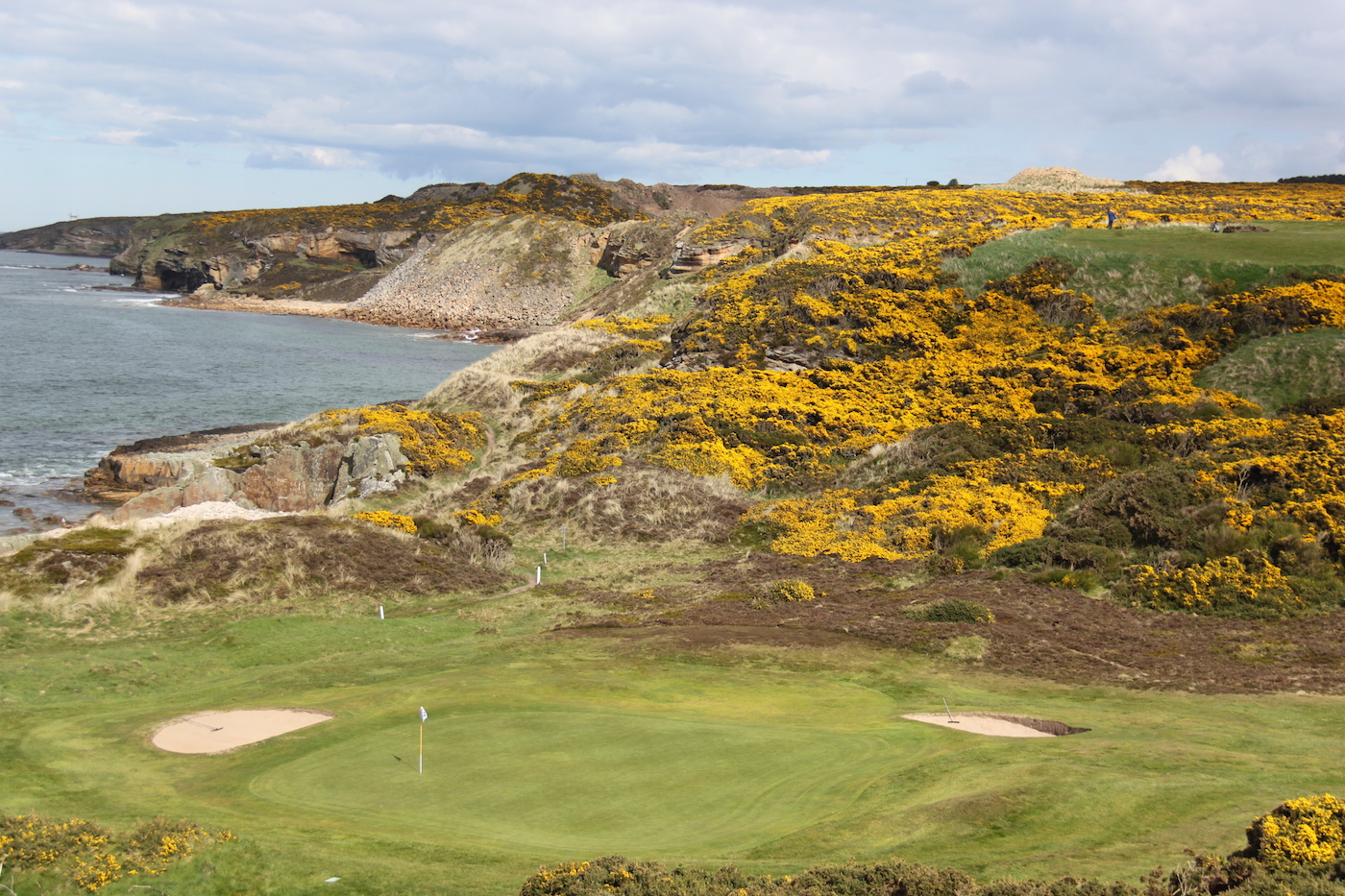 Indeed, everything about Hopeman is no frills. No driving range, just a hitting net. In the tiny pro shop, the only Hopeman logoed item is a ski cap with pompom. Caddies are non-existent, motorized carts few, as almost everyone carries their own or pushes a trolley as we did, covering the course in a sprightly three hours.
The front nine was generally undistinguished, with the first few holes wandering beside the clubhouse, the 3rd and 6th sharing a green. The Moray Firth still had not made its appearance, but the gorse lining the fairways was in glorious golden bloom and the shortness of the course made for a pleasant delusion of aptitude. (I'm pretty sure Dustin Johnson could drive every par four at Hopeman, and even I sneaked it on one of them.)
But we were really here to see just one hole, number 12. In the clubhouse, I'd learned a bit more about it. It seems Paul Lawrie, the 1999 Open Champion, is a devout Hopemanite, having spent childhood summers there, and he regards the 12th as one of the finest par threes he's ever played. Moreover, the British publication, Today's Golfer, had recently polled its readers for the best Scottish holes in a number of categories. (Hopeman members had been exhorted to write in.) Hopeman's hole had not won, but finished second to the Postage Stamp at Troon, a remarkable achievement for such an under-the-radar course.
So by the time we exited the green of the 11th hole, anticipation was brimming. The hole is named The Prieshach, a Gaelic word meaning "a dip in the land full of shrub." That's an understatement. What presented itself, suddenly and dramatically as we emerged from a gorse-lined corridor, was one of those vistas that can only be greeted with the word "wow."
There was the green, 150 yards away and more than 100 feet below us, backdropped by a massive curtain of gorse with the firth making its entrance just to the right. Few holes in my memory combine such a precipitous drop with such a spectacular backdrop. The Devil's Cauldron at Banff Springs; the 7th at Streamsong Blue; 16 at the Golden Horseshoe in Williamsburg. But none of those includes the grandeur of the sea.
There was almost the feeling "why desecrate this hole by hitting a bad shot at it." Almost. I chose an 8-iron and struck it pretty well: At its apogee I'm pretty sure the ball was farther from the hole than it was at impact. It thudded down about a yard short of the green.
Now to the only quibble with the hole. As at Streamsong, after putting out there's nowhere to go except back up the hill. On that day, my dodgy lower back had been acting up. I was 40 feet from the cup, a birdie unlikely, so I said to Libby, "I think I'll pass on the trudge and just go to 13." Good soul that she is, she offered to go down and finish out for me, her own tee shot having been less successful in navigating the chasm. We made a four, then played the last six holes, which turned out to be rather charming, including three more beside the firth.
So is The Prieshach the best (or second best) par three in Scotland? Truth be told, I think the results of the poll reflected some ballot-box exuberance from the Hopeman members. I can think of other holes that are harder (16 at Carnoustie), more strategically enthralling (11 at the Old Course), even more visually arresting (the new 9th at Turnberry). But the 12th at Hopeman surely deserves to stand among them. More important, the course at Hopeman deserves to be seen and played, if for no other reason than it is a shining example of what Scottish golf beyond the marquee courses is: pure and honest, accessible and affordable, occasionally exhilarating, and always real.