By Tony Dear
Golf course design priorities have seen a welcome shift in recent years. The emphasis on demanding, arduous golf has started to give way to fun, sustainable courses that you'd want to play again and again. The new wave is seen in the boom of short courses across the country (Pinehurst's Cradle, Bandon Dunes's Preserve, Sand Valley's Sandbox, Big Cedar's Top of the Rock, etc.) and their continued development suggests golfers find short golf more enjoyable than long.
Tom Doak has been arguing this for decades. "I've always fought against the idea that great golf had to be long," he says. "I kept Pacific Dunes and Barnbougle well below 7,000 yards just to prove my point. I've been thinking I'd love to do an even shorter course for many years."
Doak will get his chance at the Sand Valley Golf Resort—Mike Keiser and his sons' (Michael and Chris) pine and sand-covered oasis in the middle of Wisconsin where Ben Crenshaw and Bill Coore's eponymous Sand Valley and David McLay Kidd's Mammoth Dunes are already drawing thousands of golfers to a remote part of the country.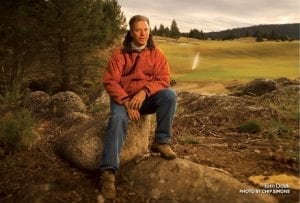 Doak's course, tentatively called Sedge Valley, won't be a nine-hole, executive, or par 27 layout, but a regulation 18-holer of irregular length. The proposed scorecard suggests it will be slightly more than 6,000 yards long and have a par of 67 or 68.
Some of Doak's favorite courses in the world are similarly condensed. In Volume 1 of his acclaimed Confidential Guide series, the Michigan-based designer lists England's Rye (par 68), St. Enodoc (69), Swinley Forest (69), and West Sussex (68) in the "Gourmet's Choice" section. "When I was picking these courses, I wasn't thinking they were par 68s or whatever," he says. "They're just some of my favorite courses of any length."
Doak's idea for Sand Valley's third course (fourth if you include Coore & Crenshaw's Sandbox—a 17-hole Par 3) beat out proposals from Gil Hanse and Mike DeVries. "Gil's proposal was fabulous," says Mike Keiser. "But it was roughly a mile from our clubhouse and Tom's routing was contiguous to the Sand Valley course and only a three-minute walk from the 1st tee of Mammoth Dunes. Mike's design used some of the Doak land and was also very good."
One glance at Doak's intended routing tells you all you need to know about what's in store. Full of bends, twists, width, angles, options, undulation, interesting green sites, and quirk, the course promises to be exquisitely stimulating, full of anticipation and adventure.
Doak hopes Sedge Valley will prove shorter courses can be plenty challenging enough to interest good players. "It will also make it possible for more golfers to play 36 in a day," he says.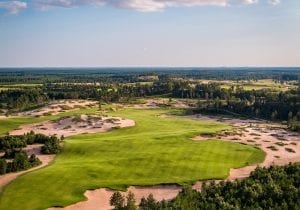 The Keisers insist they are in no rush to build the course. Doak will be there later this month to clear lines for fairways, but construction isn't likely to begin until the end of 2019 with a possible 2021 opening date. "But you never know," says Doak. "Once we get a few holes cleared out the Keisers might get excited to go ahead sooner."
Building so short a course in the age of 460cc titanium drivers and jet-fueled golf balls might be considered a huge gamble. But Keiser knows what he's doing. "I create courses for the retail golfer, most of whom can't break 85-90," he says. "Tom is well aware most male golfers would most enjoy courses measuring 5,700 to 6,200 yards."
Our recent Twitter poll would indicate both are right. We asked if golfers were excited at the prospect of Doak building a 6,000-yarder at Sand Valley to which only 4% responded saying that the course would probably be too easy for them. That left 96% eagerly looking forward to it.
Will Sedge Valley bring us out of the formulaic distance/difficult era once and for all? Fingers crossed.
_____________
Are you excited for Tom Doak's sub-6,000 yard course at Sand Valley? Let us know why or why not in the comments section below!