By Dave Seanor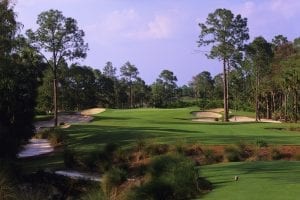 Anonymity is the number-one amenity at Calusa Pines Golf Club. When you set foot on the property, you become one with nature, unshackled from the sights, sounds, demands, and distractions of everyday life.
At least that was club founder Gary Chensoff's intent 20 years ago when he envisioned this golf purist's enclave situated a few miles east of I-75 in North Naples, Fla., a dream that became reality in 2001. The 530-acre property is hemmed in on all sides by the sort of development that is continually encroaching on the Everglades, but standing on any tee box or sitting on the clubhouse veranda, you'd never know it.
Chensoff—a Chicago-based hotel and real estate developer—engaged the design team of Michael Hurdzan and Dana Fry to transform an unremarkable patch of Florida scrub land into a course unlike anything else in the state. Vast swathes of coral rock were dynamited to make way for 72 acres of lakes. The excavated rock was used to enhance topographical features. A variety of mature trees were located offsite, uprooted, then transported to the golf course and replanted on the new landforms, lending visual continuity. Colossal waste bunkers delineate holes elsewhere on the layout.
Design aficionados may disdain such artificiality, but they can't dispute Hurdzan/Fry's thoughtfulness in concept and strategy. Each par three and par five is aligned to a different point on the compass, meaning wind poses a challenge unique to each hole. Nearly every hole is secluded from those adjacent to it. The architects were generous in their presentation of short risk-and-reward par fours, including No. 8, which plays from 228 to 291 yards and has the distinction of having yielded the course's first hole-in-one.
The course is 7,203 yards from the back tees, with a rating of 75.3 and 148 slope. Lesser mortals can move as many as four boxes forward (down to 5,348 yards). Walking is expected; the club has a corps of accomplished caddies, who come in handy since it's the challenging green complexes that give Calusa Pines its teeth. Success is dependent on pinpoint accuracy tee-to-green or a wickedly deft short game.
Alas, membership at Calusa Pines is by invitation only, and capped at 275. The club is closed from June through September, and starting times January through April are locked up almost exclusively by members, leaving few windows for unaccompanied guest play. In other words, start networking.