As golfers, two of the sport's most legendary figures have a lot in common. In their prime, Jack Nicklaus and Tiger Woods drove the ball long and straight. They controlled the distance and trajectory of their irons, scrambled to save par when they missed, and sank all the putts that mattered. Both were cool-headed strategists who were better under the gun than the competition.
While it's too early to tell how their respective design careers will stack up, a scenario is unfolding south of the border that will provide a fascinating basis of comparison.
At the tip of the Baja Peninsula in Los Cabos, Mexico, Nicklaus will cut the ribbon on October 28 at Quivira Golf Club, his epic, long-awaited layout 10 minutes from downtown Cabo San Lucas. On December 15, Woods will unveil his first completed 18, El Cardonal at Diamante—less than three miles as the crow flies from Quivira.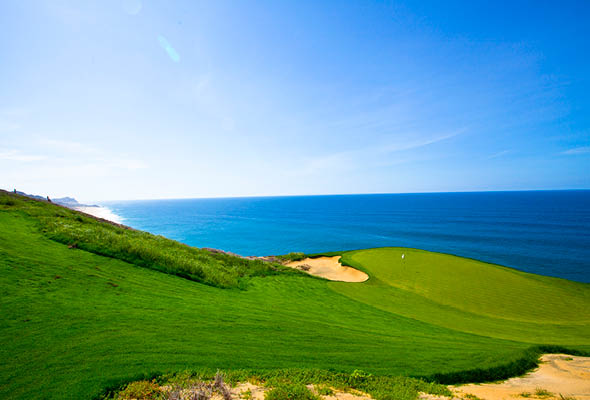 Nicklaus has become a most prolific architect. A case can be made that the Golden Bear's accomplishments as a designer may one day rival or surpass his achievements as a player: To date, he has been involved in the design of 290 courses open for play worldwide (his firm has built another 90). Quivira, Jack's sixth course in Los Cabos, is Nicklaus Design's 23rd in Mexico.
As for Woods putting up comparable figures, Jack's design output is a bigger mountain than his 18 professional majors. Given the snail-like pace of golf development of late, Tiger won't get past base camp.
Woods, who founded his design practice in 2006, got off to a rough start. Al Ruwaya in Dubai, the course he laid out for a reported fee of $20 million, has been abandoned. The Cliffs at High Carolina is on hold. Punta Brava in Ensenada, Mexico, was a victim of the financial meltdown in 2007–08. If nothing else, Tiger can take solace in the fact that it's taken Nicklaus eight years to complete Quivira.
And just as their personalities are entirely different, the two Cabo newcomers by Jack and Tiger bear no resemblance to each other.
Judging from his handiwork at Quivira, Nicklaus is not afraid at age 74 to let his creative juices flow. This may be the most daring, eclectic course he has ever built. Certainly it has the fewest bunkers and the smallest green (at No. 13) of any course on his resume. The heart-stopping front nine is par 34, the equally dramatic back nine is par 38—another departure from the usual.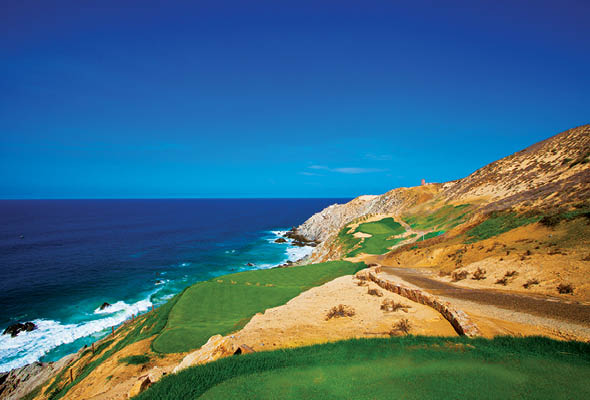 Remember those fantasy golf calendars with implausible holes airbrushed onto sheer cliffs? Quivira has a few of those. The routing is a bit torturous in places, but the payoff is worth it. All 18 holes feature panoramic views of the Pacific.
The first three holes on the 7,328-yard layout head away from the sea before reversing direction at the 4th, an S-shaped par five bounded by a dry creek bed and a vast sandy wasteland. The 10-minute drive to the 5th hole—which crosses arroyo-spanning bridges and traces a switchback route up the side of a mountain—requires a sure hand at the wheel. At more than 275 feet above sea level, the tee at the short par-four 5th is a vertigo-inducing perch; at well under 300 yards from the regular tees, this downhill hole can be driven, but it's "adios" if you miss the rock-walled, cliff-hanging green.
Carved into the base of a huge dune and framed by stippled hills, Quivira's par-three 6th, faced into the prevailing wind, is a dazzling one-shotter. The long narrow green, propped on bluffs high above the roiling sea and a deserted beach, drops to oblivion on the left.
The tee boxes at the par-four 7th are set near the historic lighthouse at Land's End, the oldest standing structure in Cabo San Lucas. Behind the bunkerless green of the colossal, double-dogleg par-five 12th, is a sharpened pole fence, a remnant from the movie set of Troy, a swords-and-sandals epic.
The petite par-three 13th has its own stage set to die for. Atop a massive pinnacle of fissured granite rising 150 feet from sand and surf sits a tiny, wafer-like green. There's a bail-out area to the left, but the hole, 144 yards from the tips, asks for a do-or-die shot over a yawning abyss.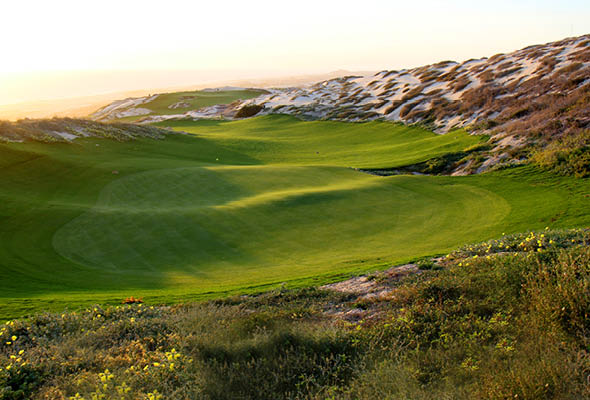 Quivira's last three holes, all par fours, are magnificent. Sixteen and 17 plunge down a mountain while 18 returns to the sea, its sizable green, bisected by a deep trough, set on the beach.
Asked how Quivira will impact his legacy, Nicklaus says, "I think some people will say it's the most spectacular golf course and the best golf course they have ever seen and others will say, 'You have got to be kidding.' I don't think there will be a lot of middle ground."
El Cardonal takes its name from the tall, slender, multi-armed cactus that thrives in this region. Tiger, who maintains a home at Diamante, was given an interior parcel of land set well back from the Davis Love III-designed Dunes Course routed in mammoth dunes above the Pacific that's No. 63 on the LINKS100 World Rankings.
Scenery-wise, Tiger's track does not compete with the Dunes, though it offers an ocean view from every hole. What the 7,508-yard, par-71 course presents is a superb strategic test without a weak hole in the mix. With maturity, the subtly contoured greens at El Cardonal, many skewed to the line of play and defended by spill-offs and deep-faced bunkers, may come to berecognized as among the best surfaces in Cabo.
Nearly every fairway and green at El Cardonal is defined by huge sand pits, most of them directional, others penal to a stray drive or slack approach. Tiger takes a page out of Donald Ross's playbook by pulling a few bunkers well back from the putting surface. They appear greenside, but they're not. In his debut effort, Tiger has shown he's willing to create optical illusions and visual hijinks to fool with the golfer's depth perception.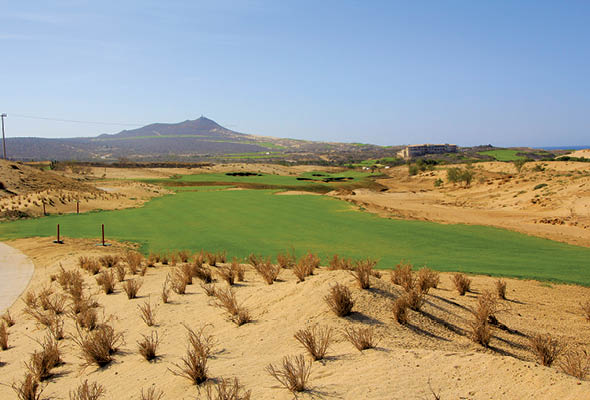 The par-36 front nine, routed on the lower, flatter portion of the property, plays to and from the sea along fairways framed by rolling, fabricated dunes. One of the best holes is the short par-four 3rd, which skirts a lake and brings a menacing central bunker into play off the tee. A choice must be made: Lay up short of the bunker on the tee shot; carry the bunker to set up a short approach from a good angle; or boldly try to carry a second bunker and drive the green.
The shorter, par-35 back nine is on higher ground with more interesting contours than the front. Cactus-studded arroyos weave through these holes and Tiger and his team have brilliantly incorporated them into the layout. The finish at El Cardonal is excellent. The par-four 17th, commanding the high point of the course, drops to a broad, saddled fairway that turns gently left. On the horizon is the community's 10-acre saltwater lagoon. Beyond is the cobalt-blue Pacific. The closer is a massive 491-yard par four that slides down to the sea. Cautious players can tack around sandy hazards and reach the green in three, while bolder golfers will flirt with a bunker to set up a good angle to the long, slim, bunker-fronted green.
According to Diamante's  owner Ken Jowdy, Tiger's goal was to create different ways to negotiate each hole. "He [Woods] focused more on the people he plays with on Wednesdays [amateurs] than on the weekend."
It may lack the heart-stopping thrills and jaw-dropping views of Quivira, but El Cardonal is an honest, solid course full of old-fashioned virtues, a course where precision is as important as power. Architect George C. Thomas once wrote, "Length means nothing without character, but a true test must have sufficient length and character." Tiger's debut has plenty of both.
Brian McCallen is the author of Great Golf Resorts of the World.