PopStroke is venturing west. But unlike this country's first westward expansion during the mid-19th century, when settlers traveled to uncharted territories seeking their own fortunes, PopStroke is driven only by a desire to introduce its unique golf and entertainment experiences to new audiences and new markets.
In early December, PopStroke Entertainment Group will venture almost 1,000 miles from its headquarters in Jupiter, Fla. (not to mention its four current Sunshine State locations in Fort Myers, Sarasota, Port St. Lucie, and Orlando), where it will open a two-story venue in Katy, Texas, about a 30-minute drive west of downtown Houston. "I'm really excited about being in Texas," says Greg Bartoli, PopStroke's founder. "Houston is booming for a variety of reasons—it's a great golf market and a serious entertainment market. It'll also be our first market in a major international city with several professional sports teams."
For those unfamiliar with the brand, PopStroke is to putting what Topgolf is to full-swing shots. Each venue features two 18-hole putting courses created by TGR Design—Tiger Woods's course design firm (Woods is a co-owner of the company.)—plus a full-service restaurant, outdoor gaming areas, on-course service, and plenty of TVs to entertain guests. Every course is different, with holes measuring about 40 feet, give or take. As Bartoli acknowledges, the playing surfaces themselves are a proprietary turf blend that required years of research and development. The fairways and greens for each hole feature a surface that rolls at about a 12 on the stimpmeter, while the rough and bunkers are made from distinctive, thicker types of turf that roll at slower paces.
"There's a real emphasis on my end to make sure these courses are playable for everyone," Bartoli says. "While there are tremendous amounts of breaks and subtleties and nuances in the green complexes themselves, we put in protections to make sure the courses are playable for beginners."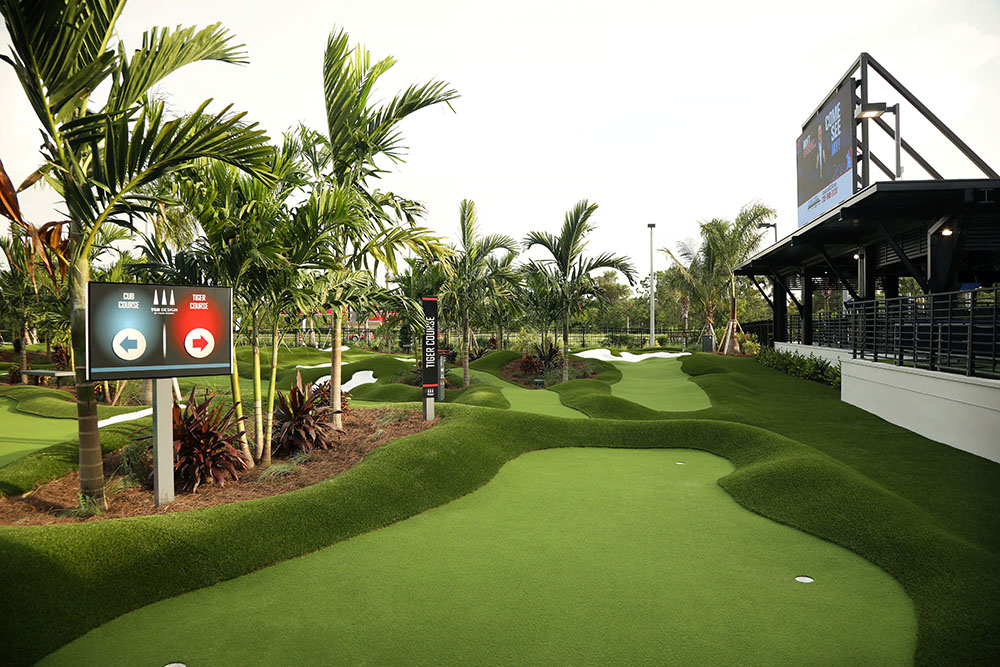 Those so-called protections are largely stretches of steep mounds that line the perimeters of each hole. Not unlike the elevated mounds that define the stadium courses built by Pete Dye, these contoured sections are designed to keep balls in play, even if they're hit off line or with too much pace. "The serious golfers can read the breaks and subtleties of the greens to take direct lines at the holes," Bartoli explains, "but we have lucky breaks built into the courses to keep the beginners focused and engaged and able to enjoy themselves."
As Bartoli acknowledges, the majority of PopStroke guests aren't traditional golfers. They're not teeing it up 30 or 40 times a year. Instead, many are new to the game—if they play at all—and, first and foremost, they're in search of a fun day or night out. "It's a gateway into the game of golf," Bartoli says of a PopStroke venue. "It's a place for people to gain some confidence and an awareness of the game."
But that doesn't mean PopStroke isn't also attracting serious, avid players, too. As Bartoli has observed, it's not uncommon to see a group of older golfers at one of the company's Florida locations. "They'll show up with their Scotty Cameron putters and they'll be out there gambling with their buddies."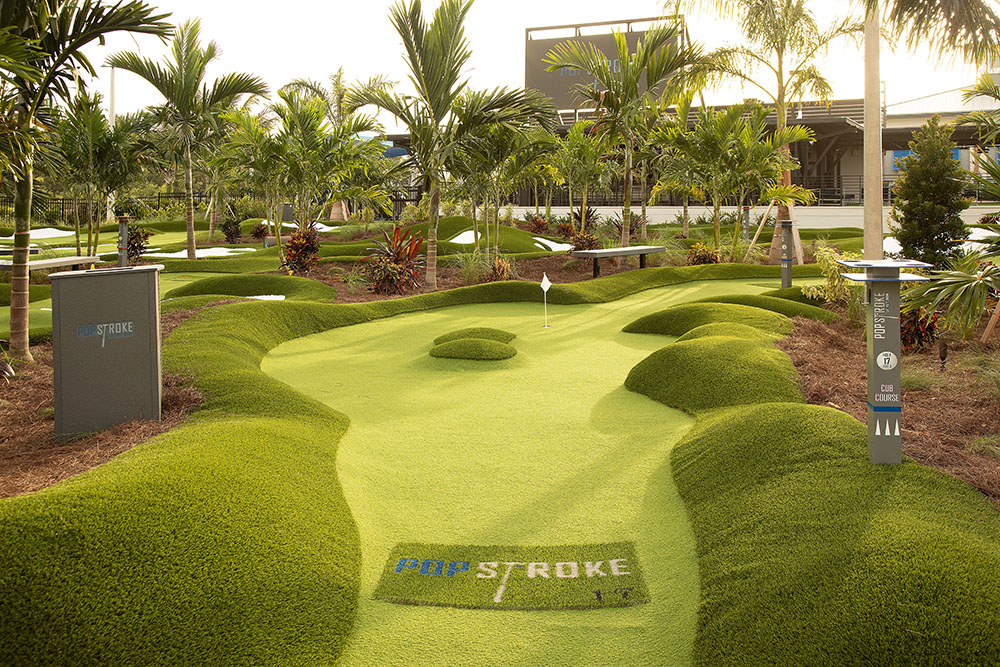 Beyond the social aspect of a PopStroke facility, the venue and its courses can also satisfy the player who's looking for ways to improve with the flatstick in hand. "It can be a training facility for people to really hone in on their putting skills," Bartoli says. "There's no question that if you spend a lot of time at PopStroke, you'll become a much better putter."
Soon, a new audience in the greater Houston area will discover that for themselves. Shortly thereafter, PopStroke will also open a venue in Tampa as well as Arizona locations in Glendale and Scottsdale; as Bartoli forecasts, almost 20 PopStroke facilities will be open around the country by the end of 2023.
A few years back, a debate raged on as to whether facilities like Topgolf could grow the game. The jury is still out on that, but the suggestion prompts a similar question about PopStroke. Bartoli is quick to point out that that wasn't the motivation behind the brand's creation, but he believes it's possible. In fact, he opines that PopStroke might offer better odds in that regard than a facility like Topgolf. "Not everyone enjoys hitting a 7-iron or a driver if they don't know how to hit a 7-iron or a driver," he says. "Putting is a great equalizer. Everyone can do it, and our courses are meant to showcase that."
Have you been to a Popstroke? Tell us about your experience in the comment section.