Mike DeVries has been quietly, but steadily, building a reputation for designing great courses
He's been interviewed on Golf Channel and designed a course in the world's top 25. His star is unquestionably on the rise. Yet, Mike DeVries remains something of an unknown.
Unless you're in his home state or halfway around the world, you've probably never seen a DeVries design. The 56-year-old Michigander's best work (so far) is at private clubs that don't seek publicity. But his last major project—Cape Wickham, which opened five years ago on the shores of King Island, Australia—is the 21st best course on the planet (and rising) according to Golf Digest. Were it in the U.S. or UK, his name would be cropping up in the same conversations as Bill Coore and Ben Crenshaw, Tom Doak, and Gil Hanse.
It should be. DeVries is that good.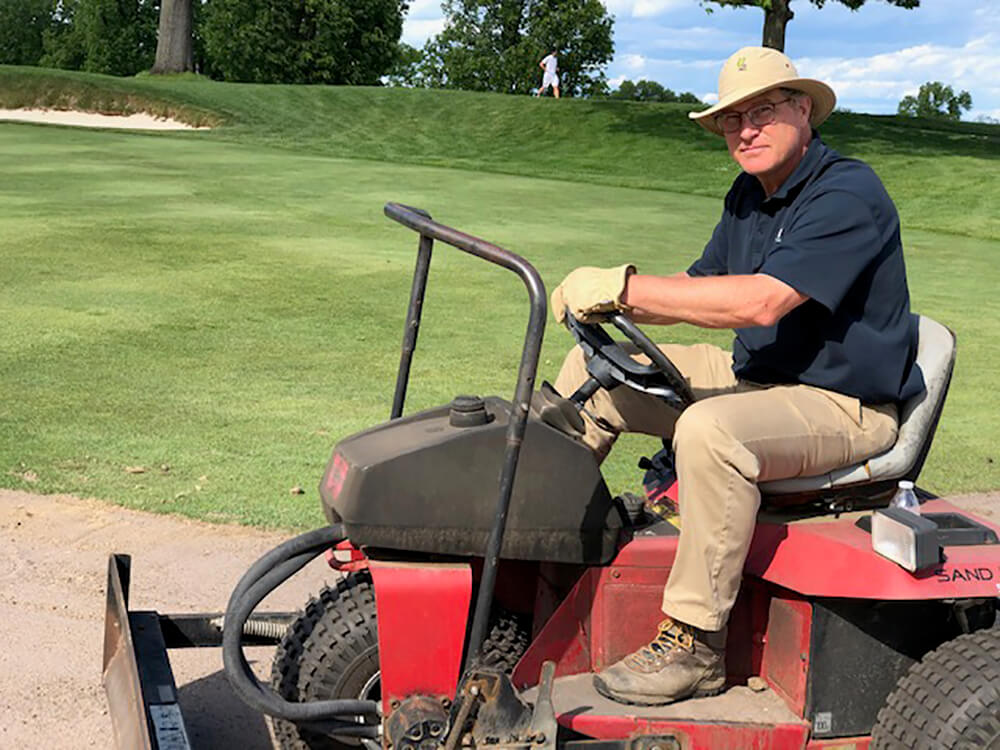 "I think Cape Wickham ranks alongside Sand Hills as the premier modern course in the world," says Australian architect/writer Darius Oliver, who collaborated on it with DeVries and former owner Duncan Andrews.
The arrangement, concept, and intention of each hole at Cape Wickham epitomize DeVries's design philosophy. "The key to great golf course design is to provide for variety in length, direction, angle of approach (uphill, downhill, sidehill), and hazards," he says on his website, "and to do so with a proliferation of options available to the golfer according to his golf ability, both mentally and physically."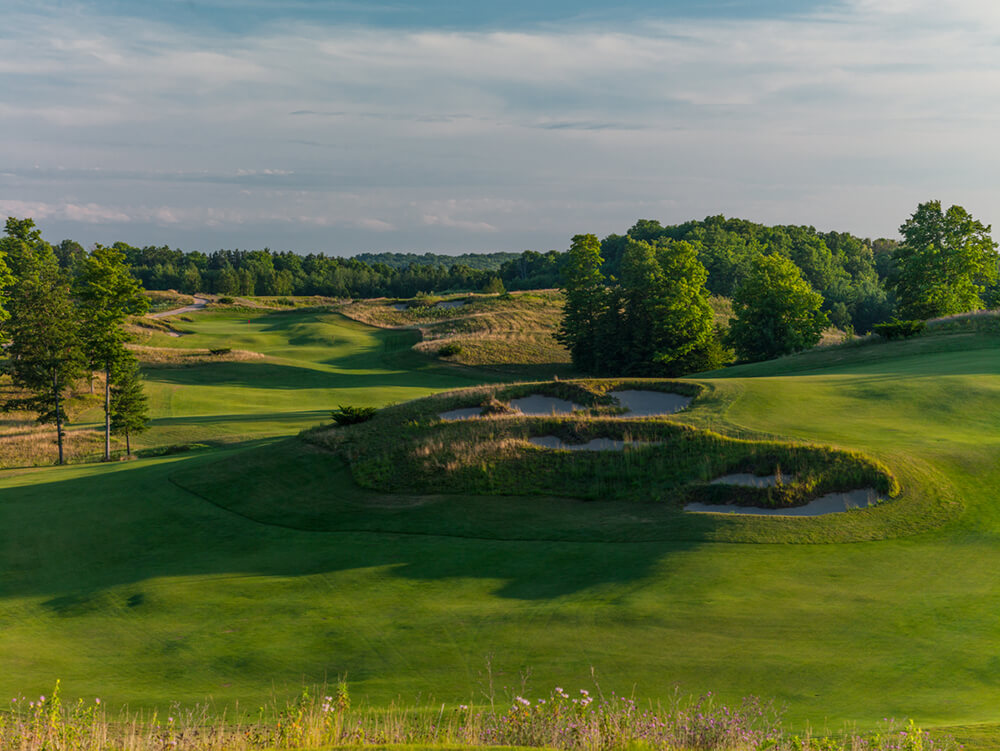 Andrew Purchase, who constructed the course, was impressed with DeVries from the start. "What immediately stood out was how hands-on he was," says Purchase, who has worked with Jack Nicklaus, Greg Norman, and others. "Having the designer sitting in a 'dozer is great because it's him putting the final contours on the ground. Mike has a big engine, and his work ethic is second to none."
DeVries learned the importance of routing at Alister MacKenzie's Crystal Downs in northern Michigan, where his grandparents were members and where he spent a good chunk of his early life. "Its rhythm and flow is the real secret to its completeness," he told GolfClubAtlas.com in 2002. "It's like a really good theatrical presentation in how it rises and falls throughout the round, climaxing at just the right spots."
In the early '80s, DeVries worked in "The Downs" pro shop under head pro Fred Muller, then on superintendent Tom Mead's maintenance team, mowing greens and cutting holes in the summers between earning a Liberal Arts degree at Lake Forest College in Lake Forest, Ill.
Out of college, he managed the shoe department at a sporting goods store in Chicago, but lost enthusiasm after about four months. "I felt I was going in the opposite direction to my goals in life," he remembers. "It was no biggie. I was young and figured it out before it mattered."
In the Spring of '88, DeVries returned to northern Michigan with his fiancé Annie (they wed in June of that year). Back at his happy place, Crystal Downs, he rejoined the maintenance crew, assisting in a bunker restoration.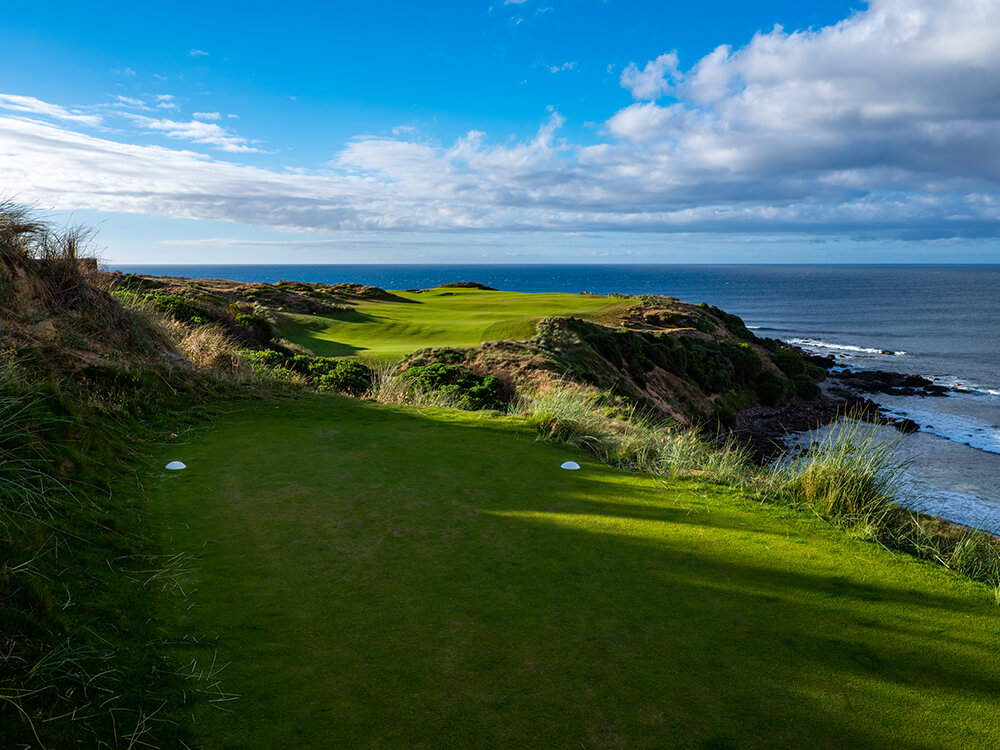 Meanwhile, 50 miles to the east, a young designer from Connecticut was making his debut, pioneering a more sustainable, less ornamental style. Tom Doak had learned many of his design principles working for Pete Dye, touring courses in the UK, and caddying on the Old Course at St. Andrews. He was looking for help building the course at High Pointe Golf Club: Mead was the project manager, and both he and Muller mentioned DeVries.
"I can't say I really scouted him," Doak says. "He just had the right attitude, he was keen to be involved."
"We'd talk golf design a lot," DeVries says of Doak. "It was really cool. We both just loved being out there creating, building, talking. He taught me how to run a bulldozer. We made changes in the field. It was organic, reactionary architecture and it was exactly the sort of thing I wanted to do."
Staying with Doak, DeVries played a pivotal role building the Heathlands Course at the Legends Resort in Myrtle Beach, and basically ran the job at the Black Forest Course at Wilderness Valley in Michigan. Had Doak not hit a lean spell, DeVries might have remained longer; instead, he returned to school and, in 1994, earned a Master's in Landscape Architecture from the University of Michigan.
By the time he graduated—along the way working in an office drawing plans and assisting in the restoration of the university's MacKenzie layout—DeVries was ready to start building a career. On July 4, 1994, he opened his own firm, starting by consulting for Tom Fazio and working with Doak.
In 1996, the call finally came. Financier Bob Van Kampen wondered if DeVries would design him a course in Pierson, Mich., 20 miles north of Grand Rapids. And yet…not really. Van Kampen had asked six executives of Van Kampen Investments to design three holes each. Eventually, DeVries would design the bunkers and greens and help build the course. He'd gotten his name on the scorecard, but the victory was hollow.
Two years later, DeVries (with help from Fred Muller, again) was able to convince oil and gas executives Ed Walker and Art Preston that he was the man to transform 400 acres of undulating, sandy, woodland in northern Michigan into a golf course that reminded them of the Old World layouts they'd played across the Atlantic.
Tod ay, Golfweek rates Kingsley Club the 23rd-best course in the U.S. built since 1960. Golf Digest ranks it fourth best in Michigan.
"Mike knows how to push the envelope on contouring greens without going over the top," says architect Brett Hochstein, who worked at Kingsley in 2006 (while studying Landscape Architecture at Cornell University) and got to know DeVries well. "He can route holes very well over severe terrain, and establishes flow and continuity extremely well.
He's highly respected among the people who worked on his courses. At a time when most architects were still working on computers in offices, he was out there getting his hands dirty. He made me see how hard I have to work to get to where I want to be in this business."
"What I admire most about Mike's work is that he is not afraid to build a difficult hole or green, and doesn't apologize for it," says Doak. "I'm sure that's a byproduct of growing up at Crystal Downs, but it serves him well."
Kingsley is extremely taxing on golfers out to post a score. But, as with all truly great courses, the more casual golfer who's out there to enjoy the beautiful setting and the thrill of making tactical decisions will be royally entertained.
While Kingsley proved DeVries's ability to design a course from scratch, he was making strides in the renovation business, too, completing a superb renewal of MacKenzie's Meadow Club half an hour north of San Francisco and similarly extensive overhauls of Donald Ross's Siwanoy Country Club and the Seth Raynor-designed Sunningdale Country Club, both north of New York City.
More original design success came—in Michigan, where else?—at Greywalls at Marquette Golf Club in the Upper Peninsula, the absurdly good-value Diamond Springs in Hamilton (where you won't believe what $30 will bring you), and The Mines outside Grand Rapids, a rollicking ride above old gypsum mines.
Last year, DeVries joined forces with Aus-tralia's Michael Clayton and Holland's Frank Pont to form a new company. Very quickly, Clayton, DeVries, and Pont signed four restoration projects—Harry Colt's Bloomfield Hills in Detroit; John Abercrombie's The Addington in south London; and Real Club de Golf Vista Hermosa in Spain, plus re-bunkering Royal Dublin—but the Coronavirus stalled their momentum. The workload will surely grow when business resumes, and we'll see DeVries in action more often.
Clayton says he is in awe of his partner's ability to drive machines and actually build the work, and respects how well he routes a "fun and coherent course." Pont cites DeVries's skill at building "natural-looking green complexes," adding, "he has the guts to do what most other architects would shy away from."
DeVries never wants to stop building great golf courses. "I don't know if I'll ever really stop. It's way too much fun," he says. "Pete Dye was still going at 90! I like that. As long as there are interesting projects, I'll keep on keeping on."