Whether you're an LPGA Tour superstar, a student at an iconic university, or just someone with a little extra space in your backyard, chances are you might have heard of Preston Moon and his synthetic grass company Envyscapes.
A former shaper with Arnold Palmer Golf Design who got started in the business with his father (who was one of the first employees at Palmer's design company), Moon founded Envyscapes in 2012. The company, based in Salt Lake City, Utah, designs and builds synthetic grass projects of all sizes across the United States.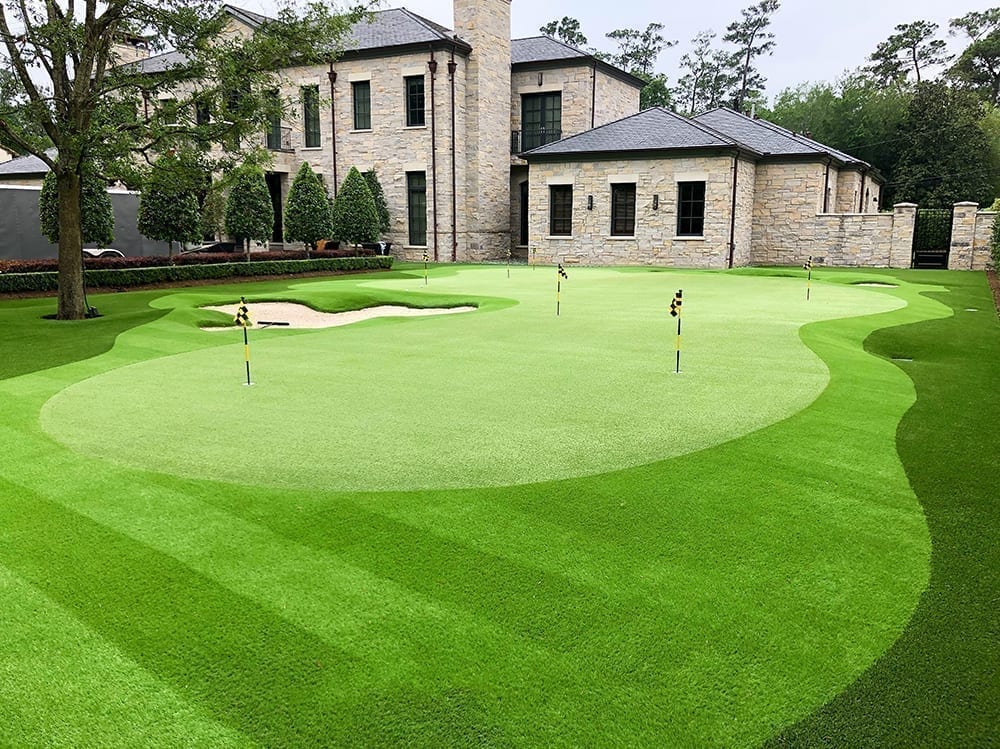 "It doesn't matter what it is," says Moon, "we can build it."
Moon says he's never really advertised for Envyscapes since he began the company nearly a decade ago, instead he's relied on word-of-mouth. That's worked out just fine, as the company's Instagram account now boasts more than 26,000 followers and he's done projects for the likes of LPGA major champion Michelle Wie and 12 large universities (including BYU, Rutgers, Notre Dame, Kentucky, and Illinois), with more waiting in line.
Moon says the first big project that took off on social media was a backyard effort he did in Fruitland, Idaho. It started out as just a putting green and a par-three hole, but it had a fairway included and his team put a wild bunker behind the green. The project ended up turning into a par-five hole and after he posted about the green—only the second post on Envyscapes' Instagram account—it got shared "a lot." People were wondering who was behind these ideas.
Moon grew up in Asia (mostly Taiwan and South Korea) as his father did a lot of work for Palmer there. He was raised in the course design business, even having a small hand in work on the Bay Hill Club & Lodge when he was 15 years old. Tragedy struck when his father passed away from a stroke when he was just 17, forcing Moon to find his "own place" in the golf course design industry.
Moon worked as a shaper for a few of Jack Nicklaus's apprentices and traveled across the U.S. with them before deciding to leave the design business to pursue a career as a playing professional for the next seven years.
"I played a lot of mini-tour events and you know how that goes," says Moon. "You're just chasing a dream. You don't realize how good those guys are until you're out there and competing against them."
Moon worked for two landscape and design companies when he stopped trying to make it as a pro, but felt he was back at the beginning again in terms of his career trajectory. He eventually decided to dive in completely to synthetic projects, and the business began to really prosper when his friends on Tour began promoting him to their connections.
Moon is close with Boyd Summerhays and his brother, Daniel, who's played the PGA and Korn Ferry Tour. He says those guys have been instrumental in his success—the brothers would suggest Envyscapes to basically anyone on Tour who wanted a synthetic green built for their home.
After the first three or four projects, Moon says his phone was ringing off the hook.
"We bring a different aspect of golf to the synthetic grass industry," says Moon. "We try to design and build creative things that people haven't dealt with or seen. It's been good. It's been successful."
Some other notable projects from the company have included a bunker with railroad ties (a homage to Pete Dye), a 250-square-foot putting green for Wie outside her sliding side door in California, a whiffle-ball field/putting green combo, and a 43,000-square-foot backyard oasis with an 8,500-square-foot putting surface, three bunkers, seven tee areas, and 28,000 plants.
An iconic project that's nearly underway is for the owner of the biggest home in America (97,000 square feet in Missouri), a regulation-size nine-hole course—which will be all synthetic. Another client is about to get a nine-hole synthetic course that's solely replicas of the recognizable par three holes that the client loves on the PGA Tour, including two from Augusta National.
But while Moon can build pretty much anything his clients want—and in any size space—he knows the iconic golf course designers of modern times did work that was one of a kind. That's what he's hoping to do, too.
"I have so much respect for guys that set the precedent for golf course design and construction. In the synthetic world, I drive myself to do the same thing," says Moon. "When people see my greens, I want them to think, 'that's an Envyscapes green. Preston Moon did that.'"