Teeing off after prime time offers a mixed bag. On the one hand, you'll get cooling breezes, artist-worthy color textures, and often reduced fees. On the other hand, your round might be called short on account of darkness. Courses to avoid when teeing it up at twilight are any that play through canyons—where daylight vanishes more quickly—courses that finish into the setting sun, and occasionally courses whose trophy holes come late, rather than early.
If you're looking to indulge in a late afternoon delight, here are nine U.S. courses that are outstanding at twilight time.
Pebble's brawny, beautiful younger brother is annual co-host to the PGA Tour's AT&T Pebble Beach Pro-Am, but it would be star of the show virtually anywhere else. Unlike Pebble, Spyglass offers a twilight rate—still pricey in summer at $250 for play starting at 5:00 pm, with sunset around 8:30 pm in early August. However, the twilight opportunity isn't offered every day; you must call day-of. If you can't squeeze in all the holes, don't despair. The most dramatic, memorable holes at Spyglass Hill arrive early, especially the dune-filled stretch of 2 through 5 that skirts the Pacific Ocean.
If Spyglass doesn't work out on your chosen day, try The Hay, Pebble Beach's 9-hole par-3 course, redesigned in 2021 by Tiger Woods. It's $65 to play, offers stellar ocean views and for additional late-in-the-day splendor, replay rounds are discounted by 50 percent. Bring the kids, too. Children 12 and under play for free.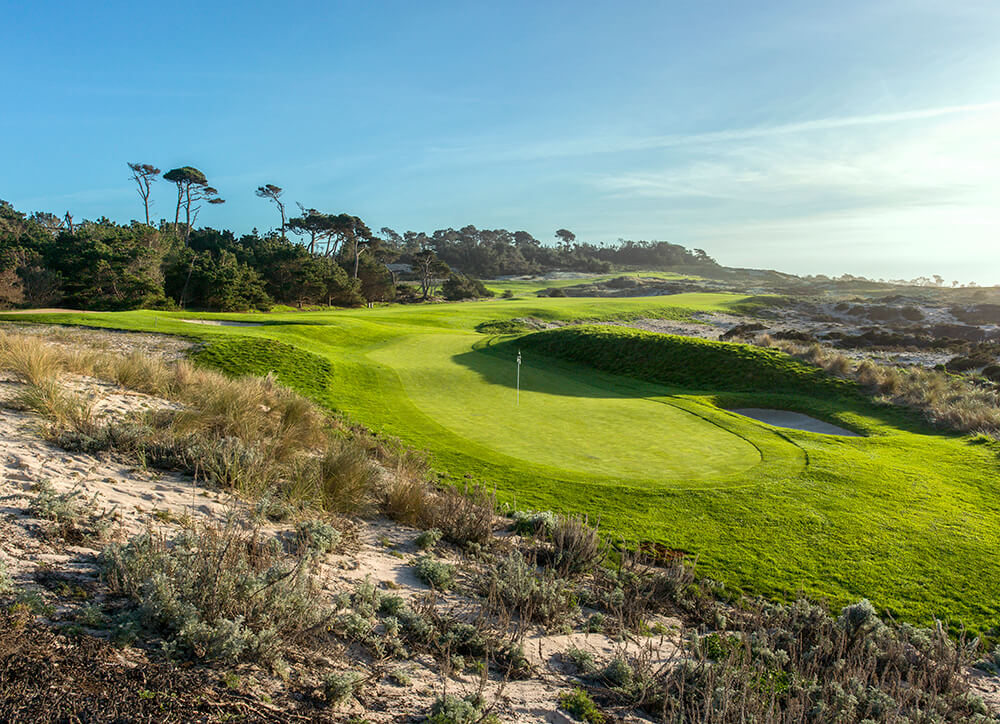 Jack Nicklaus rounded up his best holes from the West and Southwest and replicated them in an 18-hole layout in Summerlin, 20 minutes west of the Las Vegas Strip. Late in your afternoon round, you'll encounter the 230-yard par-three 15th hole, modeled after the 5th at Desert Mountain's Chiricahua course in Scottsdale. What elevates this tough downhill stunner, however, is the dazzling neon light show in the backdrop at dusk, courtesy of the Strip. The glitter show continues on the next hole, a 415-yard downhill par four modeled after Chiricahua's 4th hole.
Owner Herb Kohler gave Pete Dye his marching orders when it came to plotting the Straits course: "I want it to look like it's in Ireland." With eight holes draped atop bluffs overlooking vast Lake Michigan (which the caddies call the "Sea of Wisconsin"), 70-foot-tall sandhills that are garbed in tall, tawny-colored native fescue grasses, firm-and-fast rippled fairways, relentless breezes, more than 1,000 bunkers, and a walking-only policy, this is Ireland—or maybe Ireland on steroids, given the Straits's gargantuan back tee length of 7,790 yards.
The venue for the 2004, 2010, and 2015 PGA Championships as well as the 2021 Ryder Cup is understandably priced for "special occasions only," but twilight rates are available at 30 percent off rack rate four and a half hours prior to the National Weather Service's official sunset time for the day. Super twilight (two and a half hours before sunset) is 45 percent off. So many superb—and somewhat similar looking—holes precede the finish that you're guaranteed to get a great taste of the Straits no matter how many holes you manage to fit in.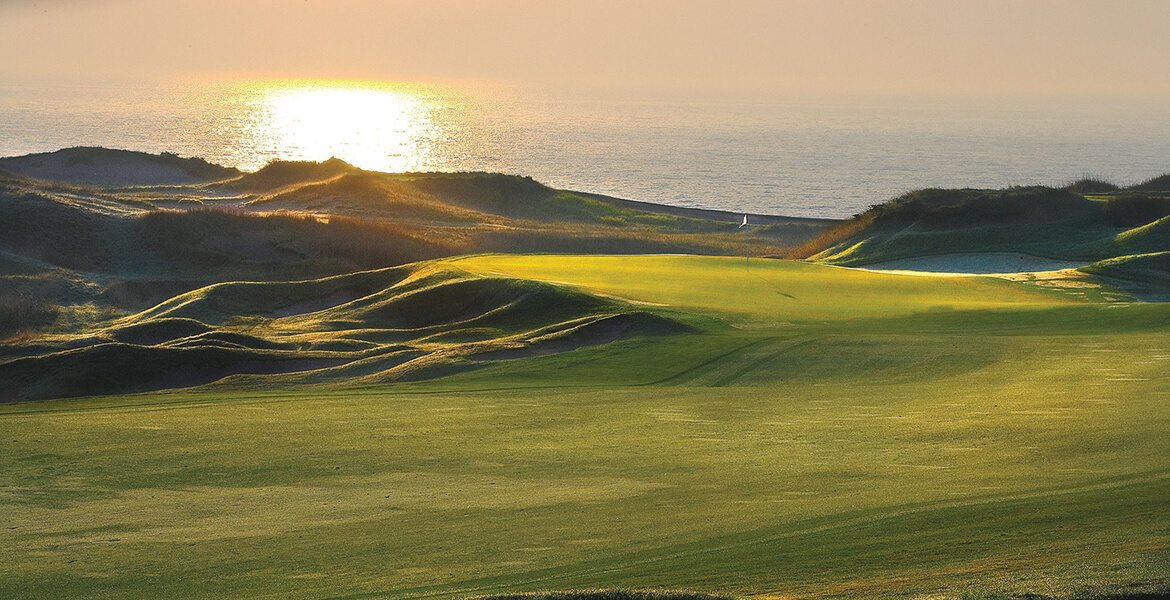 Home to the PGA Tour's Sentry Tournament of Champions, this 1991 Bill Coore and Ben Crenshaw creation features extra-wide, wildly undulating fairways draped atop a former pineapple plantation. Most holes are framed by jungle-strewn canyons and many are backdropped by the Pacific Ocean, notably the closing two holes. In particular, the downhill-plunging 675-yard par-five 18th is a standout, as it plays toward the ocean, and looks across at Molokai and Lana'i with the sun setting behind them.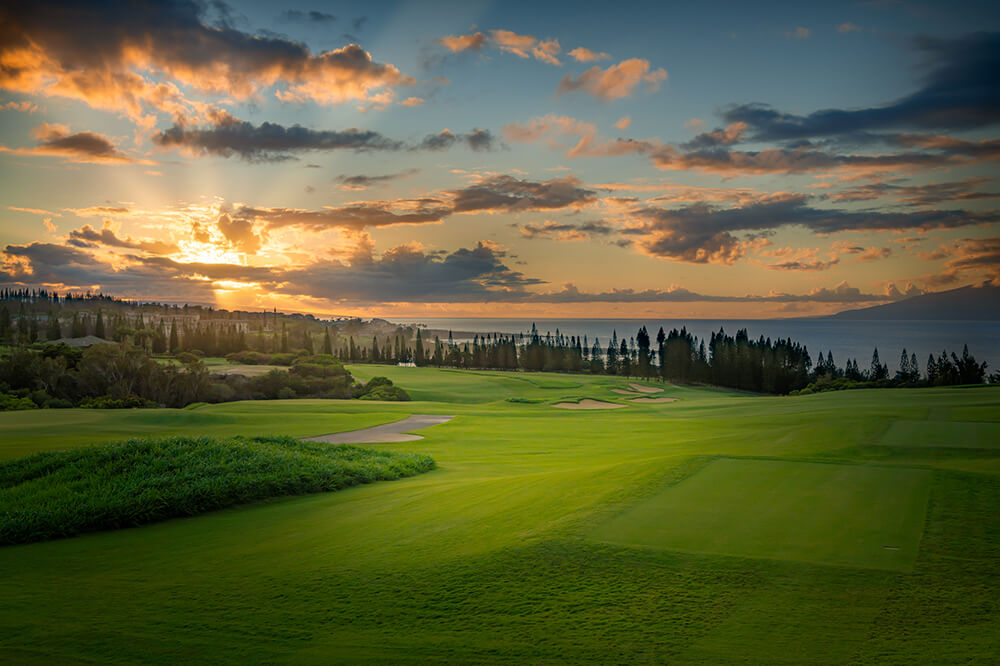 Venue for the 1991 "War by the Shore" Ryder Cup and the 2012 and 2021 PGA Championships, the Pete Dye-designed Ocean Course at Kiawah blends tidal marsh carries, scrub-topped dunes, and topsy-turvy greens in a seaside, links-like package that stretches more than 7,800 yards. While you don't have to book a stay at Kiawah to play, you do have to bring your fully loaded wallet, with fees approaching $500. There's no twilight rate per se, but Kiawah offers a 9-hole fee that's half the regular rack rate. If you can't go deep into the back nine, don't fret. The front features just as many on-the-ocean holes (five) as the back and its challenge and playing value are nearly equal. The late afternoon light is sublime as it shines on the dunes and on the Atlantic.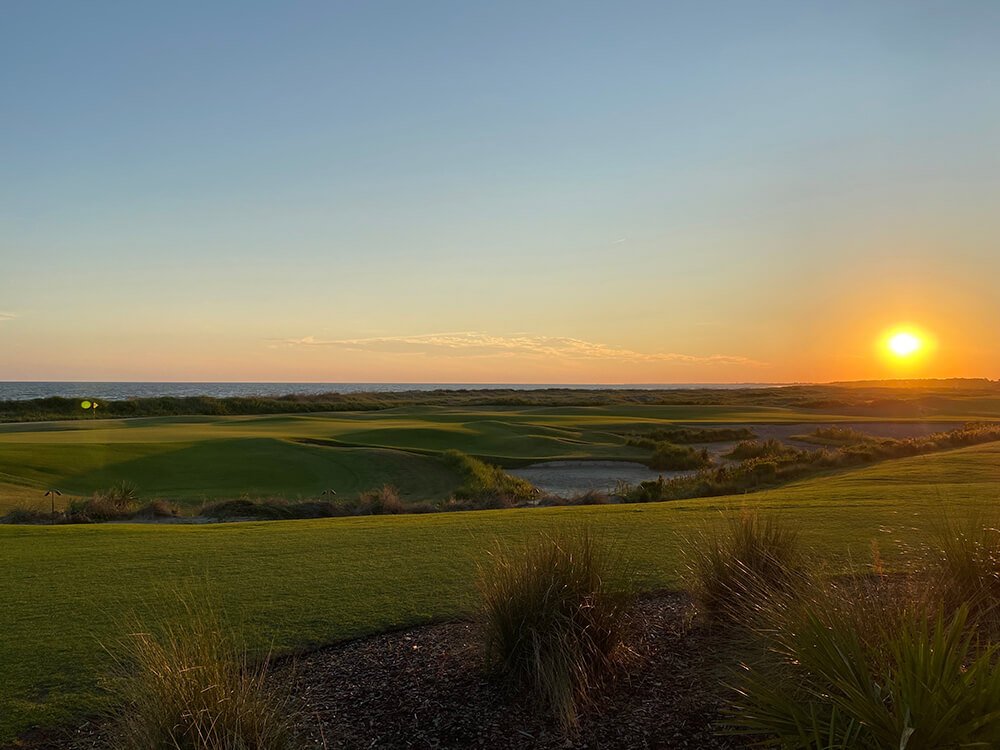 Situated in the aptly named town of Carefree, the Boulders rocks two championship layouts that practically melt into the desert landscape. Jay Morrish crafted both the North and the South courses. The cart ride alone on the South front nine is worth the price of admission, with holes that ribbon through forests of Saguaro cacti and twist among and atop the ancient, gigantic rocks that give the resort its name. Still, whichever course you're aboard, late summer afternoons are magnificent. Yes, it's hot—but Carefree's elevation, frequent breezes, less intense sun, stunning shadows, reduced fees, and local fauna darting about combine to make the Boulders an outstanding twilight experience.
Designed by George Fazio in 1968, with help from his nephew Tom, Edgewood Tahoe is Lake Tahoe's only championship course that actually edges the lake. Home to the celebrity-studded American Century Championship since 1990 and also venue for the U.S. Senior Open in 1985, the 7,529-yard layout plays shorter thanks to the 6,200-foot elevation. It also maximizes scenery, with mountain meadows, Ponderosa pine forests, and closing holes right on the beach. As the sun eases into the twilight hours, the light reflected on the lake and on the snow-capped Sierra Nevada Mountains turns late afternoons and early evenings into a celebration of nature's wonder.
This Gil Hanse/Jim Wagner/Geoff Shackelford design 45 minutes north of L.A. engages at every turn, thanks to an easy-to-walk routing with firm, fast conditions and tremendous variety that allow for run-up shots galore. The course name is rooted in holes that are crisscrossed by barrancas and framed by native sagebrush, steep cliffs, and old-fashioned, shaggy-fringed bunkers. Adding to the late afternoon enjoyment are the miniscule green fees, laughably low for a course this good. Expect to pay $34 (Monday through Friday) in August between 12:00 p.m. and 4:20 pm, and just $24 for Super Twilight, 4:30 p.m. to sunset. Toss in an extra $16 if you wish to ride. Fees on weekends are slightly higher, but not by much.
With a name like Sunset Valley, it's got to be worthy late in the day, right? Indeed it is. Just 30 miles up the road (I-287) from USGA headquarters in Far Hills, this 1974 Hal Purdy design, a Morris County Park Commission course, is pleasant, playable golf with a stout finishing trio of holes. The Super Twilight rate all week starts at $22 for play after 5:00 pm, with carts another $21.
What is your favorite golf course to play at twilight?