In Alister MacKenzie's Golf Architecture, published in 1920, he espoused 13 General Principles of Architecture. Number four stated: "The greens and fairways should be sufficiently undulating, but there should be no hill climbing."
Yet, he also preached about the necessity of variety and placed great emphasis on utilizing natural features. In diametric opposition to what Dr. MacKenzie opined, it just so happens that on many great courses, you have to climb a hill or two. In some cases, those hills gave rise to the golf course name itself.
Here are the 10 best courses in America that incorporate a hill or hills in their design, and in their name.
1. Shinnecock Hills Golf Club (Southampton, N.Y.)
Venue for five U.S. Opens since 1896, with a sixth on the way in 2026, Shinnecock boasts a 1931 William Flynn design that combines parkland bunkering and greens with a seaside sensibility.
Top Hill Thrill: 9th hole, par four, 485 yards
The original 18th hole of C.B. Macdonald/Seth Raynor's version of Shinnecock Hills that lasted from 1916 to 1931, today's 9th bends left from the tee, then ever so slightly to the right up to the plateau green, with the legendary clubhouse looming in the background. The operative word at the 9th is "up," as the climb to the green is one of the steepest in championship golf.
2. Sand Hills Golf Club (Mullen, Neb.)
Bill Coore and Ben Crenshaw had to move only teaspoons of dirt to construct the most natural, hew-to-the-land layout built in the past 50 years. Rolling, sandy terrain, rippled fairways crafted to accommodate ever-present winds, wavy prairie grasses, and gigantic "blow-out" bunkers, which are in reality tall, eroded dunes, create the sensation of being seaside in the middle of land-locked Nebraska.
Top Hill Thrill: 1st hole, par five, 549 yards
The view from the elevated 1st tee sets the tone for the undulations to come, as it yields a commanding view of the various humps, bumps, bunkers, and native grasses you will encounter on the journey.
3. Oakland Hills Country Club (South) (Bloomfield Hills, Mich.)
Ben Hogan called this course a "monster" in capturing the 1951 U.S. Open, thanks to a severe course setup and alterations by Robert Trent Jones Sr. Host to six U.S. Opens (two more on the way in 2034 and 2051), three PGA Championships, and the 2004 Ryder Cup, Oakland Hills has recently benefitted from a Gil Hanse restoration in 2021 that has illuminated the brilliant original Donald Ross routing and beguiling green contouring.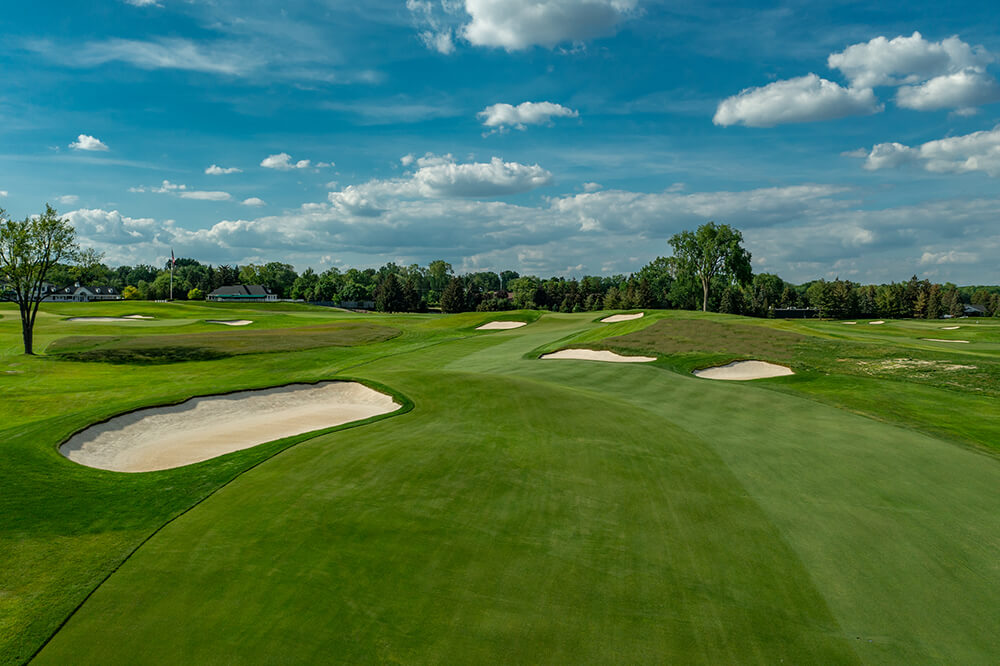 Top Hill Thrill: 11th hole, par four, 450 yards
Draped atop rolling farmland in 1916, there's no single spot on the course that would induce vertigo. However, several holes best reveal the property's superb natural contours, notably the 11th. As described in the club's history book: "From an elevated tee, a fairway created by a glacial ice shift sweeps over a large hill into a valley, then uphill to a long, narrow green."
4. Oak Hill Country Club (East) (Pittsford, N.Y.)
Host to three U.S. Opens, the 1995 Ryder Cup, and three PGA Championships (with a fourth on the way in 2023), Oak Hill East is another Donald Ross parkland classic that boasts moderate-sized hills and a routing that takes excellent advantage of those hills. Restoration specialist Andrew Green brought back many Ross features during his acclaimed makeover in 2019–20.
Top Hill Thrill: 13th hole, par five, 595 yards
The logical choice for a hole that not only plays uphill, but which is framed on the right side by the "Hill of Fame," upon which are perched a flagpole and dozens of sturdy oak trees, each one planted to commemorate distinguished figures in golf and society. Jack Nicklaus, Arnold Palmer, Rochester native Walter Hagen, and President Dwight Eisenhower are among those honored with a plaque and a specimen tree.
5. Southern Hills Country Club (Tulsa, Okla.)
Venue for the 2022 PGA Championship, Southern Hills is a stern tournament test designed in 1936 by Perry Maxwell and recently restored by Gil Hanse. It also played host to U.S. Opens in 1958, 1977, and 2001 and to PGAs in 1970, 1982, 1994, and 2007, the latter won by Tiger Woods, in temperatures that routinely reached 100 degrees. Ben Hogan once called the creek-guarded 12th the greatest par four in the U.S.
Top Hill Thrill: 18th hole, par four, 491 yards
The 4th, 9th, and 18th holes climb steep hills to reach the greens, but the 18th resonates most strongly. Acknowledged as one of the game's toughest closing par fours, the closer at Southern Hills menaces with a creek and bunkers slashing the fairway at approximately the 300-yard mark, then demands an uphill shot to a boldly bunkered, back-to-front sloping green, with the hilltop clubhouse beyond.
6. Somerset Hills Country Club (Bernardsville, N.J.)
A wonderful routing on a tight piece of property not far from the USGA headquarters showcases A.W. Tillinghast's imagination from 1918. A restoration by Tom Doak and associate Brian Slawnik helped put back firm and fast conditions along with reestablished bunkers and green edges.
Top Hill Thrill: 12th hole, par three, 150 yards
This gorgeous, pond-guarded hole transports the golfer to a very tranquil world. After holing out, one ascends an abrupt hill to reach the 13th tee. At the crest, prior to venturing through woods and arriving at the tee box, pause for a moment. Turn around and soak up the view of the 12th and of the dogleg right par-four 11th, which twists through more water and woods.
7. Spyglass Hill Golf Course (Pebble Beach, Calif.)
Part of the rotation for the PGA Tour's AT&T Pebble Beach National Pro-Am since 1967, this Robert Trent Jones Sr. design has been one of the tour's most challenging layouts for 55 years. Few have conquered its dune-flecked, oceanside start or its final 13 holes through the pines.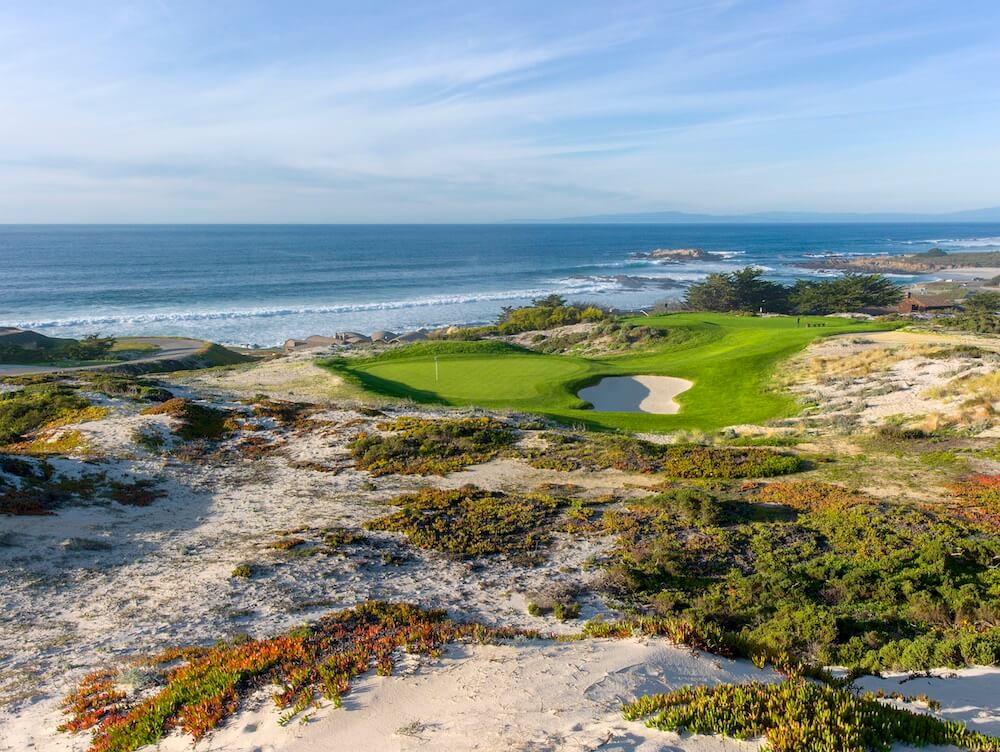 Top Hill Thrill: 3rd hole, par three, 171 yards
From a tee box atop a dune, the panorama is staggering, as it takes in the Pacific Ocean straight on, as well as glimpses of Cypress Point Club, Bird Rock, and Monterey Peninsula Country Club.
8. Erin Hills Golf Course (Erin, Wis.)
Situated 35 miles northwest of Milwaukee, Erin Hills occupies a massive, topsy-turvy spread of ridges, dunes, and fescue grasses, lending an Ireland-in-the-Heartland ambience, but no Emerald Isle golf course stretches to 7,731 yards, as this one does. Designed by Michael Hurdzan, Dana Fry, and Ron Whitten, Erin Hills controversially was chosen to host the 2017 U.S. Open before it had fully established itself. Although the wind failed to materialize that week, it crowned a worthy champion in Brooks Koepka.
Top Hill Thrill: 9th hole, par three, 165 yards                          
The par-three 9th is a tiny terror at 165 yards, though it's often set up much shorter. Its downhill plunge to a narrow green ringed with bunkers is reminiscent in shot value to Pebble Beach's 7th, but this one is scarier, because the bunkers are so severe and the grassed surrounds so penal.
9. Cherry Hills Country Club (Cherry Hills Village, Colo.)
William Flynn's only original design west of the Mississippi River has hosted three U.S. Opens, including one of the best ever, when Arnold Palmer charged from seven back to win in 1960. Amid Rocky Mountain backdrops, the main defense comes from the lush rough and tough-to-read, sloping greens.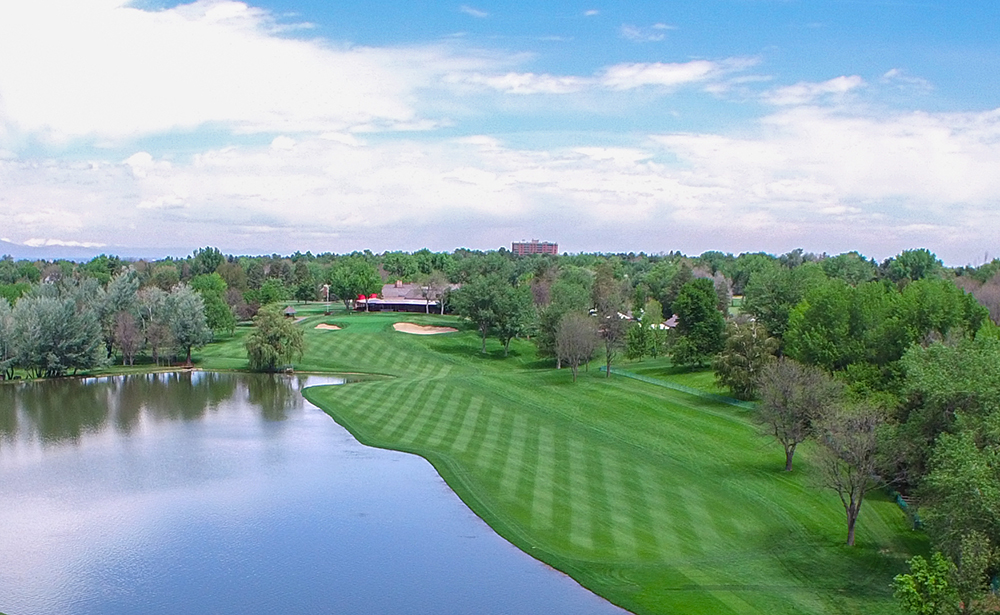 Top Hill Thrill: 18th hole, par four/five, 491 yards
Undeniably thrilling, though only mildly elevated is the tee shot at the par-four 1st hole, where a plaque awaits that details the heroics of 1960, when Arnold Palmer drove the green to start the final round and engineer the greatest comeback in U.S. Open history. Most memorable as hills go, however, revolves around the ascent at the par-five 18th, which plays as a par four in high-profile men's tournaments. A lake patrols the left side of the landing zone, but a supposedly safe drive to the right will yield a nasty uphill-sidehill lie for the long approach, with the hill significantly higher on that right side.
10. Jupiter Hills Club (Hills) (Tequesta, Fla.)
Auto executive William Clay Ford and Bob Hope were among Jupiter Hills's founding members in 1970, back when George Fazio crafted a layout near the Atlantic coast that was highly unusual for Florida. It featured 63 feet of elevation change and mature hardwoods and was startling in its resemblance to Pine Valley—where Fazio was head professional for many years.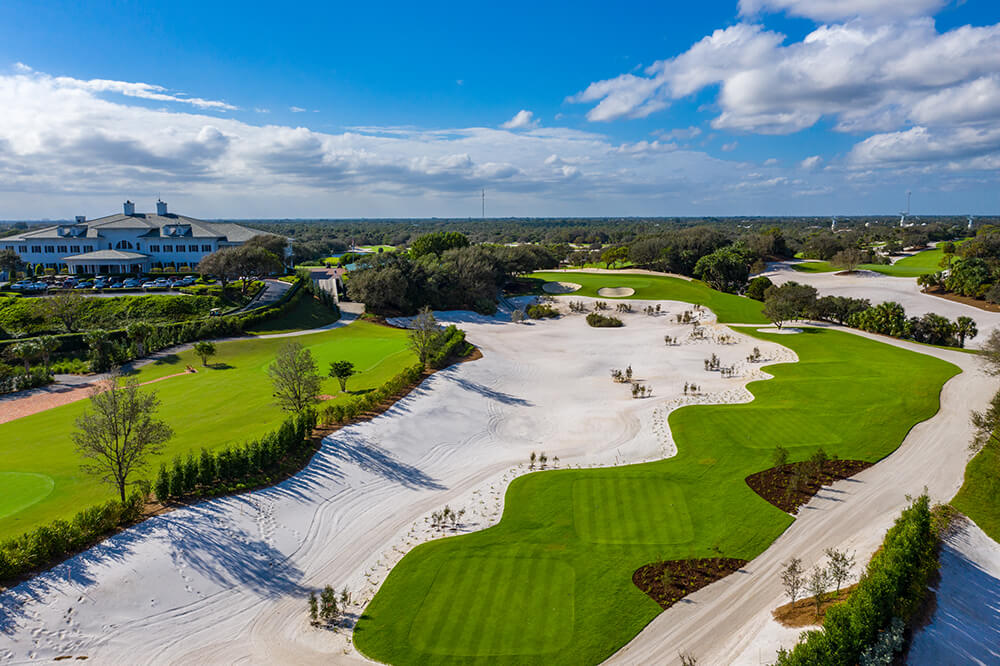 Top Hill Thrill: 9th hole, par three, 227 yards
Tom Fazio, who built Jupiter Hills with his Uncle George, said of the site, "We had all the hills we needed. If anything, we had too many hills. We had to knock some of them down, which is a nice problem to have in Florida." Any number of holes could be featured here, including the rugged uphill par-four 18th, but the pick is the 9th, which calls for a long club that must carry sand and scrub to a green that's elevated 40 feet higher than the tee.
What is your favorite "Hills" golf course?