By Tony Dear
In his 16 years with Tom Doak's architectural firm Renaissance Golf, Erik Iverson has worked on numerous incredible sites. He was a design associate and shaper on the jagged, finger cliffs at Cape Kidnappers in New Zealand, the sandy knolls at Barnbougle Dunes in Australia, the beautiful Long Island coastline at Sebonack in New York, and the randomly-spread dunes of Old Macdonald in Oregon. And though Doak takes design credit for the wild and expansive Rock Creek Cattle Company in Montana, Iverson was lead associate.
In 2015, Iverson and his Renaissance colleagues – Don Placek, Brian Schneider, and Brian Slawnik, were given the opportunity to design a course themselves. Called Stoatin Brae (Grand Hill in Gaelic), it is part of the Gull Lake View Resort in Augusta, Mich. and it opened in May of this year. Doak was simultaneously working on The Loop at Forest Dunes, 210 miles north, but visited occasionally to make sure the client – Gull Lake owner Jon Scott, was getting what he paid for.
The site at Stoatin Brae, though perfectly pleasant with some ground movement in the northern third, was nothing like Cape Kidnappers, Old Macdonald, or other dramatic Renaissance sites. The soil on the former apple orchard was heavy, the views fairly tame and, save for those undulations from the 10th to the 15th, there was little change in elevation.
But while it will never attract the same attention as many of the modern era's world-famous venues, anyone within a few hours' drive of Stoatin Brae really should take the trouble to get there. Iverson and his teammates have obviously picked up a thing or two working alongside Doak all these years, because Stoatin Brae is the type of course you want to play again and again.
So how did they do it? How do you take humdrum land, and turn it into a memorable golf course without moving millions of yards of earth, and spending tens of millions of dollars?
Iverson believes the course's routing is paramount. "It's critical it takes advantage of even the slightest topographical interest and whatever views are available," he says. "Then, any work done by the designer is accentuated by how well the pieces fit together." It's a lesson he learned from his boss who says there are plenty of fine courses built on average sites. "All it takes," adds Doak, "is some variety in the routing, and a good set of greens."
Iverson says his epiphany really came from seeing Chicago Golf Club for the first time. "It's incredible," he says, "but most would describe the ground as flat, And the views are of the course itself, with the perimeter providing a backdrop of trees. But C.B. Macdonald, then Seth Raynor built terrific holes that maximize what little topography there is. Another great example is Garden City in New York."
Raynor's use of template holes, and what Iverson describes as "enormous features," enabled him to create compelling golf from virtually nothing. "I think that is what elevates his courses over others where an attempt was made to recreate a landscape," Iverson says. "Tom Fazio did it remarkably well at Shadow Creek, but for every Shadow Creek there are a hundred courses where the transformation of the land detracted from the golf."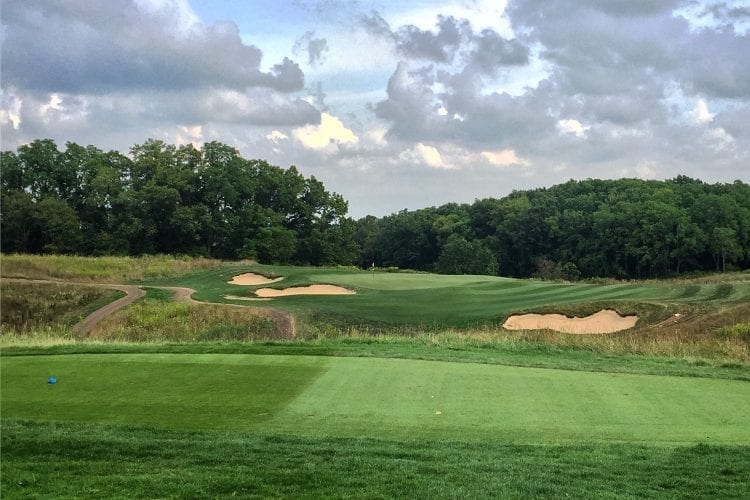 Mike DeVries, whose short but impressive list of designs includes the highly-acclaimed Kingsley Club in Michigan, and Cape Wickham in Australia, says he's been fortunate with the quality of sites he's been given but does recall one flat property with poor soils where he had to employ a different approach. "Really every site, no matter how bad, has something you can work with," he says. "Even completely flat ground with very few features can be considered a blank sheet of paper on which you can do anything you want. There are all kinds of factors like soil, drainage, power, etc. that affect how you creatively manage a design, but you can always do something." (Rob Collins and Tad King will certainly attest to that having turned a soulless, poorly-drained, and tree-lined layout into the amazing Sweetens Cove.)
When thinking of a great designer(s) able to make something from nothing, DeVries, like Iverson, nominates Macdonald and Raynor who, he says, were great at building good golf no matter what the site gave them. "The Lido on Long Island (sadly long gone) was basically dredged from the ocean and created from mostly nothing," he says. "Okay, it had a lot of sand and was on the ocean, but there was also lots of swampy ground they had to manipulate." Among more modern architects, DeVries unequivocally names Pete Dye "since he creates great angles and concepts out of mostly featureless parcels."
But what about so-so courses on amazing sites? Dr. Michael Hurdzan says Pebble Beach is the ultimate example, adding that an objective analysis would suggest the routing and the holes themselves are actually pretty average. "With the ocean, however, it's spectacular," he adds. "The point is what separates great from good usually has little to do with a course's greens, bunkers, etc. but rather the visual impact of the settings." Doak echoes Hurdzan saying getting into top-100 lists isn't necessarily about quality of design. "It's often not a question of whether the course is very good, but whether it stands out from the crowd," he says. "And that is a lot harder to achieve on a mediocre site."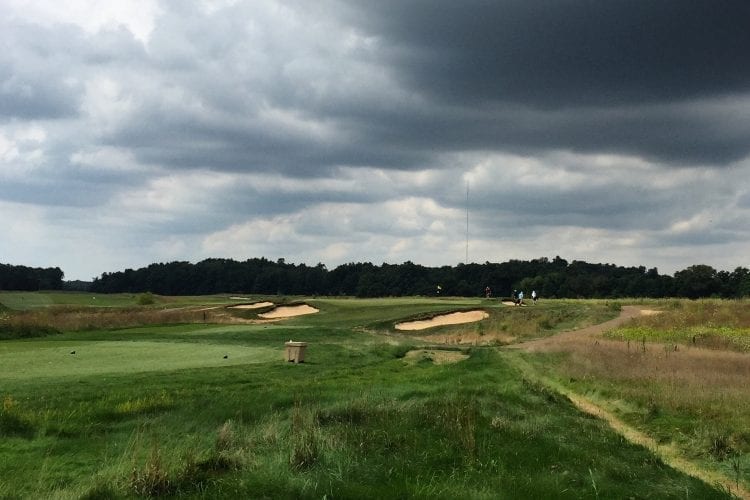 Hurdzan and Doak also select Dye as the master at turning less than stellar sites into something special. "TPC Sawgrass is a perfect example," Hurdzan says. "Pete and Alice did it with exaggerated shapes, slopes, and sizes, wooden walls, and native grasses." Doak adds that Dye had to be very creative for much of his career, noting there are features at the predominantly flat Golf Club in Ohio that are actually very simple, but extremely effective.
The real key to producing something worth playing on drab ground, says Hurdzan, is to find the perfect balance between mild and wild which creates visual interest while keeping the course playable and maintainable. "Finding the right architectural device for each particular site, and presenting it in a believable way, is truly an art form," he adds. "Featureless sites require intelligent bunkering and angles, wide fairways, creative green designs, imaginative routings, and memorable shot values."
Much like Stoatin Brae, in fact.
_____________________
What are the most impressive designs on less-than-impressive land that you've seen? Let us know in the comments below!