By Tom Ierubino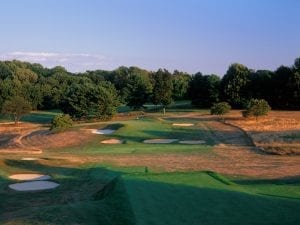 Hidden away in Bernardsville, N.J., seven miles from the USGA's headquarters in Far Hills, Somerset Hills is a place where time seems to stand still—but in a good way. There are no cart paths, and most of the golfers walk. The understated clubhouse is more about utility than grandeur. The same goes for the locker room, which is compact and intimate. And the course? Timeless.
The Duke of Windsor visited in the 1940s and was particularly taken with the 15th hole, a 404-yard downhill dogleg right named Happy Valley that boasts the course's largest green set behind a meandering creek with a cascading waterfall to the left. According to club lore, the Duke was so taken with the setting that he recreated it on one of his French estates. That same green figured mightily in the 1990 Curtis Cup, the U.S. team winning four matches there, including the one that clinched a 14–4 victory over Great Britain and Ireland.
The two nines offer sharp contrast: The front, laid out over a former racetrack, is open; the back is hillier and wooded. And while 262 yards have been added over the last quarter-century, the course remains short by modern standards at less than 6,800 yards. But it remains special thanks to A. W. Tillinghast's creativity in providing a variety of challenges, particularly on the greens, 17 of which are original. Only the 10th green has changed, having been moved in the 1940s when the hole grew from a par four to five.
"As far as I've seen, the greens at Somerset Hills are the most bold and varied set of putting surfaces Tillinghast ever built," says Tom Doak.
To wit, the 205-yard 2nd hole has a classic Redan green, while the one at the 376-yard 3rd features an elevated false front. At the 350-yard 5th, a hump bisects the green making the short approach shot more exacting. At the 413-yard 11th, the putting surface is severely sloped toward the front, while the 415-yard 13th ends on a Biarritz green.
While all the par threes are eye-catching, the most picturesque is the 150-yard 12th. Named Despair, its green sits on a peninsula that extends into the pond on the left.
Doak's design firm worked at Somerset Hills in 2010 and '13, and along with course superintendent Ryan Tuxhorn removed trees, restored natural areas and made them more playable, added width to the fairways to provide more options, and expanded the greens to recapture lost hole locations. Over the next five years, the bunkers will be redone.
The club's website sums it up well: "In a rapidly changing technological world, we hope to pass on to future generations the traditions of simple elegance that is Somerset Hills Country Club."
Somerset Hills Country Club
Bernardsville, N.J.
Opened: 1918
Architects: A.W. Tillinghast, William Gordon,
Hal Purdy, Tom Doak
Yardage: 6,784    Par 71
Accessibility: 4
Welcome: 9
Value: 8
Fun Factor: 10