The golf club celebrates its 100th year in 2018, but as I round the peak of towering Cnoc na gCorp in search of my ball, I can't help but ponder the millennia of wind and tides and sliding glaciers that pushed this sandy pyramid up out of the dunes. It is the tallest ridge on a course that is packed with them, and it means "Hill of the Corpses" for the Vikings who were slaughtered and buried here by a local chieftain. My ball finds a better fate than the invading Norsemen, and I knock it through a funnel of wavy hillsides on a landscape that I have chased for a lifetime but have only ever found in Enniscrone.
By Tom Coyne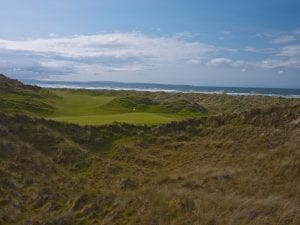 I played my first round of Irish golf here, as a teenager during a respite from a family trip in search of crumbling castles and tombstones with our surname on them. The receptionist at our hotel recommended an unknown course down on the coast and what my dad and I found left us giddy and gobsmacked: This was golf as we had never known it, a windblown rollercoaster through geological wonders. We ascended each peak and lofted shots into each new valley with the disbelief of golfers playing in a dream. Enniscrone was the impetus of my lifelong love affair with links golf, and when I return each summer the reality exceeds my nostalgia every time.
Golf in this seaside corner of County Sligo dates to 1918, when a handful of locals formed a club. It was not until 1970 that the real magic arrived in the form of Irish design hero Eddie Hackett, who walked the dunes and beaches until he found a course. What he discovered has become a standard against which any adventurous topography in golf can be measured. (Only Hackett's layout at Carne rivals in the stature of its dunes and the depths of its basins.) An update in 1999 by Donald Steel pushed some of the sleepier opening holes up into the sand hills, and for good reason: You go to Enniscrone for the dunes.
Few traces of the modern world distract you. Fairways edge up against the water, then turn into a cauldron of climbs and stout carries, some of the shots hard to believe as your caddie picks out a white rock or golden peak as the target. Holes 12 through 16 are a stretch of precision links golf I could happily play for weeks on end, plateau tee boxes dropping into valleys between the dunes, followed by approaches that can be bumped, pitched, putted, or lofted onto crannied greens. Enniscrone is genuine in every way.
The place is well discovered now, and I have played it enough times that I should know its every nook, but I return for the feeling of discovering something each time I climb it again. A great summit never gets old, and given another hundred years, I suspect Enniscrone will still play with the joy of a newfound treasure.
Enniscrone
County Sligo, Ireland
Opened: 1918
Architects: Eddie Hackett/Donald Steel
Yardage: 7,033
Par: 73
Accessibility: 8
Welcome: 9
Value: 8
Fun Factor: 10