A few years ago, my non-golfing wife and I took a golf cruise that started in Lisbon and ended in Barcelona, along the way sailing in the Mediterranean and playing a handful of great courses. While I went around Valderrama, she went on a guided tour of Gibraltar; as the golfers enjoyed El Saler, the others saw Valencia.
I'm still not sure which of us had the better time.
There is a misconception about golf cruises: that they're just about golf, the water-borne version of the fanatical, 6-day/12-course, play-till-you-drop buddy trip. Sorry, but if you want to do that you'll have to row your own boat. 
These days, golf cruises offer many of the same adventures and amenities that traditional cruising has long provided: relaxing days on the water, fine dining, luxurious accommodations, ship-board fun, and the chance to explore different regions and different cultures—with some great golf thrown in.
Take, as an example, the 2020 South American Golf Cruise from PerryGolf, which recently unveiled an extensive menu of cruises through 2021. Beginning in Rio de Janeiro, Brazil, and ending in Buenos Aires, Argentina, the trip goes for nine nights but features only four rounds of golf (one on the Gil Hanse-designed course built for the 2016 Olympic Games). Two days are spent at sea, while the stops include São Paulo, a 500-year-old city now one of the largest in the world; Ilhabela Island, famous for pirates, coffee plantations, and beaches; Montevideo and fashionable Punta del Este in Uruguay. Plus there's more than a day each in exciting Rio and historic Buenos Aires. 
Most high-end golf cruises follow a similar pattern: There's probably a little less golf than you expected (but always a mix of well-known courses with interesting surprises) with more time and opportunity to see places you never thought you'd ever be.
Cruising is an especially popular way to get to some out-of-the-way places, where the non-golf sites are often the equal of the courses. For example, ships are ideal for traveling around New Zealand and western Australia and usually include exploration into Maori culture and close-up looks at the fjords of Milford Sound, as well as the chance to play the incredible courses in Tasmania. There are some interesting new courses throughout the Middle East, with some Arabian Gulf cruises also arranging for passengers to walk through ancient souks, off-road in the desert, and experience the new Louvre Museum in Abu Dhabi and Burj Khalifa, the world's tallest building, in Dubai.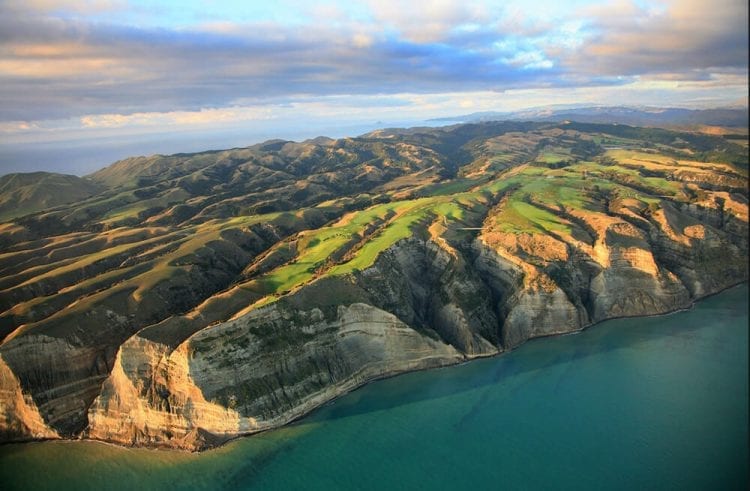 Given its size, geography, and place in golf history, the United Kingdom would seem tailor-made for touring by boat. Cruises are offered by a number of companies each year, combining play on some of the game's most famous links—and often a day or two attending the Open Championship—with visits to historic Scottish and Irish castles, Edinburgh's Royal Mile, and charming port cities like Donegal, Cork, and Waterford. Every cruise line differs, but they all make sure to offer lots of time to explore: Passengers can wander where they like or, sometimes for an extra fee, take organized tours led by expert guides. 
"What many people don't realize is that golf cruising isn't just about golf," explains Gordon Dalgleish, president of PerryGolf. "There's a lot of other stuff, and it's more and more about the destinations. The golf is important, of course, but the audience for this kind of travel already knows how to go somewhere and play golf. What they see in our cruises is the opportunity to go to a part of the world that they've always talked about seeing and they can play golf."
Another misconception concerns the size of the ships. The best golf cruises use only the most luxurious ships from the top companies, which are not those humongous, thousands-of-revelers party boats with go-kart tracks and ziplines. For the past decade, PerryGolf has worked only with Azamara Club Cruises, one of the most highly regarded cruise companies: Its three ships hold 690 passengers each, with the golf groups usually between 60 and 160, large enough to rate special attention, intimate enough to allow the camaraderie unique to golf to flourish.
Cruises share many of the advantages of other golf tours, like letting someone else worry about getting your clubs to the course, navigating local roads, and dealing with starters, tee times, and prizes. There are also extra layers of safety and security onboard a ship, as well as the convenience of unpacking only once and sleeping in the same bed. 
"Those kinds of comforts make it easier for many people to visit a South Africa, Vietnam, or Malaysia," says Dalgleish. "It opens their eyes to using a ship as a platform to play great golf courses and have unforgettable experiences all around the world."