Golfers have lots of ways of remembering their favorite rounds. Some purchase shirts or caps from their trips to top courses. For others, it's logo balls or scorecards. But nothing captures the special moments of a round better than photos. And in the age of the selfie, grabbing a snapshot of yourself and your friends out on the links serves not just as a memento, but as something to share with the world.
There are great selfie opportunities in every corner of the golf kingdom. Here are what I would consider to be the top 10 if I had to choose. It may take you a lifetime to grab them all. But what a great mission to be on!
10. Green Monkey—Sandy Lane, Barbados
Tom Fazio's stunning Green Monkey course at posh Sandy Lane offers one sweet photo op after another, as it weaves its way through the dramatic limestone rock faces of an old quarry. But it's at the par-three 16th hole that you'll especially want to say cheese. There, you'll find a turf green monkey standing watch from the middle of a greenside bunker, just waiting to photo-bomb you.
View this post on Instagram
9. Cape Kidnappers—Hawkes Bay, New Zealand
You could use up every bit of your phone's memory taking photos and videos at Cape Kidnappers, and that's just on the 20-minute drive from the gate to the clubhouse. But save some bytes for the 17th tee, where the view of the sea and bordering headlands is particularly thrilling.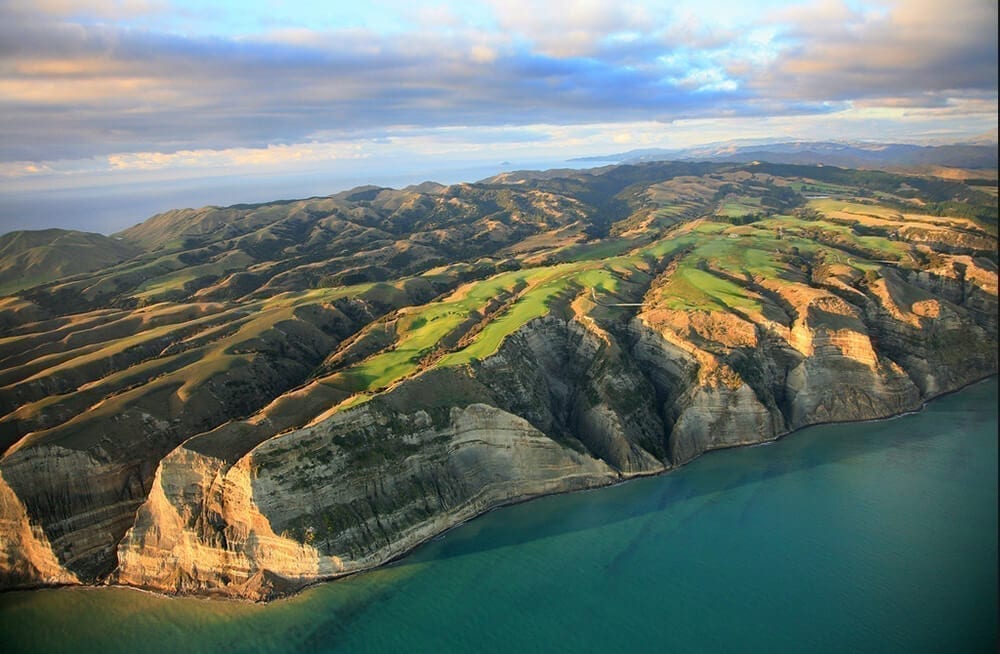 8. South Cape Owners Club, Namhae Island, South Korea
Not all golf course photos have to show courses. The 18 holes of this Kyle Phillips creation will yield dozens of great selfie spots, but South Cape offers much more. The swooping, ultra-modern clubhouse with its open-air lobby terrace overlooking the sea; the views from the stunning on-course tea houses; owner J.B. Chung's music library with its wall-sized speakers—these are the special touches that make South Cape such a singular experience.
To the southern tip of 🇰🇷 to South Cape. A rarity in Korea, but it's open to the public! The back 9 is easily one of the best I've seen. pic.twitter.com/AMY28ywdni

— No Laying Up (@NoLayingUp) October 27, 2017
7. Bethpage Black—Long Island, N.Y.
Here again, it's not just the golf holes that call out to be photographed. Few will be able to resist grabbing a photo with the famous sign on the first tee warning players that The Black is "an extremely difficult course" that they recommend "only for highly skilled golfers." That may or may not describe you, but since you're there…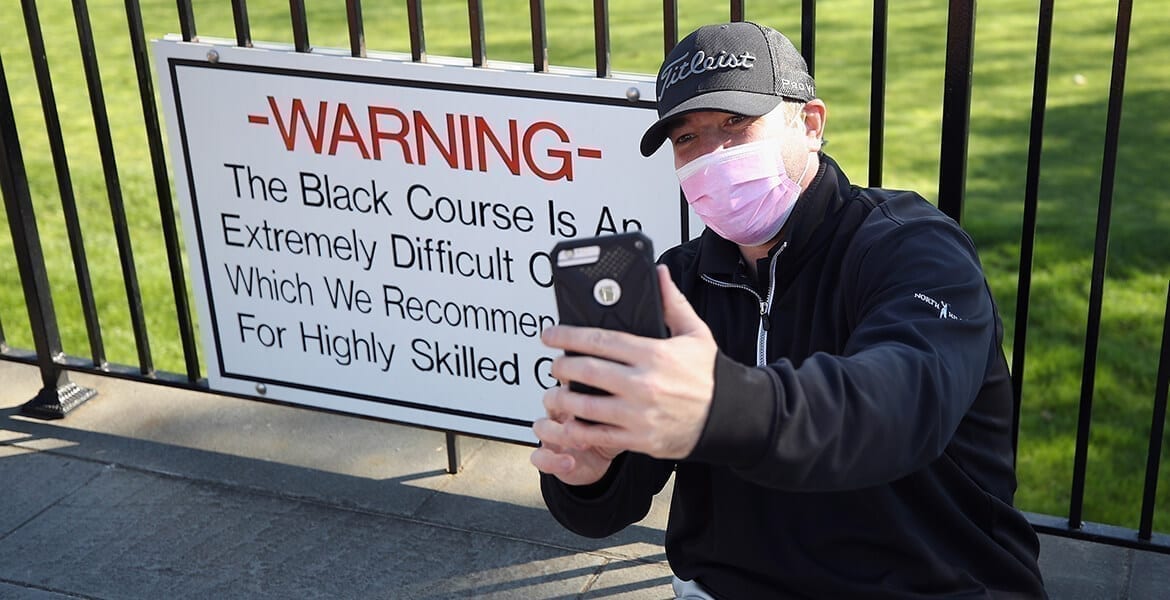 6. Silvertip—Canmore, Alberta, Canada
I've long considered the Canadian Rockies to be one of the world's most under-appreciated golf destinations. Alberta teems with great golf, and when you step on to the 2nd tee at Silvertip, with its jaw-dropping views of the surrounding mountains, you'll definitely know you're not in Kansas anymore.
View this post on Instagram
5. Jade Dragon Snow Mountain—Lijiang, China
At 8,548 yards from the tips, Jade Dragon Snow Mountain is the longest course in the world. Its altitude, over 10,000 feet, makes it one of the world's highest, too. Mighty Shanzidou, the tallest and most sacred of the nearby mountains, looks down on you as you play and won't mind a bit if you snap a selfie with it in the background when you hole out at the 18th green.
4. Legend Golf & Safari Resort—Limpopo, South Africa
You can only get to the mountaintop tee of this course's "Xtreme 19th Hole" by helicopter, but when you do, the view of the Africa-shaped green 630 yards away and 470 yards below is one you should definitely capture for posterity. Make an ace and you'll net a cool $1 million (an extremely selfie-worthy occasion).
Have you heard of the Xtreme 19th, the world's highest and longest par-3 hole? You need to catch a helicopter to the top before you attempt this legendary tee off.https://t.co/RCkLCVzKnw pic.twitter.com/VBFVUvL0Qt

— South African Tourism (@SouthAfricaANZ) April 19, 2019
3. Royal Portrush—Portrush, Northern Ireland
At 374 yards, the 5th hole at Royal Portrush isn't one of the course's most challenging. But when you putt out and step to the back of the green, the vista you'll encounter of the seemingly endless shore of West Bay is as Instagram-worthy as any you'll ever see.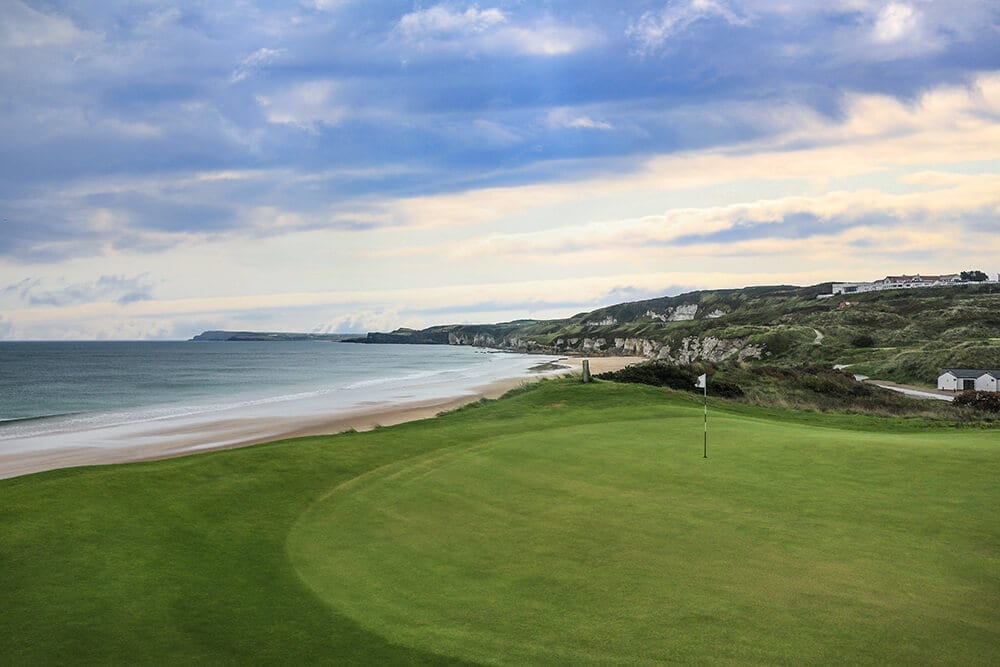 2. Cypress Point—Monterey, Calif.
It shares a famous shoreline with Pebble Beach and Monterey Peninsula GC, so you can't take a bad photo around here. But it's on the 16th tee of this uber-private Alister MacKenzie standout that a selife is de rigeur. Take it before you hit; 219-yard par threes over an ocean breed disappointment.
The world's most exciting tee shot – the par-3 16th at Cypress Point Club offers players three different options: the 125 yard carry to the far left, the 180 yard carry to the left of the green, and the full 220 yard carry all the way to the green. As good as it gets. pic.twitter.com/vITxKP21BD

— LinksGems Golf Photos (@LinksGems) February 24, 2018
1. Augusta National—Augusta, Ga.
Few may enjoy the honor of setting foot on the hallowed ground of Augusta National, but if you do (and it's not a tournament day), make sure your camera-phone is fully charged. You'll probably want to capture every angle of every hole. But start, if you can, with a selfie taken from Magnolia Drive, with the stately Augusta National clubhouse behind you. You may never become an Augusta member, but standing on that spot is a memory you'll always cherish.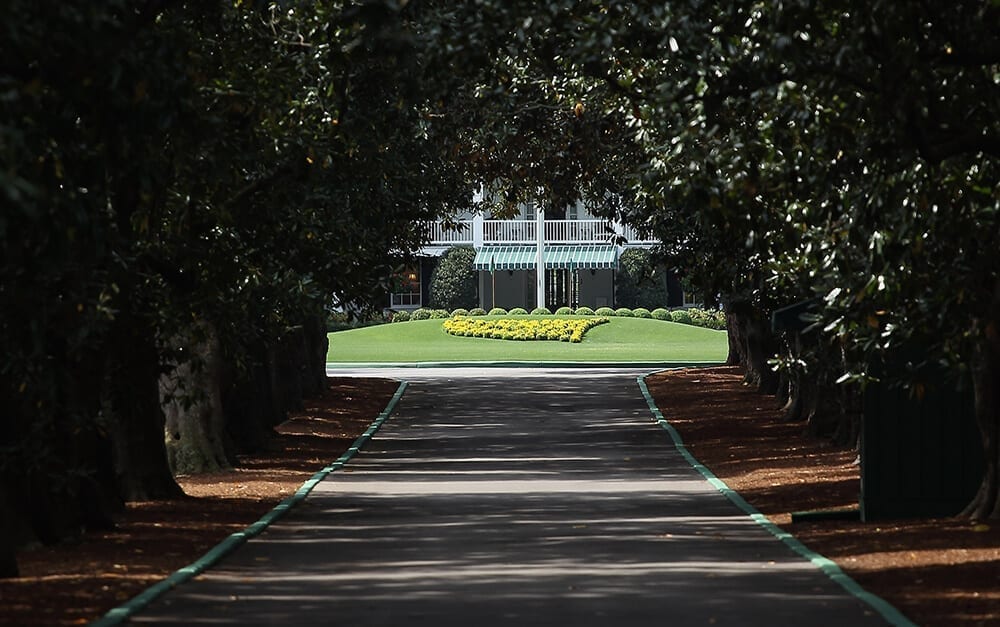 Before I go, and before everyone fills up the comments with the selfie spot most conspicuous by its absence, let's also give a nod to the Swilcan Bridge on the 18th hole at the Old Course in St. Andrews. This one is so obvious that it hardly bears mentioning, but mention it, I will. All the greats have been photographed there—along with just about every other golfer who's set foot on it since the day photography was invented. That list might as well include you.