Many a golf pro has put their name on a bottle of wine. Only a few have put their heart and soul into creating truly special vintages.
Greg Norman enjoyed a vintage year in 1995. The Great White Shark captured three tournament titles, carded the Tour's best scoring average, topped the annual—and career—money lists, and received the Jack Nicklaus Trophy as Player of the Year. No surprise that he began the '96 season ranked number-one in the world.
But ask Norman to name his biggest highlights from 1996 and you might be surprised that he mentions an achievement that didn't even take place on a golf course: the creation of his wine company, Greg Norman Estates.
"Traveling the globe playing golf, I was introduced to some fantastic wines," Norman says. "From that time, I absolutely developed a passion for wine which only grew as I continued to experience new wines from different regions and really learn about what goes into an excellent wine and the process of winemaking."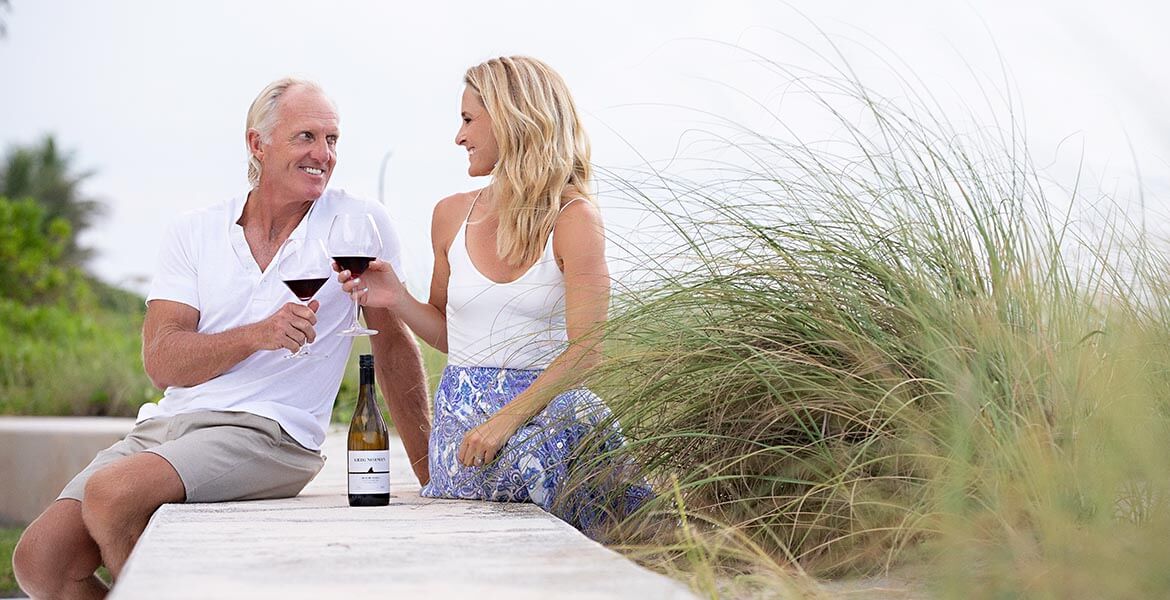 In the years since, a number of players have followed in the Shark's wake and attached their names to wine brands, many of which are created in their home countries. Some, like Norman, are serious vintners for whom making wine is a passion. For others, it's just a business opportunity, no different from endorsing a shoe or an airline. If you look hard enough, you can find wine bottles bearing the names of Arnold Palmer, Jack Nicklaus, and many others. Some brands, like those of Gary Player, Mike Weir, and wine aficionado Luke Donald, have come and gone. Others are just getting started.
Nick Faldo recently launched a European Collection that has earned good early reviews. It includes a Châteauneuf-du-Pape from Domaine Berthet-Rayne, a French Burgundy (Chablis), and a zesty Spanish Rioja. Louis Oosthuizen entered the wine biz less than a decade ago with products covering a range of price points, from the premium-priced LVII Cabernet Sauvignon to the pop-and-pour Louis57 Double Eagle Chardonnay that commemorates his double eagle at the 2012 Masters.
But it was the entrepreneurial-minded Norman who planted the seeds. Greg Norman Estates now produces varietals from his native Australia, California, and New Zealand. His 1999 Reserve Shiraz was named 8th best wine in the world that year by Wine Spectator, and he remains very involved in the development of his wine business today. He personally tastes every blend for every varietal while his daughter, Morgan-Leigh, manages the day-to-day, liaising with their winemaking team and providing feedback and direction for each wine.
"That 1999 Reserve Shiraz will always stand out for me," Norman says. "But I obviously don't drink that wine on a nightly basis. We save it for special occasions. For my daily go-to varietal, I'm quick to reach for our Russian River Chardonnay. It's such an elegant, easy-drinking Chardonnay with all the characteristics I love—a nice mouth-feel with bright stone fruit and hints of vanilla and cashew, and a layered palate from the seasoned French oak and stainless steel.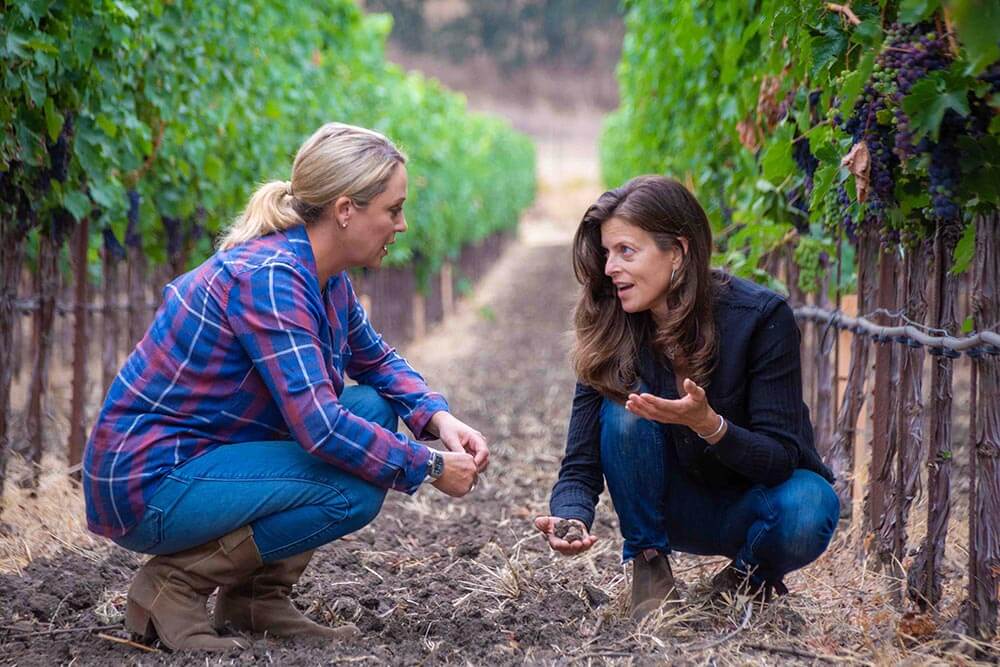 "To have created something that has lasted for 25 years, wherein it has now become a multigenerational family business… there is no greater pride than working alongside your kids on something you are both passionate about," says Norman. "I hope that one day Morgan's kids will be working alongside her, as well, as we are celebrating 50 years in business. That's the dream."
David Frost realized his dream of launching a wine brand in 1997. A third-generation vintner, the 30-time champion grew up hitting golf balls in his family's vineyard in South Africa. The Grand Slam Premium and David Frost Super Premium wines he's produced on his own 300-acre Paarl-region vineyard and with grapes from other select sites in the Cape Winelands area have earned wide acclaim. Frost is committed to making sustainable, eco-friendly wines of high quality that reflect the region's unique terroir.
"Our winemakers focus on identifying and selecting sites best suited to particular grape varietals," Frost says. "The constant interaction and diversity between the rugged peaks, the multidirectional valley slopes, and the proximity of two oceans results in wines of character and complexity."
South Africa's $1.3 billion wine industry has welcomed other pro golfers to its ranks, too. With his friend and partner Jean Engelbrecht, Ernie Els formed Engelbrecht Els Vineyards in South Africa in 1999, with the first vintage produced in 2000. Today, Els's wines from the Helderberg region of Stellenbosch are arranged in four collections—Signature, Major Series, Big Easy, and Proprietor's—each developed under the steady hand of winemaking legend Louis Strydom, with a particular focus on Bordeaux-style reds, Cabernets, and Chenin Blancs. Proceeds benefit the Els for Autism cause.
Retief Goosen's label is called The Goose. He and partner Werner Roux source their grapes from the high-altitude vineyards on the northern slopes of the Outeniqua Mountains in the heart of South Africa's Garden Route. The Goose wine estate is situated in the Upper-Langkloof appellation there, arguably the coldest wine-growing region in South Africa. The extreme climatic conditions ensure unique grapes with a complexity that yields wines offering what the Goosen team describes as "Old World elegance and structure with New World fruit and body."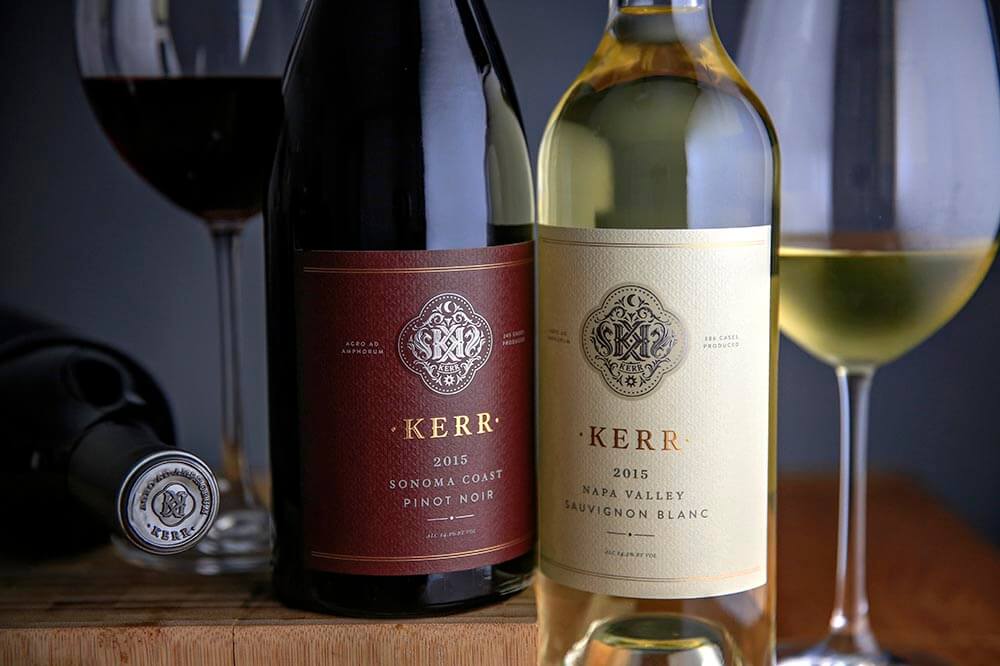 Of all the pros who have become involved in the wine industry, one whose products have consistently been lauded is Cristie Kerr, who launched her first label, Curvature, in 2009 and has since created a second brand, Kerr Cellars.
Kerr, a Level 1 Sommelier, launched Curvature in partnership with Suzanne Pride at Pride Mountain Vineyards in Napa to benefit breast cancer research. It was a proud moment when Curvature's 2007 Cabernet was served at a White House state dinner in 2012. For her Kerr Cellars brand, Kerr enlisted the help of Helen Keplinger, Food & Wine magazine's Winemaker of the Year in 2012.
"Everything we've done in this business so far has been right time, right place," says Kerr. "Helen and my husband and I really hit it off and we wanted to start out by making something different than we were making at Curvature. So we made a Napa Sauvignon Blanc, a Pacific Coast Pinot Noir, and a reserve red that was a proprietary blend from Napa out of the gates. And for the 2013 vintage we got a 98-point score from Robert Parker, so off and running there."
Kerr Cellars has kept building on its success and expanding its list.
"You want to have core appellation wines, your core SKUs, and for Napa and Sonoma that's going to be Sauvignon Blanc, Chardonnay, Pinot Noir, and Cabernet," says Kerr. "And then you want to do more interesting wines, so we've focused on single-varietal wines, single-vineyard wines. That's what the DNA of Kerr Cellars is: We have exclusive-sourced appellation wines but we're also really geeky about finding unique sourcing and vineyard sites from which to make wine.
"That's how you make money in the wine business," says Kerr. "You do it one of two ways. You either do it through the highest-end wine production and having a pretty good inventory of that, or you'll do it via a volume play as some have done. Our plan is to have two different brands, Kerr and Curvature, at different price points. Kerr is our aspirational DTC- [direct-to-consumer] driven iconic brand, and Curvature is going to be similar but at a lower price point. We would like to be getting to 25,000 cases of Curvature in some way and then 10,000 cases of Kerr Cellars, and Kerr would consist of 60–70 percent of those core appellation SKUs and the rest single-vineyard designate wines."
Will Tiger Woods's name appear on a bottle of California's best someday? Will the Molinari brothers come out with a line of velvety Brunello di Montalcinos and luscious Barolo Riservas from their homeland? Lovers of golf and grapes can only hope.
TEE SHEET
It's not always easy to find the wines created by your favorite golf pro. They're not widely carried by local wine retailers, even the larger ones. Websites like wine.com and vivino.com may have some of them, but in many cases you'll need to order directly from the brand's website. Some offer memberships in clubs that ship select varietals to your door a few times a year and include other insider benefits.
Here's a list of some of the bottles to set your sights on, with ratings from respected wine reviewers to help guide you.
KERR CELLARS—Reserve Proprietary Red 2013, 98 points (Robert Parker) kerrcellars.com
KERR CELLARS—Wappo Vineyard Cabernet Sauvignon 2018, 97 points (James Suckling) kerrcellars.com
GREG NORMAN ESTATES—Shiraz South Eastern Australia Reserve 1999, 96 points (Wine Spectator) shark.com/company/greg-norman-estates
CURVATURE—Cabernet Sauvignon 2016, 94 points (Robert Parker) kerrcellars.com
GREG NORMAN ESTATES—Shiraz McLaren Vale Reserve 1998, 94 points (Wine Spectator) shark.com/company/greg-norman-estates
ERNIE ELS—Cape Winemakers Guild Stellenbosch 2010 & 2012, 94 points (Wine Spectator) ernieels.com/wines
CURVATURE—Sonoma County Chardonnay, 93 points (Wine Spectator) kerrcellars.com
THE GOOSE—Sauvignon Blanc Upper Langkloof 2012, 91 points (Wine Spectator) thegoosewines.com
DAVID FROST—Par Excellence Paarl 2002, 90 points (Wine Spectator) frostwine.com
JACK NICKLAUS—Private Reserve Napa Valley 2009, 90 points (Wine Spectator) terlatowines.com/brands/california/jacknicklaus-wines
THE GOOSE—Chenin Blanc 2017, 88 points (Robert Parker) thegoosewines.com
ARNOLD PALMER—Cabernet Sauvignon Napa Valley Reserve 2004, 88 points (Wine Spectator)
LUKE DONALD—Viognier Sta. Rita Hills Sanford & Benedict Single Vineyard 2012, 87 points (Wine Spectator)