Playing in a PGA Tour Pro-Am is a sure-fire bucket list item for any golfer.
Playing in the Pro-Am event for the winners-only Sentry Tournament of Champions on the Hawaiian island of Maui takes that experience to a whole other level. Not only are you playing in paradise at the Kapalua Resort's impossibly scenic Plantation Course, but you're guaranteed to be teamed with someone who won last year on the PGA Tour and is in a particularly good mood because they're a) in Hawaii, and b) playing in a no-cut, limited-field event that guarantees a nice paycheck.
Quick backstory: I was set to be in Maui in January 2019 to work on a story about the $12 million renovation project that the Plantation Course undertook after the tournament. Less than two weeks before the end of the year I got one heck of a Christmas present from the good folks at Troon, who run the two golf courses at Kapalua as part of the largest management portfolio in the game. The gist of their unexpected email: Was I interested in Troon's open media spot for the Pro-Am?
I couldn't say yes quickly enough.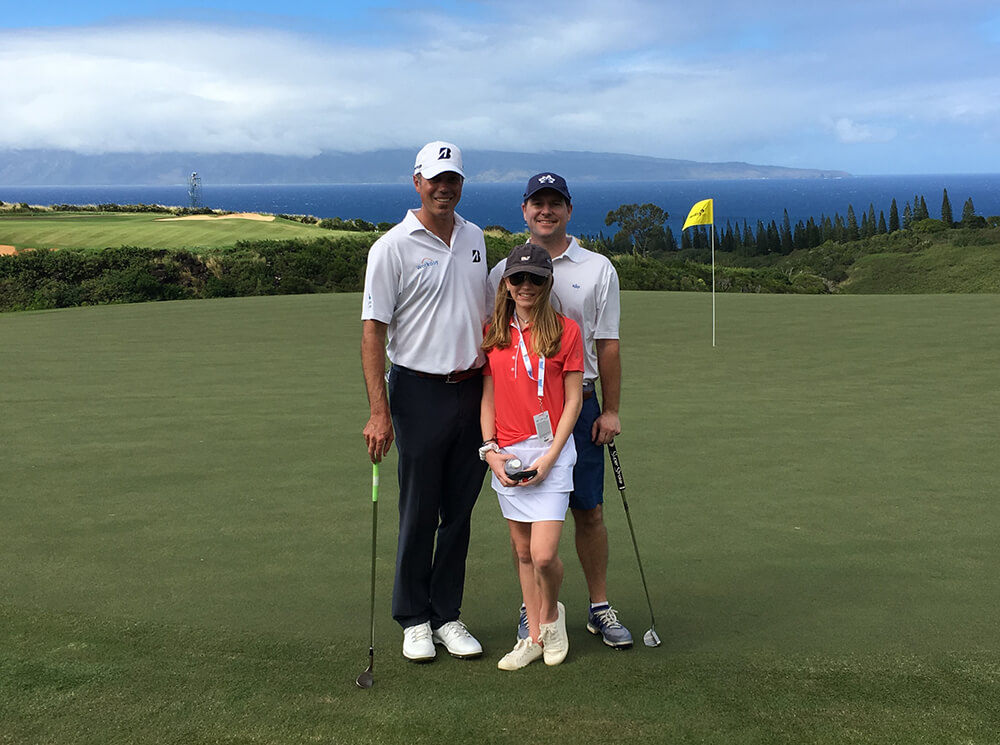 My first Pro-Am experience started with Monday's draw party, which in Maui meant Hawaiian shirts, leis, and lots of great food and fruity drinks at the luxurious Ritz-Carlton in Kapalua. I met one of my amateur partners—Jay, the affable president of a tech company in Utah—and we quickly started our tournament strategy. Each team was given a mere 30 seconds to debate before getting their pick in. We had the fifth overall selection (out of 33) and, with Rory McIlroy, Justin Thomas, Dustin Johnson, and Jason Day off the board, we opted for Matt Kuchar, one of the nicest guys in a game full of them.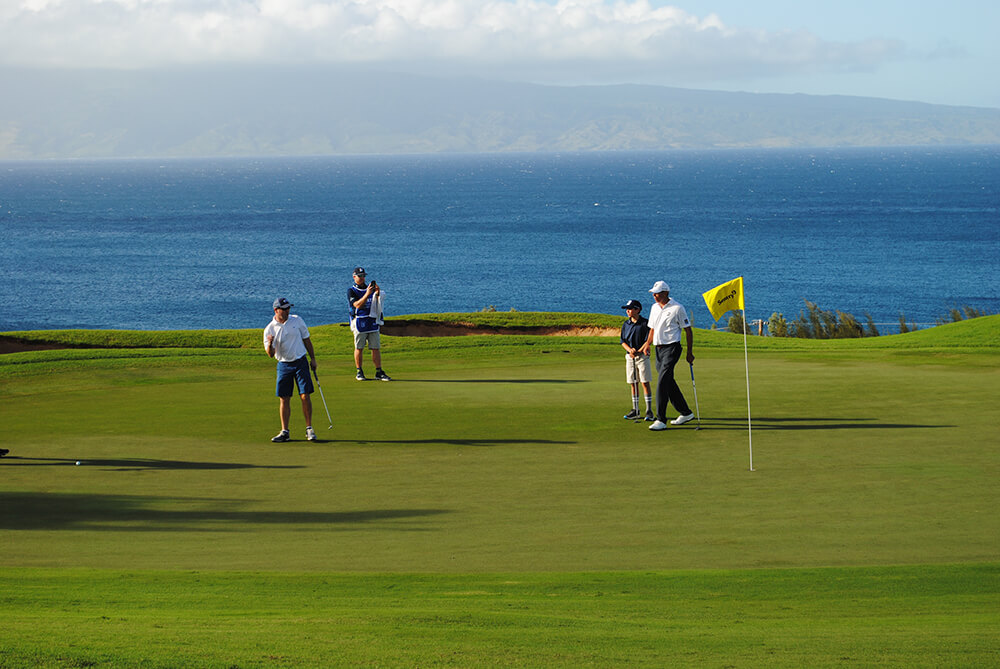 After playing an amateurs-only practice round at Kapalua's Bay Course the next day, we met "Kuch" on Wednesday morning on the 1st tee of the Plantation Course, a downhill par four with stunning views of the ocean and the neighboring island of Molokai. Kuchar and his caddie, John Wood, couldn't have been more engaging. We took pictures, joked, and talked about family and our mutual love of the islands. After Kuchar piped his tee shot down the middle from the back tees, we amateurs moved forward several tee boxes and, with a small crowd looking on, were individually introduced by the starter. That was an unforgettable moment in itself. Somehow, I pushed the nervousness down and hit a respectable three-wood that tumbled over the crest of the hill in the fairway toward the 1st green.
Our round with Kuchar came a week ahead of his win at the Sony Open in Hawaii and less than two weeks before the Twitter-fueled controversy about the admittedly low "flat rate" that Kuchar gave to his fill-in caddie after a victory several months earlier in Mexico. The incident obviously portrayed Kuchar in a negative light, but for me it also was a reminder of how easily (and perhaps understandably) perceptions can be shaped simply by what people hear or read. My experience with Kuchar, and his caddie, was far different.
This is a good time to mention that I didn't make the trek to Hawaii alone. My oldest daughter, whose name is actually inspired by the Maui town of Hana, joined me for the adventure. She was almost 16 at the time and I got to the course that morning more than a little anxious about pulling a teenage girl away from the beach to walk a rugged course built on the side of a mountain and take pictures of me playing golf. The Plantation Course might just be the most unwalkable course on the PGA Tour, a fact that Kuchar certainly recognized from his time playing the event. Offhandedly, I mentioned my concerns to him after we played the par-three 2nd hole, probably joking that it might not end well.
Carts are a must for all competitors in the Pro-Am and by the 3rd hole, Kuchar told Hana to jump in with him, with John hopping on the back with the clubs. If I had tried to have Hana climb on the back of the cart that my playing partner and I shared, organizers would have immediately nixed it due to safety concerns. Kuchar's concern for my daughter was a huge weight lifted. I relaxed and enjoyed the experience even more.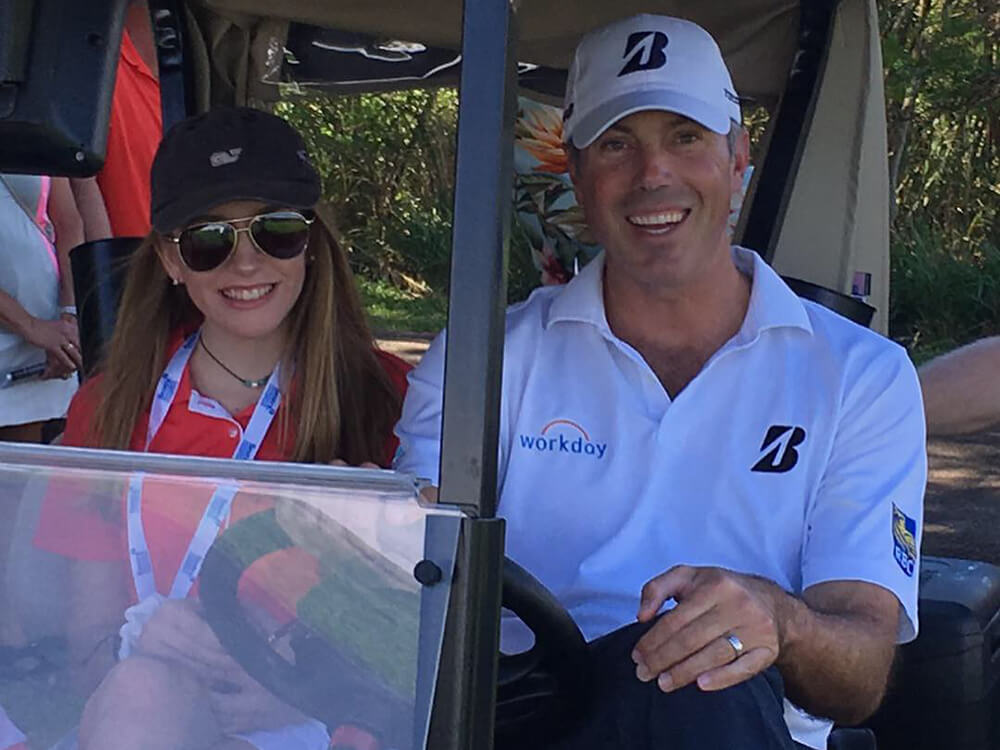 When one of our amateur partners had to pull out after six holes when he wasn't feeling well, Kuchar asked if his oldest son, Cameron, might join us at the turn to play as our fourth. We said yes, of course, and that only added to the experience. Here I am sharing one of the most special golf adventures I've ever had with my oldest daughter and Kuchar is being a dad himself—teaching, encouraging, and, of course, always smiling. He told jokes, spit out movie lines (including Happy Gilmore), signed some autographs for fans, and played steadily throughout, as did his son.
Our team ended up tying for the lowest overall score, finished third in a match of cards, and even won some hardware.
But the experience itself is what I'll never forget. I saw just about every side of Matt Kuchar—competitor, boss, dad, teammate, friend—and came away a way bigger fan than I was before.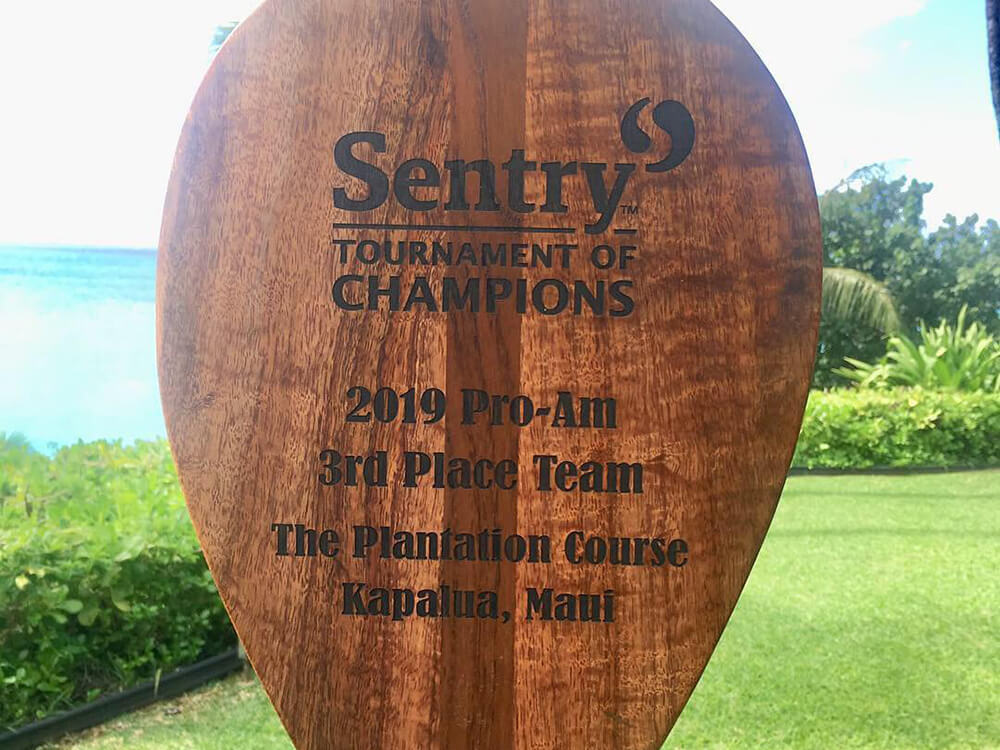 It's going to be hard to top a PGA Tour Pro-Am experience in Maui.