Most golfers have a favorite course or, at the very least, a favorite hole—someplace where they tend to always play well or a spot that holds a special place in their hearts for a notable round, shot, or achievement. We assumed that the same must be true for the best players in the world, so we chatted with a bunch of PGA Tour players, asking them which course played host to the sweetest moment in their careers thus far.
We know what you're thinking: Surely, a player who won a major championship is always going to think most fondly of the course where that accomplishment occurred. And you're right—some players' answers were somewhat predictable. However, you might be surprised by some of the others. At the very least, the answers are likely to provide new insight on a tournament victory or Ryder Cup-winning shot that you only thought you knew.
Winning Moments
Zach Johnson acknowledges that the concept of a sweetest moment on tour will always conjure up memories of a significant win. But what about players, like Johnson, who have multiple significant victories? "Everybody asks me, how do you pick between Augusta and St. Andrews? And I can't," he says. "That's like trying to pick which kid you love the most. You just can't. They're both filled with awe and amazement. Winning at John Deere, which is where I got a sponsor's exemption before I was on tour—that was ultra-special. And having my coach on the bag made it even that much more special."
As it turned out, this summer at TPC River Highlands was the appropriate time and place to ask Kevin Streelman that question, as the Connecticut course—host of the Travelers Championship—was the layout that instantly came to Streelman's mind. "What happened to me in 2014 here, birdieing the last seven [holes] to win. It's historic," he says. "That will go down as one of my favorite moments. This is my favorite drive into a golf course because of all those memories."
Denny McCarthy hasn't won yet on the PGA Tour, but one of his amateur victories stands out for the people who had the chance to celebrate with him. "I played in the Porter Cup at Niagara Falls Country Club as an amateur for five straight years. I stayed with a great family, Jack and Dina Armstrong—Jack's the voice of the Toronto Sports Network, he calls all the Raptors games. So I stayed with them for that tournament and in my last year playing I won. They had been hosting players for 30 years, and I was the first player staying with them that won. It was a tournament I wanted to win—and I wanted to win it for them—so that was a highlight of my amateur career."
You might think that Collin Morikawa would reserve his fondest feelings for TPC Harding Park, given that he won his first major there at the 2020 PGA Championship. Yet, it's what happened at Royal St. Georges four days before Morikawa's second major championship in 2021 that often springs to his mind. "Hole 18 has these big grandstands, obviously, with a bunch of fans," he says. "But Wednesday in the practice round, Will Zalatoris and I were playing and the marshals and security wanted to do a practice test run on the group. So they pretended as if we were the final group of the actual Open. And then, as it turns out, I saw the same guys on Sunday in the final group, so that's one of the coolest moments that not a lot of people would know about. It was a full-circle moment."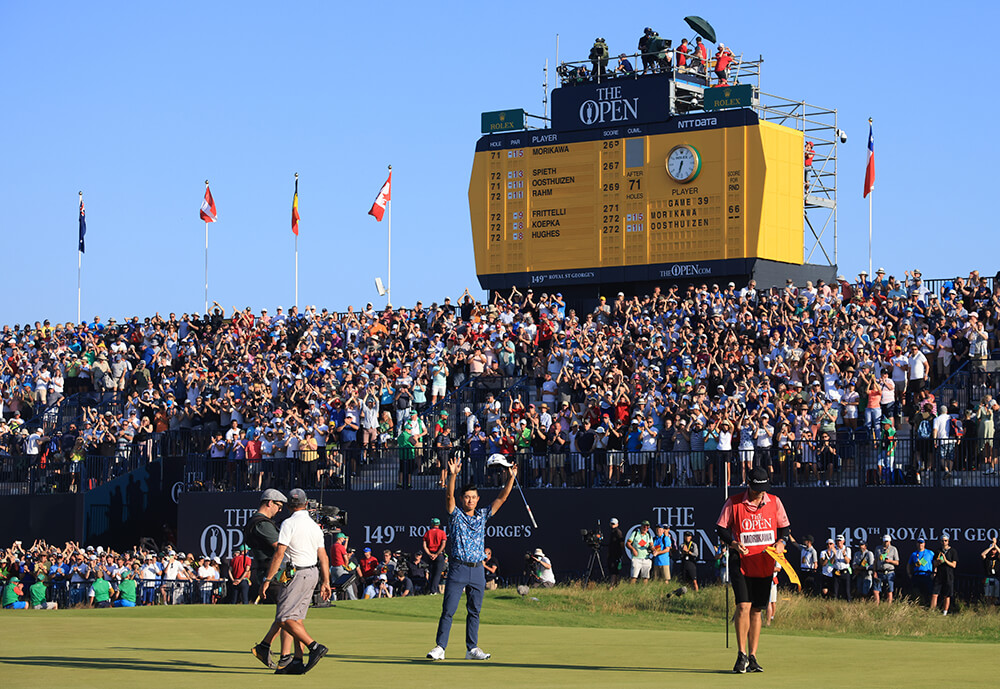 Ryder Cup
Although Tommy Fleetwood hasn't won yet on the PGA Tour, he has racked up six European Tour wins. Nevertheless, the prospect of his sweetest moment brings him back to Le Golf National in 2018 where, as a Ryder Cup rookie, Fleetwood secured four points and vividly remembers the moment when the Europeans clinched the cup. "I was on the tee when Phil missed his tee shot and put it in the water on 16—when he conceded," Fleetwood says. "That was quite a cool moment."
J.B. Holmes feels similarly about his Ryder Cup heroics at Valhalla back in 2008, but as he acknowledged, he was fortunate enough to recognize the significance of the moment as it happened. "Hitting the shot in there to clinch the Ryder Cup in Kentucky… that's probably the best moment for me," he says. "And I knew it in the moment, too. Like, how is it going to get any better than this?
Family Affairs
The presence of important family members also dictates some of the sweetest moments for players on tour, so much so that certain milestone victories aren't always the moments that first come to players' minds. Need proof? Just ask Stewart Cink, whose sweetest moment had to be lifting the Claret Jug at Turnberry, right?  Not necessarily. Instead, Cink lists the Ritz Carlton Golf Club in Orlando. "I won the father-son tournament there with my older son, Connor, in 2013. That was a sweet moment," he says. "Was it the highlight of my career? It was one of them, but it wasn't the highlight. Obviously, I'd go back to 2009 at Turnberry where I won the British Open. That would be the highlight of my career. But winning an event like the PNC Championship with your son as a team, that's the sweetest moment."
You might think that TPC Louisiana would first come to Billy Horschel's mind, given that it was the site of his first win on the PGA Tour. If not, surely, it must be East Lake Golf Club, where Horschel won the Tour Championship in 2014. Instead, Horschel points to his win at The Memorial Tournament in 2022. "It was the first time that my family has been at a tournament that I've won," he explains. "So, to have my wife and kids run out on the green—it's something I've wanted to accomplish in my career. I now have that memory for the rest of my life, so it holds a special place in my heart."
Matt Kuchar has played in 15 Masters tournaments, finishing as high as third in 2012. But it's the amicable Floridian's first appearance that outranks all others for the nostalgia factor. "I probably get somebody coming up once a day or once every other day, remembering my first Masters with my dad caddying for me. It remains fresh," he says.
Pivotal Shots
In 2015, at the Northern Trust Open at Riviera Country Club, James Hahn persevered through multiple playoff holes to secure his first victory on tour. That he was able to do it in California—Hahn grew up in Alameda—made it extra special; yet, when he thinks back on that moment, Hahn doesn't reflect on his championship-winning birdie putt on the third playoff hole…at least not right away. Instead, he thinks about the wedge shot that he hit over the greenside bunker on the second playoff hole. "I remember knowing that I could either chip it out to the middle of the green or go for the hero shot and try to make birdie to win the golf tournament," he says. "So I decided to hit a flop shot over a bunker. If I didn't pull it off, I was looking at a bogey, double bogey, triple bogey… I might still be in there right now. That's how treacherous the situation around that green was. Obviously, I had a lot of excitement and feelings going through my body at the time I made the winning birdie putt, but it never would have happened if I didn't try the hero shot on number 10."
"There are definitely courses that treat me better than others," Patton Kizzire acknowledges. But when it comes to the course that offered his sweetest moment on tour, it's an easy choice: El Camaleón Golf Course at Mayakoba, the site of Kizzire's first victory on the PGA Tour in 2017. "It was getting pretty tight with me and Rickie Fowler," he remembers, "and I didn't hit a great tee shot on the 16th hole, so I had to hit a hybrid over some mangrove trees into the green. It was a little risky, and it barely cleared, but I hit it on the green and two-putted for par. That was definitely the pivotal shot."
What is the sweetest golf moment in your lifetime? Tell us about it in the comment section.