In recent years, shorter has become trendier when it comes to new golf course openings, from Par-3 designs at destination resorts to layouts like the latest offering at Streamsong that will feature 18 holes ranging from 70 to 300 yards. Conventional thinking is that these shorter courses provide a fun, engaging, and less time-consuming option for golfers of all abilities.
So why is one of the few new course openings scheduled for this year set to become the longest in North America?
The simple answer: location.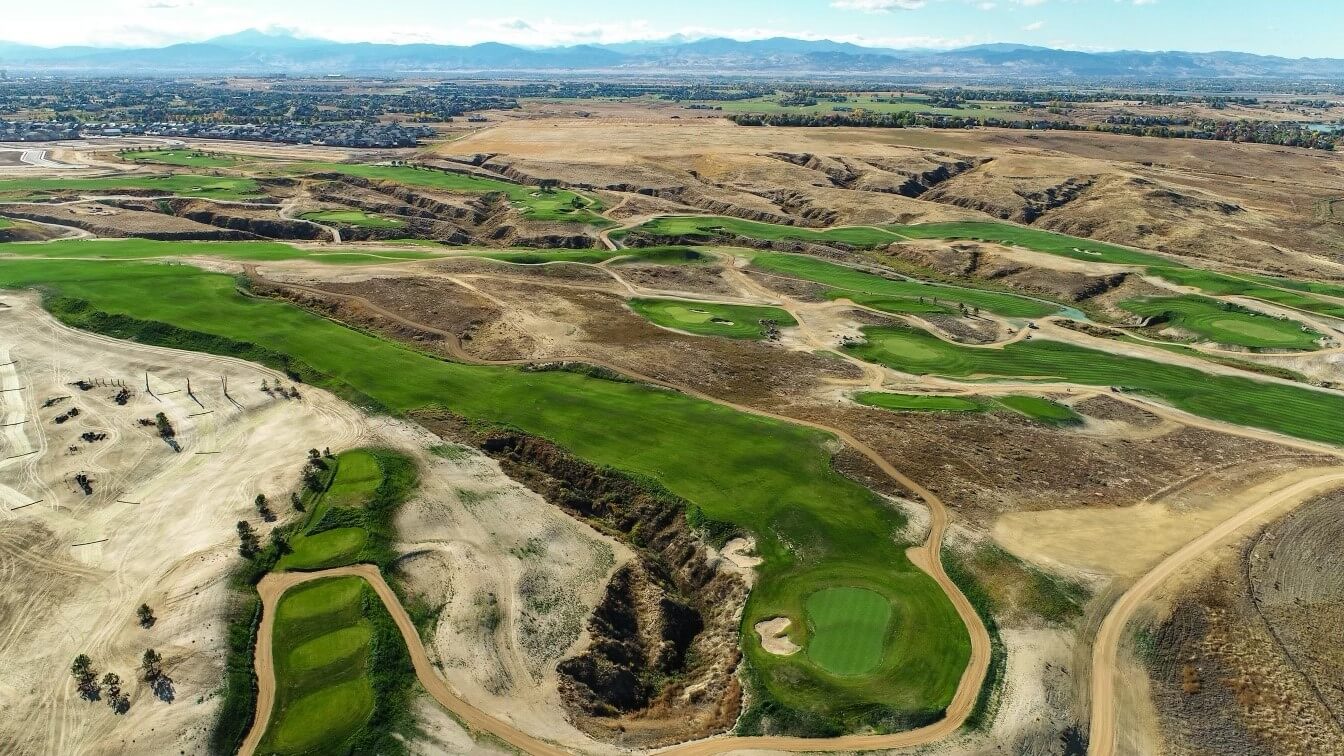 RainDance National Golf Club is situated on a unique portion of the front range of the Rocky Mountains in Colorado, designed as the centerpiece to a 2,500-home community in Windsor, about 45 minutes north of Denver. At an elevation just under 5,000 feet outside the Mile High City, the course will measure 8,475 yards from the back tees when it opens to public play in July 2022.
"We originally had the course around 8,000 yards and realized due to all the different characteristics of the land, elevation, and grass it would be way too short to challenge the best in the world," says eight-time PGA Tour winner Fred Funk, who collaborated with golf architect Harrison Minchew on the project, which aspires to host professional events. "We designed this course to challenge the best, but to be enjoyable by all."
Minchew says scratch and professional players will likely realize 10 percent additional carry compared to a course at sea level. With added carry and runout due to the elevation, sloping fairways, and fescue turf at RainDance, the course will probably play closer to 7,500 to 7,600 yards from the back tees. This relative length would be similar to that of the 7,700-yard Ocean Course at Kiawah that hosted the 2021 PGA Championship.
In total, RainDance features about 225 feet of total descent from the high point on the 1st hole to the lake on the 15th hole; for perspective, that's over 40 percent greater than the celebrated elevation changes at Augusta National. RainDance has five par-five holes and five par threes, but perhaps most uniquely, Minchew's grading plan results in only three holes playing uphill despite the elevation changes throughout.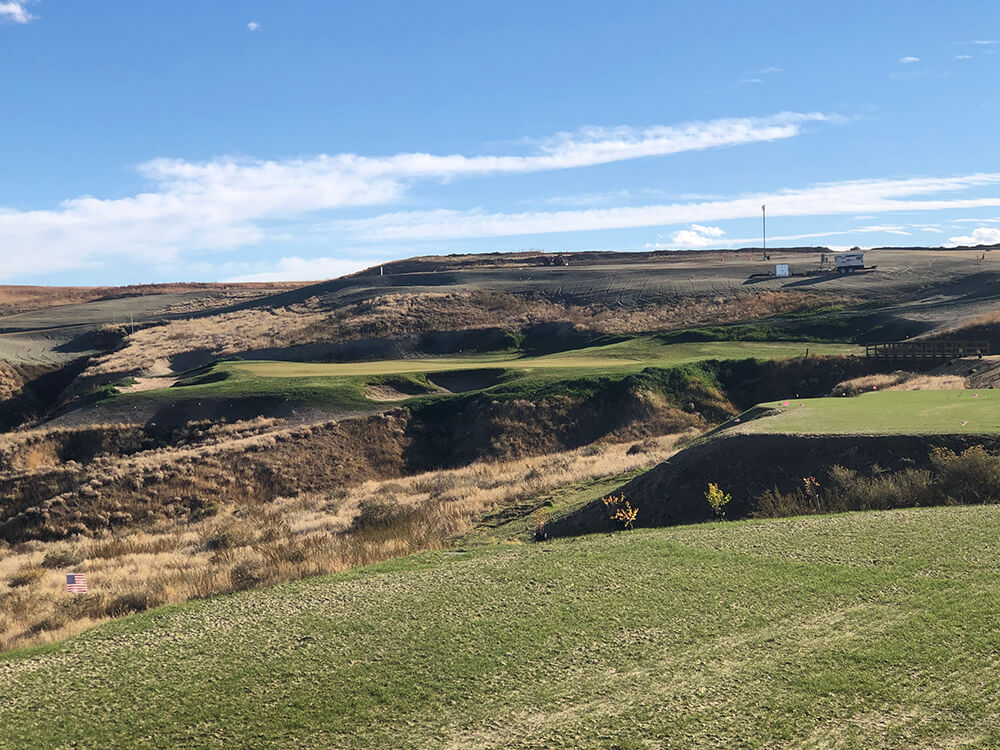 "The course has a wonderful open feel in the most natural golf terrain I have ever worked on," says Minchew, who has been in golf design for 35 years. "The main feature is a series of arroyos, 20- to 30-feet deep canyons, that flow down to the Poudre River that is the north boundary. I have designed 75 golf courses worldwide and never have had such a great piece of land."
Most notably, though, RainDance easily becomes the longest of the more than 19,000 courses throughout North America. It's also only one of a select few to top out at over 8,000 yards, eclipsing names like Ross Bridge (8,191) and Fighting Joe (8,092) in Alabama, Fox Run in St. Louis (8,154), The Pete Dye Course at French Lick Resort in Indiana (8,102), and Colorado's Antler Creek (8,058 yards).
RainDance won't set a record for the longest regulation par-72 course in the world. That designation belongs to the Jade Dragon Golf Club in China, which can play to 8,548 yards from the pro tees at approximately 10,000 feet above sea level, one of the highest elevations for any course.
However, the longest course in North America is not distancing itself from shorter, time-sensitive options that appeal to many golfers.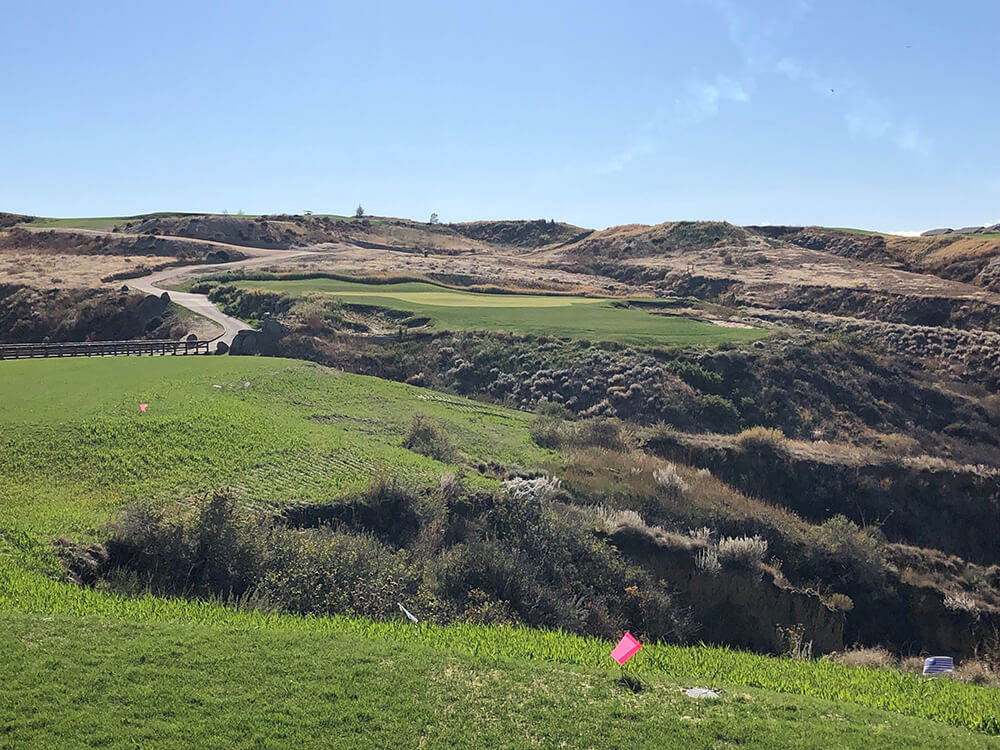 With five sets of tees, including one that plays as short as 4,900 yards, Minchew and Funk designed RainDance so that the average handicap player will have the same approach distance into a green as a tournament golfer would have playing the course from the back tees. The routing also allows for play to return to the clubhouse three times—after holes 9, 12, and 18. As a result, there are options for three- or six-hole loops for those who don't have time to play nine or 18.
The irony of one of professional golf's shortest hitters helping design the nation's longest course won't be lost on some. Funk led the PGA Tour in driving accuracy five times, but generally averaged less than 250 yards off the tee. If anyone knows distance isn't everything, it's Funk.
"This course is going to stand up to the best players in the world," says Funk, "but the goal is for any player to walk off the 18th hole and say, 'I can't wait to do that again.'"
Would you play RainDance National from the back tees?