By Tom Cunneff
The National Park System is one of our country's greatest assets, attracting 250 million visitors annually to the more than 400 sites, areas of such brilliant beauty and historical significance that it takes an act of Congress or Presidential decree for them to become part of the system.
But for all that spectacle, golf plays a very small part in the park system: There are only six courses inside NPS-managed sites—three in the D.C. area (featuring some remarkable views of the monuments and memorials) and one each in Cape Cod, Yosemite, and New York's Gateway National Recreation Area. But since the parks are among the country's leading attractions, we've cross-referenced some of the most popular with the best nearby public-access course to give you a one-two travel punch. And if you go on a free entrance day, all park fees are waived and you might also encounter some special events. To learn more, visit findyourpark.com.
Yellowstone, Wyoming
Golf: Jackson Hole Golf & Tennis Club, Jackson Hole, Wyo.
Few sites can match the grandeur and natural features of the very first National Park. An hour south is the immaculately maintained Robert Trent Jones Jr.-designed course at Jackson Hole Golf & Tennis Club, which sits at the south entrance to another treasure, Grand Teton National Park. Nearby Teton Pines resort also has an excellent Arnold Palmer course worth playing.
Blue Ridge Parkway, Virginia & North Carolina
Golf: Linville Golf Club, Linville, N.C.
Talk about two great drives! This scenic boulevard winds through the Blue Ridge Mountains for 469 miles with plenty of places to pause, none better for a golfer than Linville Golf Club, a classic Donald Ross design that's part of The Eseeola Lodge.
Cape Cod National Seashore, Massachusetts
Golf: Cape Cod National Golf Club, Brewster, Mass.
Forty miles of pristine sandy beach, marshes, historic lighthouses, and wild cranberries beckon. Just as beautiful is Cape Cod National Golf Club, which, although private, is open to guests of Wequassett Resort.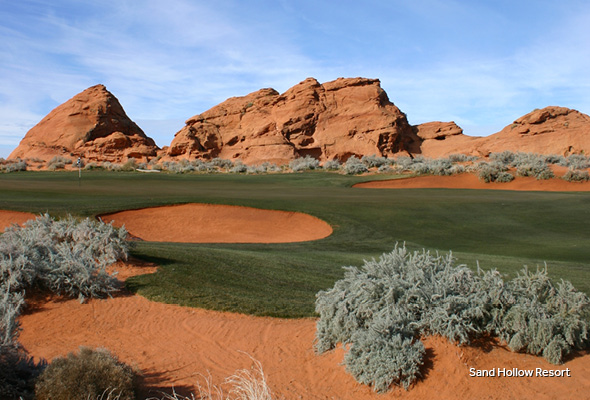 Zion, Utah
Golf: Sand Hollow Resort, St. George, Utah
Within its 229 miles, Zion has some of the most scenic canyon country in the U.S., as well as some of the most interesting geologic formations. Just 45 minutes away is the state's number-one golf resort, with 27 holes of equally beautiful vistas.
Valley Forge, Pennsylvania
Golf: The Golf Course at Glen Mills, Glen Mills, Pa.
Perhaps no place in the country better represents the collective resolve of our ancestors to be free than Valley Forge, which commemorates the arduous six-month encampment of the Continental Army under George Washington. You'll need a lot of resolve at the brutally beautiful Glen Mills, perhaps the best public course in the Philly area and just 11 miles away.
Mount Rushmore, South Dakota
Golf: The Golf Club at Red Rock, Rapid City, S.D.
One of our country's most iconic symbols, this shrine to American democracy features 60-foot-high carvings of presidents Washington, Jefferson, (Teddy) Roosevelt, and Lincoln. Just 21 miles away is the state's top daily-fee course, a scenic, well-maintained, and challenging layout with a lot of elevation change.
Mount Rainier, Washington
Golf: Chambers Bay, University Place, Wash.
The most glaciated peak in the Lower 48, this icy volcano spawns six major rivers, while wildflower meadows and ancient forests cloak its slopes. Last year's U.S. Open host, overlooking the Puget Sound, is less than 60 miles away.
Muir Woods, California
Golf: TPC Harding Park, San Francisco, Calif.
If, as some say, being in a state of awe leads to happiness, then you should feel pretty content strolling among Muir Woods's 250-foot-tall redwoods just north of San Francisco. Another terrific walk awaits you just south at Harding Park with its rolling fairways lined by cypress trees and views of Lake Merced.
New River Gorge, West Virginia
Golf: The Greenbrier Resort, White Sulphur Springs, W.Va.
Among the oldest on earth, the rugged New River flows north through deep canyons it carved over the eons in the Appalachian Mountains. An hour and a half east lies one of the country's best golf resorts with five layouts, including two of the top five daily-fee courses in the state.
Sleeping Bear Dunes National Lakeshore, Michigan
Golf: Arcadia Bluffs, Arcadia, Mich.
The 450-foot-high dunes overlooking Lake Michigan are part of a 35-mile park brimming with unique flora and fauna. Forty miles down the coast lies the state's top daily-fee course, which also offers stirring lake views as well as memorable, Irish links-like golf.