There are some golf courses in the world that you just cannot wait to play—either because you've fantasized about playing them for years or because you're eager to return and have another go at them. For me, there are many such courses in Scotland.
And as I look ahead to visiting certain clubs in the Home of Golf, there will often be specific holes that I'm really looking forward to taking on—the ones I imagine in my mind's eye when I think of those courses. Sometimes, it will be a famous hole that everybody knows; other times, it's one that has some personal significance for me, possibly because it's just stunning to look at. All of them are memorable in one way or another.
Here's the list of my 10 favorite holes in Scotland. The courses they're chosen from may not necessarily be my 10 favorite Scottish courses, but suffice to say that I'd much rather be playing one of these courses right now—and these holes in particular—than just sitting here writing about them.
14th hole, Royal Dornoch—445 yards, par four
Hole 14 at Royal Dornoch ("Foxy") is unquestionably one of the world's great par fours. From a slightly elevated tee, with the shoreline on your left, your first shot plays across a sea of marram grass to a fairway that angles from right to left. The farther left you can keep your tee shot without finding the rough, the better line you'll have to the green. And what a green it is. Perched on a shelf a good eight feet above the fairway, Foxy's tabletop green calls for a perfect approach shot—often with a long iron. If you miss this wide but shallow green, your up-and-down will have a lot of up to it and require the touch of a Seve. No bunkers are needed to make this terrific hole a thrilling test.
5th hole, Machrihanish—388 yards, par four
While the opening hole at this Old Tom Morris-designed Kintyre standout, with its tee shot across a corner of the Atlantic, may be more well known, it's the 5th hole ("Punch Bowl") that epitomizes Machrihanish Golf Club for me. You thread your tee shot up into a narrow valley, taking care to avoid the deep punch bowl depression in the left rough and not stray too far right, either. From there, your approach shot is to a large and undulating green with steep drop-offs short and right. It's not a long hole, but it's beautiful. And it's got bite.
17th hole, Prestwick—394 yards, par four
It's the oldest existing hole in major championship golf, dating back to 1851. And it's easy to see why it hasn't been changed. "Alps" calls for a pure tee shot up a narrow fairway, followed by a blind approach shot over a steep sandhill to a wide green protected in front by the famous Sahara Bunker. Any shot that's mishit or under-clubbed will likely find the bottom of this behemoth, in which case, good luck. The green is sloped sharply from back to front, and there's a false front to contend with, as well. I love the exhilaration of cresting that hill and seeing where my ball has come to rest.
18th hole, Carnoustie—499 yards, par four
Carnoustie is widely regarded as the toughest of the Open Rota courses. But I've always had good luck there and have generally escaped unbloodied. Each round, though, when I step onto the tee of the hole they call "Home," I'm reminded of Jean Van de Velde's infamous finish in the 1999 Open Championship (about which, enough said). The chief problem on this hole is the Barry Burn, which comes into play in several spots, most notably right in front of the green. Carnoustie has many great holes, but this is the one I most look forward to. Play it well and the 19th Hole will be even more enjoyable.
5th hole, Cruden Bay—454 yards, par four
I love Cruden Bay. After some gentle opening holes to ease you into your round, you climb up to the 5th tee and the magical dunescape that you'll spend the rest of the day playing in reveals itself—along with a testing par four. From its elevated tee, you can see all the trouble left and right. Hit the fairway and you'll still have plenty of work to do, as your approach shot to the elevated green, sited off to the left behind a sandhill and two bunkers, requires real precision.
12th hole, Kingsbarns—606 yards, par five
The view from the tee of this seaside par five is one of the best in golf. The challenge lies before you in all its glory: a tee shot up the right side which will slide left toward the shoreline as it runs out; a second shot that skirts as close to the beach as possible; and a third shot to a deep green tucked between a sandhill and the sea. A million things can go wrong before you hole out here, but Scottish golf offers few more scenic adventures.
14th hole, North Berwick (West Course)—375 yards, par four
It's called "Perfection"—and for good reason. It requires four perfect shots. Off the tee, you must avoid two cavernous bunkers that lurk on the right of the ridge that bisects the landing area. Your blind second shot toward a marker pole has to avoid two more pits of despair short of the green and a minefield of humps and hollows short and right. Don't overshoot the large green, though, or you'll wind up in the sea.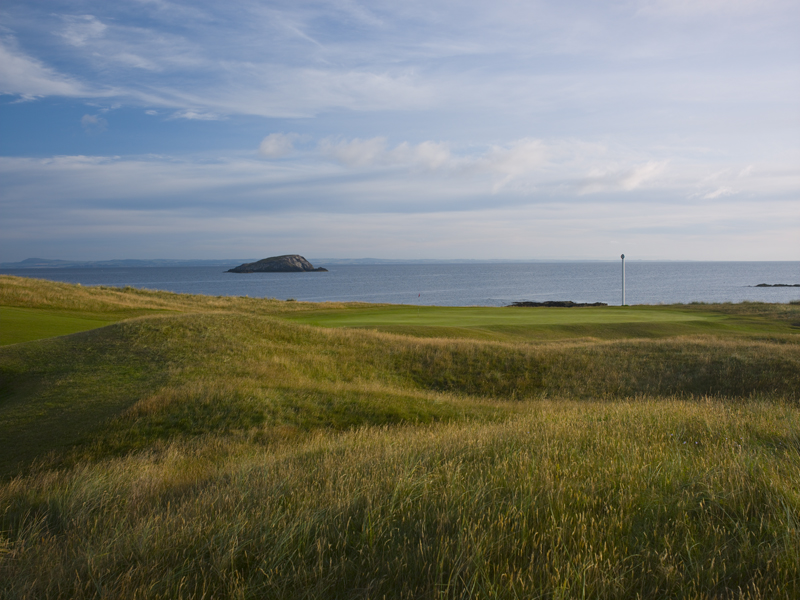 17th hole, St. Andrews (Old Course)—495 yards, par four
One of the most iconic holes in golf, "Road" is the absolute epitome of the knee-knocker. Even if you pick the right line for your tee shot over the green wall that replaced the old railway sheds, can you execute it? Or will you end up in the back garden of the Old Course Hotel? Should you manage to find the fairway, you'll still have a long approach shot to an elevated green that cants away from you, front-right to back-left. The road behind the green is in play, as is the Road Hole Bunker, of course—that place where pars go to die. I enjoy every inch of the Old Course, but for me, this hole is its epiphany.
5th hole, Gleneagles (King's Course)—178 yards, par three
You've got to love do-or-die par threes like this one. It's called "Het Girdle" because it repels tee shots the way a hot griddle repels drops of oil. The elevated green has steep falloffs on each side. Miss short and you'll find one of four nasty bunkers. Miss right and you'll roll down into bushes. Miss left or long and you'll have a next-to-impossible up-and-down. The putting surface slopes sharply from back to front, so if you do hit the green, you'll want to stay below the hole. As one-shotters go, they don't come any better.
Gleneagles Kings Course 5th Hole – 1919 James Braid pic.twitter.com/tly0cBLXIV

— Matthew Stephenson (@mjs_1993) May 25, 2020
9th hole, Trump Turnberry (Ailsa Course)—248 yards, par three
The old 9th hole at the Ailsa Course was a pedestrian affair that failed to take full advantage of its glorious oceanfront location. But when Tom Mackenzie and Martin Ebert (Mackenzie & Ebert) finished redesigning parts of the Ailsa in 2016, the 9th had been transformed into one of Scotland's most memorable par threes. Like the 5th at The King's Course, it's an all-or-nothing test. With the prevailing wind coming off the water on your left, you play toward the green just above the crashing surf in the shadow of the famous Turnberry lighthouse. A pure strike that carries the corner of the bay and avoids the two greenside bunkers will set you up for a two-putt par you're not likely to forget.
What are your favorite holes in Scotland?