Recently, we gave you 10 English courses that probably wouldn't feature on any itinerary of first-time visitors, but which anyone who had been several times and was looking for something outside the country's Open Championship venues and heathland classics might try. They were/are exceptional courses, each possessing a proud history, a distinct English flavor, and not a single green fee above £100 ($140).
Now let's do Scotland—the home of the game and, with something close to 560 courses for 5.45 million people, the country with the most courses per person in the world. Five years ago, places like Brora, Shiskine, Fraserburgh, Durness, and Anstruther would have fit perfectly into a list like this, but the internet has given them a measure of fame that took them out of the running. Don't let that stop you from finding them though.
The following 10 courses are little-known outside the town, district, county, shire, or burgh in which they sit, but will charm the socks off you. Their natural, and occasionally quirky, holes—and the characterful clubhouses and atmosphere inside them—will leave you wondering why golf ever changed.
Ladybank—Fife
The reason why you've never heard of this wooded, heathland charmer 25 minutes west of St. Andrews is, of course, that it's located in the middle of a county better-known for its coastline where you not only find the courses of the Auld Grey Toon but also Scotscraig, Fairmont, Kingsbarns, Crail, Leven, Lundin, Elie, and now Dumbarnie. Tom Morris Sr. laid out six holes here in 1879, and three more were added in 1910. Fifty years later, Laurie Auchterlonie, son of 1893 Open champion Willie Auchterlonie, extended the course to 18 holes and 6,821 yards. — ladybankgolf.co.uk
Lanark—Lanarkshire
When Lanark opened in 1851, the club played over six pretty basic holes laid out on the moor high above the medieval market town. In 1896, by which time it had grown eager for more golf, the club had Morris Sr. build 12 new holes. Within 30 years, the Haskell ball had rendered Morris's layout a little short, so James Braid was commissioned to beef it up, and his course is what you find today. Because of its moorland setting, Braid design, and tremendous conditioning, Lanark has been likened to the King's Course at Gleneagles—flattering but valid. — lanarkgolfclub.co.uk
Longniddry—East Lothian
About 350 years after Mary Queen of Scots is said to have golfed her "ball" (probably made of beechwood) across this land, the 11th Earl of Wemyss hired Harry Colt to build him 18 holes which opened in 1921—a couple of years before the English designer was asked to redesign Old Tom Morris's layout at Muirfield, seven miles to the east. Fifteen miles from Edinburgh on the magnificent East Lothian coast (where you also find Dunbar, the Glen, North Berwick, Archerfield, Renaissance, Gullane, Luffness, Kilspindie, Craigielaw, and Musselburgh) Longniddry has a pleasant mix of woodland and links holes that Braid, Philip Mackenzie Ross, and Donald Steel have altered in the 100 years since the course opened. — longniddrygolfclub.co.uk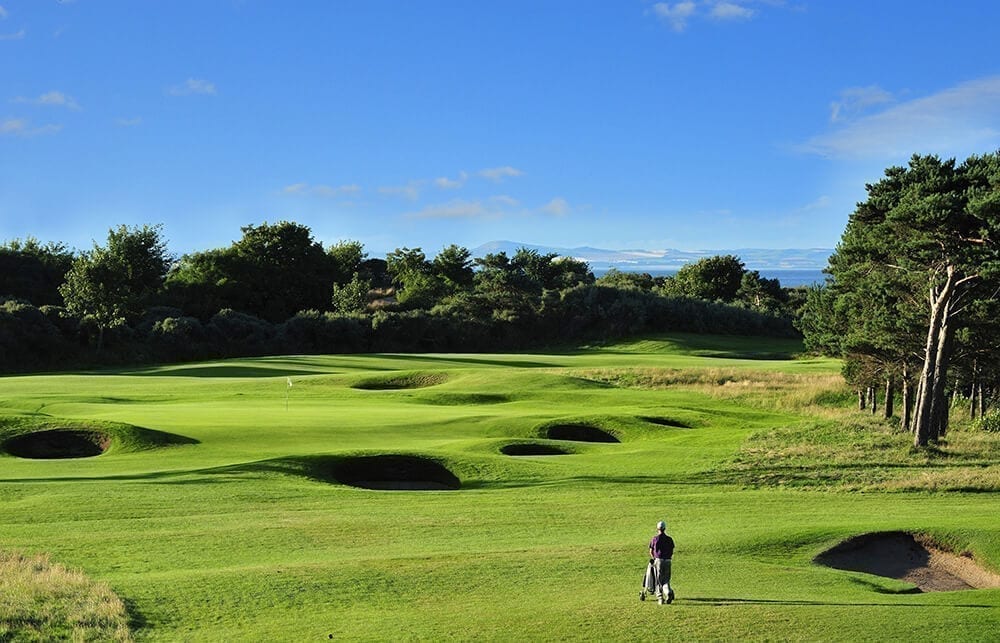 Monifieth—Angus
The coast east of Dundee isn't quite as laden with world-class links courses as that east of Edinburgh, but within half an hour of the "City of the Three Js" (Jute, Jam, and Journalism) you pass two courses at Monifieth Links where Tom Watson played his first links golf ahead of winning the 1975 Open Championship, Panmure where Ben Hogan prepared for the 1953 Open, and three courses at Carnoustie. A little further up the coast is the lovely Arbroath GC. The two courses at Monifieth are the par-68 Ashludie and longer, sterner Medal course which has been used for Open Qualifying numerous times. Allan Robertson and Alexander Pirie of St. Andrews laid out nine holes in 1845, and a second nine was added in 1880. — monifiethgolf.co.uk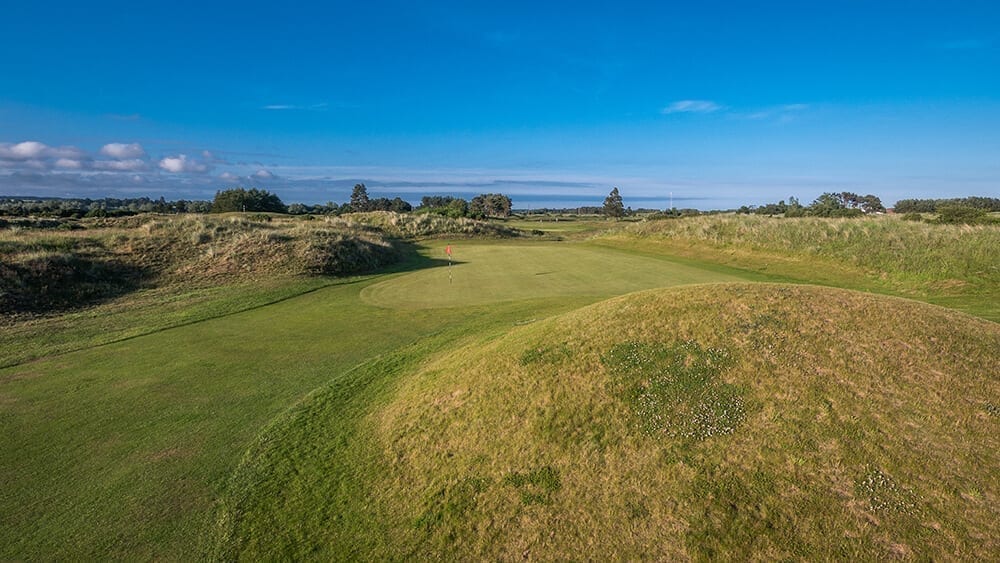 Montrose—Angus
Twelve miles further up the east coast from Arbroath is Montrose where documents indicate golf was played in 1562. Though St. Andrews had reduced its 22 holes to 18 in 1764, Montrose still had 25 as late as the 1880s; 18 of them had been used for club medals since 1863, but in 1866 a grand professional tournament was played over all 25. Among the entrants were four past, current, and future Open champions—Tom Morris Sr., Willie Park Sr., Andrew Strath, and Jamie Anderson, but it was Glasgow baker William Doleman who emerged as winner with a score of 112. Morris Sr. made the first changes to the course in the late 1880s after which Park Jr. made extensive alterations. In 1907, Colt arrived to design the town's shorter Broomfield Course, and he returned six years later to make the final edits to the Medal Course whose named changed in 2018 to the 1562 Course.
Montrose has been under serious threat from coastal erosion since the 1970s, and a handful of tees and greens have already had to be shifted. Montrose Golf Links Limited, the company which manages the links, states on its web site that in 2018 a Scottish Government briefing estimated that "between 35 and 40 meters of beach had been lost to the sea since the early 1990s." A long-term solution hasn't been identified yet, and it's not clear who exactly is responsible for coming up with one. Until it's found, however, the coastal holes at Montrose could conceivably change with every passing storm. — montrosegolflinks.com
View this post on Instagram
Pitlochry—Perthshire
A 40-minute drive north from Perth, Pitlochry opened in 1908 on farmland belonging to a Colonel Charles Butter who hired 1883 Open champion Willie Fernie to design 18 holes. C.K. Hutchison then gave it a nip and a tuck in the early 1920s creating a course that really has a bit of everything—parkland, woodland, mountain, heathland, a touch of downland and, when the gorse is in bloom and the turf cropped to perfection, even a little links flavor. — pitlochrygolf.co.uk
Prestwick St. Nicholas—Ayrshire
Twenty-eight devoted golfers including Morris Sr. formed the Prestwick Mechanics Club in 1851 and played over the town's links alongside Prestwick Golf Club. By 1877, the links were becoming crowded so Prestwick St. Nicholas (the club had changed its name in 1858) moved out. Its new courses—first at Monktonmiln Farm then Prestwick Moor—were far from ideal, so in 1892 it moved again, this time to a far more appealing property half a mile south of its original home. The new course, now a par-69 of just over 6,000 yards, was laid out on beautifully rumpled sandy ground by the club's first professional, John Allan, and Charlie Hunter, who had succeeded Morris as professional at Prestwick. — prestwickstnicholas.com
Southerness—Dumfries & Galloway
The beautiful but unrelenting Southerness was designed by Philip Mackenzie Ross, a former associate of Tom Simpson, and opened in 1947. Ross built an impressive resume in Britain and on the Continent but, besides the Ailsa Course at Turnberry which he redesigned following WWII, it's doubtful he built anything more exacting than Southerness. It might measure only 6,566 yards, but its par of 69 is a tough ask. — southernessgolfclub.com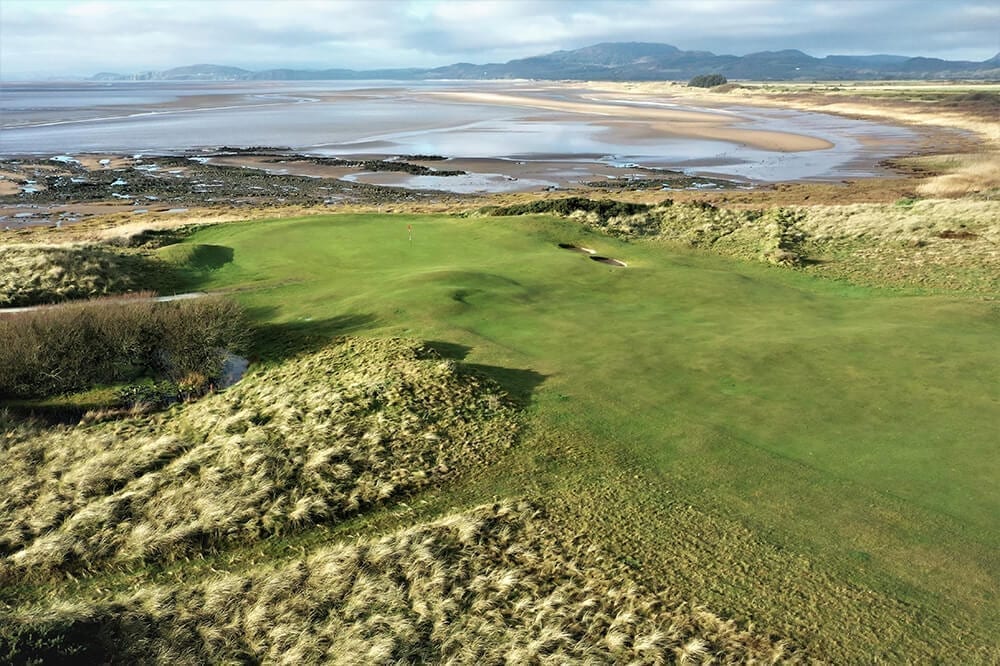 Tain—Ross-shire
How do you spend the morning before an afternoon tee time at Royal Dornoch? Easy, play another  Morris Sr. course 10 miles south across the Dornoch Firth. Strangely, Old Tom, here four years after creating Dornoch's original layout, could find only 15 green sites at St. Duthus (Tain's original name). Sometime in the early 20th century, though, Royal Dornoch's secretary John Sutherland reworked the course, finding 18 holes and managing to keep 11 of Morris's greens. A very interesting part links/part heathland course, Tain possesses a number of terrific holes of which the 380-yard 11th with its twin dunes defending the entrance to the green is the most memorable. — tain-golfclub.co.uk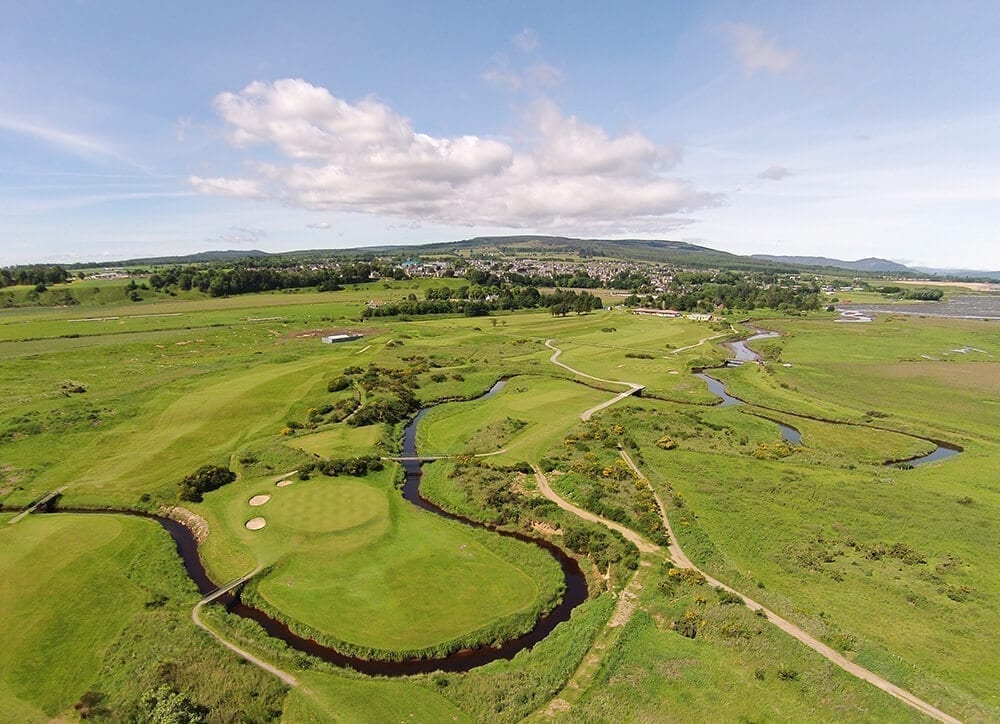 Traigh—Inverness-shire
Though you may wonder what on earth compelled you to trek this far from civilization as you make your way along the A830 (the "Road to the Isles") west from Fort William, the drive itself is incredible and what awaits you is pretty special too. Traigh (pronounced "try") isn't close to any other courses nor is it on the way to any, so just hang out in the delightful village of Arisaig three miles south, or the fishing port of Mallaig six miles north, for 48–72 hours and spend long days at the course (16–18 hours of golfable daylight in June and July) where owner Jack Shaw Stewart engaged former R&A Captain John Salvesen in 1994 to improve the cramped layout that had sat there for a century. — traighgolf.co.uk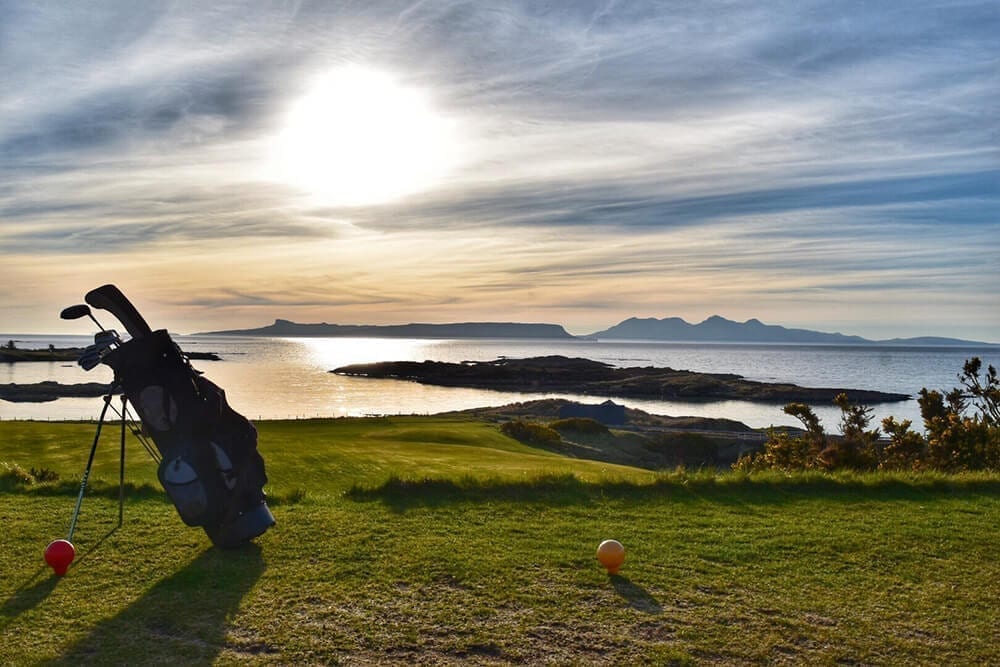 What are your favorite hidden gems in Scotland?