No course intimidates so thoroughly as Pine Valley
Legendary scribe Bernard Darwin called Pine Valley "an examination in golf." It's been called far worse. Perennially ranked as the world's best golf course, it is also likely the most intimidating, certainly for a middle handicap golfer. Its bunkers sport sinister names such as "Hell's Half-acre" at the 636-yard par-five 7th and "the Devil's A-hole" at the 161-yard par-three 10th. It was once said of the uphill, 238-yard par-three 5th, "Only God can make a 3." The scorecard length itself, 7,197 yards, par 70, hardly instills fear, and fairway width is sufficiently generous overall. Yet, Pine Valley's course rating is 76.6, with a slope of 155. So where's the trouble? Just open your eyes.
Uniquely marvelous and merciless, Pine Valley serves up multiple forced carries on holes that hopscotch from one island of turf to the next, with every target fronted and framed by trees, sand, and scrub. With only a few exceptions, any shot to a fairway and into a green demands a full carry. The intimidation factor grows with every swing, because the penalty for a hooked, sliced, or topped shot is so severe.
Brilliant British writer Pat Ward-Thomas summed up Pine Valley's distinctive virtues perfectly. "No course presents more vividly and more severely the basic challenge of golf—the balance between fear and courage," he wrote. "Nowhere is the brave and beautiful shot rewarded so splendidly in comparison to the weak and faltering; nowhere is there such a terrible contrast between reward and punishment, and yet the examination is just."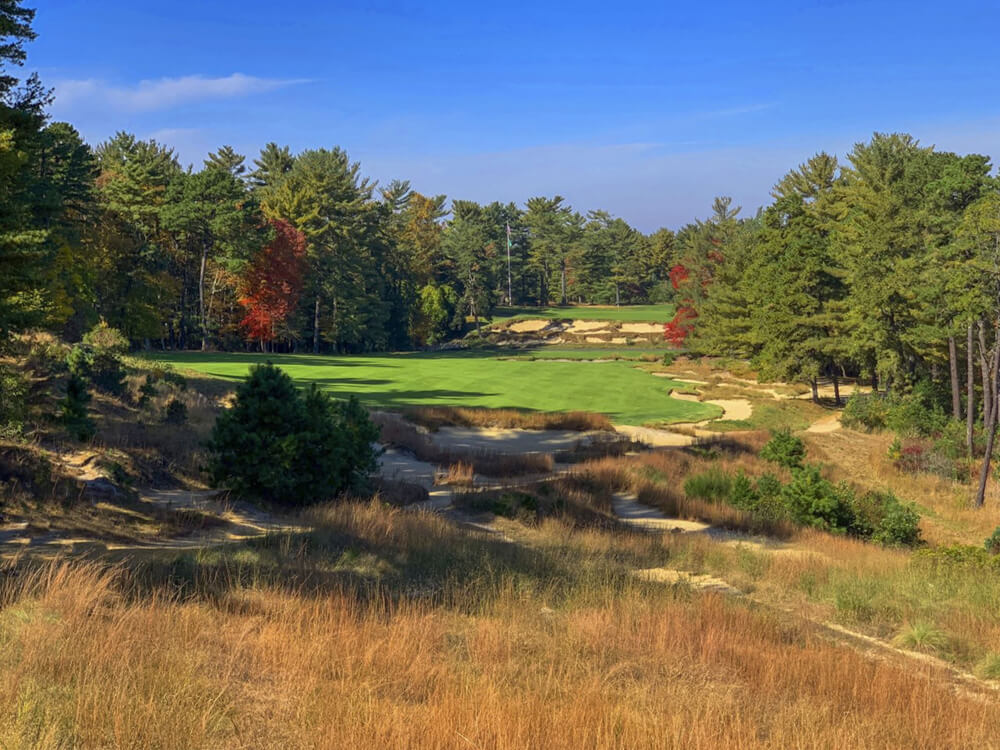 The gnawing fear of a mis-hit looms, builds, eats away at the golfer until he finally succumbs. When the offline shot occurs, the devilishly adept caddies inevitably find the ball and then the medicine is dispensed. Lauded writer turned broadcaster Henry Longhurst deftly described the agonies.
"You don't make recoveries at Pine Valley, except of course from the sand traps—you merely push your ball into the undergrowth and endeavor to knock your ball out through the bushes to where it ought to have been in the first place…" he stated. "It has no rough, in the accepted sense of the term, and no semi-rough. Your ball is either on the fairway, in which case it sits invitingly on a flawless carpet of turf, or it is not. If it is not, you play out sideways till it is."
Speaking about the 368-yard par-four 2nd hole, three-time Pine Valley club champion Kelly Miller identified how the course intimidates without brutalizing. "This might be the quintessential shot of Pine Valley," says Miller. "The view from the tee is so striking, with the green perched atop a ledge and surrounded by sand. It can induce terror, but it's really quite fair." It's easy to get queasy at the mere sight of the forbidding, uphill forced carry, but in truth, it's all a mind game, as the fairway is wide and the green is large. The task just seems impossible. Truthfully, if you can handle a forced carry of 150 yards on a regular basis, you will relish the fiendish challenge that Pine Valley presents. Twitch once, however, and the nightmare begins.
Three More Courses That Induce The Fear Factor
Whistling Straits
On a breezy day, Whistling Straits's Straits course is golf's version of a slaughter-house. Witness leader Tom Watson's wind-whipped collapse at the 2007 U.S. Senior Open, when he bal-looned to a 43 on the back nine on his way to a 78. Or observe any 12 handicapper who misses a fairway or green. Approximately 1,000 bunkers, Irish-style rough, and Lake Michigan combine to make par saves a fanciful fantasy.
Wolf Creek
Mesquite, Nevada's Wolf Creek features holes that either plunge downhill or climb uphill, nearly all of them cocooned by massive sand-stone formations and enor-mous canyon walls. Gurgling streams, lakes, and sprawling bunkers further aff lict the golfer's mind. At its best, Wolf Creek is an unbroken parade of relentlessly exciting, yet visually stunning holes. For the timid and the wayward, it's a horror show.
Royal County Down
Northern Ireland's Royal County Down is one of the most beautiful tests in the world, and one of the most brutal if the wind is up. Narrow fairways, many with landing areas that are blind from the tee, scare golfers into tentative swings, not a good thing when the wind is whipping off the Irish Sea. Deep, bewhiskered bunkers and prickly gorse bushes are further impediments to making smooth swings.