Golf is a hard game—a ruinous game. Making a 1.68-inch ball arrive somewhere near its intended target is often an exercise in futility even for the best of players. When you can't see that target, or even if it's just partially obscured, your task can become that much more unnerving.
Some golfers accept the challenge of playing blind shots, even relish them. Others decry them and claim they have no place in today's game. Personally, I love the mystery they bring to a day on the links. For me, the anticipation of cresting a hill to see where my ball finished up adds a degree of excitement that's unique to blind shots.
In his book, Golf Course Design, course architect Tom Fazio writes: "Some of the holes on our famous golf courses, even some designed by legendary designers, wouldn't pass muster with today's golfers. Back then you didn't blast away a pile of rock to remove a blind spot; you just played over it. It was an issue of equipment and economics. If we tried that today we'd be run out of town because golfers don't like blind holes and it's easy to avoid building them."
Fazio may have a point, but if you were to ask golfers who've played some of the great links courses in the UK and Ireland, many might list holes with blind shots among their favorites. They're certainly among mine. The course at The Machrie on Scotland's island of Islay used to feature 18 blind shots before course updates took them away. More's the pity, if you ask me.
Fazio's colleague David McLay Kidd is a fan of blind shots, and has always looked to include blind and partially blind shots in his course designs. "I think that blind shots are essential to the game," Kidd says. "But blind shots aren't binary—they can come in a million shades of gray. Some shots are entirely blind—those are the ones most commonly thought of. But as a golf course architect, I can give you a little bit of a look. I can show you the top of a pin, I can show you the edge of a green—I can do all sorts of things between fully visual and fully blind. Hopefully a skillful architect is using that whole array of options in order to make golf holes that much more exciting, alluring—that much more of a riddle."
Here's a partial list of some of the best links holes in the UK and Ireland that serve up blind shots. If I've left out any of your favorites, that's just testament to their prevalence and allure.
The Golf House Club, Elie (Scotland)—Hole 1
It's only fitting to start our list with a hole that features a blind opening tee shot. At Elie, the starter looks through a periscope salvaged from a WWII submarine to ensure that the way is clear for you to bomb your drive over the crest of a steep hill.
Royal County Down Golf Club (Northern Ireland)—Hole 9
Royal County Down may well have more blind tee shots than any of the world's other top courses, which is why Sam Baker of tour operator Haversham and Baker recommends that their clients play the course twice if they can. At the famed 9th, the ideal shot is a fade over the crest of a hill toward the roof of the distant Slieve Donard Hotel.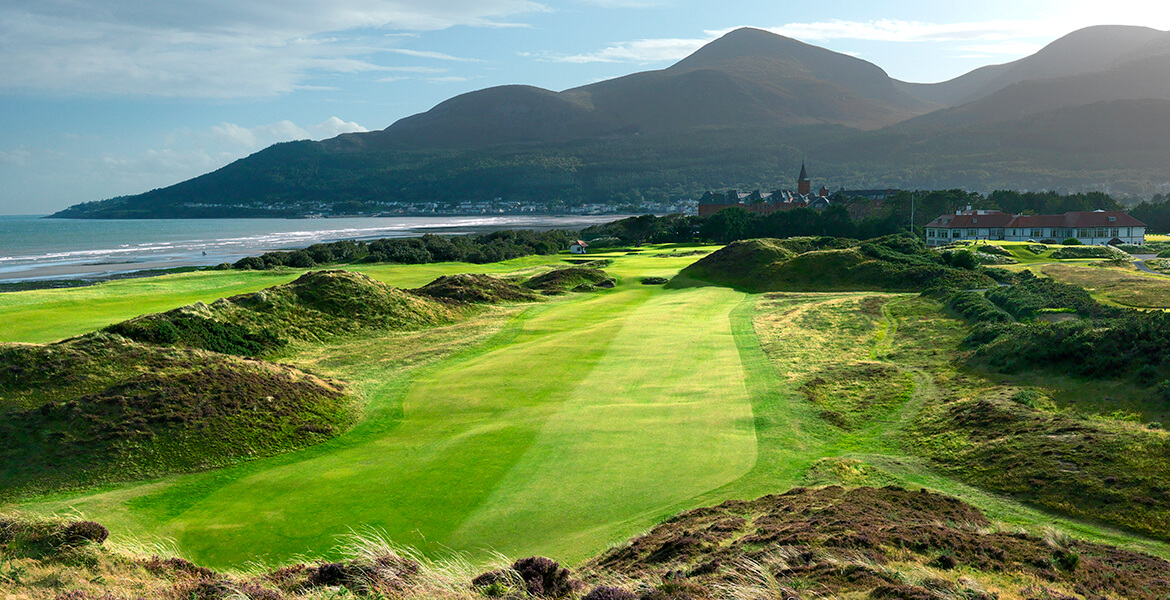 Lahinch Golf Club (Ireland)—Hole 4
The mighty "Klondyke" 4th hole at Lahinch is one of the world's great par fives. It's a risk-reward hole that calls for precision—and guts. If you find the fairway with your tee shot, you have a blind second shot over a tall mound, with only a white rock to guide you. Another famous blind par three, the "Dell" 5th hole, features a mammoth putting green surrounded by tall dunes. Again, your tee shot is played over an aiming rock but as on all links courses, playing the wind properly adds to the challenge of finding the green in regulation here.
North Berwick Golf Club, West Links (Scotland)—Hole 14
They named this hole "Perfection," and the blind second shot you'll encounter up and over the top of a wide sandhill adds to its majesty. Though your blind second shot will try to roll down to the large green, you'll need to choose the right line and the right club to find the dance floor, which is accommodatingly large and bunkerless.
View this post on Instagram
Rye Golf Club (England)—Hole 14
If you manage to find the fairway with your tee shot on this 433-yard par four (a semi-blind shot itself), your work has just begun. Your second shot must be played toward a tall, black-and-white marker pole set in the face of a 40-foot-high hill. Fortunately, there are no greenside bunkers here either, so even if you miss the green you may have a good chance of salvaging par.
Prestwick Golf Club (Scotland)—Holes 5 and 17
Blind par threes are not everyone's cup of tea. But the "Himalayas" hole, the 5th at Prestwick, is one of the most exciting holes you can play. Again, you're hitting over a big dune with an aiming rock to help guide you to a deep but not very wide green. After you putt out, you ring the bell. At the world-renowned "Alps" hole, the 17th at Prestwick, you again have a blind second shot up and over a towering sandhill. But here, there is a very wide and deep (read: penal) bunker awaiting you on the other side of the hill should your second shot not be struck with enough gusto.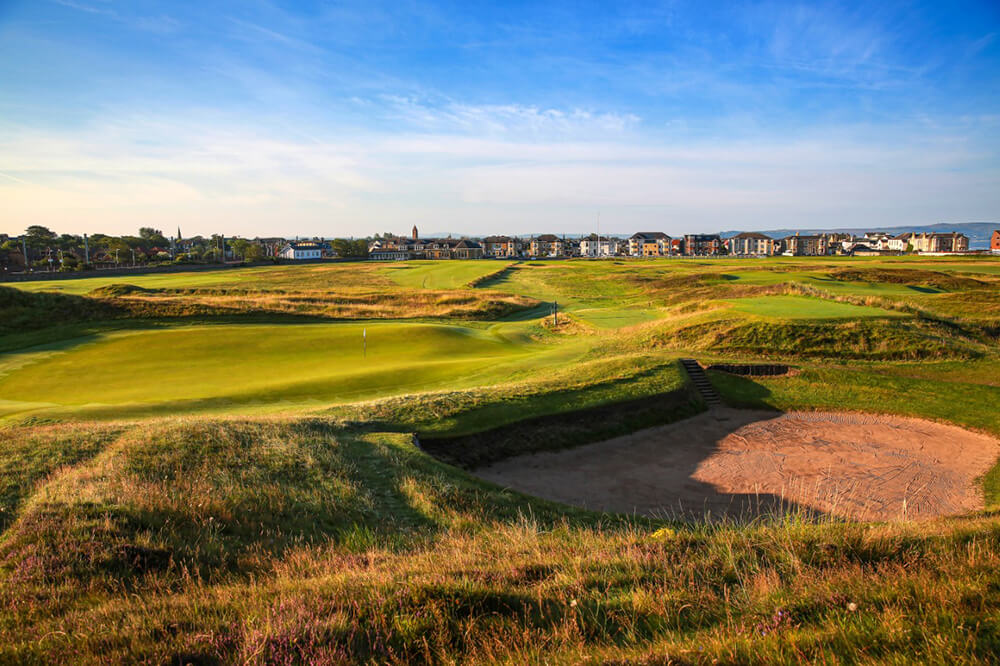 Cruden Bay Golf Club (Scotland)—Holes 3, 14, and 15
At the tee of the short, par-four 3rd hole at Cruden Bay, there's a "stop light" that turns green when the putting surface is clear and you can have a bash at it. The two-hole stretch from 14 to 15 includes a succession of blind shots. At the par-four 14th, your second shot is the blind one, downhill to a narrow green pinched at the left and right by mounds. The 15th is another great blind par three, where you can just see the right edge of the green, which is otherwise hidden behind the slope of a grass-covered sandhill.
14th Hole, Cruden Bay Golf Club, Cruden Bay, Scotland pic.twitter.com/R7vHde7rKP

— Great Golf Holes ⛳️ (@GreatGolfHoles) September 7, 2021
Machrihanish Golf Club (Scotland)—Hole 7
If ever a hole demonstrated how the golf course designers of yore used the lay of the land as they found it, this one is it. Your tee shot at this Old Tom Morris-designed layout plays uphill to a fairway that slopes from right to left, with trouble on both sides. From the fairway, listen for the bell signaling that the way to the green is clear, then blast away up and over the crest of that hill, hoping to keep your ball on the proper line so that it kicks down and to the left en route to the putting surface.
View this post on Instagram
Machrihanish Dunes (Scotland)—Hole 17
Right next door at the David McLay Kidd-designed Machrihanish Dunes, there are several blind shots, as dictated by the environmental constraints under which this modern links was laid out and constructed. The blind second shot into the 10th green is one, but my favorite is the tee shot at the long and testing par-four 17th, where you must carry a ridge to find the fairway and set up your long second shot to a hilltop green.
View this post on Instagram
Gleneagles, King's Course (Scotland)—Hole 3
David McLay Kidd has noted this hole as one of his favorite blind-shot holes. It serves up a blind approach over a ridge to a green with two distinct tiers, front and back, with just one bunker lurking on the left to catch wide shots hit in that direction.
Royal Lytham & St. Annes Golf Club (England)—Hole 16
Though it's a short par four, the 16th at Royal Lytham & St. Annes can be a scorecard-wrecker, especially if you let the blind nature of the tee shot meddle with your swing. There's an imposing bunker just off the tee that shouldn't come into play, and four more bunkers lurking to the left of the landing area, but if you play for the marker pole and give it a solid strike, you'll have a short iron into the slightly elevated and long (40 yards) green, which is protected by six more bunkers.
Royal Aberdeen Golf Club, Balgownie Links (Scotland)—Hole 10
From the 10th tee at Royal Aberdeen's Balgownie Links, it's hard to tell whether there's a fairway to hit to or not. All you see are sandhills covered with dense marram grasses and color-coded aiming poles that you hope will guide you to safety and leave you a short iron to the green, which slopes sharply from back to front.
Royal Portrush Golf Club (Northern Ireland)—Hole 17
At just 408 yards from the championship tees, the 17th at Royal Portrush isn't a long hole. And if the wind is behind you, your blind tee shot here has a chance to end up quite near (or on) the green. But if the wind's in your face, or cutting across your line of play, it's a blind tee shot that can well lead to trouble. There's deep rough and gorse bordering the fairway, and a fairway bunker lurking down the left. Still, if you hit a good shot, when you crest the hill you could find yourself with a good birdie chance here.
The Old Course at St. Andrews (Scotland)—Hole 17
It's probably the most famous blind shot in golf—though you're not hitting over a grassy sandhill on this hole. Instead, you aim your tee shot over a hotel sign that stands where the town's old railway sheds used to be. Aim over the second "O" in "Old Course Hotel" with a gentle fade and hope you don't slice it OB onto hotel property or pull it into the rough left of the fairway. From there, it's a simple matter of avoiding the Road bunker and the road itself behind the shallow and elevated green, which is canted at a 45-degree angle away from the fairway. The good news: You'll have a chance to make up for your failings here when you play the Old Course's short finishing hole.
Tell us about your favorite blind holes in the comments section below.