Like almost every other golfer on the planet, I saw the course that Gil Hanse designed for the Summer Olympics and thought, "I'd really like to play there." But also like the rest of you, I thought, "When am I going to Rio?" The answer: No time soon.
Luckily, Hanse recently unveiled another new course that's also open to the public, also a wonderful example of "minimalist" design, and is easier to get to. Not a lot easier, but easier. Because it's in West Point, Miss., which isn't a short drive from anywhere (4–1/2 hours from Atlanta, and 2–1/2 hours from Memphis, the nearest "big" city), and is at least one puddle-jumper unless you're already in the South.
And yet, it's worth the trip.
Mossy Oak was built by the Bryan family, the same folks who constructed Old Waverly Golf Club, site of the 1999 U.S. Women's Open, which is just across the street and offers stay-and-play packages as well as lovely little lodges to accommodate visitors. Adding Mossy Oak is the family's attempt at making West Point a golf destination, and they deserve credit for trying to bring economic activity to this sleepy part of north-central Mississippi. It should help that one of their relatives owns a nearby hunting/fishing preserve, so it's likely they'll be offering opportunities to combine those outdoor pursuits with the two courses plus sporting events at Mississippi State University, which is only about 20 minutes away. It'll be fun, I promise.
The course was built on an old dairy farm, 180 acres of rolling land punctuated by nine knobs that provide elevation changes of 40 to 50 feet. Owner George Bryan said that Hanse didn't move much dirt—so little, in fact, that the course "could have been done with a mule and a plow"—but what he did move helped create the few ponds scattered around the property.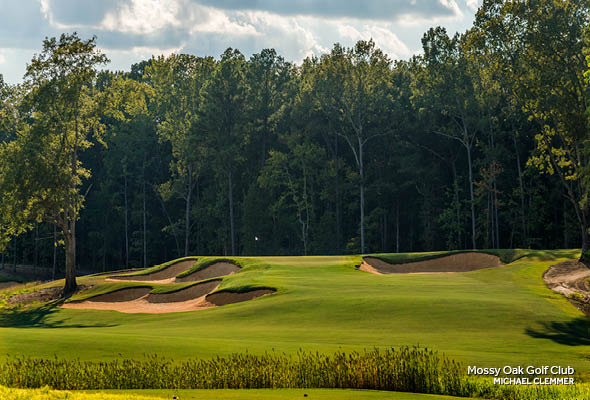 There weren't many trees to begin with, and most of them were removed. But a dozen or so sturdy old oaks were left in place to provide the proper sense of grandeur as well as the occasional aiming point for golfers. Touring the course shortly before it opened this past Labor Day weekend, it felt timeless and natural. All that was missing were areas of native grasses that are being reintroduced. Or as Bryan put it, "Mossy Oak will look old in about three years."
Hanse designed the course for walking, with greens feeding into the following tees and wide openings in front of those putting surfaces. And some of the greens are huge, 50 yards long and more, adding to the links-like feel. There's also quite a bit of sand, 95 bunkers in all including a huge one to the left of the green on the par-five 17th hole that Bryan wanted to call "Grant's Tomb" but instead seems to have acquired the moniker "George's Bunker."
On other holes, Hanse plays with the player's depth perception and club selection, pushing up greens and siting them on hills, while also placing sand so it's not as close to the green as it appears. (It's a public course, but the kind that you'll want to play a few times to figure out its idiosyncrasies and its cleverness.) As the long, wispy grass grows in it will help define the wide fairways yet be thin enough so off-line shots won't be hard to find: Bryan said he's hoping rounds will be under four hours and that groups will go off at 12-minute intervals so play keeps moving. There are five sets of tees, the course stretching to only 7,250 yards from the way back.
Among those who will be playing from the tips are the Mississippi State golf teams, men's and women's, for whom Mossy Oak is now the home course. They have their own building on site with locker rooms, fitness facilities, offices, and other necessities. Their main practice green is shaped like the state and almost as large.
While Bryan was showing me around, we drove to the 6th green—the highest point of the property, from which all 18 greens are visible—where he started talking about the region: It was where he was born 70 years ago and where he grew up, and, like almost everyone else associated with Mossy Oak and Old Waverly, he attended MSU. He talked proudly about how his alma mater, located in the heart of the Old South, now houses the Presidential Library and papers of Ulysses S. Grant, which explains why he wanted to name that bunker after the 18th president even though he was the commander of the Union Army.
Then he shifted gears, pointed off toward the horizon, and said, "Hernando DeSoto passed right by here on his way to discovering the Mississippi River."
That was nearly 500 years ago. Mossy Oak doesn't look that old, but this is certainly the right place for a course with an old soul.
______________
What do you think of Mossy Oak? Where else in the South would you play on a trip to visit the course?