With more than 400 courses—and counting—to his name, Jack Nicklaus stands as the most prolific designer since Robert Trent Jones Sr., and his impact on the profession has been massive. As Pete Dye put it in the foreword to Jack's design autobiography, Nicklaus By Design, "His mere presence in the business lent credibility to all of us… Only after Jack gave birth to the notion of tying a name to a course did veteran, retired, and even deceased designers begin to get the credit due them."
Dye may be overstating things, but not by much. While Trent Jones pioneered the art of personal "brand building" in the '50s, the Golden Bear parlayed his fame as a player into a global design business. Jack Nicklaus was at the forefront of the boom in name-brand design in the 1980s and '90s, but the effects were not always good for the game as developers began treating golf primarily as a tool for selling real estate. Many famous designers built uninspired and expensive courses during this period, and Nicklaus was responsible for his share. Still, when he hasn't been saddled with an overly restrictive land plan, he and his team have reliably produced strong work.
One notable thread throughout Jack's design career has been his openness to collaboration. Beginning with Pete Dye at Harbour Town, he has joined forces with architects like Desmond Muirhead (Muirfield Village) and Tom Doak (Sebonack), as well as on-course rivals like Tony Jacklin (The Concession) and Arnold Palmer (The King & Bear). Also,  well before the Great Recession, Nicklaus had been particularly busy in emerging markets like China, and while that trend has continued, expect to see new projects in the U.S. from golf's biggest design company in the years to come. 
Design Signature
Jack Nicklaus has admitted that early in his career he designed holes that fit his own game, favoring the high cut shot that he honed as a junior at Scioto Country Club. That critique has become so familiar that it obscures some other tendencies, especially that of using mounding, gathering fairways, or "saving" strip bunkers to contain the ball. These containment features are usually handled relatively subtly, but wavy, snaking mowing lines hint at their presence. Blind shots are rare on Jack's designs, while split fairways, diagonal hazards, and amphitheater greens (both natural and manmade) are common. Finally, although you can find plenty of exceptions in such a large body of work, it could safely be said that Nicklaus tends to favor relatively small greens.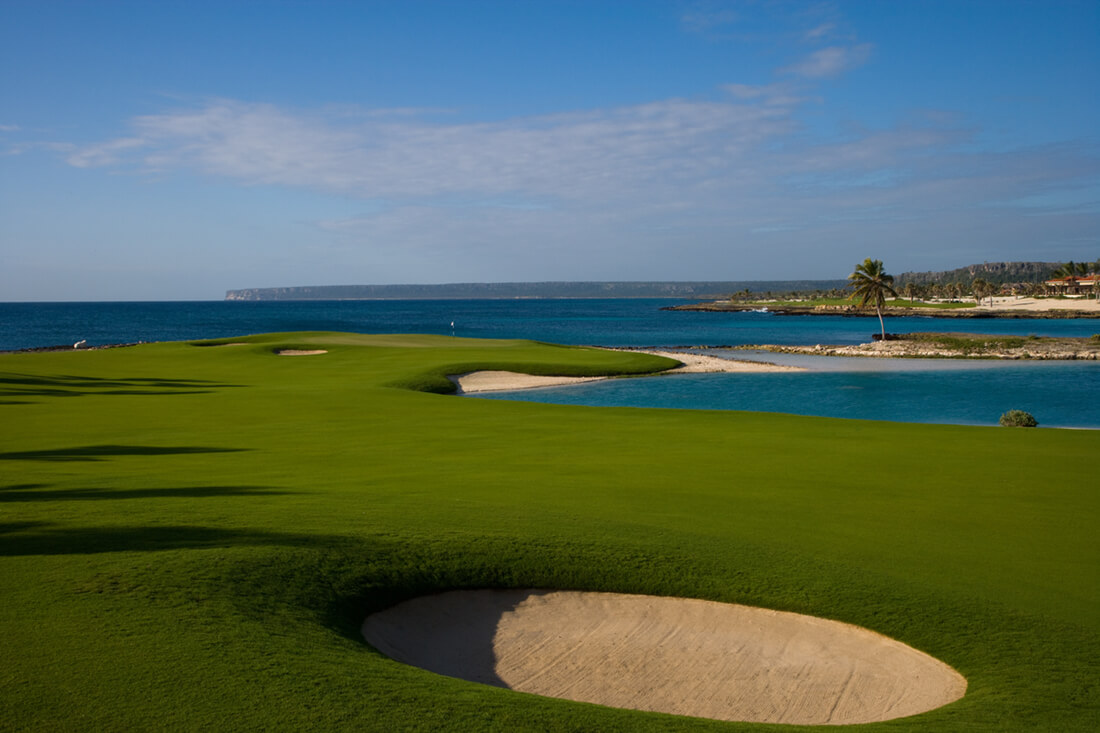 Best Course
Most "Best of Jack" overviews will be long on his famous collaborations (noted above) and major championship venues. However, a couple of his tropical resort courses—Mexico's Cabo del Sol (Ocean) and the Dominican Republic's Punta Espada—capture the imagination in a different way. Both feature unforgettable heroic carries over arroyos, beach, or ocean, but they are also highly playable for the average golfer. Give the nod to Cabo del Sol for its enjoyably rolling topography and knockout run of finishing holes.
Most Representative
Muirfield Village is to Jack Nicklaus as Casa de Campo's Teeth of the Dog is to Pete Dye. Set just outside the Golden Bear's hometown of Columbus, Ohio, the longtime home of The Memorial, originally a collaboration with architect Desmond Muirhead, has been a work in progress since its 1974 debut. It's Jack's homage to Augusta National, yes, but well-traveled visitors will also detect the influence of Pete Dye. Muirfield Village's deep bunkers and dangerously angled creek crossings can make for a long day for the club golfer, but this is where Nicklaus has synthesized decades of design ideas with the tournament player (and spectator) in mind.
Sleeper
Like many courses that debuted in 2007, New Zealand's Kinloch Golf Club did not get off to an auspicious start. As the story goes, though, Nicklaus's senior design associate Chris Cochran and the team of local shapers stayed busy here throughout the lean years, resulting in a course with an uncommonly high degree of artistic finish work. Kinloch's links-like design boasts smashing views of Lake Taupo and is fringed with beautifully managed mature fescue—intimidating but still offering the wayward a chance to recover.
Most Famous Hole(s)
Jack Nicklaus reveres Pebble Beach, so it's no slight to suggest that his original contribution there—the spectacular par-three 5th, which plays along a stretch of Stillwater Cove—might be his most famous creation. Another Golden Bear touchstone, the 12th at Augusta National, provided the template for the notorious 12th at Muirfield Village.
Further Reading
Nicklaus By Design, which the Golden Bear authored with writer Chris Millard, offers an enjoyable, informative tour of his architectural career from Harbour Town up to 2002. It's presented in coffee-table format, so splashy photo spreads abound.