Cinco de Mayo isn't really celebrated in Mexico. But that hasn't stopped beer companies from using it as an excuse to launch promotions and sell six-packs. Pretty much everywhere outside Mexico, May 5th is the recognized date to celebrate Mexican culture, cuisine, music—and beer.
The world should add golf to that list.
Golf came late to Mexico by North American standards, but the golf opportunities in Mexico today are many and good. In three main areas—Puerto Vallarta, Riviera Maya, and Baja California Sur—golf resorts have become major parts of the economy. From all-inclusive resorts to decidedly exclusive ones, there's something for everyone, with a menu of course choices from the game's top designers that's as tempting as the local cuisine.
Here's a rundown, by region. Many of these courses offer stunning ocean views. Others are cut through dense jungle. Some serve up both. If you can't make it in time to celebrate Cinco de Mayo, mark September 16 on your calendar instead—that's Mexican Independence Day, an actual national holiday and a date that's commemorated with fiestas and cries of Viva Mexico! from coast to coast.
Puerto Vallarta
Puerto Vallarta (and the Punta Mita area just to its north) are situated on the Pacific side of the country, just across the Sea of Cortés from the Baja California Sur peninsula. This is tequila producer country—in addition to being a great place to relax on the beach.
Some of the region's best golf is offered at the Four Seasons Resort Punta Mita, home of the Jack Nicklaus-designed Pacifico course, with eight holes near the water and its famous 19th hole, "Tail of the Whale," which calls for a 200-yard shot to an island green. While Pacifico is closed for restoration work until November 2021, its sibling course, Bahia, isn't much of a step down.
There's another Nicklaus-designed course at Vista Vallarta that has hosted the World Cup of Golf—and a Tom Weiskopf course there that may be even better. The views of the surrounding mountains and Banderas Bay will stick with you long after you've holed out. Nicklaus Design was at it again at Vidanta Nuevo Vallarta, where its Nayar Course was later joined by a strong Greg Norman signature course and The Lakes Course, a 10-hole par-3—each of which offers its own memorable mountain views. Another Puerto Vallarta choice is Robert von Hagge's El Tigre course; stay and play packages for that sporty layout are available at the nearby Paradise Village Resort.
Riviera Maya
If you live in the eastern U.S., the golf opportunities along the Riviera Maya from Cancun to Tulum on the Yucatán Peninsula will be closer to home. Here, you can visit ancient Mayan ruins in the morning and tee it up in the afternoon. The coastline is home to dozens of resorts, many of them all-inclusive, and the sparkling Caribbean waters offer up water sports galore. Golfers will be spoiled for choice, too.
One of the most popular options is the Greg Norman-designed El Camaleón course at Mayakoba, which annually hosts the PGA Tour's Mayakoba Golf Classic. You'll get the full Riviera Maya experience here, as the course wends its way in and around jungle, stands of mangrove, a series of canals, and brings you within steps of the Caribbean. On the first hole, you'll need to avoid a sand-filled cenote, the mouth of an underground cavern—a feature that's common in this area.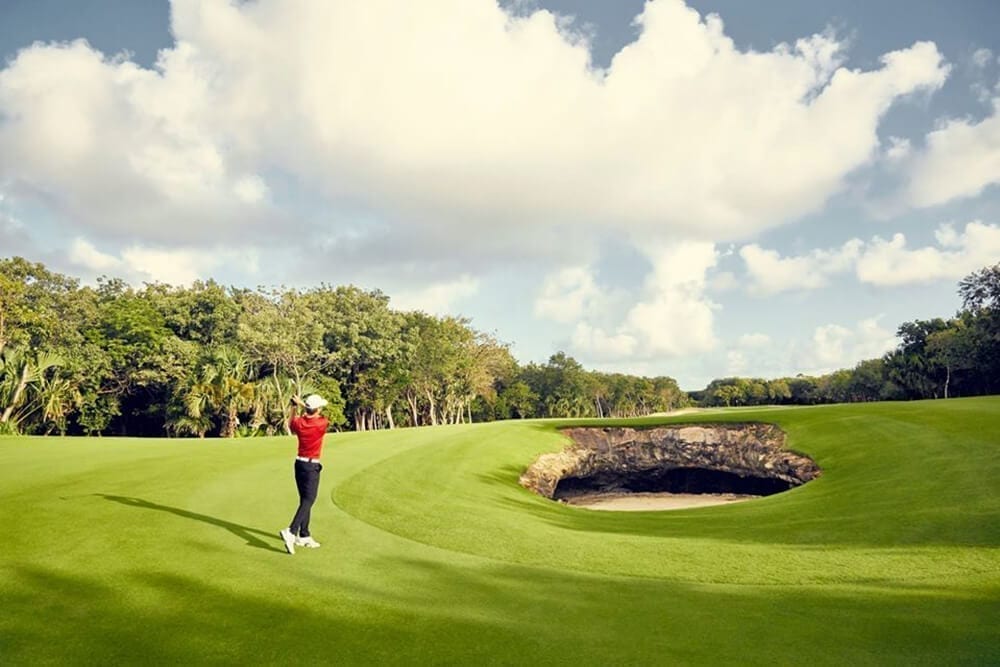 You'll find more cenotes (and jungle) at the PGA Riviera Maya course, a Robert Trent Jones Jr. layout at the Bahia Principe resort that was the first Latin American facility created by the PGA of America. There's a fun nine-hole short course there, too. Playa Paraíso is another strong choice; this PB Dye course is tight in spots and features vexing, undulating greens, but it's a ton of fun. Other options include the three Nicklaus nines at Moon Palace (the Dunes nine being the most challenging of the three), the Jaguar course at Yucatan Country Club, the demanding Robert Von Hagge-designed Hard Rock Golf Club in Playa del Carmen, and the El Tinto course—a Nick Price gem that features five lakes, 86 bunkers, and tons of natural beauty despite the fact that it's just five minutes from the Cancun airport.
Los Cabos
The Los Cabos tourist corridor that stretches between quiet San Jose del Cabo and lively Cabo San Lucas at the tip of the Baja California Peninsula has emerged as one of North America's hottest golf destinations over the last 20 years. Beautiful new resorts with golf courses to match have sprouted one after another there. The golf experience is similar to what you'll find in the American southwest: target golf on strips of emerald green turf, sandy waste areas, and ball-hungry arroyos—usually with captivating ocean views.
Course access here is often tied to which resort you're staying at, so if you want to play the best courses, you'll need to move around a bit. The list of must-play tracks includes the Davis Love III-designed Dunes Course at Diamante (where you can also experience Tiger Woods's El Cardonal layout), Nicklaus's Quivira course with its spectacular oceanfront holes, the Tom Fazio gem at Chileno Bay, and the Costa Palmas course at the area's new Four Seasons Resort.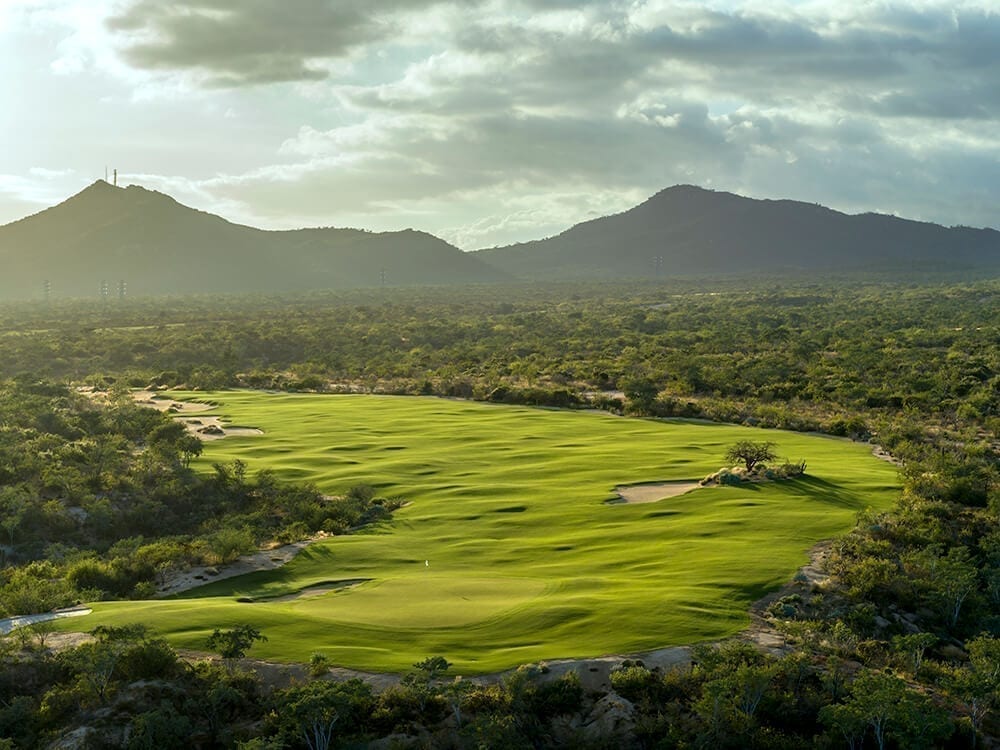 Other courses to put on your play list include Cabo Real, Puerto Los Cabos, Club Campestre San Jose, Rancho San Lucas, Palmilla Golf Club, and Fred Couples's Twin Dolphin Club. They're all good, and wherever you're playing, you're sure to marvel at the array of treats at the Cabo courses' snack shacks, or chocitas, which serve up everything from burgers and beer to fresh fish tacos and tequila shots. After golf, visit El Arco (The Arch), a natural stone formation in the Pacific. Go deep-sea fishing. Enjoy the lively nightlife and excellent area restaurants of Cabo San Lucas, or the artsy, laid-back vibe of San Jose del Cabo.
Other Spicy Options
Beyond the major destinations, there are some other stand-alone resort courses that deserve mention. North of Los Cabos in La Paz, Baja California Sur, the El Cortés Golf Club course at the Costa Baja Resort is a Gary Player track with water views from almost every hole. The Nicklaus Design course at the Vidanta Puerto Peñasco, sited on its own two-mile peninsula between a tidal estuary and the upper Sea of Cortés, is another track that earns high marks for its design and creative challenges. Lastly, if you can wrangle your way on to either of Mexico City's two standout private courses, you absolutely should. Club de Golf México is a tight track with a long and proud history—including hosting the World Cup of Golf for many years. West of the city, Club de Golf Chapultepec was the site of the WGC-Mexico Championship right up until 2021, and of many Mexican Opens going back to 1944. Some great champions have teed it up on this terrific tree-lined course. You should, too, if you can.
Have you played any of these courses in Mexico?