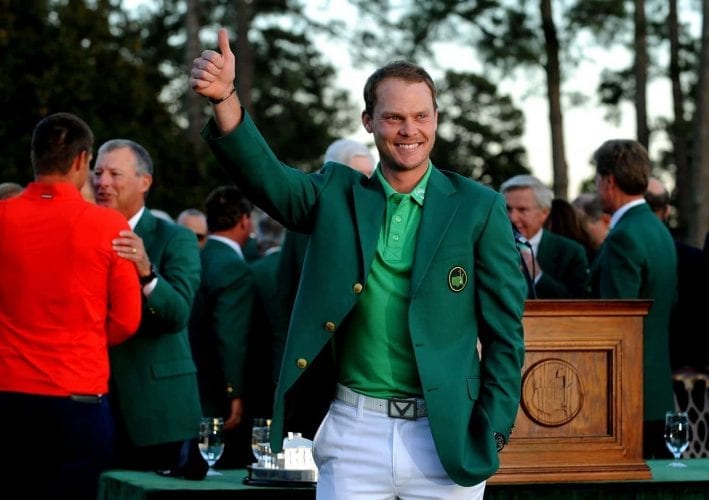 The Champions Dinner at the Masters has been an annual Tuesday night tradition since 1952 when Ben Hogan, the 1951 winner, suggested and hosted the first dinner.
Since then the winner from the previous year will host, and select the menu, for the the most exclusive dinner in all of golf. There is, after all, only one way to get a dinner invite: win a green jacket.
One of the biggest talking points in the lead up to the dinner, is what the defending champion will serve his fellow past champions. When Tiger Woods won his first Masters in 1997, the fresh faced 22 year old came to Augusta in 1998 with a Champions Dinner that consisted of cheeseburgers, chicken sandwiches, french fries, and milkshakes.
There have also been some more, shall we say unique menu selections over the years. In 1989, Sandy Lyle served a traditional Scottish Haggis dish, while Trevor Immelman served a South African meat pie called bootie in 2009.
While most past champions eat what's on the pre-fixed menu, Augusta National offers another option for those that aren't in the adventurous mood. The full grill room menu is also available, including steak, chicken, and fish dishes.
While we don't know what Danny Willett will serve this year, let's take a look at what some of his fellow champions have served the past few years:
Jordan Spieth, 2016: Salad of local greens; main course of Texas barbecue (beef brisket, smoked half chicken, pork ribs); sides of BBQ baked beans, bacon and chive potato salad, sauteed green beans, grilled zucchini, roasted yellow squash; dessert of warm chocolate chip cookie, vanilla ice cream.
Bubba Watson, 2015: Traditional caesar salad to start. Entree of grilled chicken breast with sides of green beans, mashed potatoes, corn, macaroni, and cheese, served with cornbread. Dessert of confetti cake and vanilla ice cream.
Adam Scott, 2014: Surf-and-turf on the grill, including Moreton Bay 'bugs' (lobster). Started with an appetizer of artichoke and arugula salad with calamari. The main course of Australian Wagyu beef New York Strip steak, served with Moreton Bay lobster, sauteed spinach, onion cream mashed potatoes. Desserts of strawberry and passion fruit pavlova, Anzac biscuit and vanilla sundae.
Charl Schwartzel, 2012: An opening course consisting of a chilled seafood bar, which includes shrimp, lobster, crabmeat, crab legs, and oysters. The main course is a "braai," a South African barbecue, which includes lamb chops, steaks, and South African sausages. Dessert of vanilla ice cream sundae. Also in the mix are salads, cheeses, plus sides such as sauteed sweet corn, green beans, and Dauphinoise potatoes.