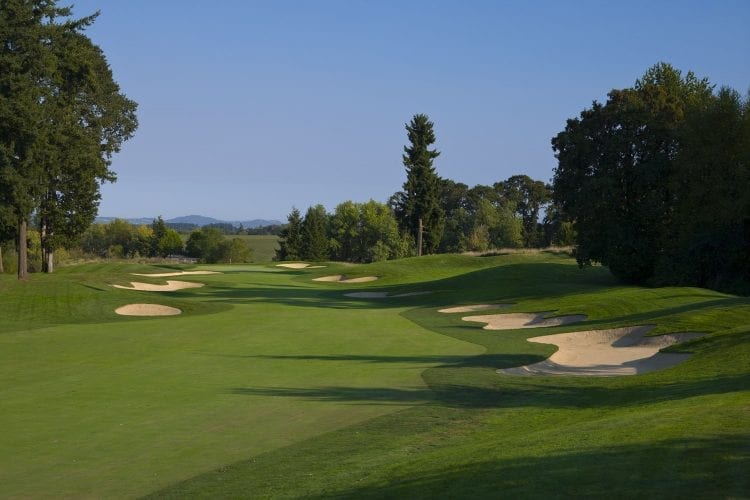 This summer will mark the 20th anniversary of one of the great matches in modern golf history. The final of the 1996 U.S. Amateur Championship, played at Pumpkin Ridge in Portland, Ore., pitted two-time defending champion Tiger Woods of Stanford against Steve Scott, a sophomore from the University of Florida. Many remember Scott as "the guy whose girlfriend caddied for him," but the match featured incredible shotmaking on both sides, and more than one stunning turn of events.
Today, Scott is the head golf professional at Paramount Country Club in New City, N.Y., a recently restored A.W. Tillinghast design. Kristi, his caddie that day, is now his wife and, as a fellow PGA member, his colleague. They live with their two children in a new house on the golf course. Steve continues to play the game well—he's made it into sectional U.S. Open qualifying the past couple of years—and is a respected teacher.
In a recent interview, Scott recalled his most indelible memories of the Amateur. "Two things come to mind," he says. "The first is that by 7:15 that morning, the entire first hole was lined with people. They estimated there were 15,000 people out there watching us. The second would be the sound of Tiger's golf ball coming off the club. It was just as crisp a sound as you could ever hear. I tried my best not to watch him—I didn't want to get caught up in what he was doing in his golf swing—so I just listened to him all day."
Scott may have been an underdog, but he was far from intimidated, working his "good nerves" to a commanding 5-up lead against an ice-cold Tiger Woods. Then came a long lunch break as the players had to wait for the television coverage to click on before beginning their second 18. The competitors spent that time in very different ways.
"Picture this," Scott says. "Tiger's out there on the range with Butch Harmon, trying to figure something out, and Kristi and I went shopping. We hadn't gotten anything that week, so we headed to the merchandise tent. It was her idea, just to take my mind off the match."
Few were surprised to see Tiger Woods flip the switch in the afternoon, winning holes 3 through 5 to cut Scott's lead to 2-up. But Scott maintained that advantage—he famously holed a flop shot to win the 10th—all the way to the 16th hole, where he faced a 10-footer for par while Tiger had six feet for birdie on the same line. "As you do on any Saturday afternoon, I asked my playing partner to move the ball mark over, so he did," Scott recalls. "I ended up holing my putt for par, forcing him to make his to win the hole. I was walking over to the side of the green, and I noticed that he hadn't replaced his mark. He was down in his crouch, lining his ball up, ready to go.
"I would have won the hole and the match, 3&2," Scott notes, but in the heat of the moment, he showed his true character, reminding Woods to return his mark to the correct position. Tiger did, and went on to hole the putt. "I was 19 years old at the time," Scott says. "I could've very easily done something different, but I guess my parents raised me right. In every other sport, you wait for the referee to throw a flag, but in golf it's the right thing to do. That moment will live with me forever. It's something I'm very proud of."
After losing the 17th to go all square, Scott made a clutch five-footer to push the match into overtime. On the first extra hole, he barely missed a 15-foot birdie putt that would have won the championship. Despite having led all day, it would be his only chance to put Tiger away. Tiger Woods completed his epic comeback on the 38th hole. Three days later, it was the "Hello, World" press conference in Milwaukee. The rest is history.