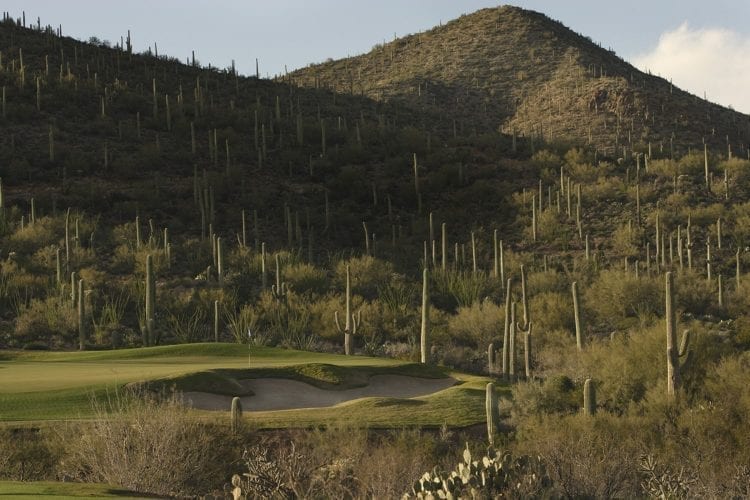 As Executive Director of the Arizona Golf Association and a long-time Rules official, I had the privilege of watching Arizona State's Phil Mickelson develop as the premier collegiate player of his day. Phil always had lofty goals and one of them was to win a PGA Tour event—before turning pro.
The 1991 Northern Telecom Open, in Tucson, was the perfect venue for his talents. In those days, three rounds were played at the TPC Starr Pass course and one at Tucson National. Only 20 years old, Phil Mickelson was very familiar with both sites and both played into his skill set: great length; high, soft-landing iron shots; and a deft short game.  
It was that short game that led to rounds of 65–71–65 and staked him to a two-stroke lead, with one shot in particular creating buzz in the locker room. One of Mickelson's approaches had barely rolled into a front greenside bunker, leaving him on a severe downslope. The flag was toward the front of the green, just beyond the bunker, so there was no chance to make a par. For anyone else.
The smart shot was to play out sideways or away from the hole, then hope to save bogey. Not Phil Mickelson. I later asked Steve Loy, Phil's then coach/caddie and now his business manager, what he thought of Mickelson's decision to loft a flop shot over his head and backward onto the green. It landed a few feet from the hole for a tap-in par.
"He's always had that shot and it's something he can do whenever he wants," said Loy. The players were amazed at both the daring and talent of this obvious prodigy. Tom Purtzer, who tied for second with Bob Tway, splitting what would have been Mickelson's winnings of $180,000 (as well as splitting second-place's $108,000), remarked after hearing that Phil intended to finish his college degree, "I just want his parents to make sure he stays in school two more years."
As the last round unfurled, it became apparent that the desert would help determine the outcome. With five holes to go, Purtzer had drawn even with Mickelson at 17 under with Tway one back. Then the 14th hole, an uphill, twisting par five that had menaced the field all week long, struck out at Mickelson: Two balls into the desert led to a triple-bogey 8 that dropped him from first place into a tie for fifth.  
The handwriting was on the wall: Veterans Purtzer and Tway would surely fight it out for the victory.
But Purtzer hit his approach into the front bunker at the 18th, failed to get it out, and took a double-bogey. He finished 15 under par. Moments later, Tway, playing the 17th, failed to hit the green and missed a 10-footer for par. He, too, was at 15 under.
Meanwhile, Mickelson had put his snowman behind him and gotten hot again. After a rock-solid par at 15, he lofted his approach within a foot of the flag at the 16th. The birdie took him back into a share of the lead.   
Despite his tender age, despite the pressure of playing for history, Mickelson showed no nerves, making another solid par at 17. Needing a birdie at 18 for the win, he hit his approach eight feet left of the hole and knocked it home, joining Gene Littler, Doug Sanders, and Scott Verplank as the only amateurs to win a PGA Tour event. 
That was 25 years ago, and no one has done it since.