Atop Lookout Mountain in northwest Georgia, this master-planned community wows with views from its clubhouse, golf course, and homes
The cliff-edge Highlands Course at the McLemore mountaintop community in northwest Georgia sits 2,300 feet above sea level. Tee off at the break of day and you'll start your round above a sea of clouds and mist that lifts and disappears as the air warms to the rising sun. The dramatic—and fun—course begins and ends on the mountaintop. The 18th hole, a thriller perched on a rocky mountain ledge boasting panoramic views of the valley far below, was named by LINKS Magazine as one of the top 10 "Greatest Finishing Holes in Golf."
Those spectacular views drew the Scenic Land Company to Lookout Mountain in 2017. "What we are building enhances what is naturally here and helps people see, explore, and revel in the rare beauty of this place," says Duane Horton, president of Scenic Land Company. Rees Jones and Bill Bergin were brought in to reimagine the existing course. One of their most dramatic touches was moving the original 18th hole to its breathtaking new location.
Scenic Land's vision extends well beyond the golf course. Realizing the mountain's magic was in its long-range views, they've sited the most communal places to take advantage of the scenic outlooks. A new clubhouse, surrounded by the Cairn Short Course and Putting Course, was built on the site of the old 18th hole, creating a gathering place where members and guests can enjoy a drink, dinner, the putting course, and endless views.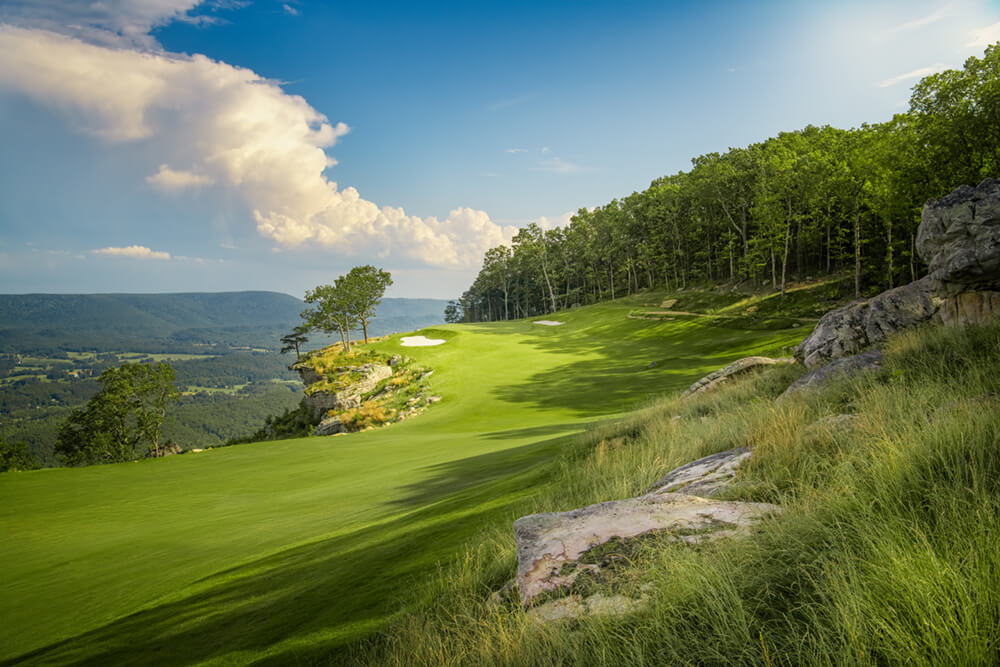 Adding to the high-altitude experience, McLemore is less than a year away from opening Cloudland, a 245-room lodge, conference center, and spa built into the cliff below the clubhouse. This will be Hilton's first Curio Collection not on a beach and is expected to be one of the Southeast's premier wedding and conference venues. To meet the demand for golf, a second course is underway a mile-and-a-half down the road. The aptly named Outpost, another Jones and Bergin design, will be a walkable mountain course.
Real estate at McLemore is as elevated as the vistas. Nestled atop the mountain, surrounded by thousands of acres of protected land, the premier homes fit seamlessly into their natural setting. The latest offering, Golf Village, lies between the 16th and 17th holes of the Highlands Course, an enclave of upscale, low-maintenance, detached single-family homes.
If life on the edge and fresh mountain air, high above the hubbub of urban life, appeal to you, this mountaintop community is just a two-hour drive from Atlanta, Nashville, and Birmingham.
Thank you for supporting our journalism. If you prefer to read in print, you can also find this article in the Summer 2023 issue of LINKS Magazine. Click here for more information.