For avid golfers, a trip to one of the country's noteworthy golf resorts is a thrill in and of itself. Yet, beyond the standard accommodations that those properties offer, additional lesser-known dwelling options exist—guest rooms, suites, cabins, and cottages that cater to the truly golf obsessed. Whether they're positioned just off the fairways, adjacent to practice facilities, or simply tucked away in a quieter locale with celebratory suites, these exclusive accommodations can elevate a dream golf trip to unexpected heights.
Here, we've spotlighted 10 golf properties with spectacular, lesser-known accommodations.
Big Cedar Lodge (Ridgedale, Mo.)
Just on the outskirts of Branson, Mo., a city that attracts nearly 10 million visitors a year, Big Cedar Lodge sports five exceptional golf courses, four of which exist about a 15-minute drive from the main area of the lodge, itself. Avid golfers staying at the lodge could rely on a shuttle system to get them to and from those courses—a collective that includes Buffalo Ridge Springs, Ozarks National, and Payne's Valley—or they could stay in one of several Payne's Valley cottages, which offer panoramic views of the first public course designed by Tiger Woods.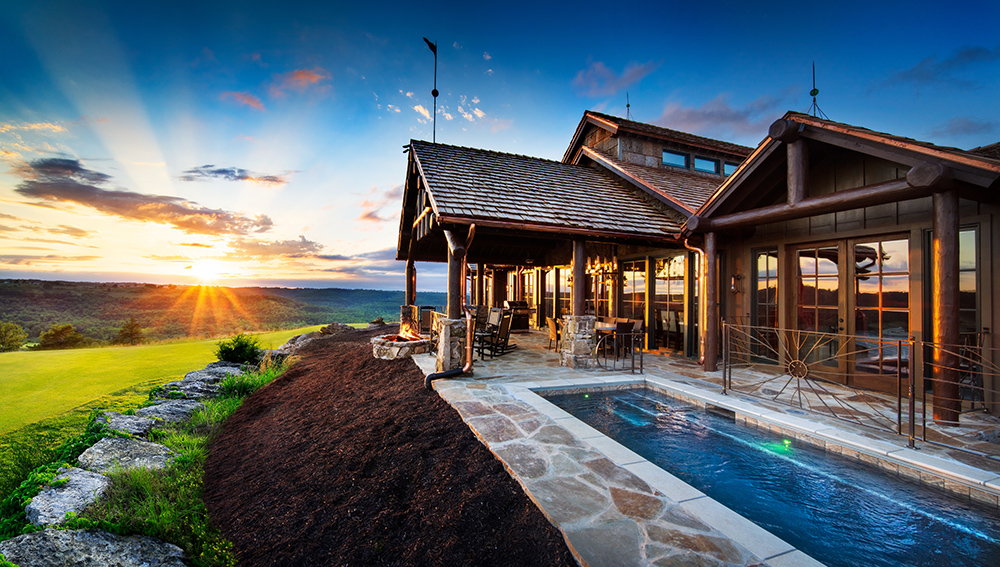 Located on a ridge just below the resort's Mountain Top clubhouse, the two- and four-bedroom cottages feature stone fireplaces, private patios, and full kitchens (among other amenities). Big Cedar's four-bedroom cottages are unique in that they're equipped with plunge pools and access to a private putting green. A four-bedroom cottage affectionately known as "Johnny's Cabin"—an homage to Big Cedar's owner Johnny Morris—offers great views of Payne's Valley's famous 19th hole. bigcedar.com
Forest Dunes (Roscommon, Mich.)
The boutique Lake Ausable Lodge at Forest Dunes is comprised of 11 standard rooms and two suites; however, the northern Michigan golf club also offers a trio of cottages located just off the fairways of its eponymous golf course. The Eagles Nest Cottage, named after the opening hole, Eagle's Perch, can comfortably sleep 16 guests in four bedrooms, each outfitted with two queen beds. Its card room offers great views of the first hole and the clubhouse is merely a driver and chip shot away. The four-bedroom Outlook Point Cottage offers an approach shot view of the 8th green and features an open floorplan for easy entertaining, while the Dune's Cottage, adjacent to the 7th hole, is accented by a living room with a cathedral ceiling and can accommodate eight guests. forestdunesgolf.com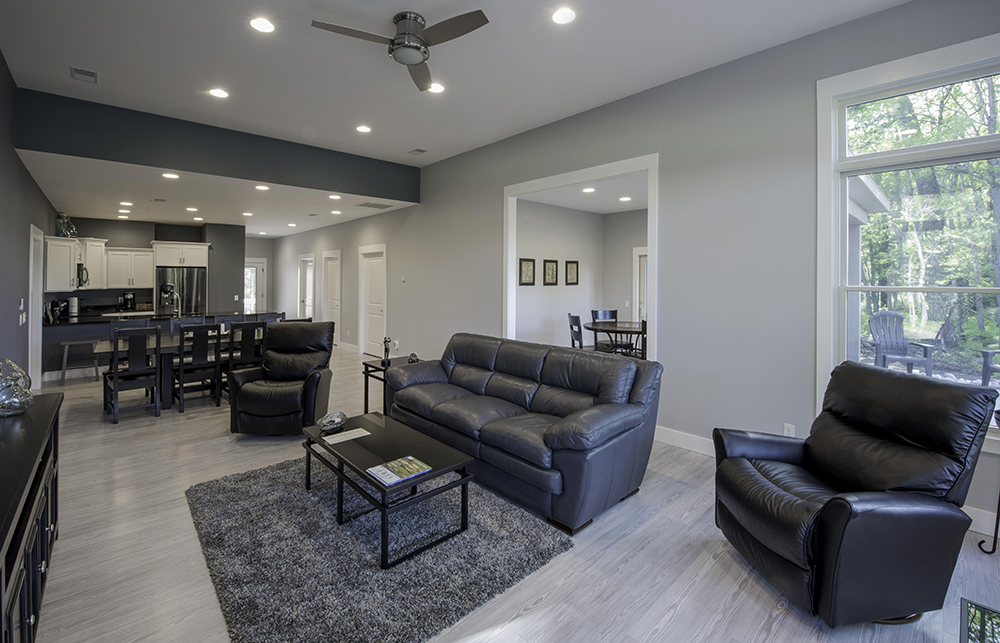 Sand Valley (Nekoosa, Wis.)
The main lodge at Sand Valley offers single king or double queen rooms that provide views of the resort's par-3 course, as well as the 1st or 18th hole of Mammoth Dunes and the concluding hole of the resort's namesake course. That being said, truly golf-obsessed guests will want to book a stay in Crenshaw's Cabin, a single-bedroom dwelling that spans 863 square feet, with a 314-square-foot screened-in porch. The cabin, which is located just a short walk from the clubhouse, overlooks Sand Valley's 18th hole and offers dramatic views of the punchbowl-shaped 17th green. sandvalley.com
Streamsong (Bowling Green, Fla.)
Since it opened in 2013, Streamsong Resort has served as an ideal destination for golf buddies' trips to Florida. With 12 guestrooms inside the Red and Blue clubhouse, adding to its 216-room Lodge, the resort is an even better fit for larger groups who need accommodations for 12 to 16 golfers. The clubhouse guestrooms include private butler service from 6 a.m. to 10 p.m., as well as transportation to and from select private airports, if necessary. Groups also enjoy exclusive use of the Player's Den, an entertaining space equipped with a billiards table, card table, multiple TVs, and a bar area (including a refrigerator stocked with wine and beer).  streamsongresort.com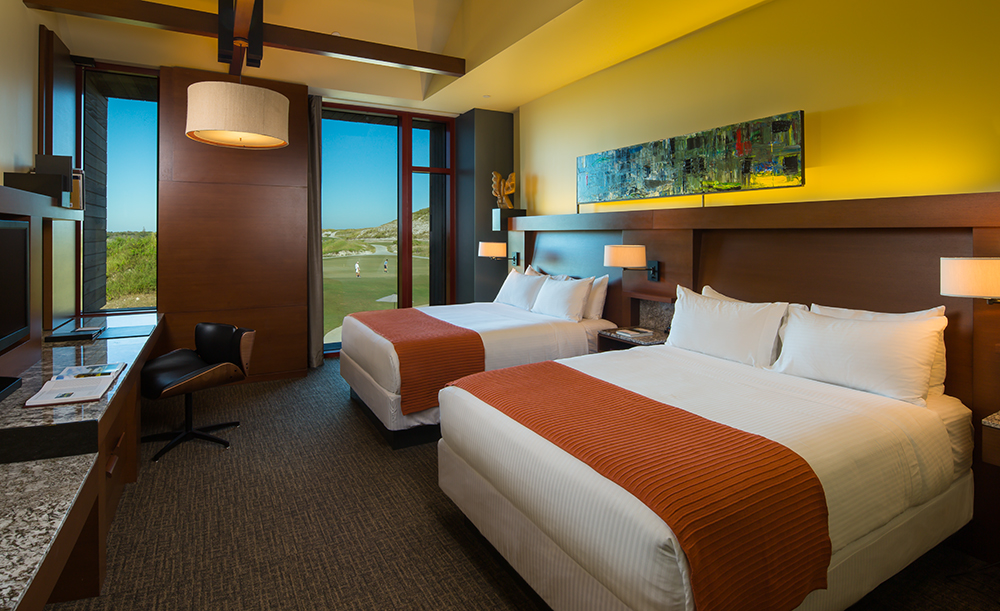 Erin Hills (Erin, Wis.)
The lodge at Erin Hills was designed to look and feel like an Irish country inn, and its 11 guest rooms—a mix of single rooms, double rooms, and three suites—are located just steps from a practice putting green and only a wedge shot from the resort's driving range. The premier Wisconsin golf destination also offers a handful of standalone cottages, each one named after prominent Irish and Northern Irish golf courses. These charming dwellings are each comprised of four bedrooms, they're equipped with antique furnishings, and they're made even more hospitable thanks to fireplaces and wet bars. When playing an American links-like course like Erin Hills, there may be no better place to stay than a cottage donning the name Ballybunion, Lahinch, or Waterville. erinhills.com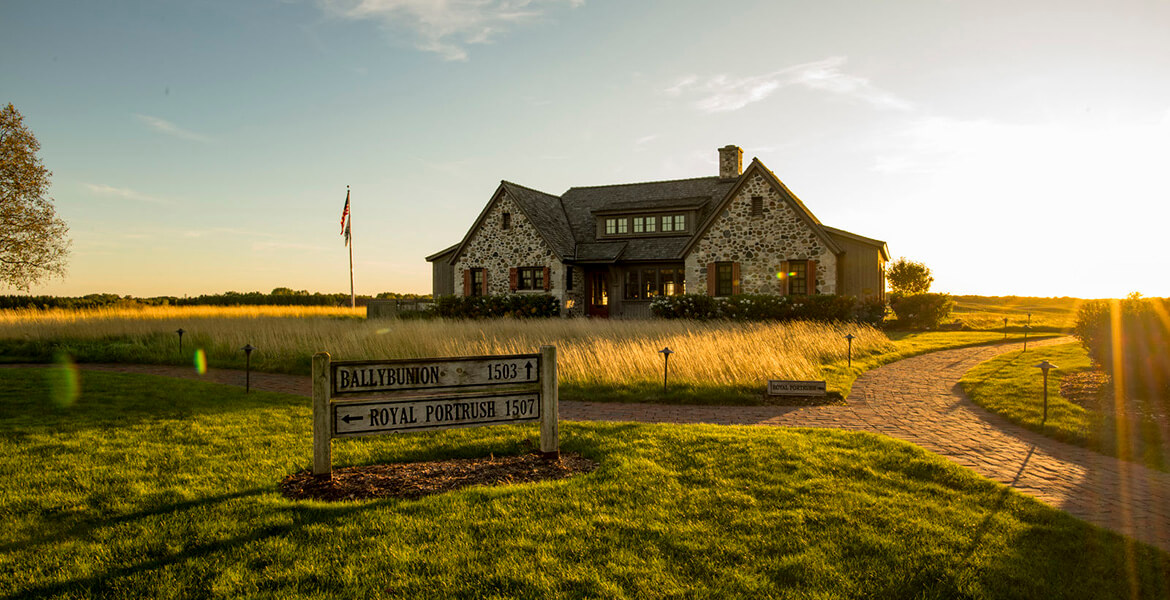 Reynolds Lake Oconee (Greensboro, Ga.)
The Ritz-Carlton at Reynolds Lake Oconee is ideally situated: it's a short five-minute walk to the golf resort and community's Lake Oconee clubhouse and only an additional 10 minutes away from The Kingdom, Reynolds's instruction center and club-fitting operation. However, golfing guests who want to be even closer to the action can opt to stay in one of eight Club Cottages at the National Village. Equipped with four bedrooms, four-and-a-half baths, and full kitchens, these cottages overlook the short game practice area at the 27-hole National Course. They're a short walk to the National Tavern—a casual bar and restaurant that features an enviable (and fairly priced) bourbon menu—and, perhaps best of all, guests staying in these cottages can easily access a lit putting green for all the late-night short game practice they can squeeze in. reynoldslakeoconee.com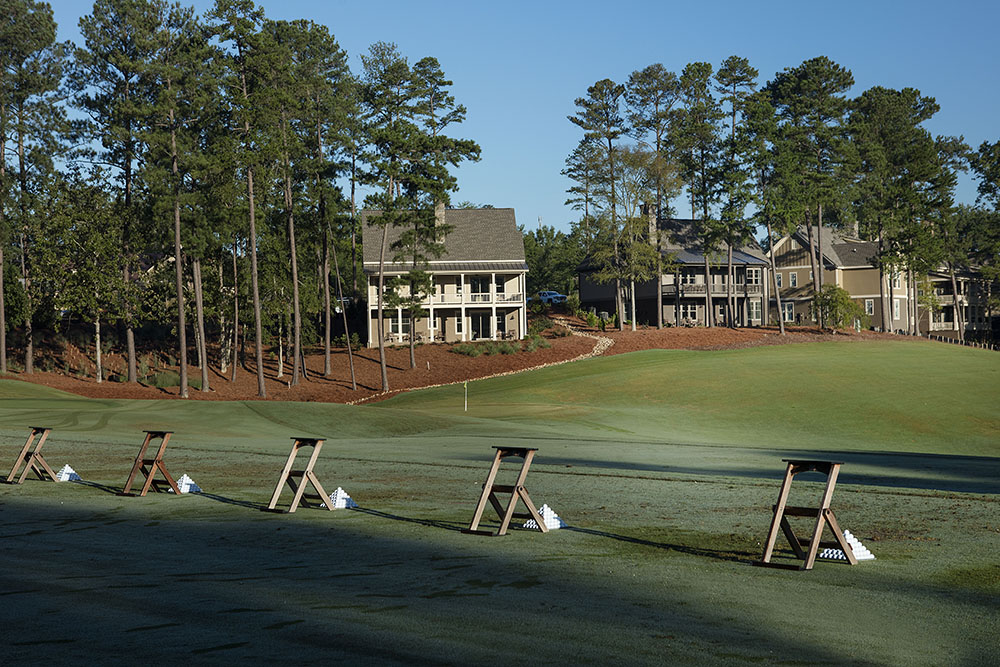 Kiawah Island (Kiawah, S.C.)
A stay at The Sanctuary at Kiawah Island Golf Resort epitomizes casual luxury—the hotel is adorned with custom furnishings and a calming Lowcountry coastal décor. The trouble is, staying at The Sanctuary requires a 15-minute drive to the Ocean Course, and if your goal is to see and experience that iconic course as much as possible during your stay, The Sanctuary will not suffice.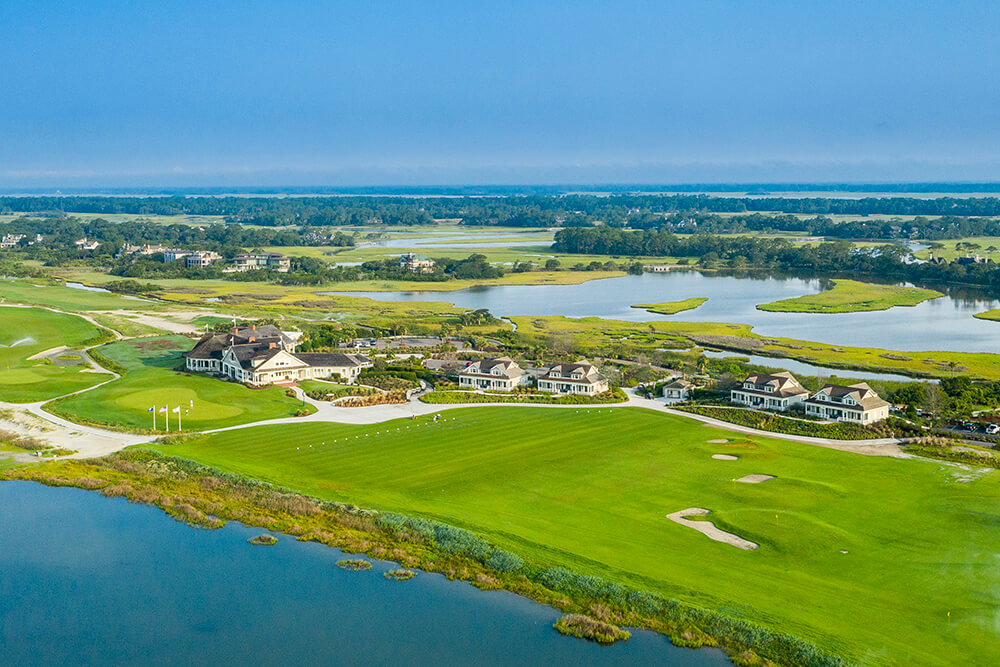 That's where The Cottages at the Ocean Course come in. Situated no more than a hybrid's distance from the Ocean Course clubhouse and positioned adjacent to the course's driving range, these four, four-bedroom cottages—each spanning 3,800 square feet—offer broad views of the driving range and Atlantic Ocean beyond. Even better, they include the services of a dedicated concierge, a fully stocked bar, and daily priority tee times at the course that is, quite literally, right outside your door. kiawahresort.com
Sea Island (Sea Island, Ga.)
If you're a golfer (and golf is the impetus of a trip to Sea Island), the Lodge is where you want to stay. More specifically, you'll want to book one of two Lodge Cottages. The two- and four-bedroom dwellings deliver all of the relaxed comfort of the main English-style manor, with the added amenity of patio spaces adorned with rocking chairs, outdoor sofas, and swinging benches. Best of all, these cottages are just steps from a putting course and short game practice area.
"The King Cottage at The Lodge at Sea Island is the ultimate golf buddies' hideaway, complete with its very own hitting bay." https://t.co/jF8UNpXVHd

— Sea Island Resort (@SeaIslandResort) February 11, 2020
Of course, you can go one step higher by renting the King Cottage—a four-bedroom, 4,200-square-foot residence that overlooks the Atlantic Ocean and is equipped with its own hitting bay positioned in line with the driving range. It's the ultimate golf cottage at Sea Island. seaisland.com
Pebble Beach (Pebble Beach, Calif.)
Positioned just off the 18th fairway and green, the Lodge at Pebble Beach is the resort's top-shelf hotel option. It's the place every avid golfer hopes to stay on a trip to Monterey Peninsula. However, even the most enthusiastic of golf travelers may not know about Pebble Beach's Fairway One accommodations, specifically the Palmer and Eastwood Cottages.
These two standalone cottages can be configured with as many as four spacious bedrooms, while their living rooms are sprawling, 1,000-square-foot entertainment spaces equipped with two large flat-screen televisions and a bar. Those living areas are connected to an outdoor terrace, one that is enhanced by a fire pit and offers fairway views of the 1st hole. pebblebeach.com
Pinehurst (Pinehurst, N.C.)
When it comes to accommodations at Pinehurst Resort, the Carolina Hotel gets the lion's share of the spotlight, which is to be expected. After all, the 230-room hotel is affectionately known as the "Queen of the South," and it stands regally at the end of a promenade looking down tree-lined Carolina Vista Drive and the Pinehurst clubhouse half a mile away. But there's another understated hotel within the resort that delivers an equal amount of charm.
A seven-minute walk from the front steps of the Carolina Hotel brings guests to The Manor Inn, a boutique hotel, circa 1923, that was recently transformed thanks to a comprehensive renovation. Swathed in contemporary décor, The Manor is home to the new North & South Bar, a cocktail den bolstered by a robust whiskey selection, as well as two private hospitality suites that can comfortably accommodate 20 people and can be reserved for the duration of a group's stay. pinehurst.com
What elite accommodations would you like to stay in?