By Graylyn Loomis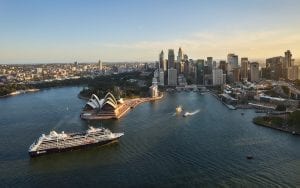 In the 33 years that PerryGolf has been operating golf tours, it's seen substantial growth and added trips from Australia to South Africa and Scotland to the Middle East. But the fastest-growing part of its business may prove surprising, as it's a way to play the world's great courses that many consumers may not have considered—golf cruises.
If you've never thought about cruising for golf, remember where many of the best layouts are located: The coasts of the United Kingdom, Australia's Sand Belt, on tropical islands. You get the idea. Now put aside those first thoughts conjured up when hearing the word "cruise"—gargantuan ships with water slides, bowling alleys, casinos, buffets, and Vegas-like stage shows.
Try, instead, to picture something called "destination immersion." The best golf cruises switch the focus from on-board amenities to the destination, with the shipprimarily serving as a luxurious way of reaching extra-special golf and cultural locales. PerryGolf is able to offer this style of journey because of a partnership established in 2010 with Azamara Club Cruises, which runs the seaborne side of its golf trips. Azamara is a specialist in meshing a luxurious on-board experience with the best on-land destinations.
"Upscale clients like ours want to be enriched by the destination, whether through culture, food, drink, or the landscape," explains Azamara CEO Larry Pimentel. "We think outside the ship and come up with journeys based on what we know people love to do." Among other things, that means spending extra time in port and allowing guests to see, do, and experience more at each location.
Another key difference is Azamara's ships. While capable of sailing in deep-water oceans, they are much smaller than the mammoth vessels you see in TV commercials, accommodating up to 700 passengers rather than the large ships' 6,000. PerryGolf co-founder Colin Dalgleish likens the smaller ships to boutique hotels. "They're perfect for us. We can offer all of the amenities at a level our clients expect, but the ships are small enough that we can get to the right destinations." Among those are ports in places like the Mediterranean, Scotland, and the Arabian Peninsula.
Of the 700 passengers, only about 70 are PerryGolf guests. They enjoy a number of exclusive events, including special meals and an awards night. At least three members of PerryGolf's staff are always on the ship alongside Azamara's team to help golf cruisers and arrange on-land logistics.
Cruising offers other advantages that are winning over traveling golfers. "I love that you unpack once, the ship doesn't have to stop to ask for directions, and you wake up in a new location every day," says Dennis Tosh, a long-time PerryGolf client. "It's a one-stop shop: You can write one check and you get to see nearly anywhere in the world."
"We try to create a seamless experience between the onboard and land aspects of the trip," explains Dalgleish. "On any given golf day, all of the golf equipment has gone out in advance to the course and bags are waiting for players on their carts. Guests come out to the course on transfers from the ship and they can hit balls, visit the pro shop, or go to the first tee. Pairings are set up on the ship to give guests a variety of experiences and allow them to meet different people. There is food and refreshments available throughout the round and an open bar at the end of the round where people relax and enjoy a drink, and then we head back to the ship."
Golf cruises often visit destinations difficult to visit only by land. "A perfect example is the Arabian Peninsula where people often know about the great golf in Dubai and Abu Dhabi," says Dalgleish. "But, when you look closer, you realize there is fantastic golf in Oman, Bahrain, and Qatar, and when you look at it, you realize it's possible to create a golf experience with a cruise that would be extremely difficult by land due to flight logistics and difficult border crossings."
The cruises aren't as golf-intensive as most land-based trips, the kind taken primarily by groups of golf buddies. The PerryGolf cruise clientele is largely couples and while golf is still a main focus of the trip, the destination and cultural experience are equally important. Shore excursions—ranging from a day at the Open Championship to concerts, sightseeing, and more—fill the days when golf isn't scheduled. Plus, there are special programs for non-golfers on the trip, says Tosh.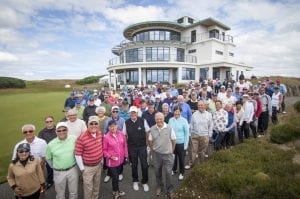 In 2018 and 2019, PerryGolf will run cruises to New Zealand and Australia, Scotland, England, France, Spain, the Baltic Sea, the Arabian Peninsula, the Caribbean, the Mediterranean, Vietnam, Hong Kong, Japan, and the East Coast of the U.S. Prices are usually separated for the golf package and the cruise fare, making it easy, especially for couples with only one golfer. Fares vary greatly depending on room type, destination, and the non-golf programs included on the trip.
"I've traveled around the world playing golf," says Tosh. "I've dragged my darn golf clubs everywhere. It's just so much easier on a cruise."