You can't help but take a few minutes to admire the views from the highest points at Pikewood National, which not only sits atop a mesa in the mountains near Morgantown, West Virginia, but has been continually climbing in national course rankings. The panoramic pit stops aren't just because you're treated to views of three states—Pennsylvania and Maryland as well as West Virginia—but also because you'll probably need to take the occasional breather during your round.
Pikewood National is regarded as one of the most challenging courses in the U.S., with a 155 slope rating, a 79.3 USGA course rating and a brutal 109.4 bogey rating from its championship tees. It's also one of the toughest walks in golf—a nine-mile hike up and down a mountain; and that's if you're hitting it straight. The course, which is spread over 650 acres and features elevation changes of hundreds of feet in just a few holes, is as taxing physically as it is on your scorecard.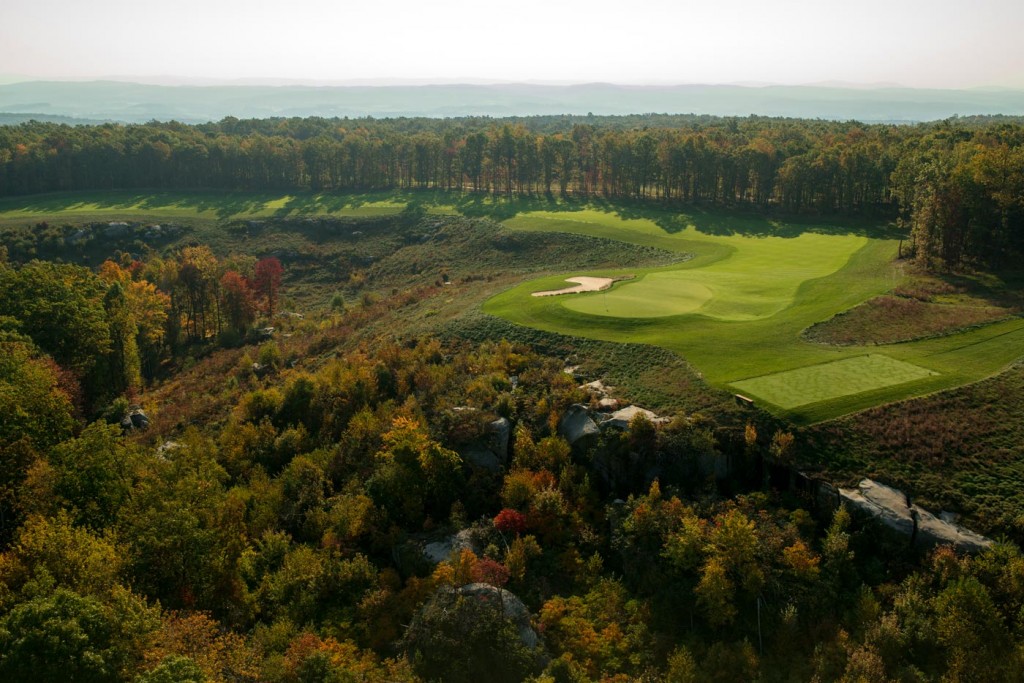 But with all due respect to Mark Twain, Harry Leon Wilson, William Gladstone, or whoever it actually was who suggested golf is a good walk spoiled, Pikewood National is a phenomenal experience enhanced by the rigorous walk. It's one you'll appreciate every step of the way. And mind you, Pikewood is a cart-free property. It was also the course—as I traipsed up and down the side of the mountain—that got me thinking about the toughest walks in golf.
There are golf courses that would be a ridiculous challenge to walk, but aren't designed for it. The Plantation Course at the Kapalua Resort on Maui is one that springs to mind—with extensive distances between holes as it climbs up and down an old volcano, it simply isn't made for walkers. Also not considered for these purposes is a curiosity like Nullarbor Links, which bills itself as the world's longest golf course, spanning multiple towns across 850 miles (1,365 kilometers) across Australia.
The four other U.S. courses listed here are considered walking-only or meant to be walked most of the time.
BETHPAGE BLACK
There's a sign just behind the first tee at Bethpage State Park's Black Course warning that the layout, a two-time U.S. Open host and site of the 2019 PGA Championship, is an extremely difficult course for highly skilled golfers only. There should probably also be a disclaimer on the sign about how challenging it is to walk the A.W. Tillinghast-designed course that takes on the rough-and-tough personality befitting its New York location. There are plenty of golfers who won't play the Black because of its walking-only nature. Fairly substantial elevation changes are found on almost half of the holes, including a handful of memorable climbs. Among them is the approach to the green at the 15th hole, one of the hardest par-fours in the game. Several years ago, I was playing the Black with a good friend who, winded (and humbled) after the hike up the hill at No. 15 and over to the 16th tee box, plopped down on a bench and said simply, "Never again will I play this (bleeping) course." He would, of course… because it's a taxing yet utterly intoxicating stroll in the park.
CHAMBERS BAY
The first thing you'll notice on the drive into Chambers Bay, which was built in an old sand and gravel mine on the Puget Sound outside Seattle, is the sheer size and scale of the layout and its topography. Course architect Robert Trent Jones Jr. has proudly boasted that the walking-only links-inspired layout is a 10-mile hike, with more than 600 feet of elevation change and significant distances between greens and the next tee. The views are spectacular—from the sparkling waterfront to the snow-capped Olympic Mountain range—and the steep climbs are equally impressive. When the U.S. Open was held at Chambers Bay in 2015, then USGA executive director Mike Davis described the course as an "endurance test," and other tournament organizers said it would test both the physical and mental capabilities of competitors. If you go, bring comfortable shoes, and possibly a Sherpa.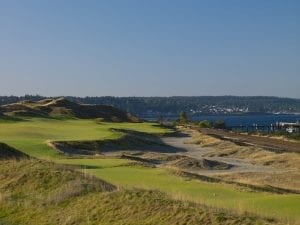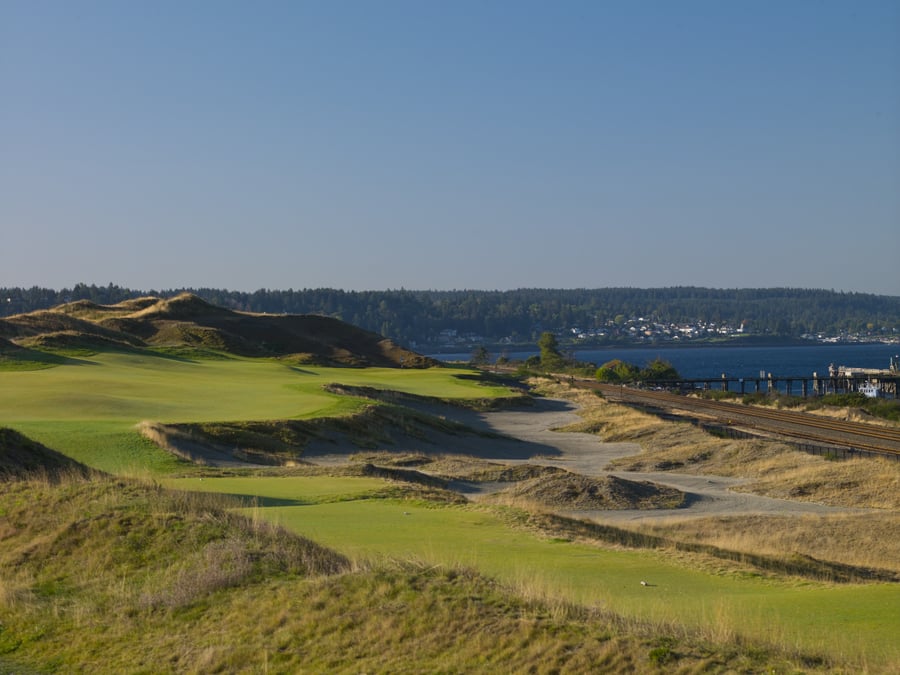 WHISTLING STRAITS
Sculpted into two miles of uninterrupted shoreline of Lake Michigan in Kohler, Wisconsin, Whistling Straits can be an unforgiving brute. Designer Pete Dye isn't known for his warm and fuzzy layouts, but if a golfer is errant on The Straits, which has roughly 1,000 sand bunkers, an already challenging walk can quickly become grueling. When looking at the bluffs and massive sand dunes, it's hard to conceive that the site in the 1950s was flat farmland used by the U.S. Army as an anti-aircraft training facility. More than 7,000 truckloads of sand—approximately 105,000 cubic yards—were brought in to create the rugged, windswept terrain seen today that's hosted three PGA Championships and the 2021 Ryder Cup. You may need to be as sure-footed as the Scottish Black Sheep that call Whistling Straits home.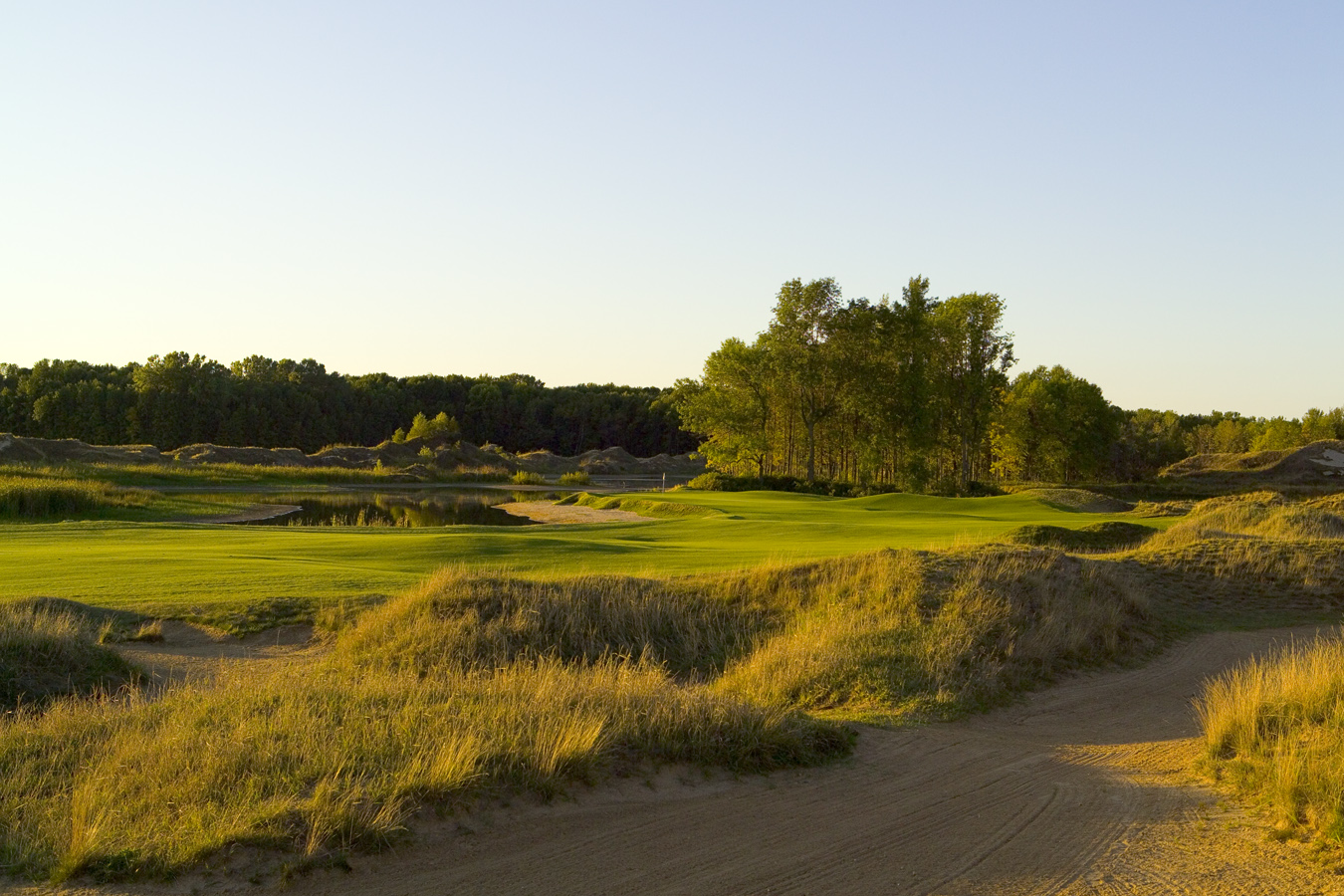 ERIN HILLS
The first time the USGA's Mike Davis saw Erin Hills in Wisconsin, the site of the 2017 U.S. Open, he said it looked like Shinnecock Hills on steroids. The brawny course is routed over the kettle moraine areas left by receding glaciers that formed the property's rolling and undulating terrain. A walking-only course on 652 acres, Erin Hills is immense in scale. While you don't have to play the tees that made it the second-longest U.S. Open course in history, you'll still have many substantial walks past those other teeing grounds. The website for Erin Hills says to plan on a 4 hour, 55 minute round, and when the wind is blowing—and it often is—the walk can feel even more exhausting.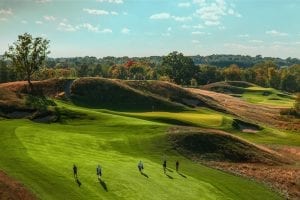 ____________________
Can you think of any tougher walks than what we listed? Let us know in the comments below!