Among the many cool details that separate the cult-style following of MacKenzie Golf Bags from the one on sale at your local sporting goods store is the fact that the company doesn't keep its bags in stock. It takes 3–4 weeks for one of its leather bags to be made by true artisans. Well, there are exceptions.
Six days before Christmas, Nic Mulflur, head of business development for MacKenzie Bags, took a call from a representative of former First Lady Michelle Obama and rush-ordered a charcoal wax-canvas bag with navy trim, a few touches of red and nothing more than a little "44" embroidered on the handle as a gift to President Barack Obama.
Former presidents aren't the only celebrities who've taken a liking to packing their sticks in a throw-back bag. Actor-musician Justin Timberlake uses a custom-made leather Sunday Bag from Links & Kings. Adam Heindorff, CEO of Links & Kings, recounted a phone conversation when Timberlake designed his bag. 
"He's saying, 'I want this here, I want this there.' It gives them the creative ability to design to their specs," Heindorff says. "They might see a picture and want it with their logo on it.  It just gives them an opportunity." 
Golf bags are lighter, have more pockets, a kick-stand, double straps, and a slot for a water bottle, but there is something to be said for the simplicity of an old-school, leather golf bag. Thanks to companies like MacKenzie Bags, Links & Kings, and Douglas Rose, just to name a few, premium leather golf bags for the minimalist is making a revival. 
It isn't just former presidents and actors who are splurging for heirloom-quality golf bags. Architecture buffs, historians of the game and walking enthusiasts both young and old are the typical buyer.
 "It's the golfer that loves the game, loves the history, cares about the game, and likes nice things and appreciates quality," Heindorff says.
In other words, these bags appeal to both hardcore golf junkies and those dedicated golfers who appreciate the nuances of the game. To Mulflur there's more to a golf bag than just a place to store a few balls, tees, and stash your clubs. But the timeless quality and craftsmanship of a Sunday bag or walker is one that can come with a hefty price tag, sometimes as much as $2,000. So what makes them so expensive? It starts with the quality of the raw materials. Each bag from Douglas Rose is crafted from smooth Italian calfskin leather. At only 4 pounds, this leather golf bag is a breeze to carry and built to last. The four-zippered pockets offer plenty of room for the essentials, intentionally designed to keep you focused on the game. The James cordovan costs $1,595.
The classic two-pocket walker from Links & Kings features a single adjustable padded shoulder strap, two zippered pockets, and a towel ring. It is manufactured from hand selected American and European hides and is available in custom color combinations for $875.
"When we get an order for one, we take the hide and we start cutting by hand," Heindorff says. "Then it gets sewn by hand so it takes a lot of time to make them. It takes hours. And you have to be a very skilled craftsman to do it."
"There are north of 40 pieces involved in our bags," Mulflur says. "It looks simple, but there are a lot of steps to make a bag to the exacting specifications of our customers."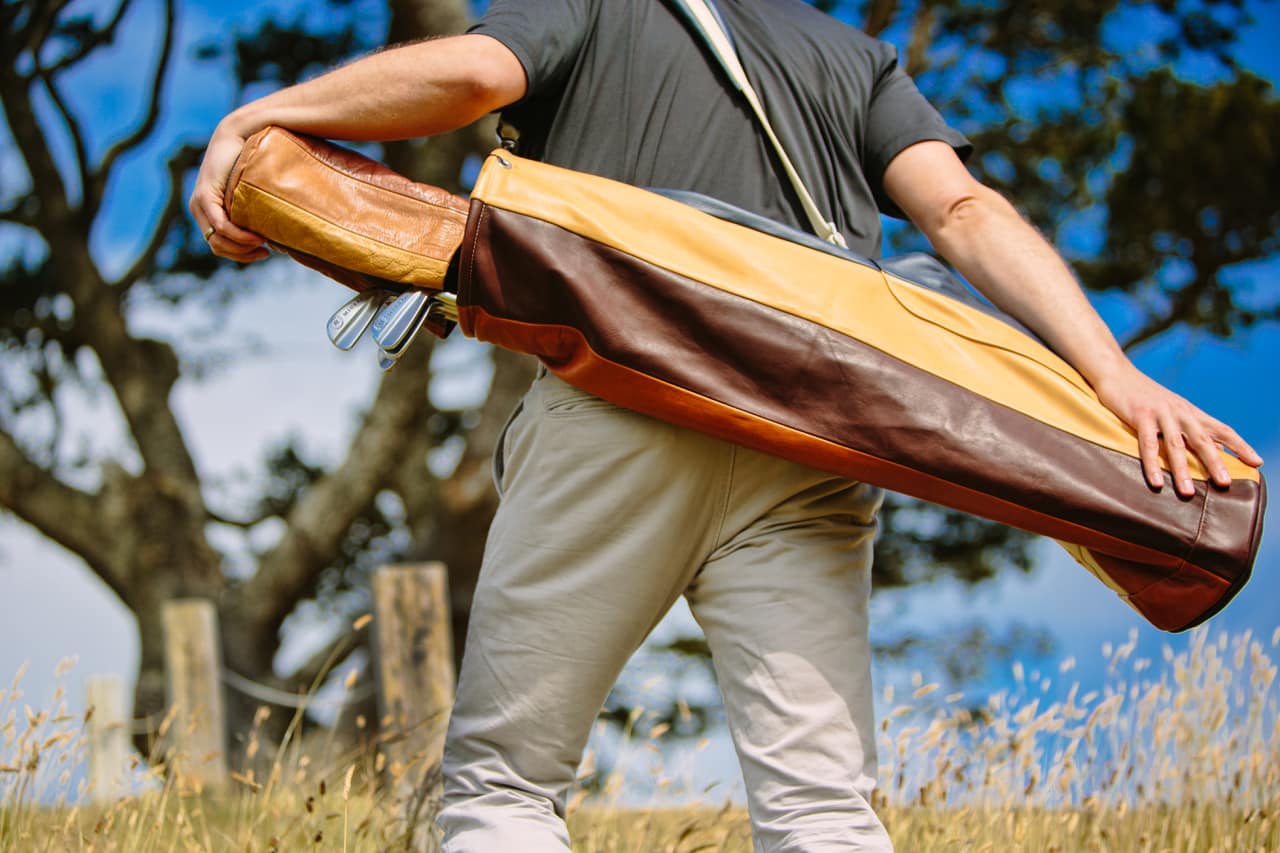 MacKenzie Bags, which was founded in 1985 by golfer Peter Jacobsen and his brother, David, (neither are still involved in the company) has two primary products—the leather original walker, which has an eight-inch opening, a single divider separating woods and irons, two pockets, a single strap and retails for $1,095—and the leather Sunday Walker ($995), which has the same characteristics in buckskin and mahogany except for a seven-inch opening and a single pocket.
"It's not for everybody," Mulflur says. "But for some of us, there's an emotional attachment to our bags. It's like a romantic relationship."
This one is built to last a lifetime.
Would you buy one of these high-priced golf bags? Let us know what you think in the comments below! (If you don't have a Disqus account, write your comment and then select "I'd rather post as a guest" before hitting publish.)