If you're making plans to tee it up on distant dunes or shores, you may be in the market for a new golf travel bag. Fortunately, you've got a lot of good choices at every price point—so there's no reason why your clubs shouldn't travel first class.
Here are my top 10 choices. Pick the one that fits your needs and your budget and get your flights and tee times scheduled while the scheduling's good.
1. Sun Mountain ClubGlider
Sun Mountain's unique ClubGliders have been one of the world's top golf travel bags since they were introduced, and this year's models are even better. Every ClubGlider features a patented support leg system; unlike most travel bags, which just have wheels on the bottom, the ClubGliders also have wheels on retractable legs that extend out from beneath the bag, supporting it at two points when rolling. They are beautifully designed and engineered, with features like heavy-duty zippers, ballistic-quality nylon, foam-padded upper sections, internal straps to keep your clubs from shifting around, and inside pockets for shoes and other gear. SunMountain.com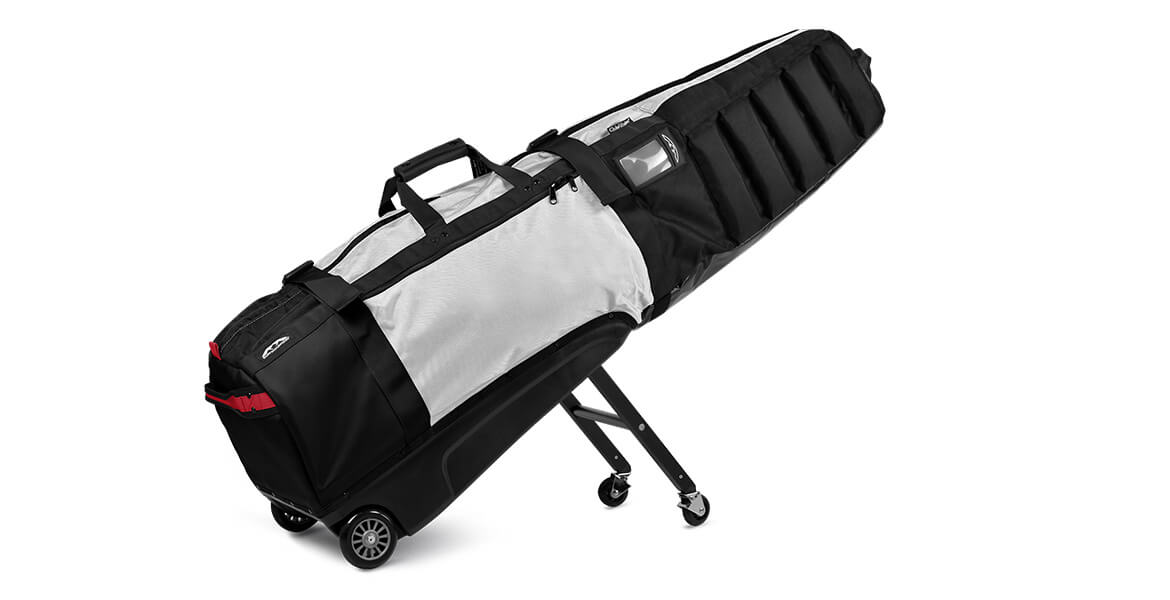 2. Club Glove Last Bags
Club Glove's series of Last Bags come in three models: Collegiate, Large Pro, and the Last Bag XL Pro Tour, which is the choice of many tour pros. They're built to last—and to withstand the harsh treatment that they'll undoubtedly receive from airline baggage handlers. Club Glove says that its single-burst construction made with 1000D (Denier scale) water-resistant nylon is up to three times stronger and lasts up to five times longer than polyester. The patented high-impact plastic wheelbase and in-line skate wheels make it easy to maneuver. And each Club Glove travel bag gives you plenty of additional room for other gear. ClubGlove.com
3. Ogio ALPHA Travel Cover
Ogio is a premium travel gear brand that makes all kinds of products, including excellent stand bags and golf travel bags. Its ALPHA line includes three models that will all accommodate either cart or stand bags. One thing I like about the Ogio bags is that they're really easy to load and unload because of their D-shaped zippered opening. The fabric here is 900D polyester, and the other features and construction quality make for a sturdy, good-performing product. They're roomy, as well, so you can stuff shoes, rain gear, off-course clothes, and souvenirs, too. Ogio.com
4. CaddyDaddy First Class Golf Travel Bag
CaddyDaddy is another top brand making high-quality golf travel bags. Its First Class model is an excellent value, as it offers many top-end features at a lower price point. Among its strong points are its 1000D ballistic nylon, military grade hardware, rivet reinforcements, and strong wheels. The CaddyDaddy's base design enables it to stand on its own, and the curb rails on the back help prevent your clubs from getting damaged when the bag is wheeled around. CaddyDaddy.com
5. Bag Boy T-10 Hard Top Travel Cover
The first of three hybrids on our list, the Bag Boy T-10 combines a 600D polyester fabric body with a hard-shell ABS (Acrylonitrile Butadiene Styrene) plastic top for maximum club protection. The base is made from strong ABS, as well, and the in-line wheels roll smoothly. The T-10 does other travel bags one better by incorporating a Stand Guard design into this bag's interior, which helps protect your stand bag's mechanism during travel. BagBoy.com
6. Founders Club Hybrid
The top section of the Founder's Club hybrid travel bag is a hard plastic, which zips open down the middle, making it easy to get your clubs in and out. It will accommodate cart bags up to 10 inches in diameter and clubs up to 50 inches in length. You'll like the large exterior shoe pockets, and the way the body of the bag folds into its top for easy storage when it's not in use. FoundersClub.com
7. Samsonite Hybrid
This last hybrid offers a top that's only half ABS hard plastic, but that may be enough—and its other features are nice ones. The Samsonite has four, multi-directional, "spinner" wheels on the bottom so you can wheel it along in upright position. It's well padded, roomy, and the three-sided zippered openings let you load and unload it with ease. Samsonite.com
8. SKB ATA Deluxe Standard Hard Case
If you really want to protect your clubs, the SKB hard case is a good option. It's molded from ultra-high, molecular-weight polyethelene and manufactured to exceed ATA 300 Category I (which means that it'll stand up to just about anything). You won't be able to store much else inside this bag, and it can't fold up when you reach your destination the way soft-sided travel bags can. But if those aren't issues for you, the SKB could be just the ticket. SKBcases.com
9. TGW Tour Golf Travel Cover
If you're looking for a basic travel bag that isn't going to need to withstand Armageddon, the TGW Tour is an excellent choice—and a good value. It's made from 1650D nylon, so it's rugged. This travel cover is roomy, too, so it'll accept any stand bag and many cart bags. The handles and zippers are strong, and the front pocket will fit shoes up to size 14. TGW.com
10. Bag Boy T-460 Wheeled Travel Cover
Another solid and inexpensive choice is this Bag Boy T-460. It features 600D polyester, reinforced corners, a wraparound zipper at the top that makes it easy to pack and unpack clubs, and an oversized shoe pocket in front. At just 4.5 pounds, it's also one of the lightest golf travel bags on the market. BagBoy.com
Before we go…
In addition to choosing a good golf travel bag, there's something else you can do to protect your clubs. Purchase a bag support stick like the Club Glove Stiff Arm, Bag Boy Backbone, or the Intech Crossbar. These will keep your travel bag from being crushed at the top and help guard expensive shafts from getting pulverized. Another tip: make doubly sure that your driver makes it to your destination intact by removing the clubhead from the shaft and packing it separately.
Safe travels!