New England serves up a heady combination of craft breweries and exceptional public golf
While rummaging around in his father's attic almost 40 years ago, Jim Koch uncovered the recipe for his great-great-grandfather's eponymous Louis Koch Lager, which sparked the onset of craft brewing in New England. Within a year, Koch had incorporated The Boston Beer Company, and its growing lineup of Samuel Adams-branded lagers and ales ushered in a revolution. Today, the industry is as robust as ever, and New England remains one of the country's leading regions for craft brewing.
If you're contemplating a trip to the Northeast specifically for its beer, you're not alone: Beer tourism is a legitimate thing, so much so that Travelocity created a Beer Tourism Index in 2016. But as you map out an itinerary predicated upon hops and barley, don't forget to pack your clubs: Great public golf exists within a short drive of many of New England's most exceptional breweries.
Boston is no longer New England's brewing epicenter: It's now 200 miles northwest, in Stowe, Vt. The famous ski-resort town is home to The Alchemist Brewery, founded by John Kimmich, the brewmaster who introduced New England's first boldly hopped IPA almost 20 years ago. That iconic beer, Heady Topper, is a sucker punch of six different hops balanced by a robust, malty backbone. It's available in stores throughout northern Vermont, along with Focal Banger, The Alchemist's second foundational IPA. The rest of the brewery's offerings—a lineup of almost 40 beers—are sold only at its visitor center.
Hill Farmstead, arguably the country's finest producer of nuanced craft beers, is located less than an hour's drive east of Stowe. Now in its second decade of operation, the brewery produces world-class beers for any taste—from wild ales and saisons to luscious porters and stouts; blended, barrel-aged ales; Old World varieties; and decidedly hop-focused American pale ales and IPAs renowned for their smooth, layered flavor profiles. The brewery's retail shop sells individual bottles and canned four-packs, while tasting room reservations can be made for on-site pours.
For all of the ways that Stowe tantalizes craft-beer aficionados, the resort community can also satiate avid golfers. Less than a mile from The Alchemist's visitor center, Stowe Country Club features a 6,195-yard layout of severely pitched fairways that can render uneven lies in all directions. With five par threes and five par fives, the course provides golfers with plenty of opportunities to score.
Such is not the case six miles up the road at The Mountain Course at Spruce Peak. Designed by Bob Cupp in 2007, the challenging layout boasts all of the allures and dramatic panoramas one might imagine playing in the mountains of northern Vermont. The semi-private course is only open to non-members who stay overnight at The Lodge at Spruce Peak, but the on-course experience is worth the investment. At just over 6,400 yards from the tips, the course isn't imposing in its length, but a 151 rating properly conveys its difficulty.
Unlike Vermont, where the location of the breweries dictates where to tee it up, in Rhode Island golf is the determining factor because so many of the state's preeminent courses are private. Start at Newport National Golf Club, one of Rhode Island's best daily-fee layouts. Carefully plotted through protected wetlands and bird sanctuaries, the 7,244-yard course is generally welcoming to newcomers. Most holes reveal enough of themselves from the tee that players can see the challenge at hand. And despite the course being relatively wide open and less than a mile from the ocean, blustery winds are rare. Instead, undulating greens and lush native-grass areas uphold par.
Taproot Brewing Co., just minutes away, is an ideal venue for a post-round beer. Its hop-forward IPAs are good, if not great; however, other brews, such as the Ginger Saison, are superlative. With a yeasty backbone, the farmhouse ale (a traditional European table beer) delivers expected sweet grain flavors, along with hints of orange and banana, all punctuated by the peppery spice of fresh ginger.
About half an hour west, the 14-year-old Tilted Barn Brewery offers a dozen or so beers available either on tap or in four-packs, and every brew in its 20-beer portfolio is a winner. In its early years, the brewery was based out of a tilted barn—hence its name—but in late November 2020 a new, significantly larger brew house opened in its place, one that features a comfortable tasting room supported by more than a dozen taps.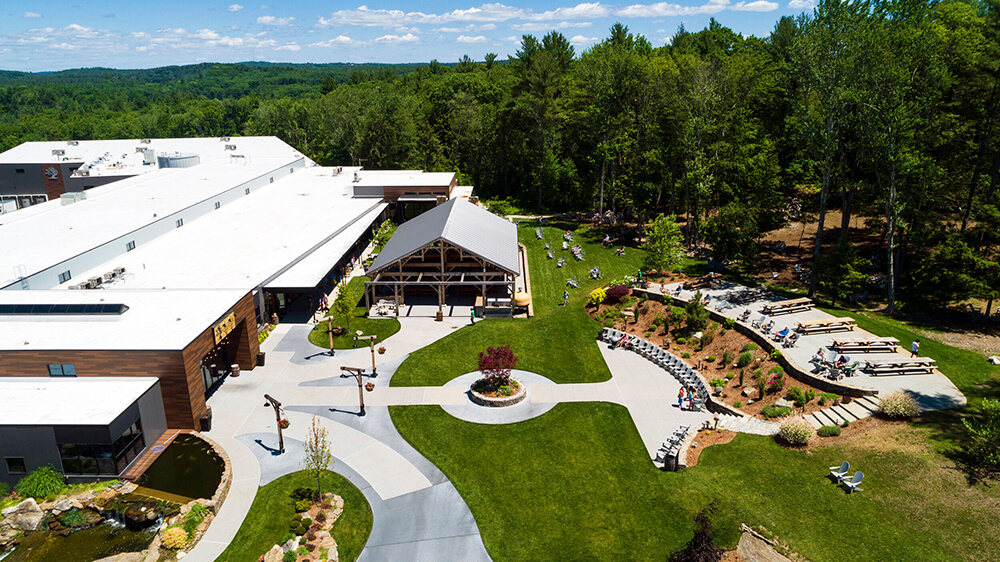 According to the Brewers Association, Massachusetts is home to more than 200 producers of craft beer, two of which are can't-miss destinations. Trillium Brewing was born in 2013 in the Fort Point neighborhood of downtown Boston and has added a seasonal beer garden elsewhere in the city as well as two more permanent locations—one a sprawling new facility in Canton, 15 miles south. Between 30 and 40 beers are typically offered either on draft or in bottles and cans, led by their flagships, Fort Point Pale Ale, Congress Street IPA, and Mettle Double IPA.
Roughly halfway between Trillium's original brewery and its Canton facility, George Wright Golf Course is a historic muni that delivers incredible value. Built by Donald Ross in 1938, it has recently benefited from renovations to many of its tee boxes. Plans are now afoot to bring the layout closer to its original design by eliminating fairway bunkers that were added over the years. Expect numerous blind or semi-blind tee shots, half a dozen uphill approach shots, and undulating greens.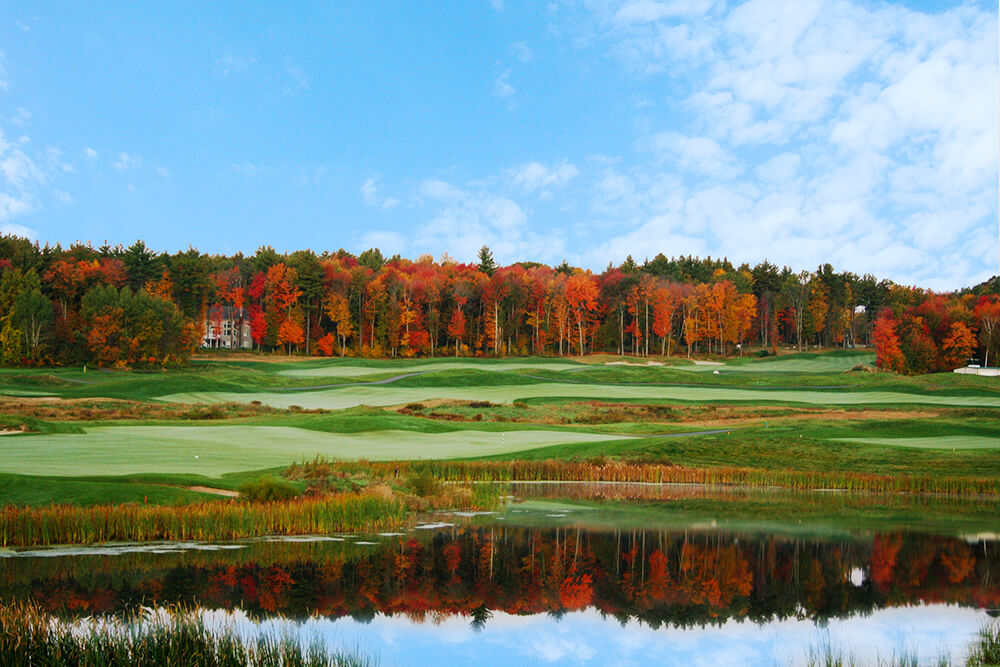 The second must-visit brewery in Massachusetts, Tree House Brewing Company, is an hour's drive west of Boston. Like Trillium, this once-small producer has steadily grown into a regional empire, and while it's best known for its Double IPAs and Imperial Stouts, its pale ales and single IPAs are some of the finest.
Another hour's drive west of Tree House brings visitors to The Ranch Golf Club, a 7,174-yard layout whose name belies the playing experience. The course is strategically routed across a well-sloped hillside, minimizing uphill play. Two severely pitched downhill par fives can yield eagle attempts even for average players.
From Tree House another option is to head due south about 40 minutes to Putnam, Conn., where golfers can tee it up at Connecticut National Golf Club. Once a private facility, the 6,935-yard course was redesigned more than a decade ago and subsequently opened to the public. Its layout is welcoming to those without prior playing experience and, thanks to steady elevation change on both nines, the holes rarely feel repetitive.
Connecticut has more than 100 craft breweries of its own, led by Fox Farm Brewery. Housed in a refurbished 1960s dairy barn about 45 minutes south of Connecticut National, it's run by two brothers who concentrate their efforts on the beers they believe in—ales that they love to drink and love to make. Their American IPAs are more understated (in a good way) than the hop bombs crafted by the majority of other New England breweries. Fox Farm also specializes in traditional, European-style lagers and farmhouse ales; the latter are fermented with wild yeasts and include locally sourced botanicals. Take-away beer orders can be placed two weeks in advance and reservations can be made for on-site pours.
It's only about 20 miles from Fox Farm to one of the best public courses in the state. Designed by Rees Jones in 2005, the North Course at Lake of Isles—in tandem with the members-only South Course—meanders across 900 acres of woodlands, abutting and sometimes crossing the 90-acre lake that gives the facility its name. Plenty of forced carries and tight corridors make for a challenging round. It's the kind of course that warrants a post-round beer… hopefully poured in celebration.