Chasing bullseyes: Harbour Town Golf Links is golf's ultimate test of precision
Swing from the heels. Grip it and rip it. Let the big dog eat. Not at Harbour Town, you don't. A bomber's paradise? Harbour Town is anything but. "I get angrier here than anywhere else," said Jack Nicklaus back in the day. "This place is designed for some shots I'm not supposed to be able to hit, and that's a challenge. Then, when I can't hit them, it just burns my rear end." This from a man who not only won the Heritage Classic at Harbour Town in 1975, but consulted with Pete Dye on the design.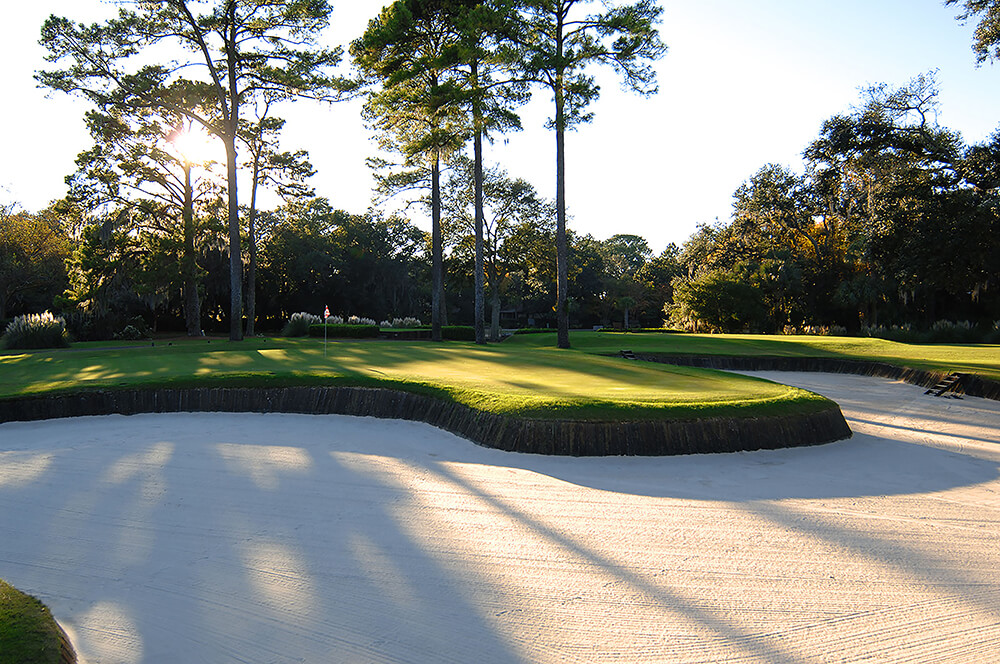 Hilton Head Island's Harbour Town Golf Links was Dye's attempt at countering the prevailing architectural traits that dominated the era. "Instead of long tees, flowing fairways, huge bunkers, and elevated large greens," wrote Dye in Bury Me in a Pot Bunker, "I deliberately chose to design multiple-tee positions, small-to medium-size 'shot-demanding' greens, undulating fairways, long waste areas, and abrupt, steep pot bunkers."
More than 50 years after its debut, Harbour Town remains a claustrophobic classic. Narrow fairways and tiny greens hemmed in by dark lagoons, pines, and moss-draped live oaks greet the golfer for 16 holes. The final two tests play alongside aptly named Calibogue (pronounced Cali-bogey) Sound, where if the trees don't make your knees knock, the marsh and sea breezes will.
The 332-yard par-four 9th sports one of the more slender corridors. With pines and the practice range to the left and more pines to the right, your swing feels constricted no matter what club is in your hand. The diminutive, wing-nut-shaped green is fronted by a yawning, cavernous bunker and in the gap behind the green is the smallest, meanest pot bunker this side of Scotland. Likewise, there is zero room for error on each of the four outstanding par threes.
Placing the drive in exactly the correct spot is paramount. "You might have to play around some trees to a certain part of the fairway, maybe the right quarter of the fairway, right half of the fairway, or the left half," said Brooks Koepka. "It just depends where the pin is."
The unease over the lack of width never dissipates. Even if you find the fairway, tree branches might block your approach. "You're hitting through chutes to small greens with trees overhanging," said Rickie Fowler. "It's almost like a goalie sitting there at the green ready to swat your ball down."
Two-time RBC Heritage champ Jim Furyk lends perspective. "This is not a place where you're going to tee it up as high as you can and see how high your ball speed can get off the tee," said Furyk. "It's about placement. For those guys that like to work the ball a lot—right to left, left to right, high shot, low shot—for creative players, good ball strikers, they have an advantage at this golf course. Long or short, it doesn't really matter."
Xander Schauffele summarized the essence of Harbour Town during his second appearance at the RBC Heritage in 2019. "You have to be very precise," he said. Precisely.
Three more courses where smart choices and pinpoint accuracy are imperative
Impeccably manicured 1997 Ryder Cup host Valderrama features narrow, cork-tree-corseted fairways, sprawling bunkers, and small greens. When European Ryder Cupper Matt Fitzpatrick captured the 2021 Andalucia Masters here, he observed, "You can hit half-decent shots and be behind a tree and you are chipping out or have to maneuver. It's a true test."
The Stadium Course at TPC Sawgrass has 17 holes where water is in play and 88 bunkers of varying sizes and shapes. Pair that with grass bunkers, rough-cloaked mounds, and fairways narrowed by tall pines and frequent wind, and the result is that each shot must be carefully plotted. "You really have to step up on each tee and hit the golf shot it requires," said Justin Thomas, 2021 Players Champion.
Packed into just 126 acres, Merion's East Course demands ball placement and approaches from the proper angle thanks to dense rough, varied holes that move downhill, uphill, and along the sides of small ridges, together with firm, fast greens shaped like dinner plates, high on the sides. "It is a precision golf course," said Johnny Miller during the 2013 U.S. Open there.