By George Peper
Ah, those plucky Scots. An entrepreneurial lot they are, inventors of everything from the steam engine to the postage stamp, the TV to the toilet, radar to penicillin. But let's face it, only two of their myriad gifts to the world have any true and lasting significance—golf and whisky. And while both of those treasures have been exported to every corner of the globe, the best versions remain the home-grown originals.
Scotland today has roughly 90 whisky distilleries, most of them located in two regions known as the Highlands and Speyside, within a couple hours' drive of St. Andrews. In general they welcome visitors, offering not only tours but wee drams straight from their aromatic cellars.
Now, there are very few things I enjoy as much as golf, but one of them happens to be single-malt whisky. Thus it was that I felt compelled—nay, obliged—to acquaint myself with a few of these fabled fountainheads, especially since they happen to do their business beside golf courses of equal allure.
My four-day tour began a few miles north of Perth in the town of Blairgowrie with a visit to the famed golf club of the same name. I'd not been there since my first trip to Scotland, 38 years ago, and in the interim they'd added a second course by Peter Alliss and Dave Thomas, the Lansdowne, which is every bit as charming and challenging as the original Rosemount where Greg Norman notched his first European Tour win. Both are classic inland layouts, their fairways hemmed with heather, silver beeches, and tall pines. If you want to spend a pleasant 36-hole day of golf, this hospitable club is hard to beat, especially with a $150 day rate that buys you a round on each course.
Less than half an hour northwest of Blairgowrie is Pitlochry, a bustling Victorian town at the gateway to the Highlands. Among its many attractions is a splendid professional theater where earlier in the year my wife and I had caught a performance of My Fair Lady that, to my eye and ear, was just as good as a Broadway production (and a fraction of the cost).
This time, however, I had other sites to see, beginning with the Blair Athol distillery. Sitting just at the edge of the town, Blair Athol is one of Scotland's oldest working distilleries, dating to 1798. Within its ivy-covered stone buildings four stills contribute to the production of Bell's, the most popular blended whisky in the UK. But it was their 12-year-old single malt that won me—sweet and fruity with just enough smokiness. I'd intended just to sample the free dram, but ended up buying two bottles.
A five-minute drive through the main street of town, followed by a right turn and a steep, winding climb brought me to the Pitlochry Golf Course. Nestled at the base of a 3,000-foot mountain, this 100-plus-year-old layout designed by Open champion Willie Fernie calls itself the Switzerland of Scotland and delivers on that claim with a course that although short (a par 69 of just 5,681 yards) is full of Alpine ups and downs. The home hole is particularly fun, a par four that plays 328 downhill yards to a green fronted by a Swilcan-like burn. Incredibly, it has been aced twice, most recently by Neil Hampton, the general manager of Royal Dornoch.
Each of Pitlochry's 18 holes has a name and one of them is called Distillery, a reference perhaps to Edradour, nestled into a nearby hillside. This is the smallest distillery in Scotland (and probably the world), with just three men doing all the malting, milling, mashing, fermenting, heating, condensing, casking, and "nosing," its yearly output about the same as what the big boys produce in a week. But they do have a charming and fully staffed visitor center, and the tour is one of the best. To sip their honey-and-nut-tinged 10-year-old malt is to step into a British candy store.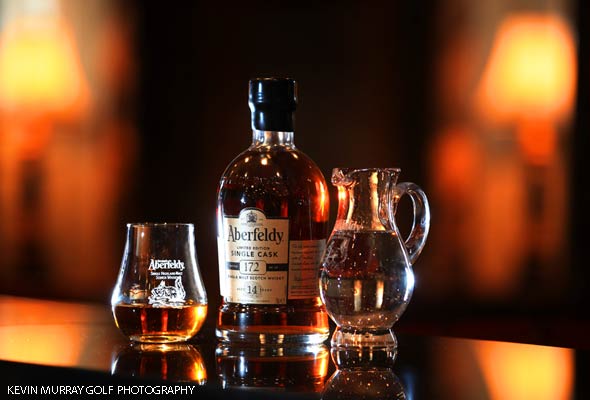 Pitlochry abounds with fine places to stay and I was able to find a little gem called the East Haugh House, tucked down a narrow lane just south of town, where most of my fellow guests were not golfers but sportsmen in tweed jackets toting shotguns and fly rods.
My cozy room on the third floor had both a peat-burning fireplace and a Jacuzzi-equipped bathtub, and the food in the Two Sisters restaurant was superb. As I tucked into my smoked salmon starter and venison pie entree, I couldn't help wonder whether the main ingredients had been donated by recent lodgers.
The logical route north through Scotland is the A9, a 100-mile drive that bisects the country from Perth to Inverness, but I took a road less traveled, the A93, which winds over the Grampian Mountains past one of those wackily named Scottish towns—Spittal of Glenshee—which happens to be the site of Scotland's best attempt at a ski resort. Also on the route is Braemar, home to the highest 18-hole course in Scotland. It looked pleasant enough as I motored by, but my destination was the village of Ballater and a distillery called Royal Lochnagar.
Why Royal? It sits about five hundred yards from Balmoral Castle, Scottish retreat for Queen Elizabeth et al. Back in 1848 a cheeky Lochnagar distillery manager invited Queen Victoria to drop by for a drink. She and Prince Albert showed up unannounced a couple of days later, sampled a few drams, and became so besotted that Her Highness  summarily issued a coveted royal warrant.
As I rounded the last bend, I expected to see a malting barn or stillhouse, but was instead astonished to behold a golf course.
"Yes, that's Balmoral Golf Club," said the friendly chap at the distillery visitor center. "It's nine holes, open to anyone who lives in the Parish of Crathie or is on the castle staff, and of course to members of the royal family." A brief chat ensued during which I learned that the club's most prominent member, Prince Andrew, is less than beloved for his level of etiquette—cutting in, bullying through groups without asking. Seems he acts like royalty or something.
It was barely 10 a.m. when I was handed a snifter of Royal Lochnagar 12-year-old, and perhaps because of the hour the nose brought to mind syrup-covered pancakes with smoked bacon on the side. It slid down very nicely, I must say, and I can see why Victoria fell for it.
Indeed, I could have happily lingered over another dram or two—then perhaps staggered onto the royal links for a few illicit holes—but the better angels of my nature prevailed and it was back into the car for another scenic drive, this time westward over the Cairngorm Mountains to the resort town of Aviemore and a golf course called Spey Valley.
Relatively new to the Scottish golf landscape, Spey Valley is a Dave Thomas design that opened in 2006 as an adjunct to the Macdonald Highland Resort. It's a big modern American style course—7,200 yards from the tips with a par five of 641 and several brawny par fours lined tightly with trees. However, with the River Spey flowing beside much of the front nine and the snowcapped Cairngorms as a constant backdrop, this is a very pleasant place to chase a ball. My only quibble was with the routing that left the first and 18th holes separated from the rest of the course by nearly 300 yards.
A couple of miles up the road (and now we're on the aforementioned A9) is a completely different experience—Boat of Garten—a James Braid charmer that is golf in Sherwood Forest, its humpy, canted fairways climbing, dipping, and threading through thick stands of pine and birch en route to elusive plateau greens. Although the Boat, as the locals call it, is a par 70 of less than 6,000 yards, the competitive record is 67, and this place has been in play for 80 years. I certainly did not threaten that mark—even net—and by the time I walked off the 18th green I must say I'd had a thorough walk in the woods.
There's one other course in this neighborhood that's worth a mention—Grantown-on-Spey. The shortest and least taxing of them all, this 5,700-yard par-70 in the town of the same name is nonetheless challenging and scenic—a fun place to play as a second 18 (or maybe after a couple of whisky tastings). The highlight is the par-four 9th, played against a backdrop of pine trees and the distant Cromdale Hills.
The clubhouse food is particularly good and while you're waiting you can browse the memorabilia on Grantown's favorite son, Wee Bobby Cruickshank. A candidate for best player never to win a major, Cruickshank won 17 times on the U.S. tour and lost to Bobby Jones in a playoff for the 1923 U.S. Open. But his biggest score came against the bookies in 1930 when he bet on Jones to win the Grand Slam and reportedly pocketed $60,000—the equivalent of about $800,000 today.
Grantown sits just at the southern brink of whisky central. Within an hour's drive are more than three dozen distillers, not to mention the Speyside Cooperage, a Dante's Inferno-like operation where artisans labor amid enormous flames to craft 150,000 whisky and wine barrels a year.
This area also is home to the big three of single-malt whisky—Glenfiddich, Glenlivet, and Macallan. I paid courtesy calls to the first two—both impressive operations, particularly Glenfiddich, with its immaculate stone buildings, serene stillside pond, and shop that rivals Harrods.
However, for most of my adult life I've had a near-addiction to The Macallan—12-year-old in the U.S., 10-year-old in the UK. I'm not sure why I like it so much—maybe it's the sherry oak casks, imported from Spain, in which they do their aging—but for me it's the Almond Joy of single malts, indescribably delicious.
So my mecca on this trip was the town of Craigellachie and the 400-acre estate where The Macallan is made. Now, because journalists are almost as overprivileged as they are underpaid, I was able to secure one of the two guest rooms at Easter Elchies, the iconic 18th-century manor house that appears on every Macallan label. Rather than engender the full envy of fellow Macallanites by describing this place, I will just say it was pretty cool and refer to two excellent nearby alternatives—the Archiestown Hotel and the Alvie House, each oozing with atmosphere and offering fine food and lodging.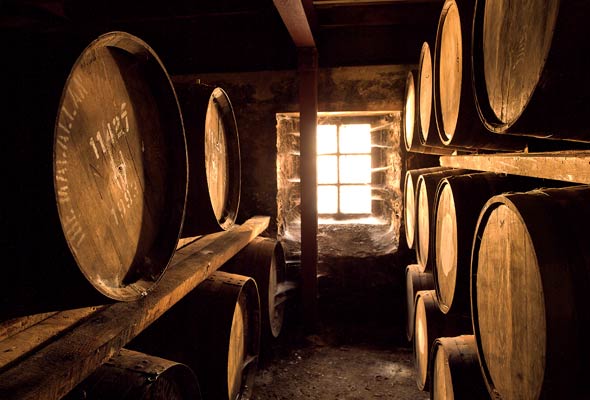 The Macallan tour does a great job of explaining the distilling process in layman's terms. I also learned that more Macallan is shipped to Taiwan than to the U.S. despite their population being less than a tenth of ours. Presumably, it's the ideal accompaniment to cuttlefish and tofu.
From this point in north-central Scotland, the whisky-tippling golfer has two choices—head into the northern Highlands or stay in Speyside beside the Moray Firth. Either route brings the promise of invigorating golf and intoxicating malts. Unable to make the choice, I followed the advice of Yogi Berra—when I came to the fork in the road, I took it, tacking first to the north, then back eastward.
The undisputed golf gem of the northern Highlands is Royal Dornoch, but having enjoyed its charms on several occasions I opted for something new. Arising at 6 a.m., I drove past Inverness across the Kessock Bridge and another 30 miles north to the Royal Burgh of Tain and the links of the same name.
I got there in a little under an hour—in fact so early the place was closed. At length a couple of members showed up.
"I was hoping to play a quick 18," I said to them.
"Off you go then," said one of them cheerily, "you can pay in the shop when you come in."
Off I went then, on a solo jaunt over an Old Tom Morris period piece, perhaps the least changed of his dozens of designs. Tain is no Dornoch, in terms of either scenery or challenge, but it has its moments, the best of them being the par-four 11th, named Alps, its blind approach played between a pair of tall sandhills to a green backdropped stunningly by the Dornoch Firth.
I'd gotten an early start because I had another course I'd always wanted to play, a few more miles up the road at Brora. Old Tom plotted the first few holes of Brora in 1891 but it didn't take its present form until 1923 when James Braid was brought in to work his magic. Little has changed since then.
A traditional out-and-back design, it unfurls on a ribbon of linksland beside the North Sea's Kintradwell Bay, the first nine heading north beside the water, the second returning on the leeward side. The terrain is not particularly dramatic—there are no heaving dunes or towering sandhills—yet every hole has some aspect of topographical interest—a sudden swoop or swale, a protruding knob or chortling burn to be negotiated. Five-time Open champion Peter Thomson still visits Brora regularly and calls it "the purest links in the world."
Once again, I teed off as a single, but at Brora one always has plenty of company—the four-legged kind—as sheep and cattle roam the course freely, courtesy of ancient grazing rights that remain in effect. Thanks to these hungry herbivores, however, the rough is negligible, and electrified wire fences around the greens ensure the putting lines are bereft of hoof prints.
Oddly, perhaps uniquely among the world's noteworthy courses, Brora concludes each of its nines with a par three. The 18th calls for an all-carry shot of 201 yards—anything short will hit the face of a hill and roll back into a deep valley, leaving a pitch that will be blind for the player but very much in view from the clubhouse lounge. After playing capably for most of the round, I amused several onlookers with a closing double bogey.
The towns of Brora and Tain both are blessed with distilleries (Clynelish and Glenmorangie, respectively) but I saved my whisky fix for the return trip south, stopping beside the Cromarty Firth about 15 miles above Inverness at the Dalmore distillery.
When I tried a sip of their 12-year-old and said I liked its orangey flavor, the enterprising hostess immediately reached for an older, pricier bottle and said, "If you like the 12, you'll fall in love with this."
Cocktail hour was upon us, so I relented, only to find the older malt unappreciably more appealing. I did not share this view with my new friend, and instead began chatting with her about Dalmore's history. It seems every bottle is adorned with the emblem of a deer because the original owners of the distillery—the Mackenzie family—had an ancestor who in 1263 saved King Alexander III from being gored by a stag. Out of gratitude, the king granted Mackenzie the right to bear a stag on his coat of arms.
Returning to business, my hostess said, "Now am I not right—is there not a discernible difference between the 12- and 21-year-old malts?"
"Uh, I'm not sure," I said, "but I'll make you a deal—if you can taste each of these and tell me which of them is the older malt, I'll buy a bottle of it." During our chat I'd managed to do a three-card-Monty thing, shuffling the two half-full snifters so that the one nearer my hand was the 12-year-old—and she fell for my ruse.
What ensued was not a happy distillery moment. To smooth things over I sprung for a bottle of the 12-year-old, and I must say I'm glad I did as Dalmore has jumped into second place behind Macallan on my whisky hit parade.
It had been a long and full day, but I was blessed with a magnificent place to lay my head, Culloden House, a grand country house hotel on 40 acres of grounds just a couple of miles east of Inverness. When, in the entrance hall, I saw a photo of Prince Charles during a recent visit, I knew I'd be treated royally and I was, beginning with an enormous two-room suite, followed by drinks in the comfortably elegant lounge (with a bar that offered a selection of 160 single malts) and culminating in the elegant dining room with a four-course gourmet dinner. It's no wonder Conde Nast Traveler recently named Culloden House the best small hotel in Scotland.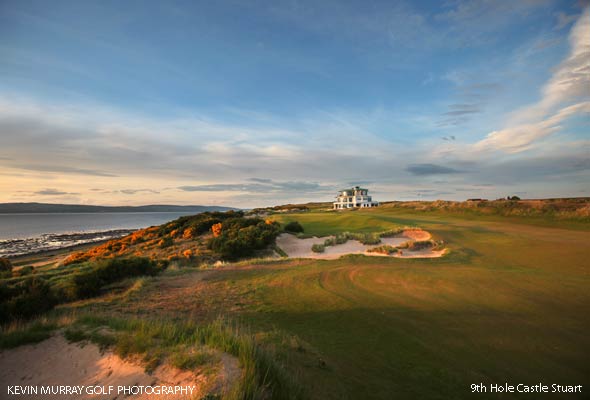 I would have been happy to loll in my big bed the next morning but I had one more full day to go. As with the north Highlands, there is one clear golf star in Speyside—Castle Stuart. When I first played this Mark Parsinen/Gil Hanse masterpiece I instantly fell in love. Indeed, I like this course so much, when I filled out my ballot for the LINKS100, I put it in my top 10. But having played it several times, I chose to forego the pleasure as I had with Royal Dornoch, and instead headed a few miles westward to Nairn.
This is a course that held the Walker Cup in 1999 and will celebrate its 125th anniversary this year by hosting the Curtis Cup. Its first seven holes play hard beside the Moray Firth, with water not only in view but in play on all of them, most dauntingly at No. 5, a 385-yard par four where the ideal tee shot sails across a stretch of beach.
It's a classic links design, with the ninth green at the far end of the course, so he who plays downwind going out will usually have the breeze in his face coming home. The inward nine, removed from the water, heads across terrain that is a mix of linksland, heathland, and parkland in character.
In general the Nairn greens are not wildly sloped, but they are devilishly positioned behind knolls and rises and often angled to the line of play. The bunkering is tight and at the 16th and 17th holes burns cross smack in front of the greens. This is one Scottish links where the bump and run is rarely useful.
A concluding birdie may be possible, however, especially if the par-five 18th is downwind. I was lucky to sink a 10-footer for four and was tempted to celebrate with a pint in the welcoming clubhouse bar, but this would be another 36-hole day—and there was also one last distillery I wanted to visit.
Benromach is the smallest operation in Speyside, with just four employees (two of them a handyman and a gardener) cranking out 130,000 liters a year, about what the big distilleries do in a week. I was astounded to see the whole operation contained in an area the size of a three-bedroom home. But this place is worth a visit if only for the unique opportunity to bottle your own whisky—for £50 (about $80) you can measure the alcoholic strength, fill the bottle, add the cork, and seal and personally sign the label.
My whirwind tour concluded at another weird-name town—Lossiemouth—and a visit to Moray Golf Club. As with my  first stop—Blairgowrie—I hadn't returned since Nixon was President, but this time little seemed to have changed—nor should it have on this Old Tom Morris links that dates to 1889.
The little sixth hole was still an impossible tee shot downwind over fronting bunkers; the jets from the adjoining RAF base still buzzed so close you could almost touch them; the home hole, playing to a green beside the town, still evoked the Old Course; and the clubhouse was as warm and welcoming as ever, its attraction enhanced by the fact that the club commissions its own private-label bottling of Macallan.
It had been a grand finale of a day and I was fortunate to have an equally grand place to conclude my trip. Boath House, just outside Nairn, is a restored Georgian mansion that has been described as the most beautiful Regency House in Scotland. My spacious room overlooked an enormous walled garden and not far away was a pond stocked with brown and rainbow trout and paddled across by swans, ducks, and geese. In the inviting Michelin star restaurant I was treated to a six-course meal that was nothing short of perfection.
Golf, whisky, and a full measure of pampering—it had been a shamefully delightful way to spend a few days—and I found myself feeling more grateful than ever to those inventive Scots.