By David DeSmith
How do you define a nice neighbor? One who breaks out the 12-year-old single malt when you drop by instead of the cheap blended stuff? Or doesn't complain when your split-level ranch becomes home to the world's loudest garage band? No. A nice neighbor is someone who offers you your choice of tee times on more than 2,000 golf courses. Like Canada.
The Canadian people pride themselves on being nice. Take the way they end every other statement with the interrogative suffix "eh?" It's all about being agreeable. But, sad to say, far too few Americans tee it up in Canada and experience that hospitality—mostly because they confuse Celsius with Fahrenheit and think they'll freeze their Titleists off even in mid-July. But you should go, because in addition to 35 million nice people, America's neighbor to the north offers a uniquely rugged world of super-natural golf that cries out to be explored. From Newfoundland to Vancouver Island, there's a huge variety of golf to be found in Canada. Links golf, parkland golf, heathland golf, extreme mountain golf, tundra golf, snow and ice golf—Canada's got it all, on achingly beautiful layouts that you'll play once and remember 'til the day they hole you out.
Canada boasts a long golf history, too. (Royal Montreal Golf Club has the honor of being North America's first golf club.) It also can lay claim to a long list of superb golf course architects, including Thomas McBroom, Doug Carrick, Rob Whitman, and Stanley Thompson, whose golden-age designs are regarded with the same reverence as those of MacKenzie and Ross.
You'll get excellent value for your Yankee dollar in Canada, as well. In fact, you'll be hard-pressed to find a public course anywhere, even at the top resorts, that will set you back more than two bills, with most courses costing half that much.
To help plan your golf adventure in the Great Nice North, I've broken down this golf-crazy country into five zones, from east to west, each with its own character, each teeming with great golf. 

The Lobster Zone
Canada's Maritime Provinces
Of Canada's three maritime provinces, two get the nod for great golf: Nova Scotia and Prince Edward Island. Here, where the annual per capita consumption of steamed lobster can creep into triple digits, the rocky coastline and endless stands of tall pines provide the perfect backdrop.
A great way to get to this region is on an overnight cruise on the Nova Star ferry from Portland, Maine. A little dinner, a little offshore gambling, a few winks, and the next thing you know you're in Nova Scotia, where your first stop should be Highland Links, a 1941 Stanley Thompson design set on a hilly peninsula overlooking North Bay in Ingonish. Recently restored, this track is Thompson's "Mountain and Ocean" course, showing off his design brilliance and distracting you with stunning views from almost every vantage point.
Next, follow the Cabot Trail to Cabot Links, created in part by Mike Keiser, who years earlier had the audacity to build Bandon Dunes on a stretch of Oregon coastline almost as remote as this one. Here, in the appropriately named town of Inverness (this is New Scotland, after all), is a true links course that catapulted to the top echelon of every "Best in Canada" list the day it opened. In summer 2015, a second oceanfront course opened here: Cabot Cliffs, a Coore/Crenshaw design that is heralded as a world-beater.
Canada's smallest province, Prince Edward Island, makes a big impression on visiting golfers. This is Anne of Green Gables country, offering terrain that moves from grassland to dense forest to rock-strewn hills in the blink of an eye. Three courses are real standouts. The Links at Crowbush Cove makes the most of its location on the island's north coast with nine holes along the water. There are two more must-plays at the Rodd Brudenell River Resort. Dundarave Golf Club is the tougher of them, taking you on a trek that includes heathland, coastal, and inland stretches. Next door, Brudenell River Golf Club serves up six par threes, six par fours, and six par fives—a unique configuration that presents lots of birdie chances
Other notable Nova Scotia courses: Fox Harb'r, Digby Pines, Bell Bay, Glen Arbour, Le Portage. 
Nova Scotia privates to play if you can: Ashburn Golf Club, Granite Springs Golf Club.  
Other notable PEI courses: Glasgow Hills Golf Club, Mill River Golf Club, Green Gables Golf Club, Fox Meadow Golf Club.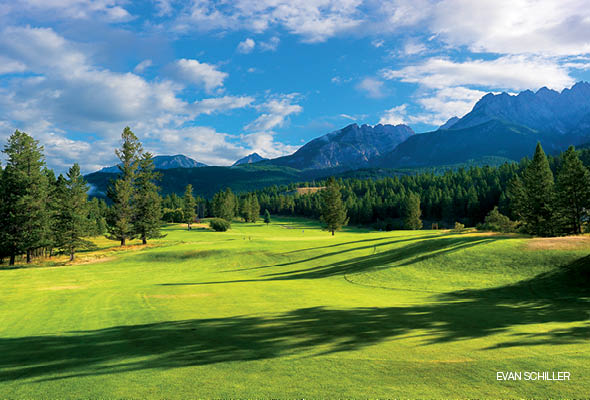 The Poutine Zone 
Quebec
Canada's French-speaking province is renowned for its culture, its cuisine, and its fervent hockey fans. The best golf in the area is private, but opportunities for visitors to jouer au golf exist all over. The most dramatic choices are the three offered at Mont Tremblant, a ski resort northwest of Montreal in the Laurentians: Le Géant, Le Diable, and Le Maître. Of these, Le Géant is the one to play if you can play only one. The name of the game is elevation change: Fairways plunge from tees as holes carve down the mountainside and schuss around bunkers and lakes to large, fast greens.
Quebec's Eastern Townships area is another golf haven, with more than a dozen good options. At the head of the class is Owl's Head Golf Club, where Canadian designer Graham Cooke sculpted a dazzling course on the western slope of Owl's Head Mountain. After your round, be sure to retreat to the local pub and sample poutine—french fries sprinkled with cheese curds then slathered with brown gravy. Healthy? Non. But délicieux!
Other notable Quebec courses: Chateau Montebello, Fairmont Le Manoir Richelieu, Gray Rocks.  
Privates to play if you can: Royal Montreal Golf Club, The Memphrémagog Club, Mount Bruno Golf Club.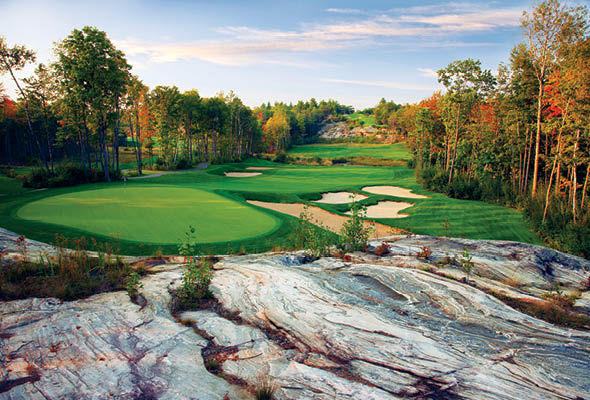 The Beavertail Zone 
Ontario
Ontario is Canada's most populous province and its second largest, with borders stretching from upstate New York to Minnesota. So it's no surprise that there are dozens of superb courses to choose from, both public and private. Many dot the area around busy Toronto, but an equal number of attractive options may be found away from the city, especially to the north in Muskoka, a favorite spot for city dwellers making weekend escapes.
Near metro Toronto, don't miss Eagle's Nest Golf, a Doug Carrick design that transformed a huge sand and gravel site into a rugged pseudo-links featuring nearly 100 pot bunkers, dramatic elevation changes, and enough fescue to make you think you're in the Scottish Highlands. An hour northwest of the city in the Credit River Valley, the Heathlands Course at Osprey Valley Golf Club is another Carrick design that occupies the site of a former gravel quarry. The look here is heathland, with minimal bunkering, narrow fairways, and multi-tiered greens.
Two hours to the north of Toronto, Muskoka is Canadian Shield country. The Shield, also called the Laurentian Plateau, is an area of exposed igneous and metamorphic rock covering almost half of Canada. The boulders and ledges that thrust upward out of the soil make it a perfect place to site golf courses, keeping the developers and course architects busy. Of Muskoka's dozen-plus tracks, two worth fueling up your SUV (or private jet) to see are the Muskoka Bay Club and Bigwin Island Golf Club. At Muskoka Bay, Carrick wove his 7,367-yard design in and around mammoth rock ridges, hills, wetlands, and beaver ponds, creating a real roller coaster of a course. To get to Bigwin Island, you have to travel by water taxi from the town of Norway Point. At one time, there was a Stanley Thompson course at this quaint island resort, but today's course is another effort from Carrick, who paid homage to his forebear by incorporating many classic features from golf's past into his design. Before leaving Ontario, be sure to sink your teeth into a beavertail, a sweet pastry served with a wide array of tantalizing toppings.
Other notable Ontario courses: Rocky Crest Golf Club, Deerhurst Resort (Highlands & Lakeside courses), Lake Joseph Club, Cobble Beach Golf Club, Glen Abbey Golf Club, Copper Creek Golf Club, Legends on the Niagara (Usher's Creek & Battlefield courses) Royal Niagara Golf Club, Whirlpool Golf Club, The Marshes Golf Club, Eagle Creek Golf Club.
Privates to play if you can: Redtail Golf Club, Toronto Golf Club, Oviinbyrd Golf Club, St. George's Golf Club, Hamilton Golf & Country Club, National Golf Club, Devil's Paintbrush, Beacon Hall Golf Club, St. Thomas Golf & Country Club.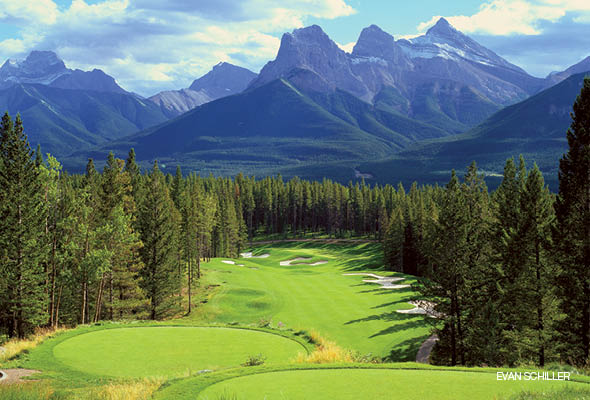 The Bloody Caesar Zone 
Alberta
If you've done Scotland and done Ireland, if you've made the treks to Monterey and Bandon, if you've played in the desert and Florida and the Caribbean, you're still missing one of the game's great experiences—Alberta. In the Canadian Rockies, golf is an exercise in gaping: At the incredible Rocky Mountain scenery; at the genius of the course designs; at the wildlife all around you. Trust me, the giddiness you'll feel here will have nothing to do with the altitude.
If you fly into Calgary, home of the celebrated Stampede and the closest city to Alberta's bevy of mountain beauties, a good place for a warm-up round is Heritage Pointe. The Ron Garl-designed holes are an enchanting trio of nines, each replete with elevated tee shots, flash-faced bunkers, and target-style golf set in the high desert chaparral.
Alberta's cream of the crop lies farther west, in the Rockies themselves, where after a gorgeous two-hour drive you'll come to the first of Stanley Thompson's twin mountain masterpieces: Banff Springs. Routed along the Bow River and surrounded by the towering figures of Mounts Rundle, Sulphur, and Tunnel, Banff Springs has the kind of setting that makes poets weep. Here, in the midst of Banff National Park, in the shadow of those granite-faced mountains and amidst pristine pine forests and glacial river water so pure it's bright blue, lies one of man's greatest playing fields. Thompson tests you at every turn; the idea that you can carry a certain bunker will turn out to be an optical illusion. There are long, punishing par fours and a world-class par three, "Devil's Cauldron." Several holes offer views of the century-old Fairmont Banff Springs Hotel, where you should stay if only for a night. It's a magnificent mountain chateau, with service and amenities to match.
Before leaving Banff, mosey over to Canmore and get in rounds at Stewart Creek Golf Club and Silvertip Golf Club. At Stewart Creek, where swings are overlooked by the towering Three Sisters mountains, elevation is the chief challenge—beginning at the opening hole, where your tee shot plays steeply downhill to a fairway featuring an old mining shaft. Silvertip, named for the species of grizzly that calls the area home, is a course with serious claws. This is mountain golf at its most extreme, offering as much drama and grandeur as you're likely to be able to handle.
Three hours west of Banff, past ancient ice fields and mountaintops so vast you could park entire cities on them, is the venerable Jasper Park Lodge, with a course that shows Thompson in full artistic flower. Not only did he design a great test of golf, he routed holes so that each affords spectacular views of the surrounding mountains and lakes. The 9th hole, a downhill 230-yard par three called "Cleopatra," is unforgettably good, as is the entire resort, another Fairmont property. Want to ride a horse? Enjoy barbecued buffalo steaks by the lake at dusk when the moose are out acting frisky? You can enjoy those things and many more, including cozy lodge accommodations that bring tears upon checkout. Be sure to sample a Bloody Caesar, Alberta's tangy take on the Bloody Mary: clam juice and celery salt on the rim form a variation on the theme that is surprisingly good.
Other notable Alberta courses: Wolf Creek Golf Resort (Old Course), Kananaskis Golf Club.
Privates to play if you can: Calgary Golf & Country Club, Blackhawk Golf Club, Red Deer Golf & Country Club.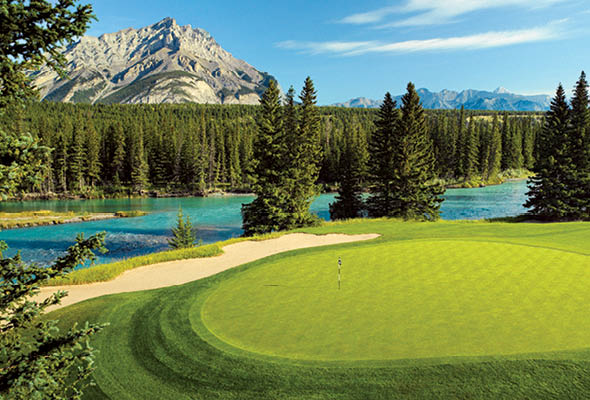 The Jerky & Sashimi Zone
British Columbia
For some people, Canada's westernmost province begins and ends with Vancouver—unquestionably one of North America's most peaceful and beautiful cities, with a Far East influence that beautifully complements its native-Canadian "First People's" roots. But there's high-quality golf to be found in all directions from "Lotusland."
In eastern B.C., you'll find more cowboys than yuppies, and mountain courses in the Kootenay and Okanagan Valley areas that pick up where Alberta's entries leave off. Greywolf Golf Club in Panorama is worth driving from Key West to play. The par-three 6th hole, "Cliffhanger," is one of the world's great one-shotters. Eagle Ranch Golf Club and Copper Point Golf Club (with two courses) also exploit their Columbia River/western Rockies locations beautifully. Tobiano Golf Club in Kamloops is another sure bet, as is Sagebrush, where Cabot Links's architect Rod Whitman fashioned a western links with some striking classic features. Finally, at Predator Ridge in Vernon, the Ridge Course combines sweeping Lake Okanagan and mountain views with rugged topography to create an 18-hole thrill ride.
To the west of Vancouver, on Vancouver Island, the Jack Nicklaus-designed Mountain and Valley courses at Bear Mountain Resort are a mecca unto themselves; just a short drive from Victoria, they never disappoint. Olympic View is another island favorite, as is Highland Pacific Golf Club. All four courses are pine-tree lined, with lots of elevation changes.
Head north from Vancouver along the Sea to Sky Highway (making sure to keep an eye out for orcas frolicking on your left), and in two hours you'll arrive in Whistler. A world-class ski resort, the golf is equally sterling, particularly at Chateau Whistler Golf Club, where you'll battle severely undulating greens and share the mountain terrain with vivid purple lupine and black bears. Next, travel 25 minutes farther north to Pemberton and feast
your eyes on Big Sky Golf Club, where the snow-covered peak of Mt. Currie stands sentry over a brilliant Bob Cupp design.
 
Other notable British Columbia courses: Nicklaus North Golf Club, Royal Colwood Golf Club.
Privates to play if you can: Capilano Golf Club, Victoria Golf Club.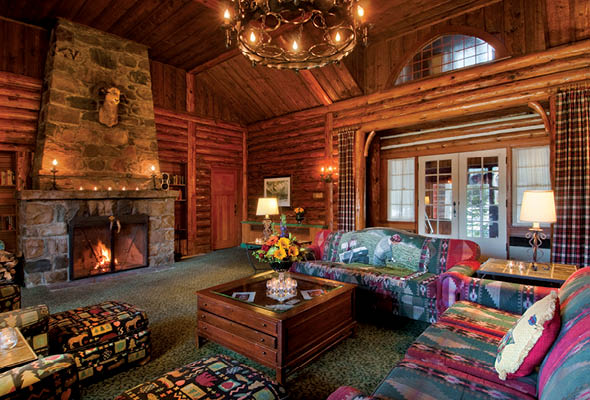 Thirsting for more high adventure? Trek up to Yellowknife Golf Club in the Northern Territories for the annual Midnight Classic, where you can tee off under the midnight sun on Canada's most northerly course. Or head to Midland, New Brunswick, this winter and receive a warm welcome at the Canadian Snow Golf Championship, which benefits Canada's Children's Wish Foun-dation. They're proof that golf in the land of the maple leaf knows no bounds. And that's just the way any true-blue golfer would
want it. Eh?
_________________
Have you been to Canada to play golf? Tell us your favorite destination in the comments below!