By George Peper
Far away from the "other" Florida, you can find the ideal combination of good golf, good food, and great prices
Pensacola is one of the thousands of U.S. towns named after its Native American settlers. It's also a lilting, fun sort of word, a word that trips off the tongue, impossible to mispronounce, a word that begs to have its letters shuffled and rejigged into an anagram. Dozens of Pensacola anagrams are possible, but the most fitting is surely this: No Palaces.
Let's face it, you don't come to the western edge of the Florida Panhandle to stay at the Ritz or play Cypress Point or dine at La Tour d'Argent. But don't let that stop you. The truth is that Pensacola offers several engaging, first-class courses, a wide range of accommodations—both on the beach and in town—and a top tier of restaurants where the cuisine is surprisingly haute. Best of all, you can stay here for a week, play 36 holes a day, and not spend $1,000. All of which makes Pensacola a frugal golfer's Nirvana.
Where To Play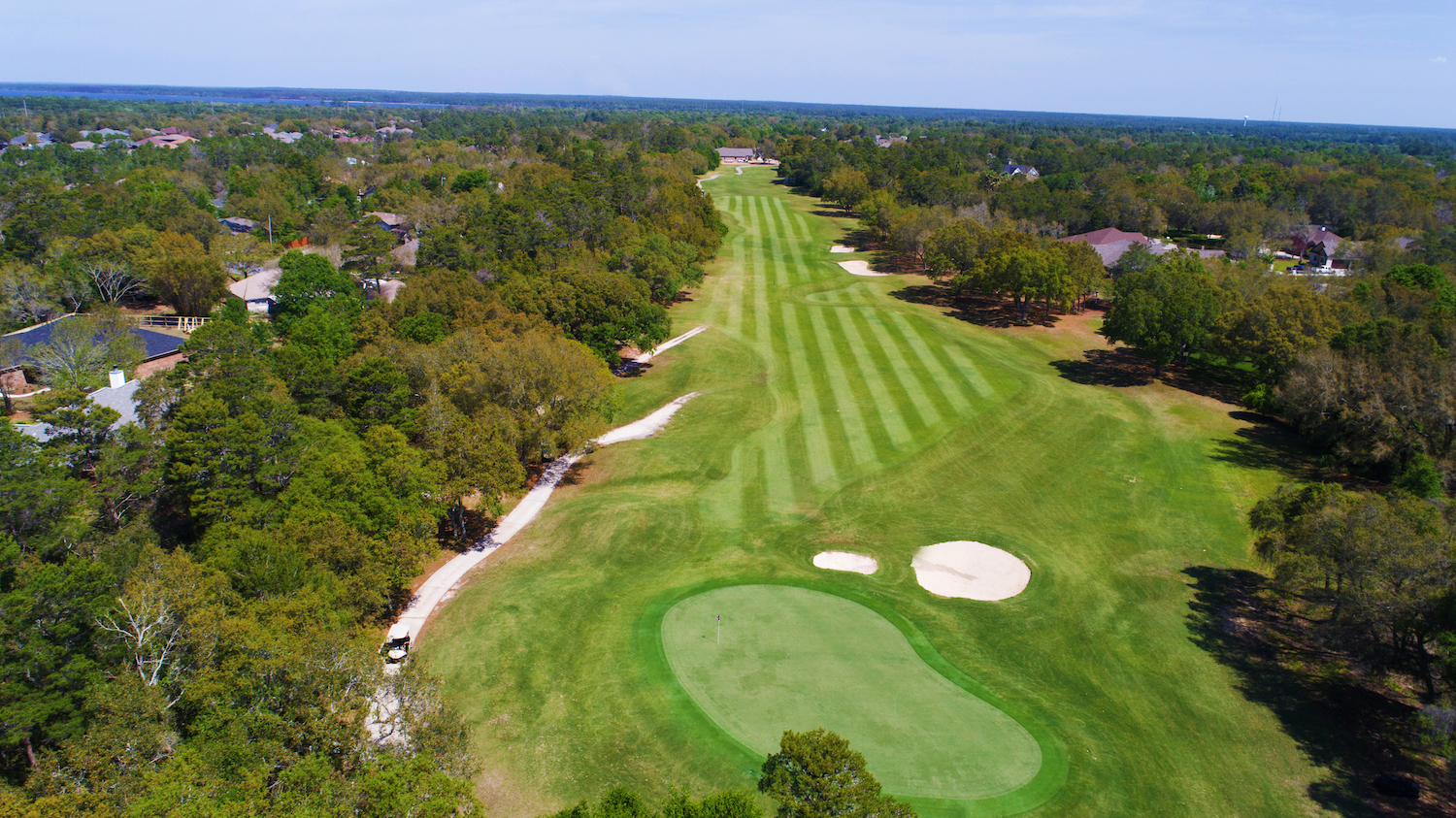 Lost Key Golf Club
The charisma of designer Arnold Palmer is on full display at this beautiful beast that stretches across a narrow barrier island. Fairways twist left and right, some calling for heroic carries over marshland, but the enormous greens are easy to find and a joy to putt.
Perdido Bay Golf Club
For a decade it hosted the PGA Tour's Pensacola Open. Now this resort welcomes all to fairways lined by Spanish-moss-covered oaks and menacing multi-tiered greens, just minutes from the Gulf of Mexico.
Scenic Hills Country Club
The only Florida course to hold a U.S. Open (the 1969 Women's, won by Donna Caponi), this is a layout with almost no fairway bunkers but hundreds of tall pines and half a dozen water hazards that conspire with relentlessly pitching fairways to provide plenty of challenge. The back nine is particularly strong.
Tiger Point Golf Club
Local boy Jerry Pate designed this charmer where five holes play scenically along Santa Rosa Sound. Water comes into play on all but four holes so bring plenty of ammo, especially on a windy day. The risk-reward par fives are particularly fun, but the most memorable hole is the par-four 5th, which plays to an island green.
Marcus Pointe Golf Club
Unlike most area courses, this one provides some dramatic elevation changes. A tight, twisting front nine gives way to an inward half with more open, rolling fairways and steeply sloped greens. Head pro Ben Bates holds the record for most cuts made on the Web.com Tour (226).
The Club at Hidden Creek
If you're looking to post a good score, this is your best bet, with no forced carries, most of the water hazards well to the side, lightly bunkered fairways, and relatively uncomplicated greens, all in consistently top condition.
Pensacola Country Club
This one's ultra-private so you'll need some ingenuity to get a tee time, but it's the grande dame of the Panhandle (the oldest private course in Florida, founded in 1902), with gorgeous views of Pensacola Bay. A redesign by Jerry Pate has given new life to its fast, firm fairways and elusive greens.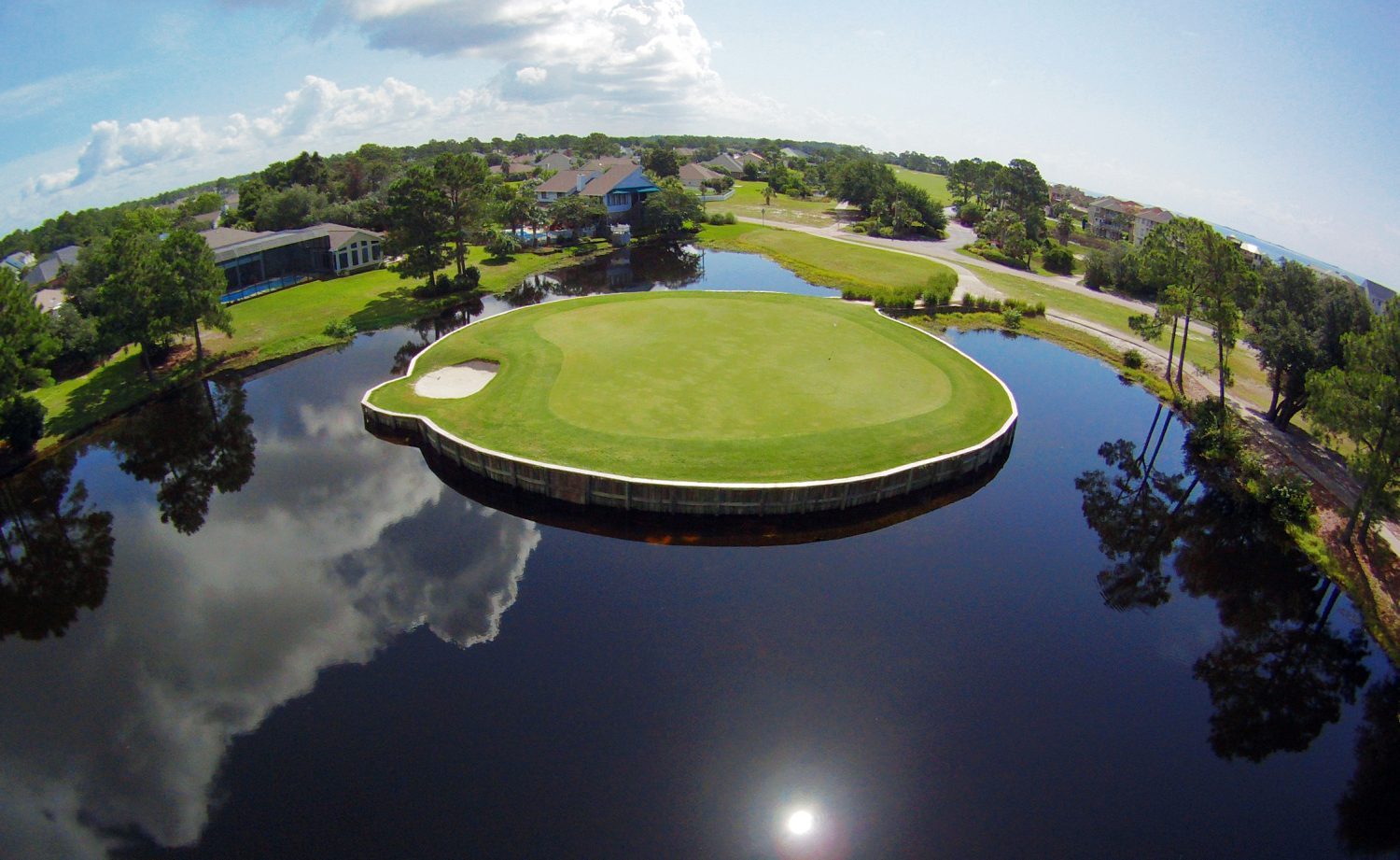 Where To Eat
McGuire's Irish Pub
Worth a visit just to see the thousands of $1 bills hanging everywhere. Try the Reuben eggroll.
Seville Quarter
If you're in town on a Sunday, go for brunch when there's live jazz and order the eggs benedict with a crab cake.
Global Grill
First-class menu and wine list, served in an upscale tapas bar. Get the blue-cheese stuffed filet.
Fish House
A lively harborside bar and grill specializing in seafood. Best bet: the parmesan-crusted grouper.
Union Public House
A chic southern pub with terrific food—start with the gumbo, then the hangar steak. Bring a big appetite.
Where To Stay
The Cottages on the Green, recently renovated, and just steps from the Perdido Bay course, are convenient and comfortable, plus you can brag that you stayed at the same place as President Ford, Arnold Palmer, and Willie Mays. Downtown, the Residence Inn by Marriott Suites and the Pensacola Grand Hotel are at the center of everything. If you prefer a beachside locale, go for the Hilton Pensacola Beach.