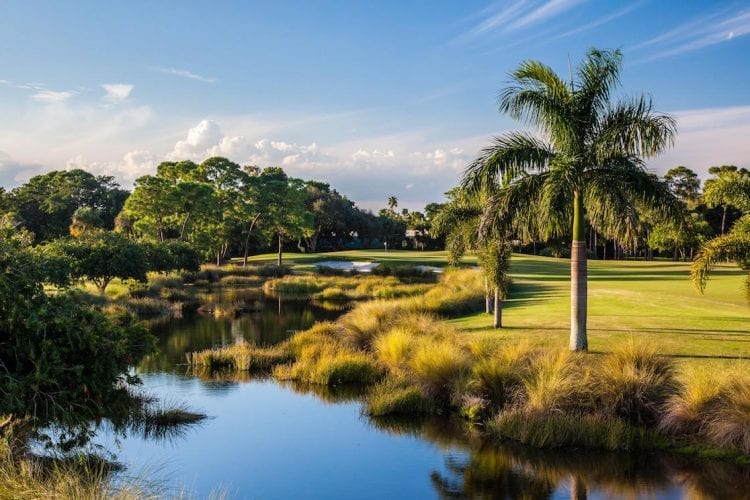 For the golfer who's also a major league baseball fan, the dream vacation is one that combines the two. There's no better time to do that than right now, mixing your pre-season tune-up with spring training.
You have two options—the Grapefruit League in Florida and the Cactus League in Arizona, with 15 major-league teams based in each sunny locale. If you're a rabid follower of a particular team, it's a no-brainer: You go where they play. It's also an easy choice for anyone with a decided preference for (or seething aversion to) dueling with the desert or battling bermudagrass.
If you don't fall into one of those camps, know that spring training east and west are about as different as, well, grapefruit and cactus. In Florida, the home fields of the 15 teams are spread all over the center and south of the state, whereas in Arizona all the teams are within roughly a 60-mile radius of Phoenix. Also, while almost every Grapefruit League team has its own stadium (the Marlins and Cardinals share and the Astros and Nationals will share one in 2017), only five Cactus teams have dedicated home fields, with the other 10 pairing up to share five arenas. Bottom line, the logistics are generally easier in Arizona, but you'll never feel an ocean breeze.
Whichever way you choose to go, here are some delectable doubleheaders.
---
Grapefruit League
Houston Astros/
Washington Nationals
The Ballpark of the Palm Beaches,
West Palm Beach
PGA National GC,
Palm Beach Gardens
Toronto Blue Jays
Florida Auto Exchange Stadium,
Dunedin
Dunedin GC,
Dunedin
Atlanta Braves
Champion Stadium,
Kissimmee
Bay Hill Club & Lodge,
Orlando
St. Louis Cardinals/
Miami Marlins
Roger Dean Stadium,
Jupiter
Abacoa GC,
Jupiter
New York Mets
Tradition Field,
Port St. Lucie
PGA Village GC,
Port St. Lucie
Baltimore Orioles
Ed Smith Stadium,
Sarasota
Legacy Golf at Lakewood,
Bradenton
Philadelphia Phillies
Bright House Field,
Clearwater
Innisbrook Golf Resort,
Palm Harbor
Pittsburgh Pirates
McKechnie Field,
Bradenton
River Strand,
Bradenton
Tampa Bay Rays
Charlotte Sports Park,
Port Charlotte
Bobcat Trail GC,
North Port
Boston Red Sox
Jet Blue Park,
Fort Myers
Old Corkscrew,
Estero
Detroit Tigers
Joker Marchant Stadium,
Lakeland
Streamsong Resort,
Streamsong
Minnesota Twins
Hammond Stadium,
Fort Myers
Raptor Bay GC,
Naples
New York Yankees
George M. Steinbrenner Field,
Tampa
TPC Tampa Bay,
Lutz
---
Cactus League
Los Angeles Angels
Tempe Diablo Stadium,
Tempe
Sheraton Wild Horse
Pass Resort, Chandler
Oakland Athletics
Hohokam Stadium,
Mesa
Papago GC,
Phoenix
Milwaukee Brewers
Maryvale Baseball Park,
Phoenix
Grand Canyon Univ. GC,
Phoenix
Chicago Cubs
Sloan Park,
Mesa
TPC Scottsdale,
Scottsdale
Arizona Diamondbacks/
Colorado Rockies
Salt River Fields at Talking Stick,
Scottsdale
Talking Stick Resort,
Scottsdale
San Francisco Giants
Scottsdale Stadium,
Scottsdale
We-Ko-Pa GC,
Fort McDowell
Seattle Mariners/
San Diego Padres
Peoria Sports Complex,
Peoria
Trilogy GC at Vistancia,
Peoria
Cincinnati Reds/
Cleveland Indians
Goodyear Park,
Goodyear
GC at Estrella,
Goodyear
Kansas City Royals/
Texas Rangers
Surprise Stadium,
Surprise
Quintero GC,
Peoria
Chicago White Sox/
LA Dodgers
Camelback Ranch,
Glendale
Raven GC,
Phoenix