It's time for the PGA Tour to identify, embarrass, and punish its worst offenders
If you're a major league baseball fan, you're likely loving the game more than ever this year thanks to a number of innovations, most notably a pitch clock that forces pitchers to deliver their fastballs faster. The result has been a much swifter pace of play (games this year are finishing an average of 25 minutes sooner than a year ago), a new element of drama on the mound, and, best of all, the chance for kids to watch all nine innings and still get a decent night's sleep.
It's time for pro golf to follow suit.
As every other aspect of modern life speeds up, our beloved game is slowing down—and so is interest in it. TV ratings for the PGA Tour have been sagging for years and while golf "participation" is up, much of that increase has come from the popularity of Topgolf and other bowling-alley knockoffs where the uninitiated can hit a few shots, have a few yucks, and go home. Young folks are not flocking to the fairways.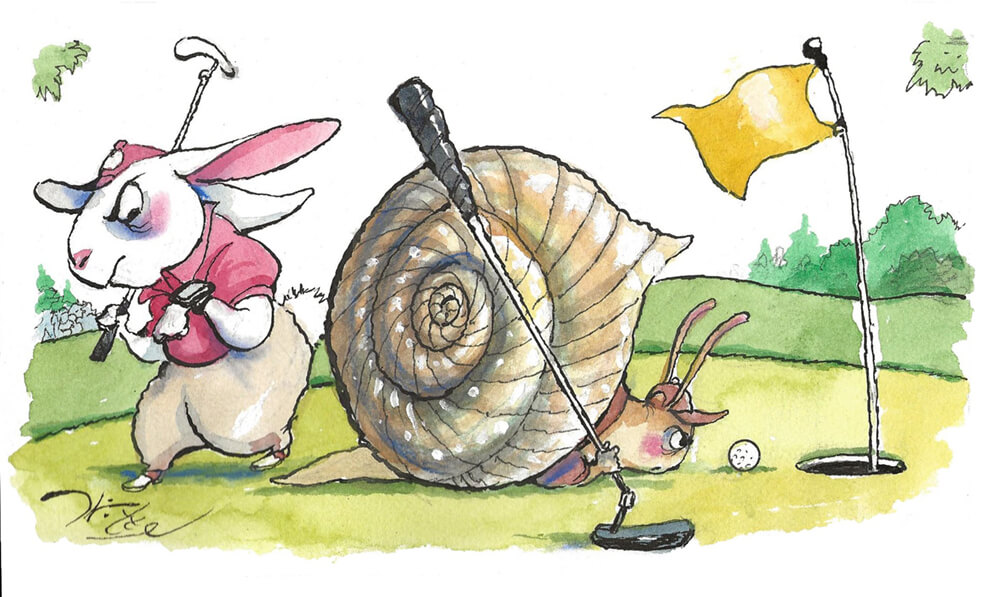 I put a large measure of the blame on the PGA Tour. They have long had the power to change the pace of play, not just within their own ranks but, by example, with the general golf populace. To date, however, they've done nothing—at least nothing positive.
A few generations ago, the pros actually set a good pace. Gene Sarazen routinely hit his drive, picked up his tee, and strode several brisk yards down the fairway before his ball came to rest. There was no dilly-dallying in the Hogan-Nelson-Snead era, either. Check out the earliest Shell's Wonderful World of Golf videos on YouTube and you'll find those boys spent relatively little time dawdling over their shots.
Then along came Jack Nicklaus, pacing off yardages, stepping back from the ball to peer pensively at every shot, freezing over putts. As the game's best player, he was, sadly, imitated not just by his peers but by millions of idolators around the world. That set things rolling in the wrong direction. Pace of play only worsened for three decades while the Tour sat on its hands.
Then, in 1994, the Ponte Vedra powers that be issued an official (and ineffectual) pace of play policy, a document that has since been revised no fewer than nine times while remaining as toothless as it was at birth. The latest iteration—in 2020—gave lip service to the notion of a shot clock, stating that players would have a maximum of 40 seconds to pull the trigger, with violators to receive five-figure fines and one-stroke penalties. Except that never happened. The sole player to be tagged with a one-stroke penalty was John Catlin in the 2021 PGA Championship.
In truth, the only thing clocking PGA Tour players this year is the sun. Several times already this season, the 36-hole cut has had to be delayed until Saturday because darkness halted play on Friday, the field unable to finish at a reasonable pace. The final round of this year's Masters took precisely five hours. And remember, that's just two players in each starting time.
Of course, when one group plays at a glacial pace, everyone behind them does as well, so it's not fair to label all pros slowpokes. Kudos goes to the likes of Messrs. Every, Fitzpatrick, Fowler, Homa, Kirk, Koepka, and McIlroy for trying to move things along, and a gold star goes to Wesley Bryan, who in 2017 showed what all pros are capable of when he played solo in the final round of the BMW Championship and finished in one hour and 29 minutes.
On the flip side, however, are the notable footdraggers: Think Bradley, Cantlay, Harrington, Holmes, Rose, and Spieth, the last one once taking nine minutes to figure out how to play a single shot.
But it should not be for me to name and shame the worst offenders. That's the duty of the Tour. They know who the bad boys are. In fact, thanks to the ShotLink system, they have hard numbers on everyone. They know, for instance, that the slowest 10 percent of Tour players take 16 seconds longer per shot than the quickest 10 percent. That translates to this: If three jackrabbits start at the same time as a trio of snails, the former will finish their round roughly 45 minutes ahead of the latter.
As part of their 2020 policy revision, the Tour promised to maintain a weekly updated "observation list," monitoring closely those who routinely took more than 45 seconds to play their shots. Of course, nothing came of that, either.
The Tour just doesn't seem to care much about slow play. I'm not sure why, with all they have at stake in what they call "presenting the best product" and "growing the game." Maybe they need some marketing help. Here it is:
1.  Go to Rolex and sell them on the idea of the Rolex Shot Clock.
2. Post a walking "clock marshal" in every group to operate the stopwatch and ensure timings are fair and accurate. (The Rolex money will more than cover this.)
3. Equip each player with a stopwatch that mirrors the marshal's watch as it counts down and has a "vibrate and beep" option for the last 10 seconds.
4. Give the players a few weeks to get used to the clock, then roll it out for real. No "warnings" for bad times: The first violation and each one thereafter brings a one-stroke penalty.
5. Make the ticking clock an integral part of every Tour telecast, displayed in a box on the TV screen as it is in baseball, basketball, and football.
6. Promote the clock. Get Jim Nantz, Dan Hicks, and the rest talking about it, building the drama, and giving everyone another reason to tune in to telecasts.
7. Make the "observation list" public. In fact, call it what it is, the Slowest Players on the Tour.
8. Don't just embarrass the offenders, keep a running "Fastest Players on the Tour List" and get another corporate angel (FedEx would be a good fit) to fund a bonus pool for those who finish the year among the top 10. (Doesn't this seem more worthy than the current Player Impact Program, which rewards the guys who do the best job of promoting themselves?)
A shot clock on the PGA Tour has the potential to do much more than speed up the pros. It will improve the overall image and appeal of the Tour, add excitement—and viewers—to telecasts, and reward the players who can read situations intuitively and play decisively, with feel and conviction rather than dithering deliberation. The biggest winner will be the game of golf.
Thank you for supporting our journalism. If you prefer to read in print, you can also find this article in the Summer 2023 issue of LINKS Magazine. Click here for more information.