By James. A Frank
When the US Open is held at Chambers Bay near Tacoma, Washington, next year, it will be the first time our national championship is played in the Pacific Northwest. Our other movable major, the PGA Championship, has been played up there three times, most recently in Seattle in 1998—after a regional absence of more than 50 years. Quiz most American golfers about that part of the country and it's likely all they know is Oregon's Bandon Dunes.
Which is too bad, because as I'm finding out this week on an interstate sojourn through the country's upper left corner, there's a lot of great golf. As well as what might be the next important golf destination.
Gamble Sands, located in the middle of Washington, likely will be this year's winner of the "great new course in the middle of nowhere" contest previously won by Streamsong in Florida, Canada's Cabot Links, Ballyneal in eastern Colorado, Bandon, and Sand Hills in Nebraska.
Just outside the little town of Brewster in north-central Washington, Gamble is a 3-plus-hour drive from Seattle. It's on the eastern side of the Cascades Mountains, where the weather is sunny and dry (it's high desert terrain) and the main industry is fruit, notably apples and cherries. Nearby Lake Chelan is a popular summer spot for Seattlites who enjoy watersports, hiking and biking, wineries and good food.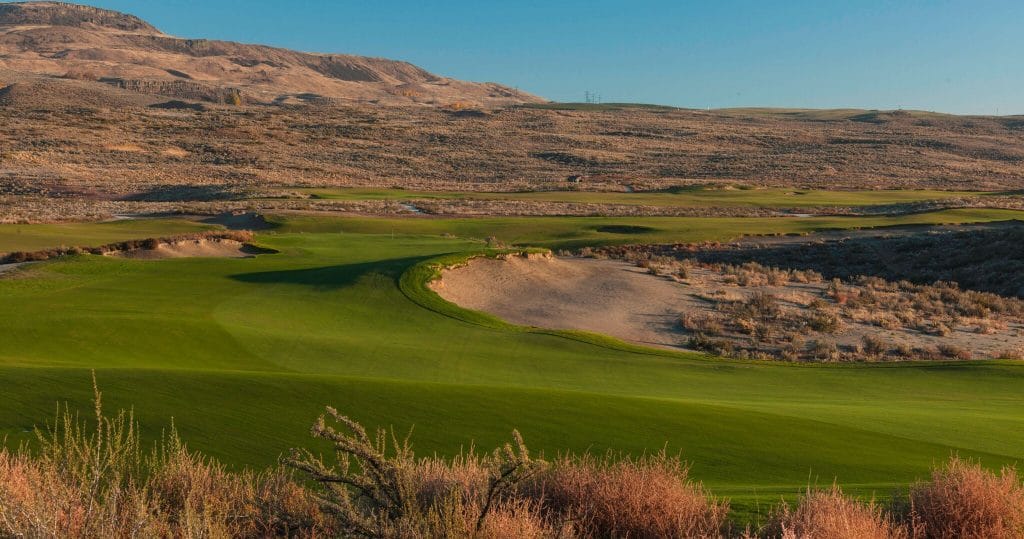 Set to open on August 1, Gamble Sands was designed by David McLay Kidd (he of the original course at Bandon, Machrihanish Dunes in his native Scotland, and the very fine Huntsman Springs in Idaho, among others). Built on land owned by the Gebber family—fruit growers here for more than 100 years—the project is being referred to as a "private resort," meaning it will have a small, select membership while remaining open to the public. A handful of lodges will open in 2016, and there are plans for another course after that. But right now, Kidd's creation is the only game in town.
And what a game it is!
Like most of the out-of-the-way courses noted above, Gamble Sands is built on a huge base of sand, thousands of acres of rolling dunes and wind-formed blow outs perfect for golf. At 1,000 feet above sea level, the course presents expansive views in every direction, with especially breathtaking vistas of the Cascades and the Columbia River, plus miles and miles of orchards. If beauty were its only asset, Gamble would be a treasure.
But Kidd has done something very clever and very special, sculpting a massively wide course that is playable and enjoyable to every kind of golfer. With fairways as broad as 100 yards wide—you really have to work to miss them—it is very forgiving. But the chance to play the proper angles, the swooping and shaping of greens (some up to 16,000 square feet), and the wind (from pleasant breeze to steady gale and changeable by the minute) make it challenging and compelling for good players, too. Gamble tumbles along, holes rise, fall, and change direction. It is a joy to walk, with top-class caddies to enhance the experience.
In short, it is all here. And with five sets of tees (4,800 to 7,170 yards), appropriate for all.
Kidd is onto something with this method of entertaining different golfers at the same time. When I asked him about it, he said, "The mindset of golf design is one of defense and limiting opportunity. So many design 'ideas' are about preventing the player from scoring. We wanted to know what would happen if we turned that on its head and said, 'what happens if we try and help the average golfer at every opportunity.'" It's a novel concept that could be important to a game that needs just such innovation and inclusion.
Will Gamble Sands be the next big thing? Will it lead the way to more accessible, adaptable design? We'll have to wait and see. But whatever it becomes, right now it is big, bold, beautiful, and exhilarating. It is great golf, it is great fun, and it is worth getting to.