The country's best golf resorts are anything but one-dimensional. Yes, they are largely defined by dynamic courses—layouts that are often steeped in history but always maintained to elite standards. However, truly exceptional golf destinations earn their bucket-list status by offering dining opportunities that rival their on-course experiences.
Here we've highlighted the best restaurants at eight of the country's best golf resorts. Proof that at these world-class resorts, there's plenty to look forward to after the sun goes down.
The Atlantic Room—Kiawah Island Golf Resort (Kiawah Island, S.C.)
An afternoon round on Kiawah Island's Ocean Course is best followed by two things: a celebratory cocktail inside the clubhouse at The Ryder Cup Bar and a dinner reservation next door at The Atlantic Room, the resort's signature seafood restaurant. When seated for dinner, guests will likely be tempted by the shrimp and grits or possibly the restaurant's fresh catch of the day, but those in the know will order the Seafood Stew.
The dish is Chef John Ondo's interpretation of a classic seafood bouillabaisse, in which he pairs local shrimp, mussels, clams, and crab with the day's fresh catch—usually grouper, tilefish, or wreckfish. All of that is then stewed in an Island Curry broth and served over local Carolina Gold Rice, an heirloom variety that has been grown for centuries in South Carolina's Lowcountry. kiawahresort.com
Stillwater Bar & Grill—Pebble Beach (Pebble Beach, Calif.)
Named after Stillwater Cove, the body of water that runs adjacent to five of Pebble Beach Golf Links's famous holes, Stillwater Bar & Grill initially wows patrons with its views—a vista that looks out over the 18th green with waves crashing in the cove beyond tends to have that effect.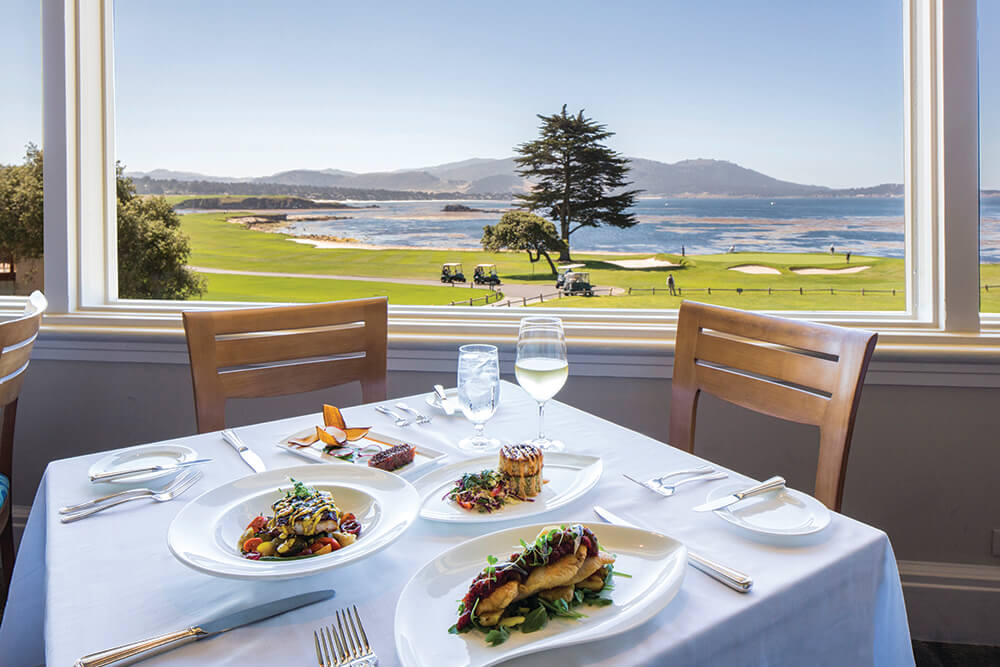 Once guests settle into their meals, the restaurant's seasonal cuisine takes over, where dishes crafted by Chef de Cuisine Alex Ramirez cater to California coastal ingredients and flavors. Although its menu includes ribeyes and lamb shanks, Stillwater is a seafood lover's dream come true. The Pacific tartar stands out for its marriage of North American and Japanese components, while the Monterey Bay red abalone offers guests a taste of indigenous ingredients infused with rich, umami-packed flavors. pebblebeach.com
The Immigrant Restaurant—The American Club (Kohler, Wis.)
With three PGA Championships, a Ryder Cup, and several other prestigious events (including the U.S. Women's Open) on its résumé, Destination Kohler is best known for its championship golf courses. Yet, inside the walls of The American Club—the resort community's most luxurious hotel—equally exceptional dining experiences await, the most impressive of which occurs at The Immigrant Restaurant.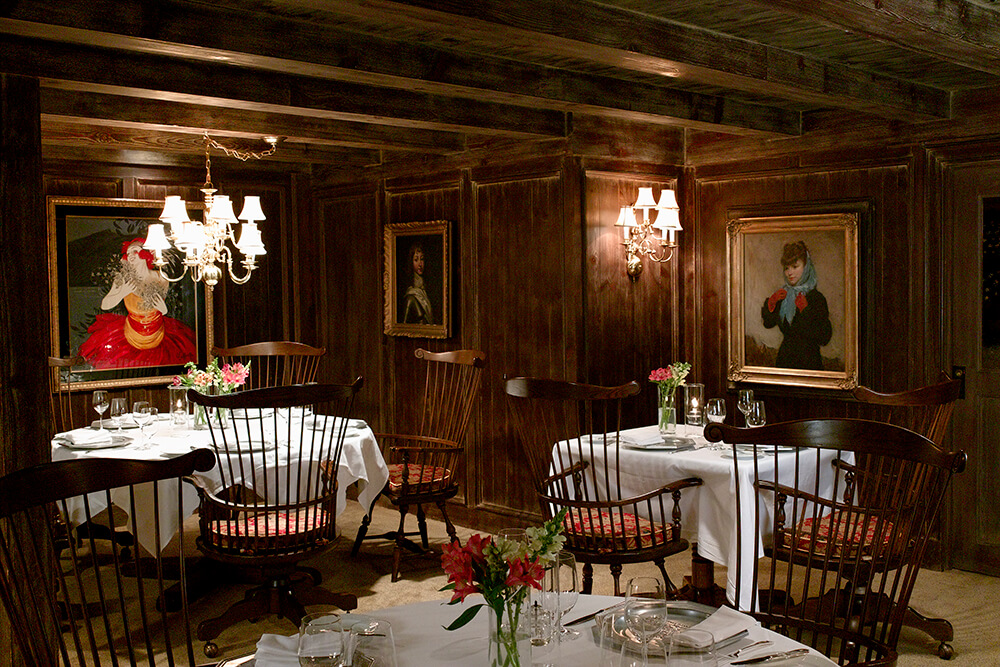 Comprised of six intimate dining rooms, the restaurant delivers a fine-dining experience teeming with options. Those looking for the ultimate indulgence will find it on a five-course tasting menu; however, patrons preferring an a la carte approach can still order individual dishes from the tasting menu. The preparation of pan-seared foie gras shines for its balance of sweet and smoky flavors—the sugary peach compote and cherry blossom syrup plays wonderfully with charred notes coming from a black sesame seed brioche pan per due. And don't overlook the introductory bread offering: The citrus butter, fresh ground pepper, and rock salt is a simple presentation but boldly highlights the quality of each of the ingredients. destinationkohler.com
Coast—Sea Pines Resort (Hilton Head Island, S.C.)
First-time visitors to Sea Pines Resort might easily think that the property's flagship restaurant is Links, an American Grill, which is set on the ground floor of the Harbour Town clubhouse. In some people's eyes it could be. (Insider tip: order the Duroc pork chop when dining there.)
The resort's newest eatery, the rejuvenated Quarterdeck, delivers stunning 270-degree views overlooking the Harbour Town Yacht Basin, Calibogue Sound, and 18th hole of the resort's championship golf course. For that reason alone, a meal at Quarterdeck is a must.
In my opinion, however, Sea Pines's headlining restaurant is Coast, a beachfront restaurant located at the Sea Pines Beach Club, where seafood naturally dominates the menu. Numerous raw bar offerings and crab stews provide an abundance of local flavors and fresh-caught seafood, while all variations of the fish and seafood tacos are must-order items. seapines.com
1895 Grille—Pinehurst Resort (Pinehurst, N.C.)
Tucked out of the way and in the lower level of the Holly Inn, the 1895 Grille at Pinehurst Resort might be considered one of the heralded resort's best-kept secrets. The restaurant serves a diverse selection of classic fine-dining dishes (think foie gras pate, Magret duck breast, and rack of lamb), as well as fare more indicative of the resort's Carolinas locale (we're looking at you, fried green tomatoes and chipotle jumbo shrimp and grits).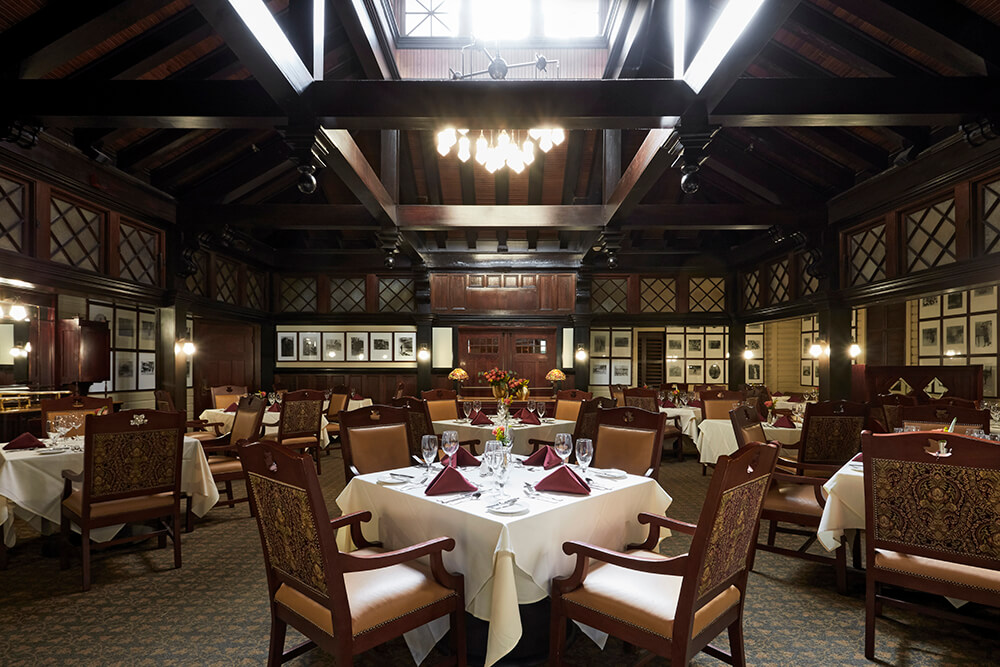 Regardless of what you order, it will be served on white linen tablecloths in a dining space that has a long history. After all, the Holly Inn was the first hotel to open in the village of Pinehurst near the end of the 19th century. At that time, guests encountered electric lights and steam heat, two luxurious amenities that were generated from the Village Steam Plant. Today, that steam plant has been converted into the Pinehurst Brewing Company, a restaurant and bar that specializes in slow-smoked barbeque and an eclectic offering of craft beer. pinehurst.com
The Forge—Bandon Dunes (Bandon, Ore.)
Across the better part of two decades, the golfing landscape at Bandon Dunes Golf Resort has steadily evolved and with it so has the resort's dining offerings. Conveniently located just off the lobby in The Lodge—the epicenter of the property—the newest eatery at the resort, a steakhouse called The Forge, is also its most impressive. From king crab, bone marrow, beef tartare, and pork belly, The Forge's starters list is as good as it gets. The entrees selection clears the high bar that those appetizers have set with dry-aged porterhouses and tomahawks, not to mention A5 Wagyu beef from Miyazaki, Japan, and more locally sourced king salmon and wild sea scallops.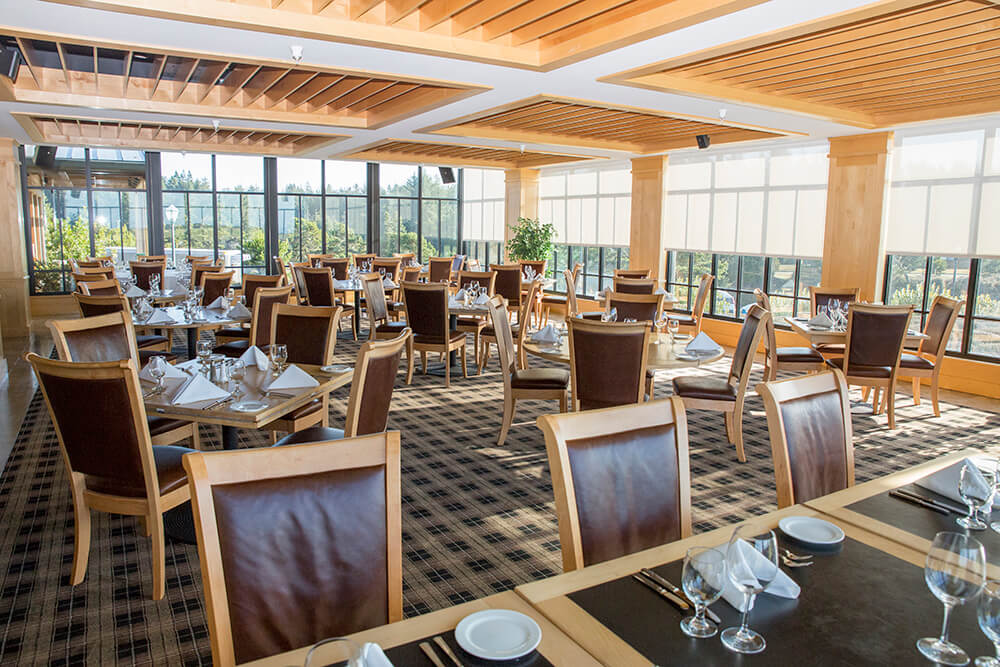 Of course, when Mike Keiser envisioned Bandon Dunes, he took inspiration from the pure experiences that the greatest links courses throughout the United Kingdom can provide. Similarly, the straightforward fare that defines those quintessential Scottish and Irish pubs is also served not far from The Lodge at McKee's Pub. When you factor in the offerings at the resort's four other restaurants and bars, it's clear that when it comes to food and beverage—just like with golf—Bandon Dunes has something for everyone. bandondunesgolf.com
The Butcher's Club—PGA National Resort (Palm Beach Gardens, Fla.)
The Champion Course at PGA National, an annual stop on the PGA Tour, draws golfers to Palm Beach Gardens; but dinners at the recently renovated resort's flagship steakhouse, The Butcher's Club, will bring them back. That may sound a bit hyperbolic, but the restaurant experience is that good.
Sporting an Art Deco-inspired aesthetic—one that evokes the swankiness of a luxury rail car from a bygone era—the restaurant delivers classic steakhouse fare with a contemporary twist, all overseen by chef Jeremy Ford, whose rise to stardom began in 2016 when he won the 13th season of Top Chef.
Those who are fortunate to enjoy a meal at The Butcher's Club won't be disappointed by anything on the menu—certainly not by the delectable cuts of dry-aged prime beef—but patrons should be sure to also order the crunchy "Bravas" potatoes, a side dish that's accented by soppressata ham, sofrito, pepita, truffle aioli, and aged parmesan.
Linger Longer Steakhouse—Reynolds Lake Oconee (Greensboro, Ga.)
There's no shortage of exceptional dining opportunities scattered across the 17,000-acre golfing utopia that is Reynolds Lake Oconee. However, one of the best is located less than 300 yards from the portico of the community's Ritz-Carlton resort. The Linger Longer Steakhouse does what a lot of other classic steakhouses do, but it executes those dishes at such a high level, patrons will be inclined to do just as the restaurant's name suggests and linger over every bite.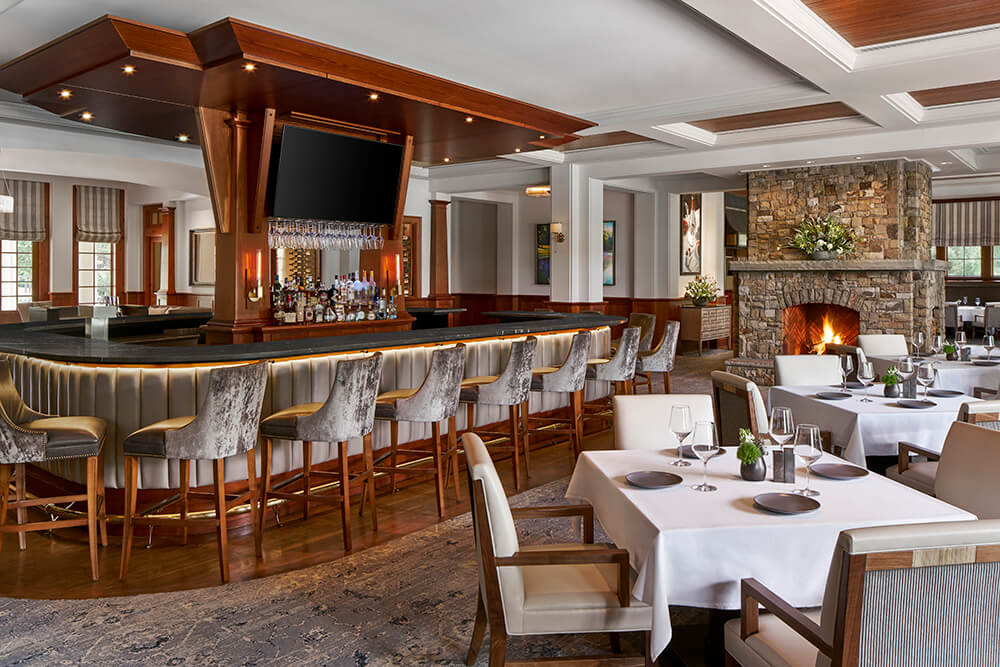 While many foodies often snap photos of beautiful plates that they're served, a traditional beef tenderloin might not inspire such revelry. However, once that Linger Longer filet is cut into and its perfect temperature from edge to edge is revealed, an "ordinary looking" steak suddenly becomes a star ready for its close-up. Bookend that steak with a decadent crab cake and a chocolate soufflé and you'll understand why and how the restaurant got its name. reynoldslakeoconee.com
What flagship restaurants at golf resorts did we miss?