The secret behind the relationship between Frank Jamsek and his father, Joe, starts with garbage. On any given morning at Cog Hill Golf and Country Club in Lemont, Illinois, you are likely to see a tall, angular man in a straw hat, stooping to pick up the trash in the parking lot. He meticulously gathers a napkin here, a cup there.
It is incongruous to see the owner of one of the best public golf facilities in the country at such a menial job. But for the 68-year-old Jemsek, the exercise has deep, profound roots.
Frank practically grew up at West Chicago's St. Andrews Golf and Country Club, owned by his father. One day, a teenage Frank noticed garbage around the clubhouse and started picking it up. Seeing this, his father came dashing out of the clubhouse.
"He said, 'Why did you do that?'" Frank recalls. "I told him I just thought I should pick up the papers. It was probably the happiest I ever saw him over something I did."
More than five decades later, Frank still picks up debris in the way that so pleased his father. But he would like to do more for Joe, who died in 2002 at the age of 89. Frank is trying to fulfill his father's lifelong dream of hosting the U.S. Open at the family's crown jewel, Cog Hill's No. 4 course, also known as "Dubsdread."
"My father's dream is the family's dream too," says Frank, who oversees the Jemseks' three facilities in the Chicago area: Cog Hill, St. Andrews and Pine Meadow Golf Club in Mundelein. He has taken a step closer to that dream with the reopening this spring of Dubsdread following a renovation by Rees Jones.
Jones installed new greens, repositioned bunkers and pushed back some tees to keep up with today's long hitters, among other changes. The project cost about $5 million, a large sum for a family known to be frugal with cash.
Known as the "Open Doctor," Jones has overseen the renovation of many U.S. Open courses, including Bethpage Black and Torrey Pines South. While Jones' hand doesn't necessarily guarantee that a course will host the Open, the architect has done enough renovations to have a feel for what the U.S. Golf Association is looking for in a national championship site.
"I would have been honest with Frank and turned it down [if Cog Hill wasn't worthy of the U.S. Open]," says Jones. "It had to have the bones to do it, and it does. I've indicated to [the USGA] what I think. I believe an Open will go there one day."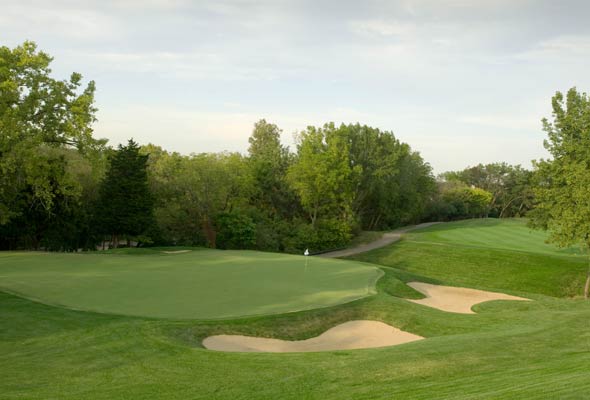 'Crackers and cheese'
That day will be the culmination of a journey that began nearly a century ago. Born in 1913, Joe Jemsek spent his youth caddying at the original Cog Hill, which was owned by the Coghill brothers, John, Bert and Marty. "He used to tell Marty, 'Someday I'm going to own this place,'" says Frank. "He thought it was the most beautiful place he had ever seen."
A good player, Joe won a long-drive contest at the 1934 World's Fair in Chicago and parlayed that fame into a successful teaching career. After saving up enough money, Jemsek bought St. Andrews in 1939 then Cog Hill in 1951.
Cog Hill had two layouts at the time, but neither was of championship caliber. Back then, the prevailing wisdom was that building a hard course for the public player was bad for business.
Joe disagreed. "My father's favorite course was Medinah No. 3," says Frank. "He knew that less than 10 percent of his regular customers would ever get to play a course like that. That's when he got it in his mind to build a quality public course."
Jemsek hired the team of Dick Wilson and Joe Lee to build Cog Hill's third course, but their attempt fell short in the owner's eyes. So he demanded the architects build him a fourth course.
When Dubsdread opened in 1964, it featured more than 100 bunkers, many of them surrounding the greens. This was in an era in which most public courses in the area hardly had any hazards.
Robert von Hagge, an associate of Wilson and Lee, remembers that even back then, Joe had the Open on his mind and wanted the course to be as difficult as possible. "They would go around the course, and Joe wanted to know the yardages to various landing areas," says von Hagge. "Dick would say, 'Well, it's 240 yards.' That was 10 to 15 yards beyond what normally would be used as a standard measure on the championship tees at the time.
"Joe had a high, wheezy kind of laugh. He said, 'That'll get 'em.'"
Jemsek thought of everything. One day, he asked course superintendent Ken Lapp to construct a  mound behind the 14th green. "He said, 'Someday, we're going to get a tournament here, and this will be a great place for spectators,'" says Lapp.
Since the Western Open moved to Cog Hill in 1991, Jemsek's "Pork Chop Hill" has been the most popular viewing area for the tournament.
But Jemsek's focus wasn't all about hosting big events. His priority always was taking care of his regular customers, the players who changed their shoes in the parking lot, hit the ball sideways, and celebrated a score of 98 with a beer after the round.
Almost singlehandedly, Joe raised the level of customer service in public golf. He was a constant presence at the 1st tee and in the clubhouse. He wanted to be seen and golfers loved to see him. A round wasn't complete without a chat with Joe, who made his customers feel as comfortable as possible. "There were probably 1,000 golfers who thought my dad was their best friend," says Frank.
One of those golfers was Mike Keiser, who had a regular game at Cog Hill in the 1970s and observed the way Jemsek treated his customers. "I just loved how he ran things," says Keiser. "He treated everyone as if they were members at a club. During one rain delay, he personally served us crackers and cheese."
Keiser later used Jemsek's hospitality as a model when he opened Bandon Dunes in Oregon. "Joe Jemsek proved that you could make money by offering a private-club experience to the public," he says.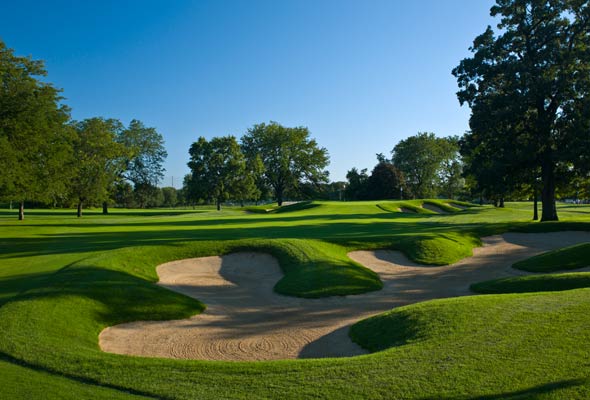 Family business
Being the host came easily to the outgoing, gregarious Joe. "He was the kind of person who would consume the room when he came in," recalls von Hagge.
Frank is much more reserved. Although 6-foot-7, he sometimes disappears in a room. But he is no less committed to taking care of his customers. He usually arrives at Cog Hill 30 minutes before dawn on the weekends so he can be prepared to meet the first players off the tee.
The family legacy is important to Frank, and Cog Hill truly is a family business. His wife, Pat, oversaw the remodeling of the clubhouse.
Marla, the eldest of Frank's three children, helps with the accounting. Her husband, Kevin Weeks, is one of the best teaching pros in the state. The middle child, Katherine, works closely with Frank in running the business operation and is the heir apparent. The youngest, Joe, just opened his own course design firm and helped in No. 4's renovation.
"People ask, 'How do you select a job?'" says Jones. "I say that it's the people first. The Jemseks are terrific people. It became as much of a friendship as a business relationship. We did devote ourselves to this job, but they were worthy of our devotion."
Jones' commitment to the Jemseks extends beyond merely completing the renovation. He has lobbied Mike Davis, the USGA's senior director of rules and competitions, who had had concerns about Dubsdread, particularly with drainage issues that would have prevented the course from playing fast and firm enough for the Open.
"I thought the changes came out wonderful, better than I thought they would," says Davis. "The new greens are wonderful. My concerns about the drainage and agronomics all have been mitigated. The message I have passed along to our staff and committee is that if you want to go to Cog Hill for an Open, it is easily good enough as a test of golf."
That is an encouraging message for Jemsek, who has been disappointed by the USGA in the past. When Cog Hill hosted the 1997 U.S. Amateur, a trial run for the Open, USGA officials were openly critical of the greens. When it came time to award the Chicago area its next Open, the USGA selected Olympia Fields for the 2003 event.
"If I learned anything from my dad," says Frank, "it's that you can succeed if you don't quit trying. This helped us get better. It was a good thing. It inspired us to make all these corrections."
There are plenty of hurdles remaining, foremost among them the waiting list. The U.S. Open is booked through 2015, and already there are favorites for 2016 and 2017. At the earliest, Cog Hill wouldn't get an Open until late in the next decade.
As he waits for the USGA to decide on whether to bring the U.S. Open to the premier public course in the best public-golf city in the country, Jemsek imagines what sort of reaction a thumbs-up would evoke in his father. Would it make him as happy as the time he saw Frank pick up the garbage in the parking lot?
Jemsek smiles at the thought.
"Oh, I think it would," he says. "It was my dad's dream to get an Open and he passed it down to us. I'd love to be able to do it for him."